"Should we just search romantic comedies on Netflix and then see what we find?"
Yes Harry, we should. Because Valentine's Day is for the girls this year.
For some reason, this year the Valentine's Day hype started super early. Scrolling on TikTok into the wee hours of the night (like I typically do), I've seen post after post on my For You Page about Valentine's Day. Countless videos of people being sad about not having a special someone popped up on my feed only a week after New Years.
This holiday can be fun even if you don't have a significant other. Instead of feeling the pressure to have the perfect date night, turn Valentine's Day into Galentine's Day. That's right, a day just for you and the girls to hang out and make memories. Get your besties together and be each other's Galentines. Have a picnic, watch movies, go shopping — there's so many ways you and your friends can do to make the day memorable. From the cutest decorations for a Pinterest-perfect party to everything you need to make the most of the night at home, here are some great ideas for an epic Galentine's Day.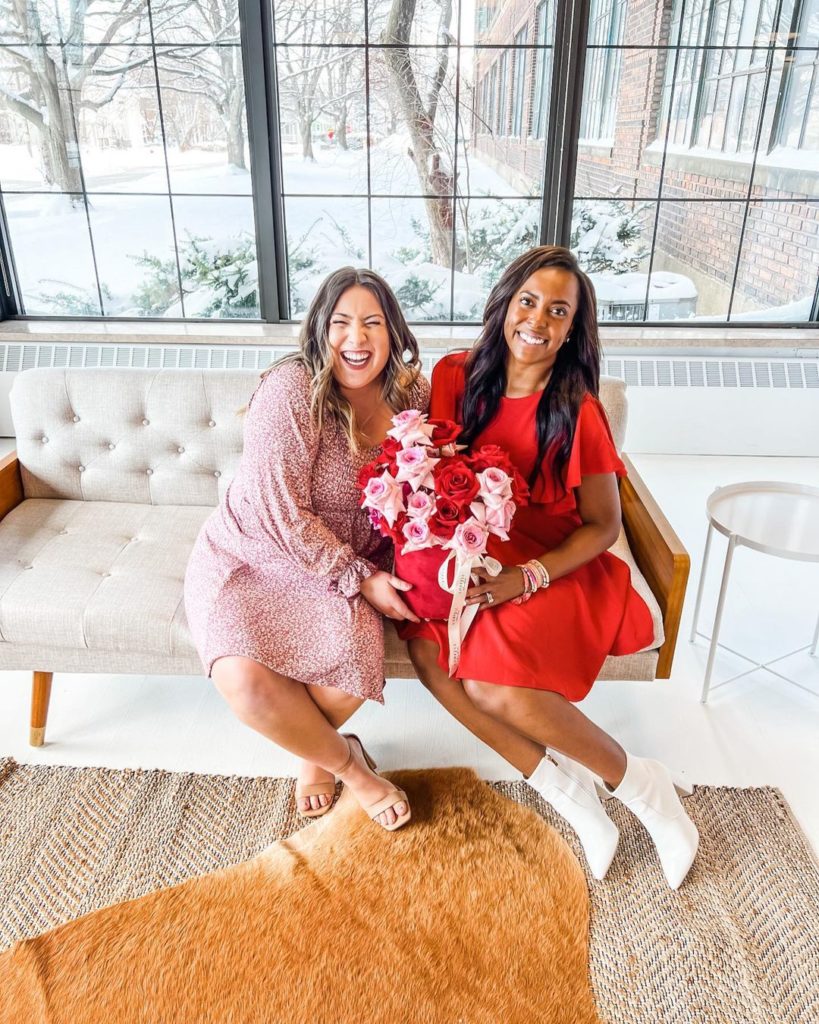 Have a Picnic: Get on Pinterest and use all of the picnic pictures to get inspiration for your own Valentine's Day spread. Heart shaped sandwiches and chocolate covered strawberries are a must.  
Movie Night: Like Harry Styles, I love a good romantic comedy. There's tons of them on Netflix for you and your friends to binge all night. 
Paint and Sip at Home:Target is your one stop shop for a perfect paint and sip night at home. Pick up some festive drinks and art supplies to paint while you sip — just don't wear white. 
Karaoke: Sing all your favorite songs at the top of your lungs. Order some karaoke mics and pretend you're headlining your own world tour (we all do it sometimes).
Take Instagram Pictures: Get your besties together and have a photoshoot. Decorate your space or go to an aesthetic location and take some Instagram-worthy pictures. 
Go Shopping: It's always the right time to go shopping. Those Valentine's Day sales are looking extra good this year.
Makeovers: "It just needs a little…shaping. To the salon!" Get together and do each other's hair, makeup, nails, and whatever else your heart desires. 
Binge a TV Show: We all wish we had more time to view those shows on our watchlist. Take the time to binge that show you've been waiting to watch with your friends. 
Order Takeout: While you're watching TV, you might as well order some good food to eat. Get some food delivered from your favorite spot and enjoy the show. 
Baking: Valentine's Day themed goodies are all over Instagram every year. Cupcakes, cookies, brownies — the choices are endless.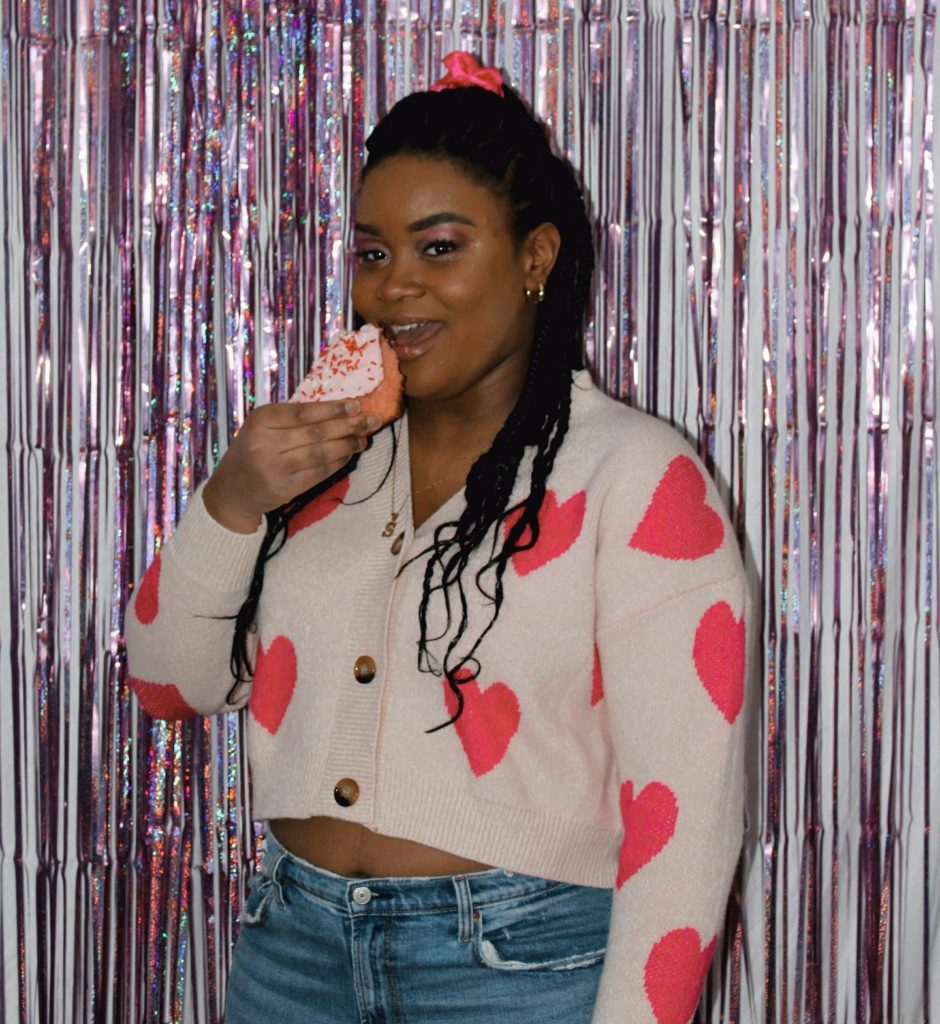 Game Night: When was the last time you had a good old fashioned game night? Well, this could be the perfect night to play For The Girls or any other fun themed game. 
Sleepover: Why cut the night short? Stay up all night watching movies in your Valentine's Day PJs and sleep over at a friend's house. You'll feel just like a kid again!
Grab Coffee: If you don't have as much time this holiday to hang out with your friends, schedule a coffee date with them. It can be a quick chat and a chance to catch up.
Road Trip: Valentine's Day falls on a Monday this year, so celebrate it a little early by going on a road trip over the weekend. A quick trip is a good refresher from school and work and allows for some bonding time with your gals. 
Make Jewelry:  In 2020, arts and crafts became even more of a hobby for people when stuck in quarantine. If you're like me, and bought one of those jewelry making kits, fuel your inner child by making friendship bracelets for your besties. 
Get Brunch: Valentine's Day brunch is a great excuse to get dressed up and take cute pictures with your friends. Plus, mimosas always sound good to me! 
Scrapbooking: If you've gotten into taking disposable pictures and like documenting moments, scrapbooking is for you. You can even make one for your friends.
Play Mash: If you remember this game you're a real one. Mansion, Apartment, Shack, House is a game where you list options from different categories like your crush, your job, and your car and then "predict" your future by narrowing down the options. Just choose a number then strike out the choices until the end. 
Watch Concert Videos: This one is for all of my fellow fangirls. If you and all of your friends like a particular band or musical group, have a little at home concert by playing their best performances. 
Get Your Nails Done: If you don't already have your nails done, schedule an appointment for you and your friends. Group nail sessions are always the best. 
Spa Night: If you need to relax and reset, have a spa night with your friends. Put on face masks and light some candles to unwind. 
Pass out Galentine's: Why stop making Valentine's after elementary school? Get crafty and make your friends cute Galentine's to make them feel extra special this year.
Dress Up As Iconic Women: Since we're focusing on the girls this year, have a themed party where everyone dresses up as a woman they admire or love. It could be popstars, authors, family members, or anyone else you can think of. 
Staycation: If you can't make your way out of town, then just stay in it. Get a hotel room for the night somewhere close and have a fun night doing whatever your heart desires. 
Tea Time: Bridgerton has inspired all of my future tea time outfits. If you want to feel fancy, have a grown up tea party Daphne would approve of. 
Valentine's Day Book Club: If you and your friends like reading and talking about books, then have a special book club meeting for Valentine's Day. Booktok has some great recommendations. 
Cooking Class: If you want to learn how to cook, then go with a friend to a cooking class. You'll have a good meal and some much needed bonding time. 
Museum Date: Wandering around a museum is always at the top of my list. Take your friends to go see some art and get those good candid pictures while you're there. 
Pizza Party: You don't need significant others when you have pizza. Order in or make your own, either way you'll have a good time.
Get Tattoos: If you and your friends have been wanting to get matching tattoos then what better day to do it then Valentine's Day? Look on Pinterest for the perfect inspiration and go get tatted. 
There's so many things you can do with your friends on Valentine's Day. Whether you go out or stay in, this year celebrate your girls and have a good time hyping each other up. Because the truth is there's no Valentines like your BFFs.
Feature photo by @emmaclairolson