One of the perks of studying abroad in Europe is the last-minute international trips that cost less than my coffee for the week. When a flight to Milan — the fashion capital of the world — offered itself to me, I jumped at the opportunity to live out my Vogue Italia dreams.
I never expected a weekend in Milan to be some of the best days of my life. The food was made of heavenly, simple ingredients (that probably satisfied my craving for carbs for the rest of my life). The style around me was impeccable, with each pedestrian dressed to the nines underneath a sea of umbrellas. The architecture made me feel like I was on the movie set of the next biggest romance film, ranging from small, colorful homes to beautiful, sky-touching castles.
Milan is a destination worth traveling to for any fashion-lover who is looking to experience new cultures and fascinating sights. Here is how I spent 48 hours in this Italian city… on a college budget.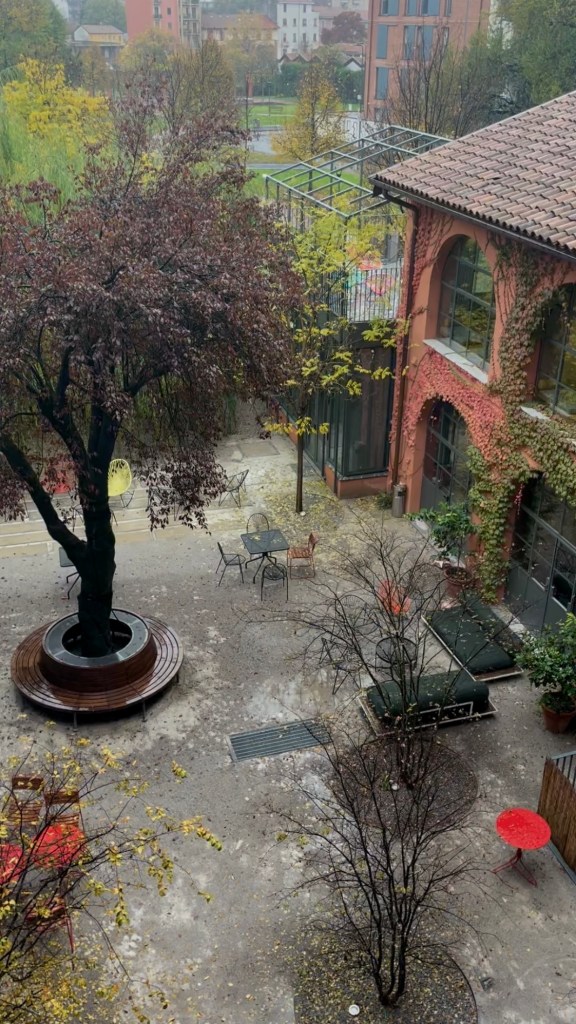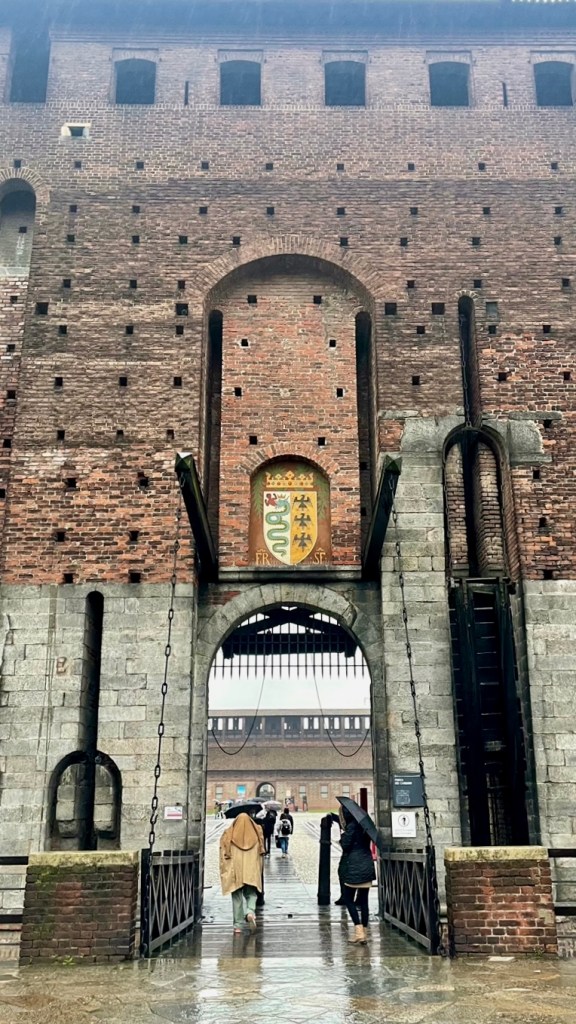 Where to Visit
Combo: If you are looking for an affordable and creatively contemporary place to stay, I recommend this hostel in the Navigli neighborhood. With a stunning courtyard, clean modern rooms, and a nature-filled bar-restaurant, the $30 a night was well worth the stay. Book it here.
Duomo di Milano: The Milan Cathedral was absolutely breathtaking…and I am not the least bit dramatic. Stepping inside this magnificent building felt like a dream, with rich, jewel-tone stained glass windows that touched the ceiling, tall marble sculptures lining the vast walls of the echoing space. The details of the caving roof are currently sitting in my camera roll. I spent about $6 on this must-see experience. Book it here.
Naviglio Grande: Just a few metro stops away from Duomo, this bustling area consists of unique shops and restaurants along a seemingly never-ended canal. This spot is filled with street art, vibrant buildings, and diverse options of places to eat. If you travel to Milan on a Saturday, you might be lucky enough to stumble upon a flea market like I did, selling everything from antiques to jewelry to clothes to toys. Walk along the water for free.
Catello Sforzesco: This castle made me feel like I was thrown into an episode of Game of Thrones…without the dragons. The 15th-century medieval fortification towered over me as I walked across the drawbridge and into the historic courtyard, for free. On the way out, I was greeted by a roaring fountain that caught all the rain that was pouring down on us.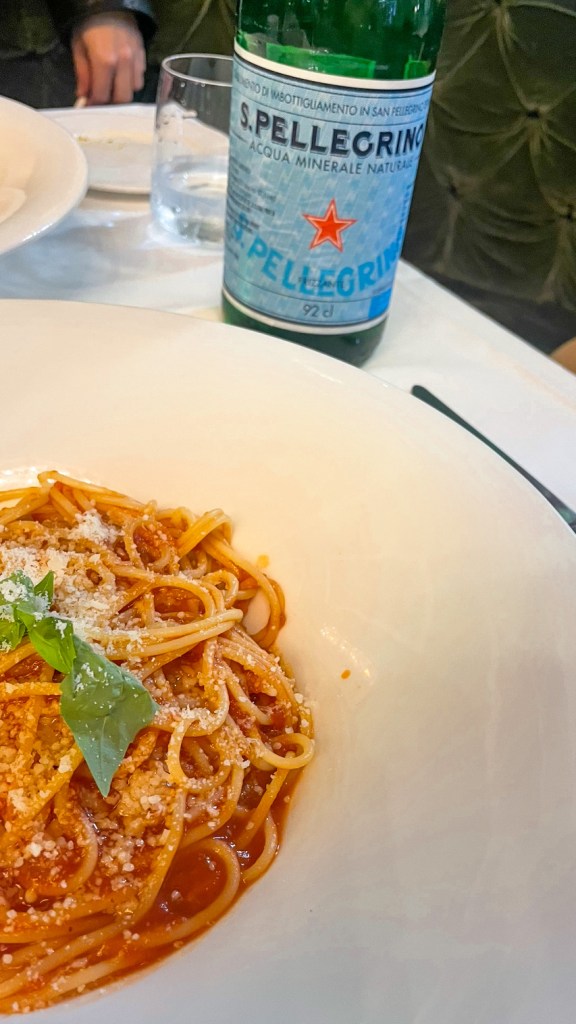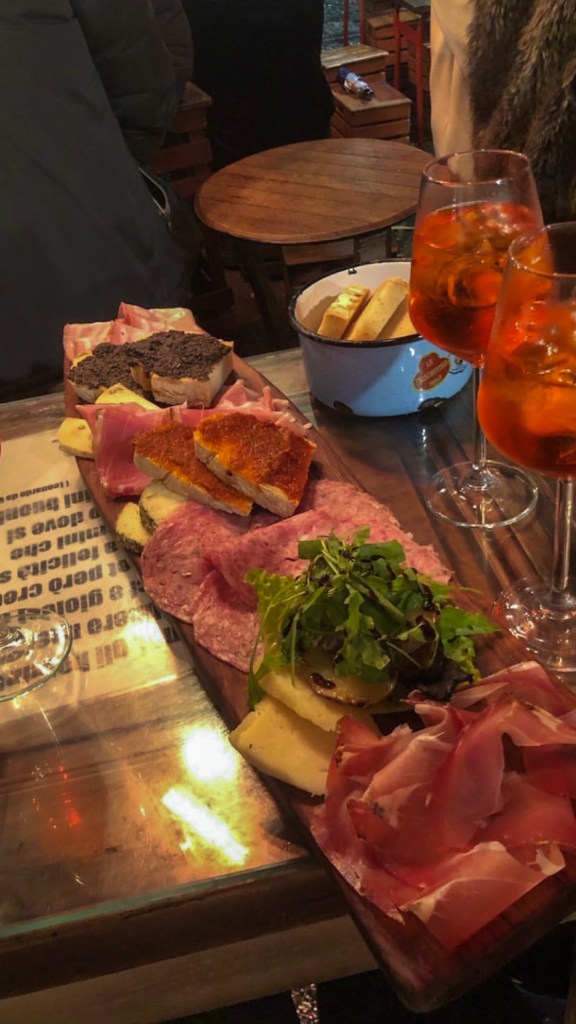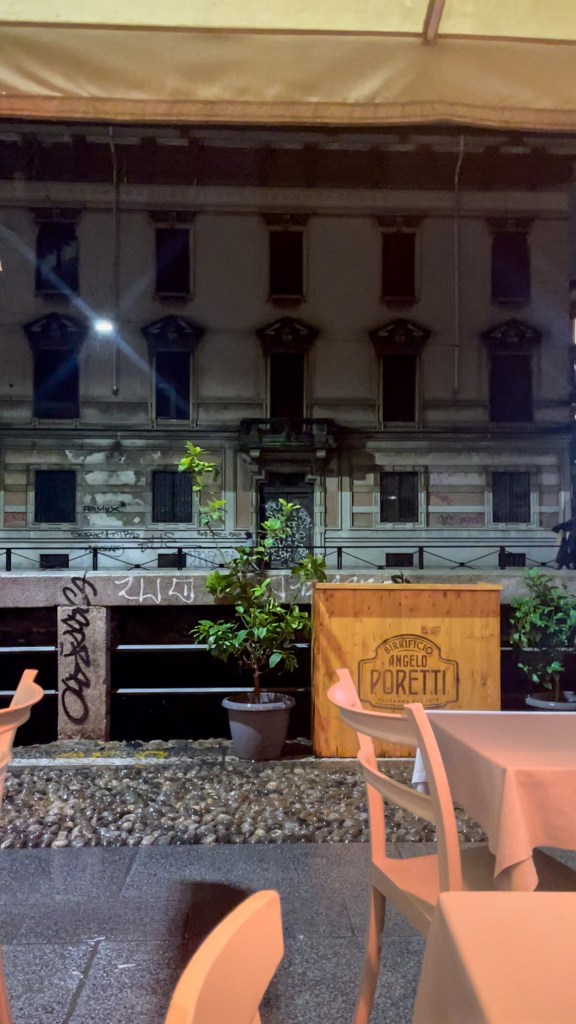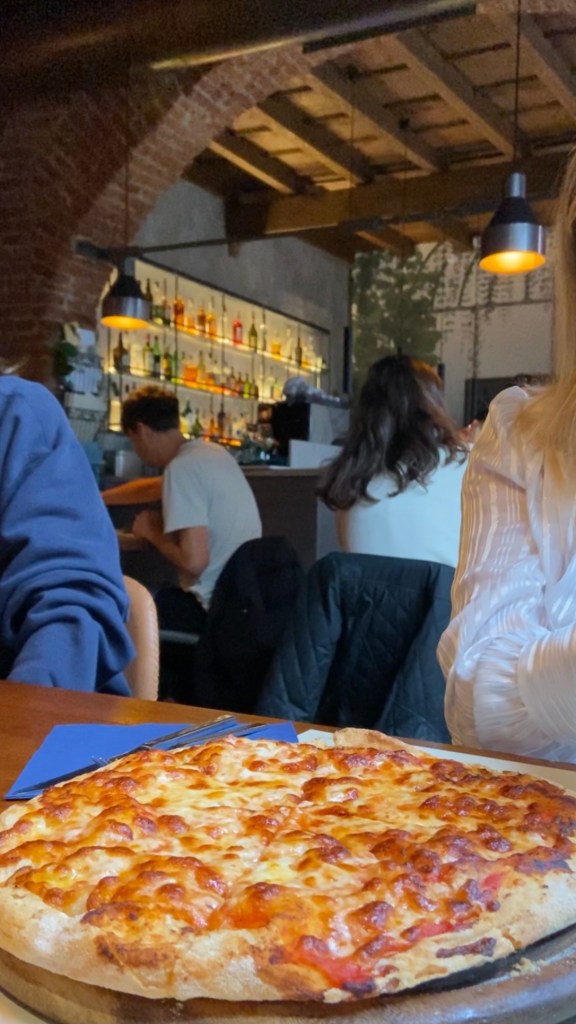 Where to Eat
Biffi: This restaurant, located right near Duomo, has been around since the mid-19th century. The deep green, elegant interior and warm chandeliers were just a perk compared to the well-liked seafood and traditional pasta served. I shared the warm, toasted bruschetta with a friend and ordered a big plate of spaghetti just for me. The Pellegrino lamp beside us encouraged us to order a bottle ourselves. Expect to spend $15 to $40 on a historic meal here.
La Prosciutteria Milano Navigli: This artistic restaurant brings in a crowd of young people during the traditional "aperitivo" (I'll talk more about this later). They had a wide selection of wines and classic Italian snacks, but I opted for a beautifully crafted cheese and meat board coupled with an Aperol Spritz. All together, I paid less than $10. While the rustic, original interior was very appealing, I sat outside on the packed, wooden benches and took in the fun, lively crowd getting ready for a night out.
Napoli Cucina E Pizza D'autore: I sat under the glow of heat lamps and enjoyed my Caprese pizza and cool glass of wine for a late night dinner along the Navigli canal. I spent a little over $15 for what might have been my favorite meal of my entire trip in Milan. While pizza is a must-try in Italy, you might choose to try one of the many pasta options on the affordable menu.
Canaletto: After walking for what felt like hours trying to find the perfect lunch spot along the Naviglio Grande, I think we found it at Canaletto. The earthy, modern interior matched the energy of the classic outdoor seating along the strip. I only spent about $12 for a glass of Pinot Grigio (yes, the wine tastes better in Italy) and shared a warm, margarita pizza with a friend.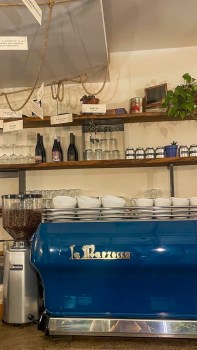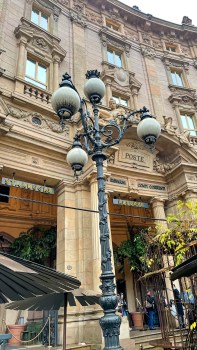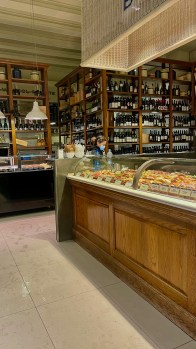 Where to Snack
Hygge: This expresso bar serves breakfast, lunch, and brunch, but I enjoyed a $4 fantastic cappuccino made with oat milk (my go-to coffee order) here in the evening as a post-dinner treat. Located on the corner of Via San Calocero, its calming, new-fashioned environment told the stories of past visitors along its walls.
Starbucks Reserve Roastery: I know what you're thinking…there's no way I traveled all the way to Italy just to get an average Starbucks coffee. I am not going to lie, I was reluctant to spend my short amount of time in this spot, but I am so glad I did. This is no ordinary shop, but it is an immersive experience with a bright green Scolari roaster in the shape of a train, a 22-foot roasting cask, and a show of how coffee is made. The interior was worth the long line, with engraved brass walls, marble counters, and handcrafted mosaic floors. I spent $7 on a pistachio praline latte but had the choice between oven-baked pizza, specialty cocktails, or a table-service bar.
Merchant Logo Van Bol and Feste: On our way back to the train station from the Catello Sforzesco, we were determined to get some gelato before leaving the country. As a result, we found the most perfect bakery that sold everything from cocktails, sweets, savory snacks, and ice cream. With a rich history and variety of selections, the $4 double scoop of coffee and milk chocolate flavors made my night.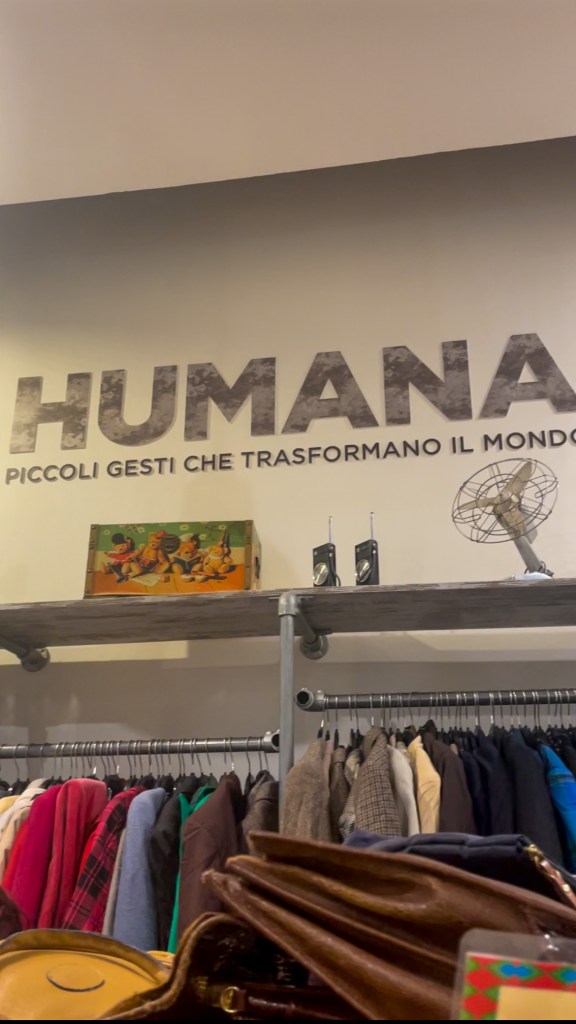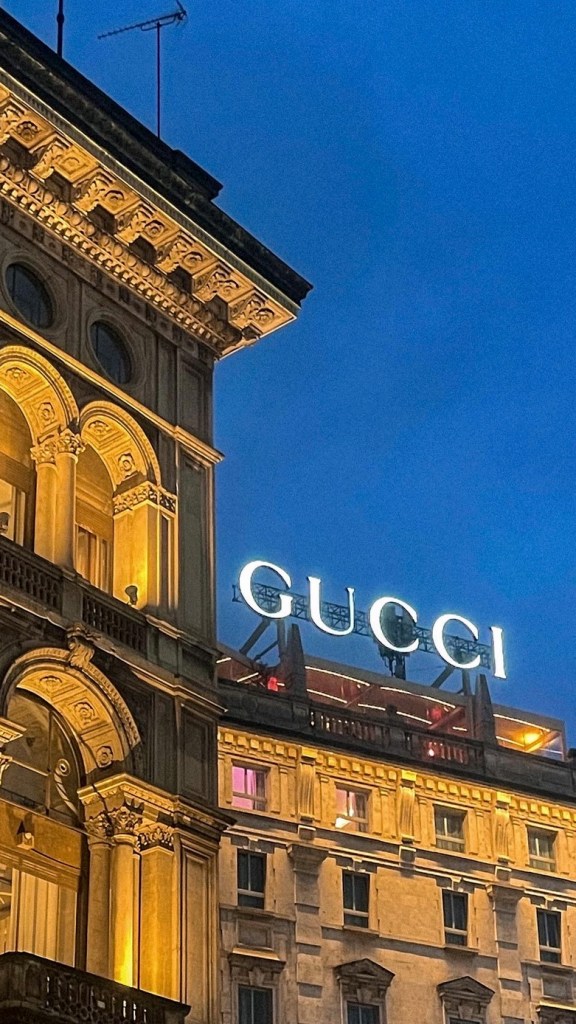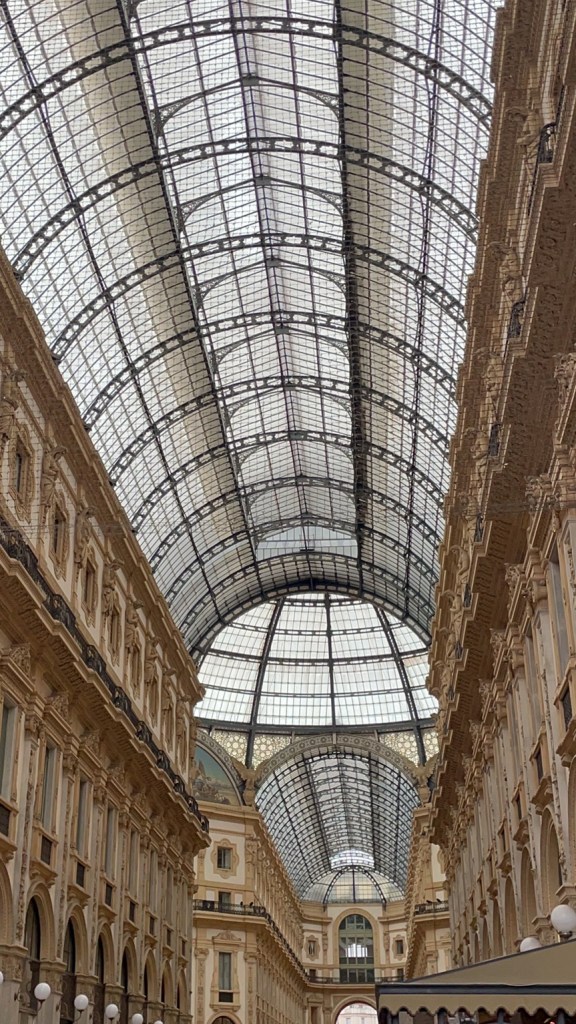 Where to Shop
Humana Vintage: This thrift store in the center of Milan and sells the city's fashion straight out of local's closets. I really love shopping second-hand while abroad and found my new favorite top for only $14. You are not only shopping sustainability here, but you are contributing to a cause, as the shop also serves as a humanitarian organization.
Piazza del Duomo: Cathedral Square serves as the biggest tourist spot in Milan (as I'm sure you've seen a million pictures of it on your Instagram) and is lined with the best stores to shop. From Gucci to Zara, there is a store at every price point surrounding this historic Italian landmark.
Galleria Vittorio Emanuel II: Personally, I couldn't afford to even step in any of these stores…but that didn't stop me from taking pictures for free. When visiting Milan, you have to stroll through the dome-shaped gallery of luxury shops such as Dior, Prada, Louis Vitton, Yves Saint Laurent, and many more.
Brera: As part of the Centro Storico district, you will find one-of-a-kind fashion boutiques as you walk along the cobblestone alleys, art collections, and memorable locations. Visit this area for free prime window shopping and site creative displays alongside street cafes and classic Italian restaurants.
Tips for Traveling to Milan
Apertivo is a historic ritual that has been taking place since the early 20th century. Between 6:00 p.m. and 9:00 p.m., the whole city gathers for drinks and snacks before taking part in the enthusiastic nightlife in Milan. This is a fun way to spark conversation with the locals during your trip.
It rains…a lot. The sky did not close for a minute while we were in the city, but that did not take away from the amazing time I had. Bring an umbrella.
Expect to walk everywhere. While public transport is sometimes necessary to get where you want to go, it can get really expensive after a while. Try to find a stay that is close to the city center and take on your journeys on foot. This is also a great way to experience the area. Citymapper is the app I live on to get me around.
While this article does not even skim the surface of what Milan has to offer, I am happy with the ways I spent my short amount of time in the city. I plan on traveling back to Italy to experience the beautiful country and explore it even further.
All photos by the author, @jahaesy.