Thanksgiving is right around the corner! Whether you are staying in for a nice family dinner or going out to celebrate Friendsgiving with your besties, Thanksgiving is the perfect time for good food, and even better outfits.
College Fashionista spoke with eight college students about what their outfits look like this year, and what inspires them to create the perfect Turkey Day fit. If you're still trying to find the perfect Thanksgiving dinner outfit, look no further!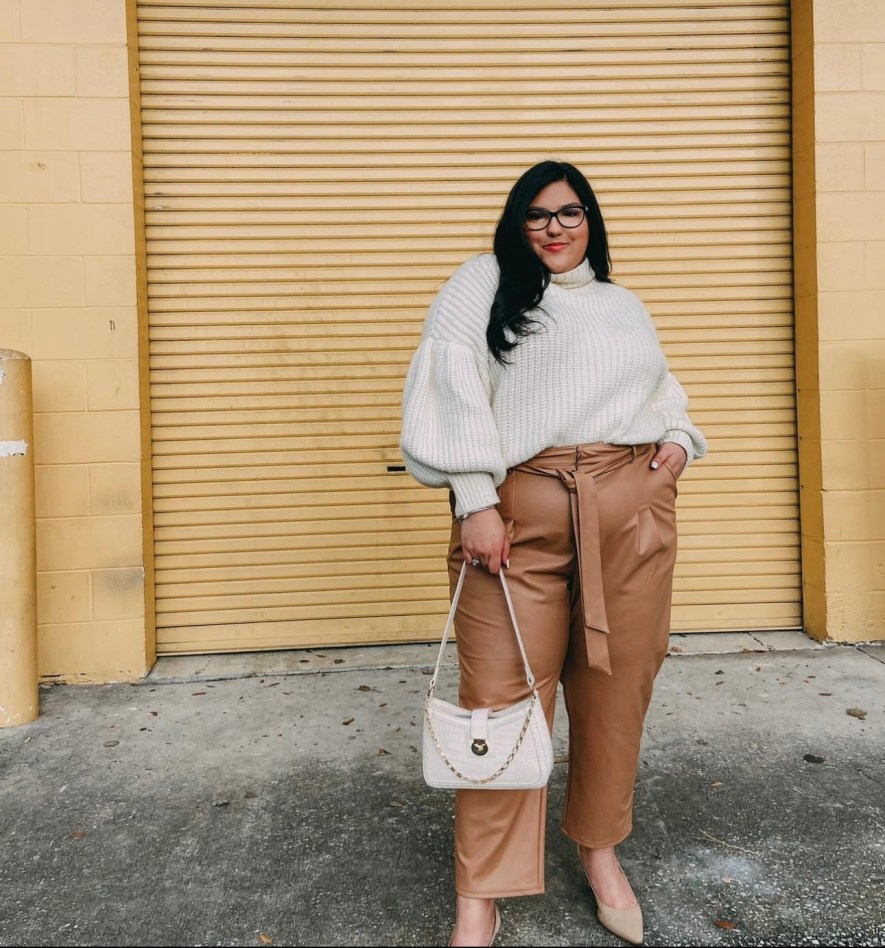 Kassandra's Thanksgiving Look
School: University of South Florida
Major: Digital Communication and Multimedia Journalism
This Thanksgiving, Kassandra is staying in Orlando to enjoy the day with her family. She loves "Sala Glam" which essentially means "getting dressed up to sit on the couch all day— but that's the best part!" She prioritizes a comfortable outfit completed with a beautiful fall makeup look. This year, she is rocking brown faux leather pants paired with a white cable knit sweater.
Kassandra predicts leather pants, corset tops, shackets and UGGs as some of the main trends this Thanksgiving.
Shop This Style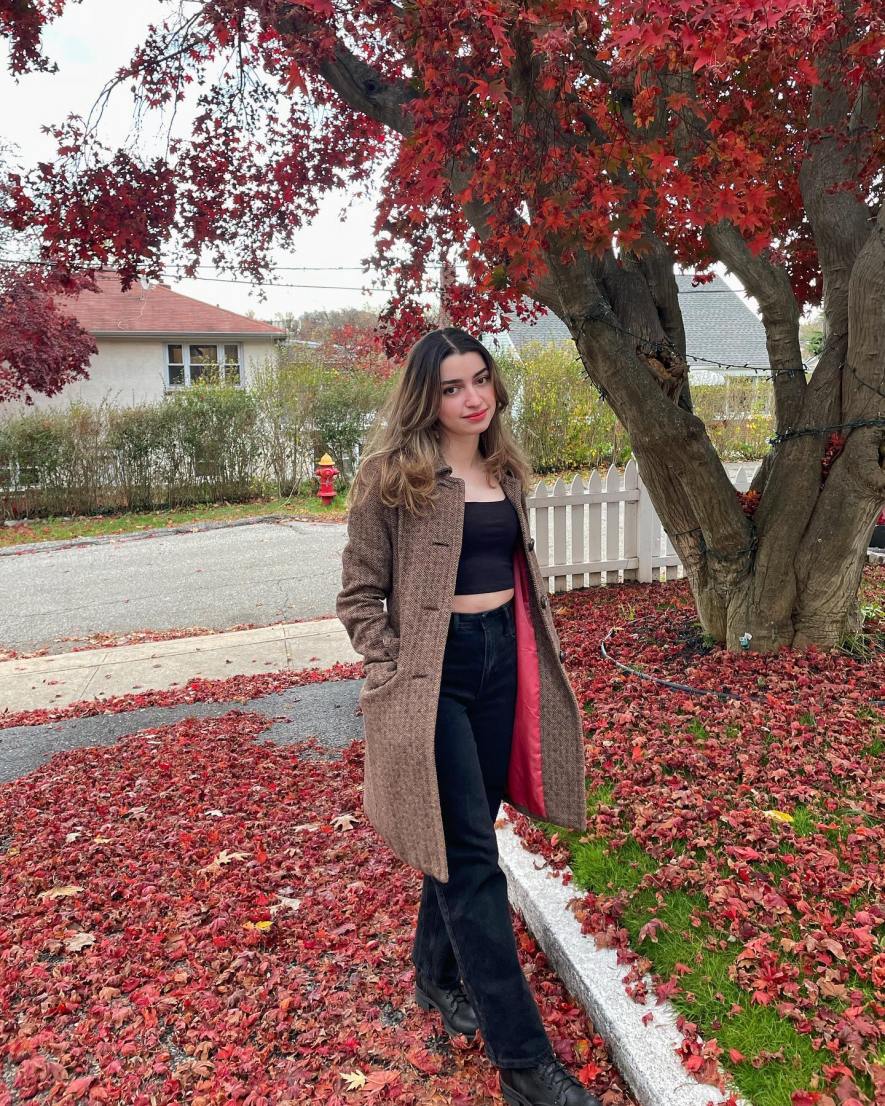 Alaina's Thanksgiving Look
School: College of Mount Saint Vincent
Major: Communication Studies
Alaina prioritizes style over comfort during Thanksgiving and prefers to go for a family-friendly vibe as opposed to something more avant-garde. This year, she is wearing a black top and black straight legged jeans underneath a brown mid-length coat.
Alaina thinks that we will be seeing suede and velvet making a comeback in the forms of jumpsuits, tops, and more.
Shop This Style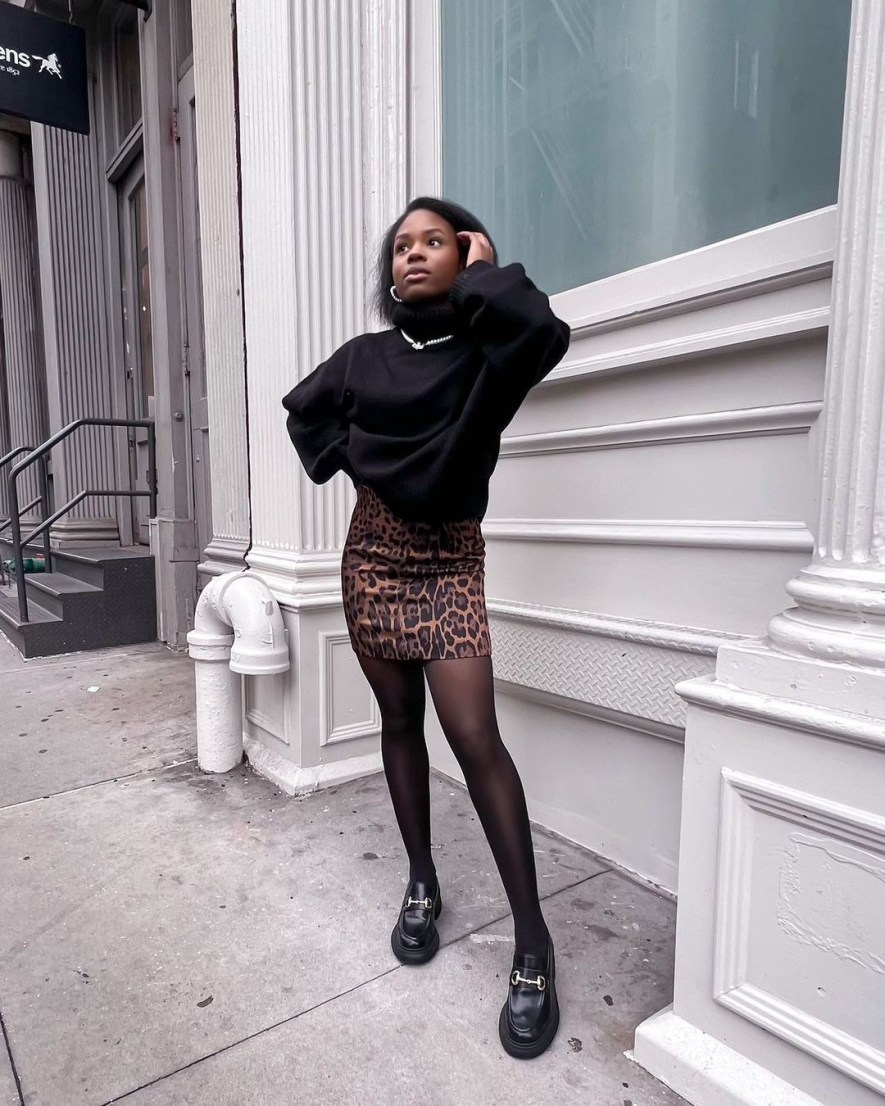 Aja's Thanksgiving Look
School: Arizona State University
Major: English
Aja is all about comfort on Thanksgiving! "I tend to not want to wear anything that's too right around the stomach area, especially when having dinner and playing games with family and friends- you want to be stylish but comfortable at the same time".
This year, Aja predicts that oversized sweaters will be a huge trend! She will be wearing an oversized black sweater paired with a bold leopard print mini skirt and tights.
Shop This Style
Anessalyn's Thanksgiving Look
School: Fashion Institute of Design and Merchandising
Major: Beauty Marketing and Product Development
Last Thanksgiving, Anessalyn wore a cheetah print midi skirt paired with a cropped brown jacket and white boots. This year, she plans to wear a white bolero sweater and a brown body-con dress with heels! Her go to style is classy yet simple. For the holidays, she equally prioritizes comfort and style. "The holidays should be carefree but also fun"! This year, Anessalyn thinks a pair of comfy joggers and UGGs will be a popular trend.
Shop This Style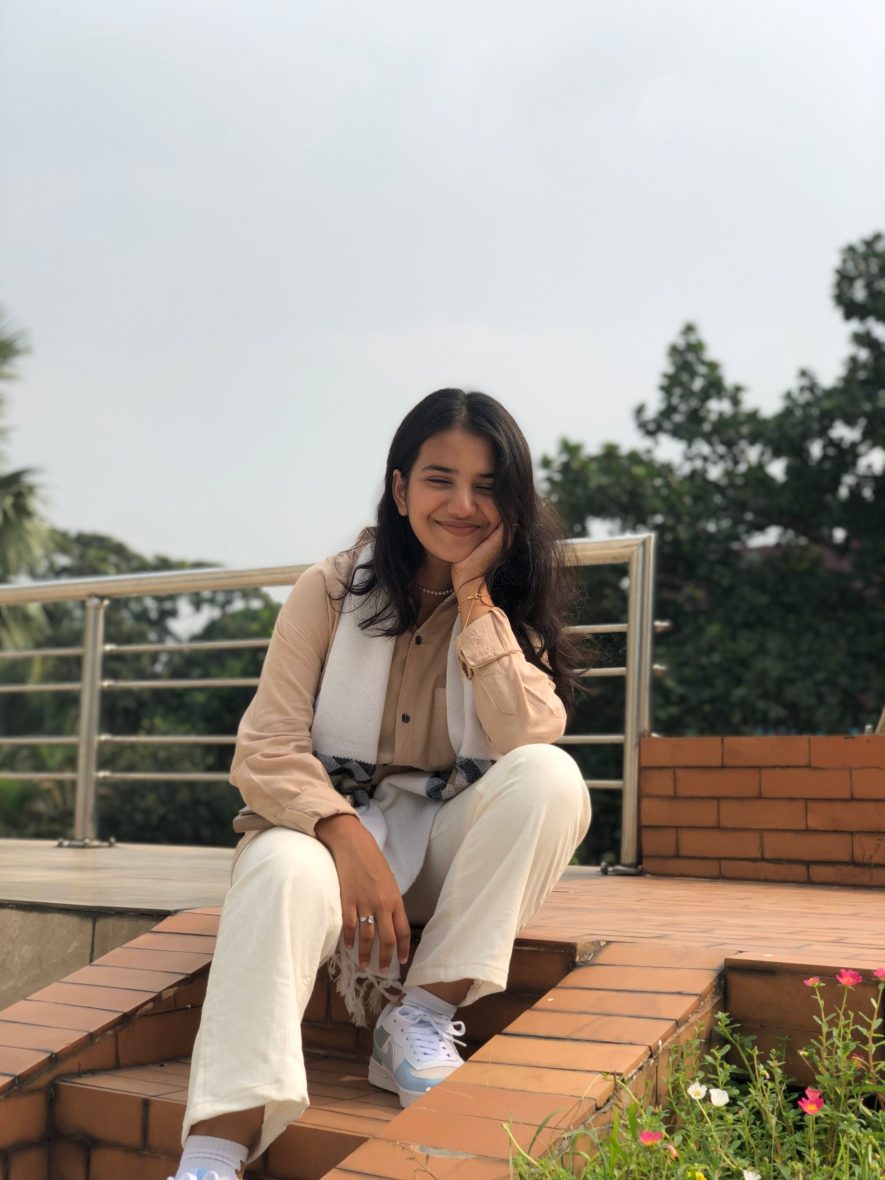 Syeda's Thanksgiving Look
School: Bangladesh University of Professionals
Major: Business Administration
This year, Syeda is wearing a casual outfit that is comfortable above anything else. "I believe that comfort plays a big role in a Thanksgiving dinner because we are there to appreciate each other and feel good at home". A monotone look is perfect for a casual and easy-to-put together outfit!
Shop This Style
Ahnna's Thanksgiving Look
School: Kent State University
Major: Marketing
Ahnna's look is both bold yet comfortable. She is planning to wear wide leg leather pants paired with a white turtle neck and a brown velvet top. She is focusing on style without sacrificing comfort and has found the perfect pair of leather pants for the occasion.
Shop This Style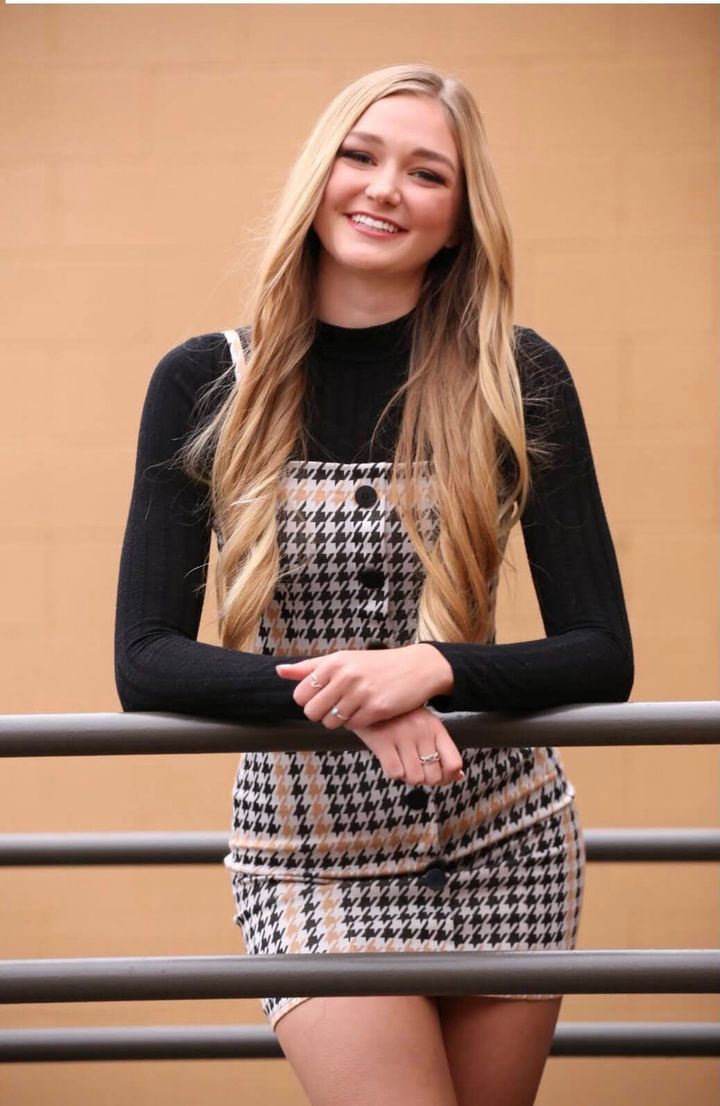 Kaia's Thanksgiving Look
School: Loyola University Chicago
Major: Marketing
This Thanksgiving, Kaia is prioritizing coziness. She is wearing a patterned dress underneath a black turtleneck sweater for a stylish yet easy-to-move-around in look. She believes that high boots and chunky scarves will be extremely popular this holiday season.
Shop This Style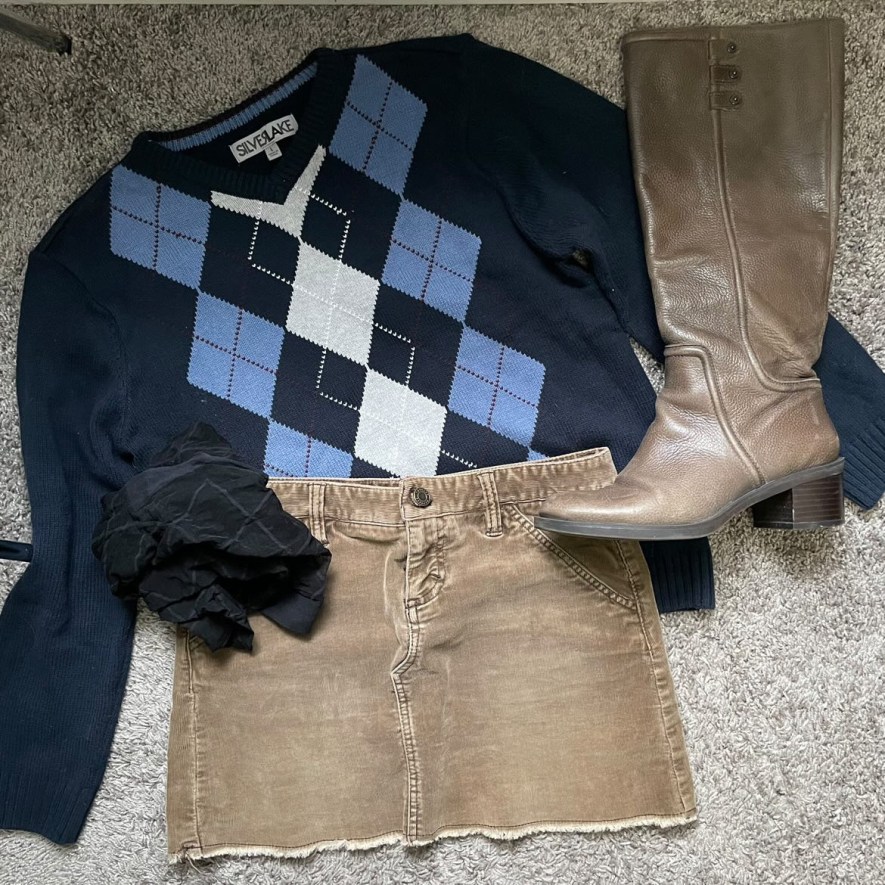 Emma's Thanksgiving Look
School: Fashion Institute of Technology
Major: Fabric Production Management
Comfortability and a formal style are crucial for Emma's Thanksgiving look. "This is the one time a year I come back from fashion school to see my entire family so there is always some pressure to look sharp and cute!"
This year, Emma is going for an oversized argyle sweater with shades of blue and brown, a brown mini skirt, navy argyle tights and matching brown boots! The best part? The entire outfit is thrifted!
Shop This Style
Featured Image via @ajadarden, @anialacint, @anessalyn.soltero, @purnipie. Design by Her Campus Media.