Temperatures are only beginning to drop, but this winter's coolest beauty collaboration is already on the market. The latest Glossier launch elevates a cult favorite formula with a palpable sense of nostalgia. Enter: The Swiss Miss Balm Dotcom. Reminiscent of cozy snow days, this limited edition skin salve has earned a spot in the winter regimens of beauty lovers everywhere.
Glossier's newest collection with Olivia Rodrigo proves the brand is no stranger to iconic collaborations. This partnership with household cocoa brand, Swiss Miss however, feels unique to anything Glossier has done before — and in the best way possible. The formula of a leader in the beauty space, with the feel of a wintertime classic will make you never want to take this product off.
The Formula
The Glossier Balm Dotcom universal skin salve is a fan favorite, and for good reason. Its thick formula serves as a nourishing lip rescue. As winter creeps onto the horizon, a heavy duty balm is essential to avoid cracked, dry lips. According to Glossier, the Balm Dotcom formula is packed with natural antioxidants and moisturizers like Castor Oil, Beeswax, and Lanolin.
Balm Dotcom is available in ten unique hues including: Berry, Mango, Coconut, Mint, Cherry, Birthday, Rose, Original, Lavender, and of course, the limited edition Swiss Miss. As the quintessential winter pick, Swiss Miss is described by Glossier as having, "hints of rich cocoa, vanilla, and sugar strands with a sheer chestnut-brown tint."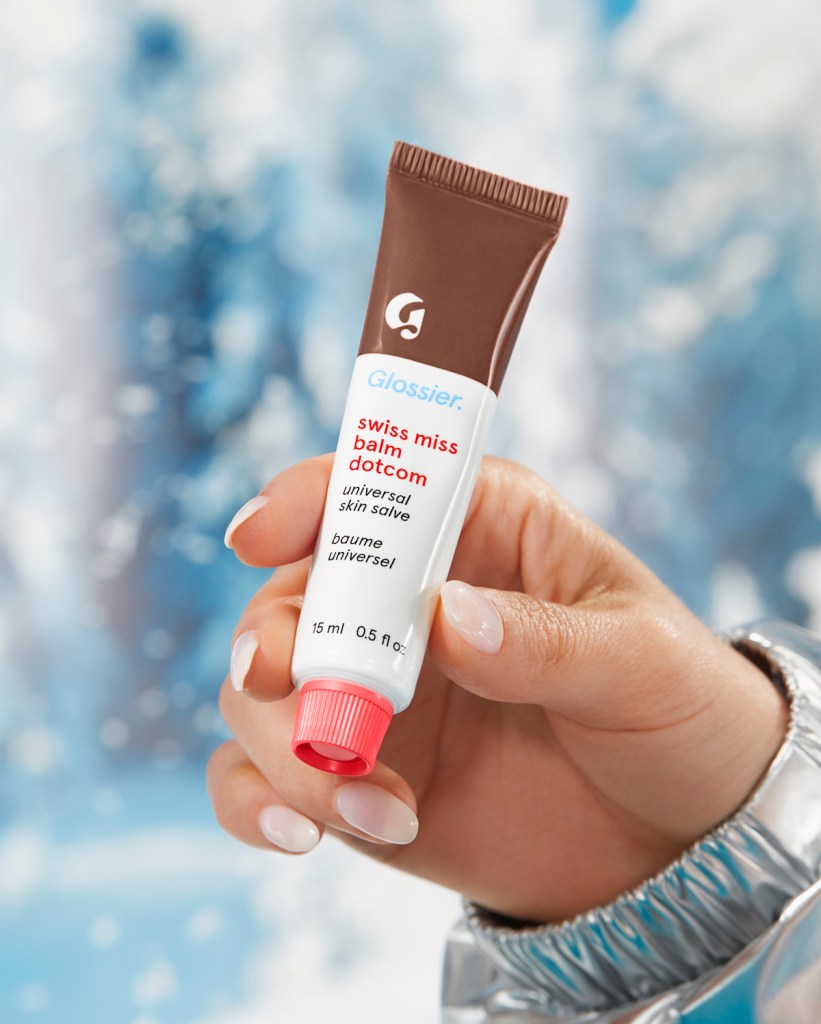 The Feel
The Swiss Miss Balm Dotcom's sweet, chocolatey scent unlocks delicious, wintertime memories with just one swipe of salve. It's rare that a beauty product makes consumers feel something beyond whether or not its use is effective. Not only does the product of this collaboration work wonders on dried, winter lips, but its comforting sensation also resonates with those who use it. The Swiss Miss element transforms this product from a formula, to an experience.
This universal super salve channels a hot cup of cocoa (with extra marshmallows) après a day of snowman building. It captures the essence of getting that "snow day" call from school, first thing in the morning. It embodies all the best parts of wintertime and the holiday season in just one small tube.
The Look
Winter is the perfect time to experiment with rich, deep lip shades. In case you missed it, Hailey Bieber herself said brown, glazed lips are in this season. If a cocoa hue feels out of your comfort zone, don't fear! The Swiss Miss Balm Dotcom has a barely-there hue, leaving nothing but a warm, light sheen on your lips. Its sheer, buildable formula allows you to control just how dark you want your lip look to be. Pair this product with your favorite lip liner for a quick, elevated look whether you're in full glam or keeping it au naturel.
Shop the Glossier X Swiss Miss Drop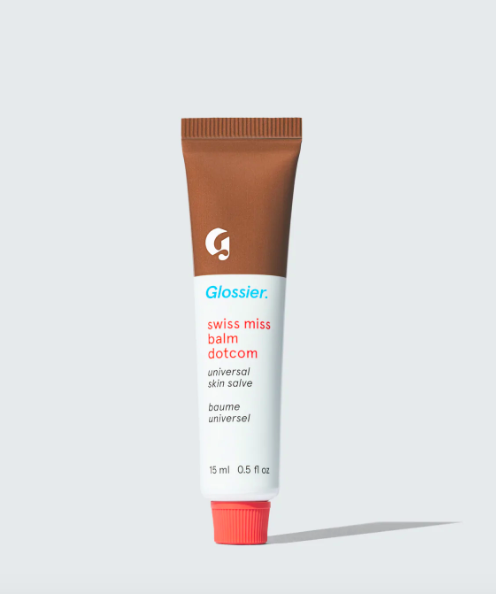 Swiss Miss Balm Dotcom
The cult favorite Glossier Balm Dotcom formula, with a comforting, nostalgic, Swiss Miss twist. This limited edition skin salve is a must in your beauty regimen this winter. $12.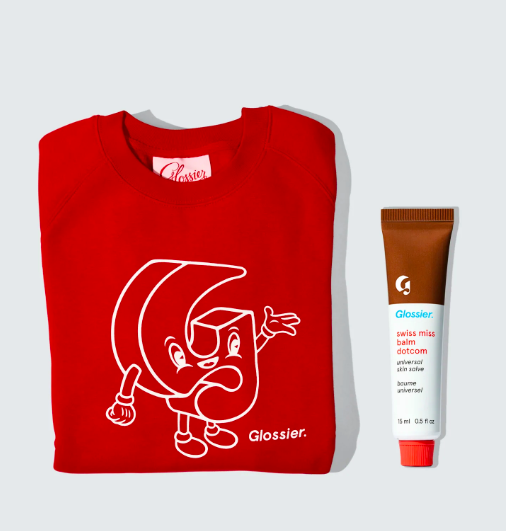 Snow Day Duo
Holiday shopping for the Glossier fanatic in your life? There is no better gift than this quintessential winter set. Equipped with the new Swiss Miss Balm Dotcom, and the limited edition G Pal crewneck in a festive, licorice red hue, the Snow Day Duo is secret Santa worthy. $52, $42.
Featured Image via Glossier/M Booth. Design by Her Campus Media.