On January 8, 2021, pop star Olivia Rodrigo released her mega-hit, "Driver's License." A little over a year has passed, and with seven Grammy nominations, an upcoming tour, and a documentary coming soon, Rodrigo is clearly speeding through career milestones. I instantly became a fan of Rodrigo while watching the first season of the popular Disney+ show High School Musical: The Musical: The Series. A lot has happened since then, including the release of her incredible debut album Sour, and the artist's style evolution is apparent. Not only is her Instagram aesthetic goals, but it also shows how her fashion sense has developed since the beginning of her whirlwind singing career. There are even Instagram accounts, like @oliviarodrigocloset, dedicated to posting the star's style.
Styled by the sister duo Chloe and Chenelle Delgadillo, Rodrigo perfectly balances high end fashion with cool vintage finds. Even if you can't afford everything she's wearing, you feel like you can recreate her looks, and more importantly, you want to. Rodrigo "doesn't care about the brand necessarily," Delgadillo told The New York Times in an interview last year. "She never asks: 'Who is this?' She asks: 'Is this vintage or is this secondhand?'" With a love for thrifting and experimenting with fashion myself, I naturally gravitate towards Rodrigo and her style. I feel like many artists struggle to find their personal style, with both music and fashion, but Rodrigo has hers nailed down, which is unique for someone so young. That's why I find myself looking to her more than anyone else right now for fashion inspiration. So, I couldn't pass up the opportunity to take a look back at Rodrigo's style evolution, with some of my favorite looks from the superstar.
01. Leather Jacket Street Style Look
Not long after her hit song "Driver's License" was released Rodrigo posted this street style look. There's so many trends here that I love, starting with the graphic sweatshirt and collar combo. She added yet another layer with a classic black leather blazer and a popular fuzzy bag. She finished off the look with my favorite shoes, high top Converse ($60), adding to the casual cool girl aesthetic. The jewelry, subtle but playful makeup, and slicked back hair are great additions. I love this outfit, because like many of her looks, anyone could recreate it.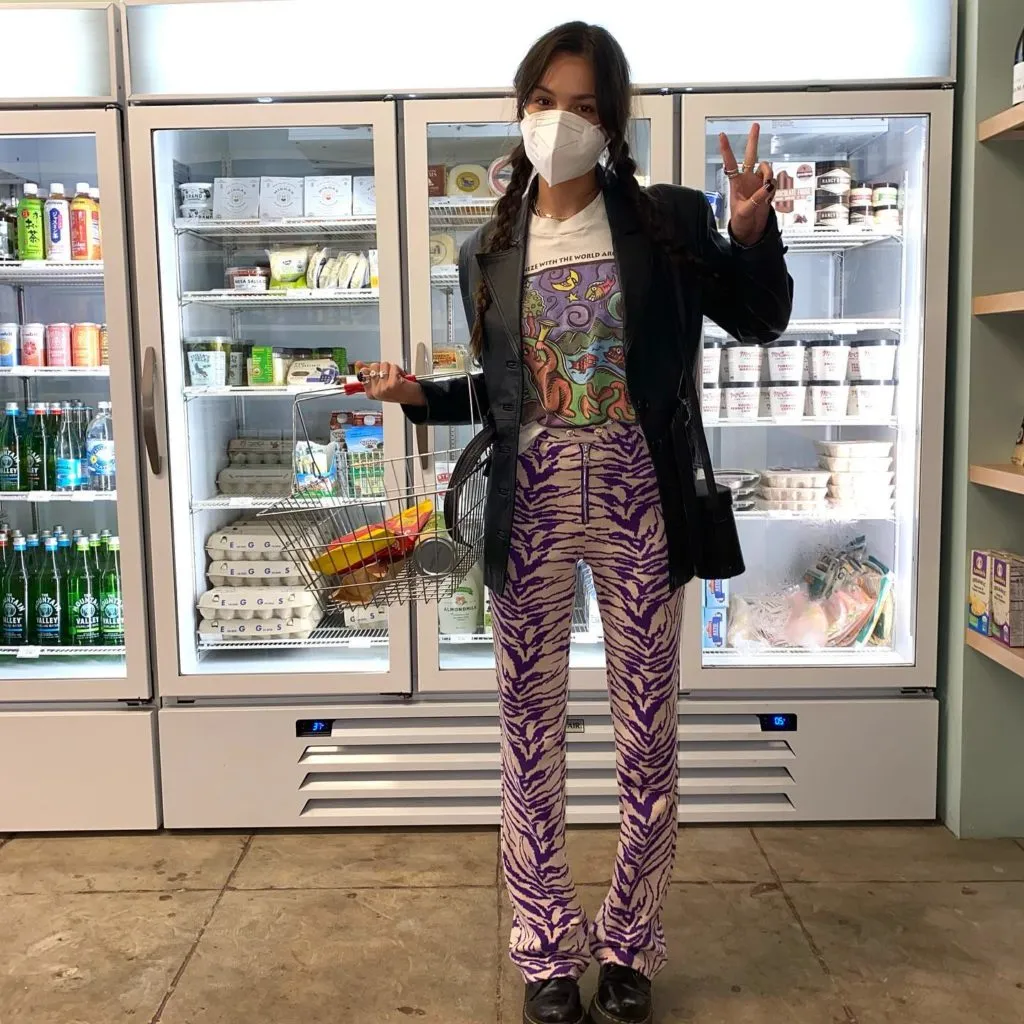 02. Iconic Grocery Store Run Fit
This is the outfit inspo for my next Trader Joe's run. I love how she mixes the animal print I Am Gia Kiki pants with the graphic tee here, then brings it back with matching black Dr. Martens, a blazer, and a bag. Her pigtail braids are super cute as well. If I saw someone wearing this in the grocery aisle I'd easily stop them and ask for outfit details — it's an It Girl look for sure.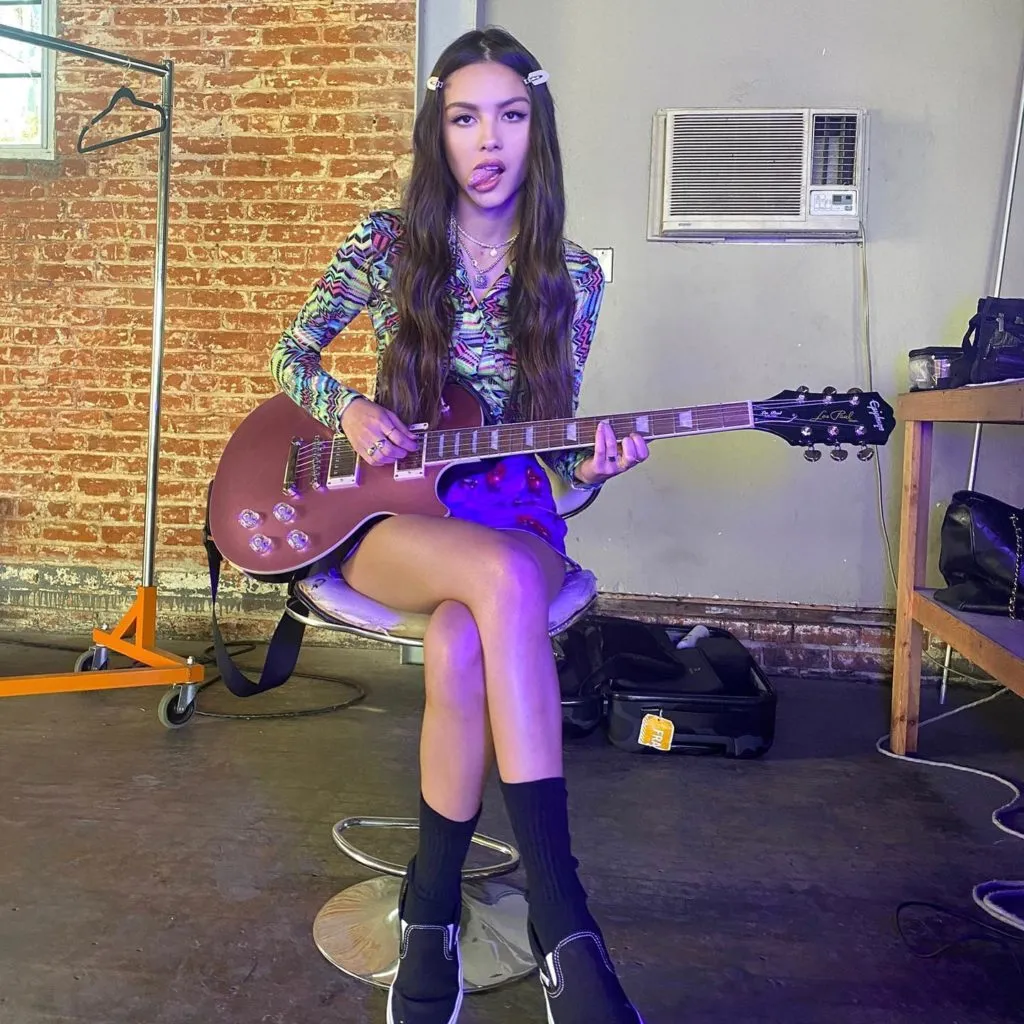 03. Groovy Guitar Outfit
This look has truly lived rent free in my head ever since she posted it. It screams cool girl. With looks like this, Rodrigo has really made me a fan of chunky jewelry and layering necklaces. The singer mixes prints again here, wearing a Marc Jacobs mini denim skirt, and I love it. The black Vans ($55) with the high black socks perfectly finish off the look for me.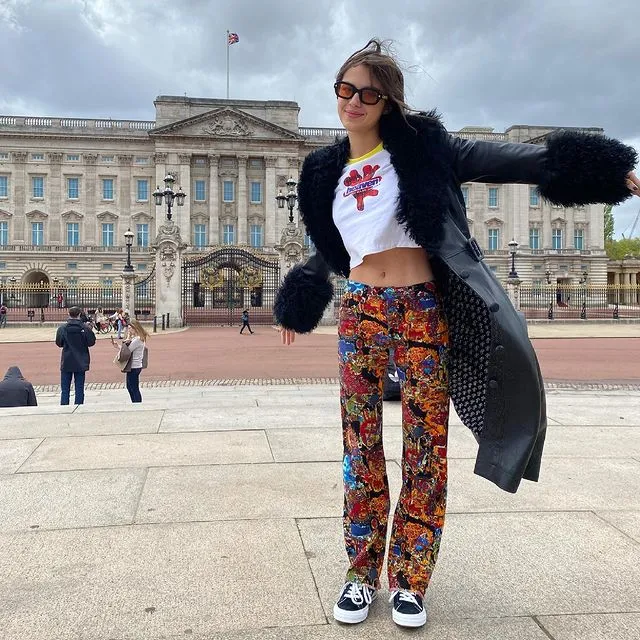 04. The London Look
You know I love a London girl! While traveling to London for her first Brit Awards, Rodrigo wore a Marc Jacobs Heaven baby tee ($65) with the coolest Jean-Paul Gaultier pants. I love how she paired the designer items with a casual pair of Vans. She also added the super trendy fur trim coat to the look along with some tinted sunglasses.
05. The Brit Awards Outfits
Olivia's 2021 Brits looks were effortlessly chic. Wearing Dior, Rodrigo stunned in a neon green pleated dress for the carpet and a red ensemble for her performance. "I loved my red-carpet dress, I was obsessed with the color and shape," the singer told Vogue. I think these looks were sophisticated for the event while still being fun and age appropriate.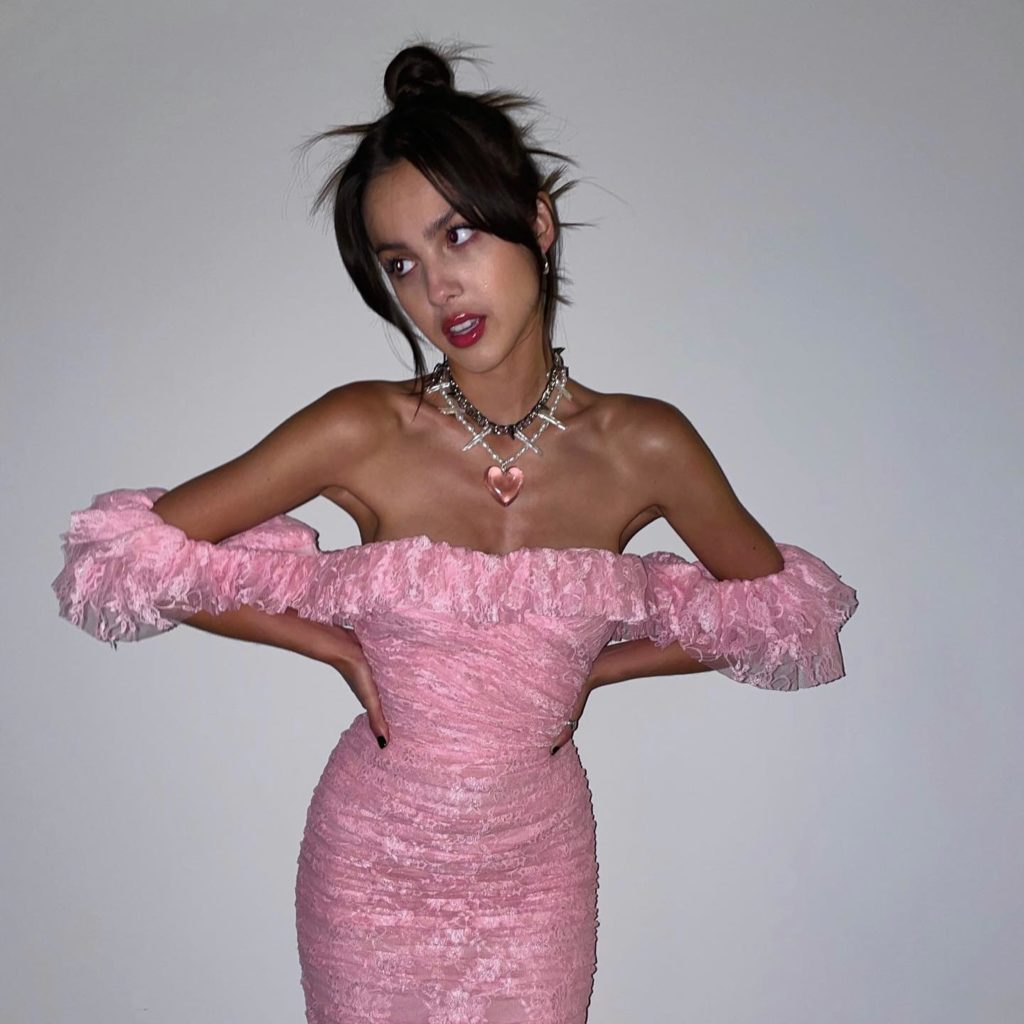 06. A Pretty in Pink Moment
Here Rodrigo is wearing this darling pink lace dress by Ashley Williams London. Her amazing jewelry is from Luv Aj, 8 other reasons, Vitaly, and Stinky Jewelz. I love how the stack of necklaces give this otherwise soft look some edge.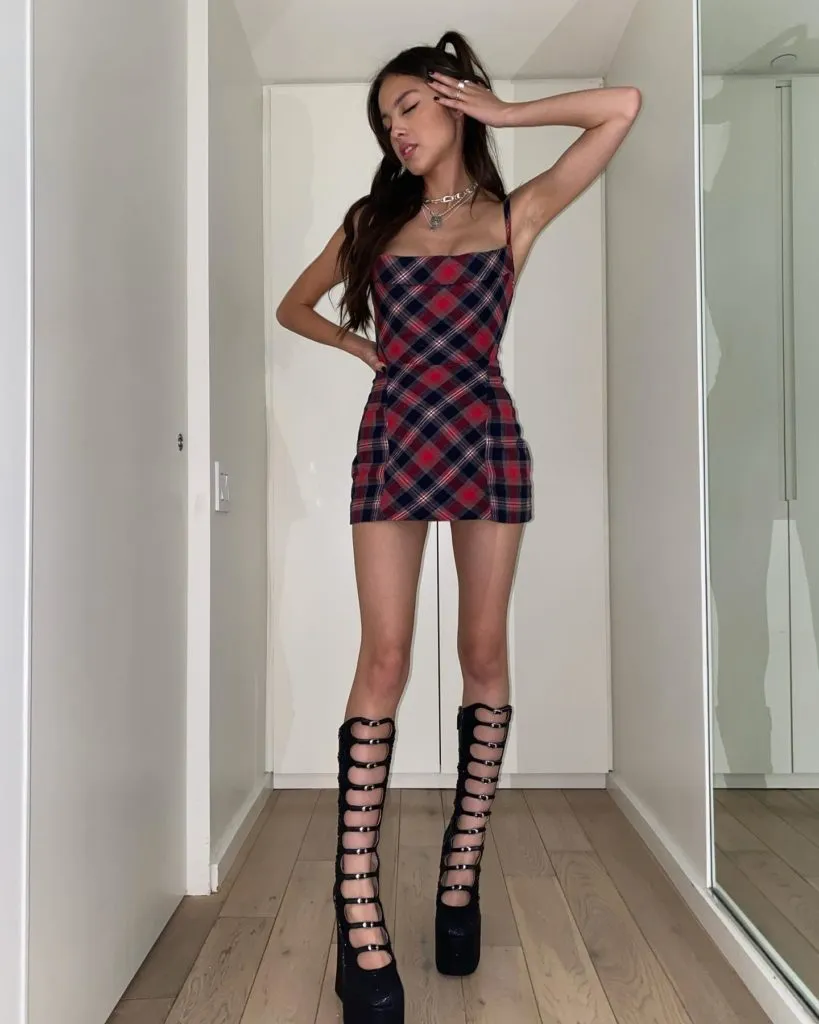 07. The Kiki Boot Reveal
Looking at recent trends, I credit Rodrigo for making these Marc Jacobs boots so popular. Since she posted this look wearing the Multi Buckle Kiki Boot ($595), I've seen them all over my FYP ever since. They're super cute and so her style. Rodrigo paired the boots with a plaid dress by Dsquared2 for a preppy punk look.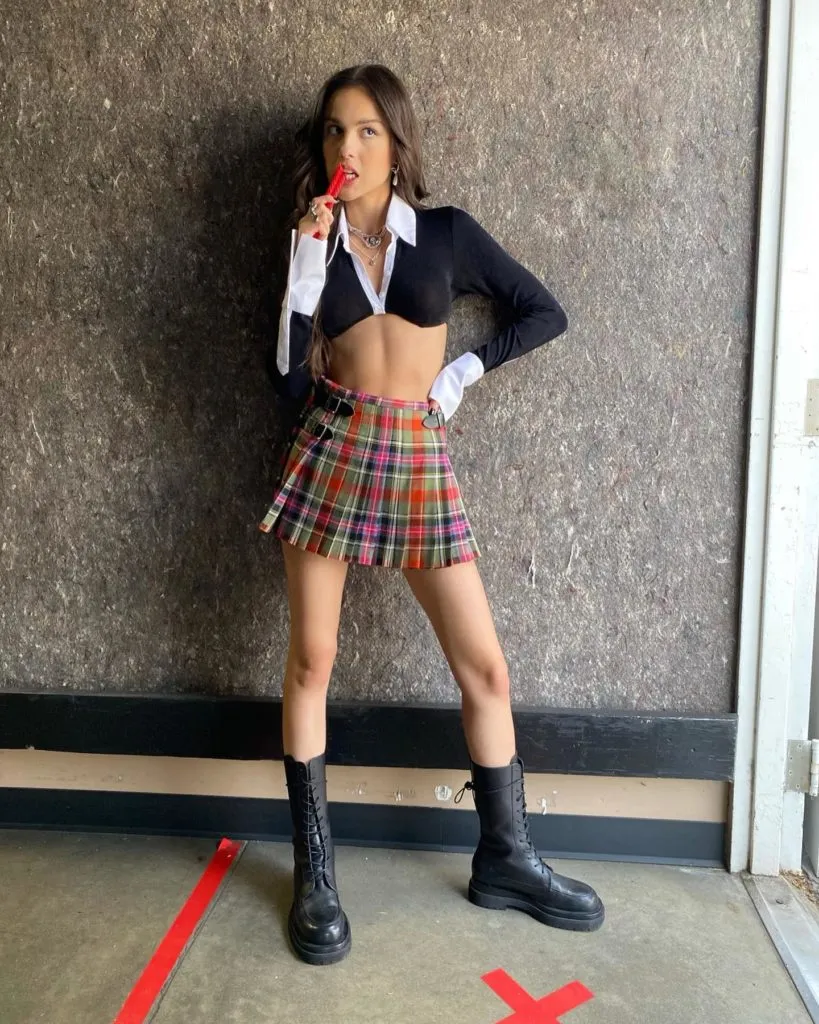 08. School Girl Meets Rocker Look
Here's some more preppy punk rock representation. Wearing a Mirror Palais underwire top, a Vivienne Westwood kilt skirt, and Magda Butrym combat boots, Rodrigo pulls off the stylish school girl look.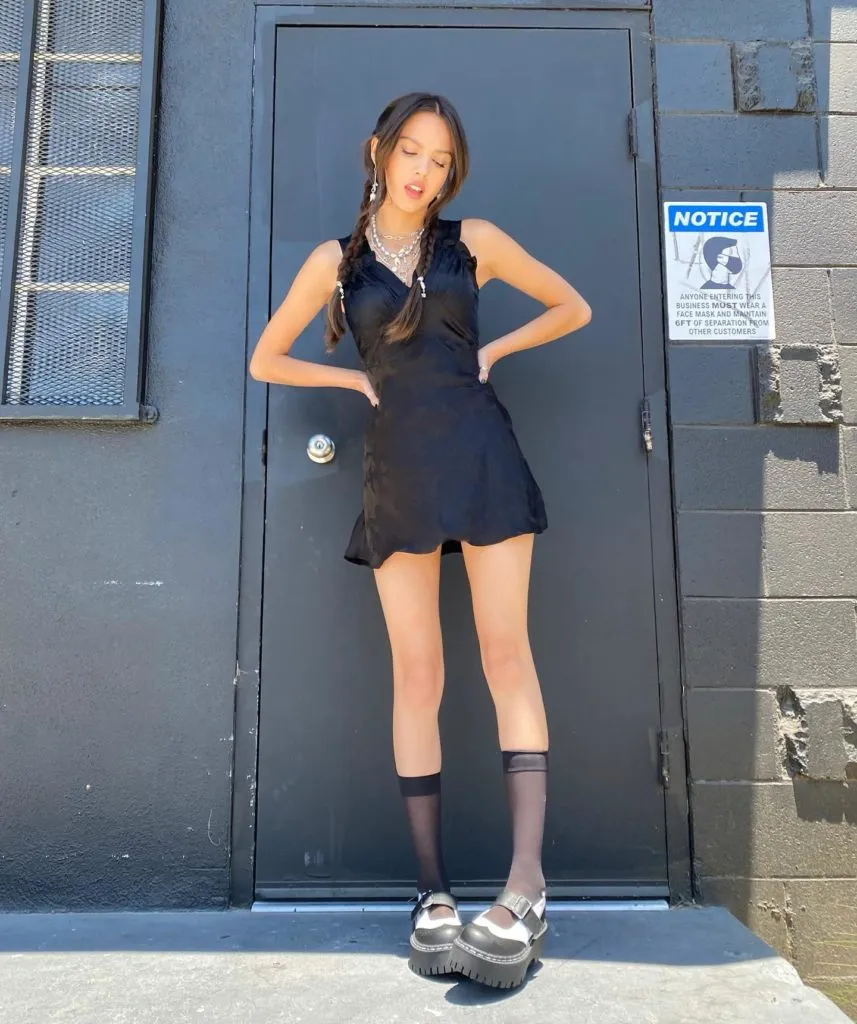 09. The Twilight Stan Outfit
We've seen silk slip dresses worn casually for a couple of seasons now. Rodrigo puts her own spin on the trend by pairing Realisation Par's Roxy dress ($195) in Black Dragon with mary janes and high, sheer black socks. She brings back the pigtails and the jewelry layering, wearing pieces from Twelve New York. However, my favorite part of this look is the Twilight Vampire Love bag ($90) from Praying.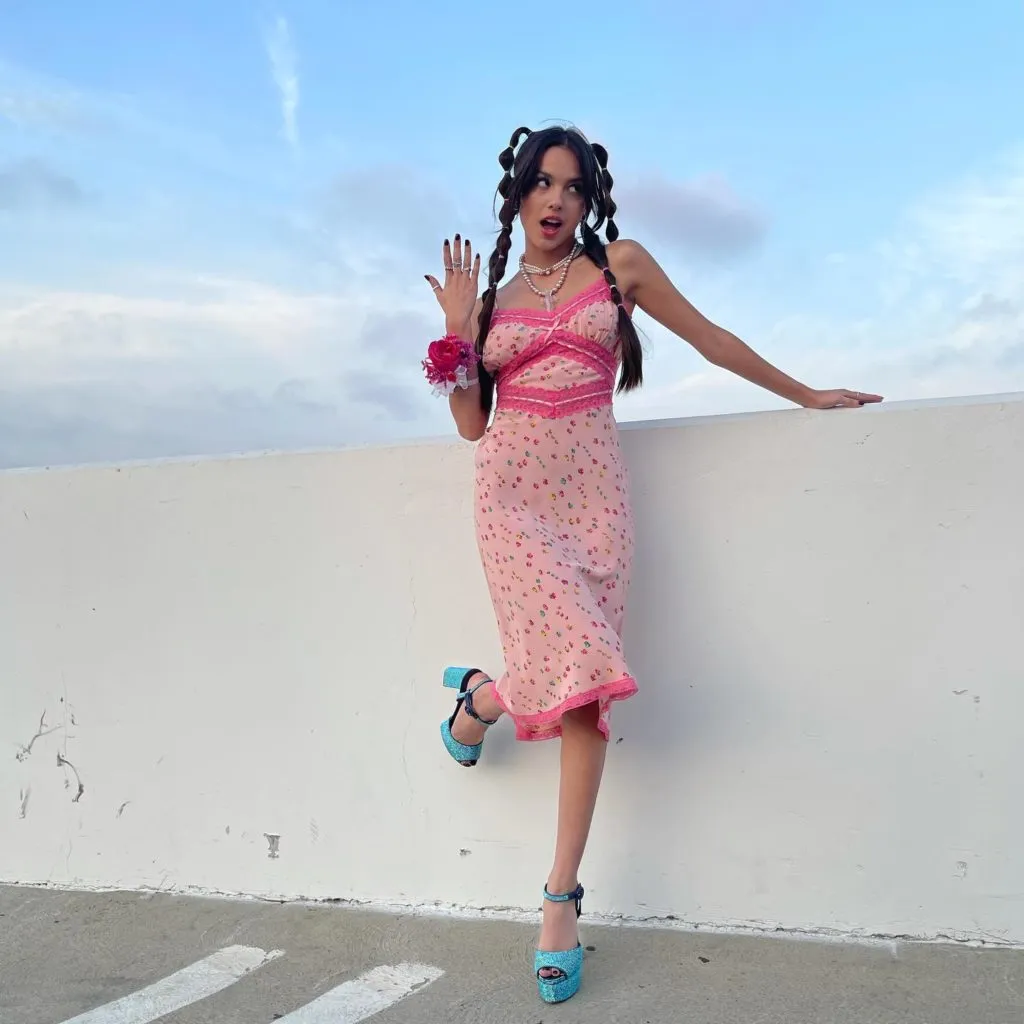 10. The Sour Prom Dress
Rodrigo celebrated the release of Sour Prom by having a prom of her own with friends and fans. She wore a vintage Betsey Johnson dress for the occasion, with jewelry from Janky Jewels and Rimor Jewelry. Sparkly blue platform heels finish off the look.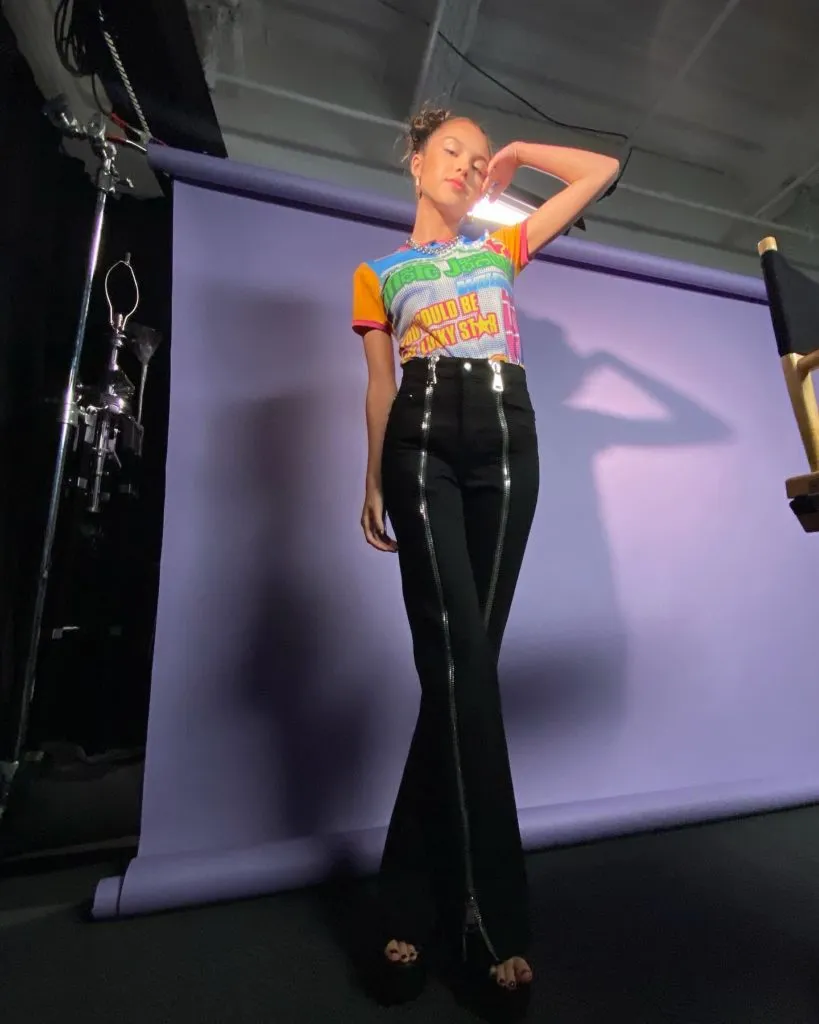 11. Marc Jacobs and Devon Lee Carlson Collab
I was so excited when I saw Rodrigo post this, because soon after the Marc Jacobs collab with Devon Lee Carlson dropped, and I was able to get my hands on this top. The Devon Baby Tee that she's wearing here is sold out, but other pieces of the collection are still available on Marc Jacobs website.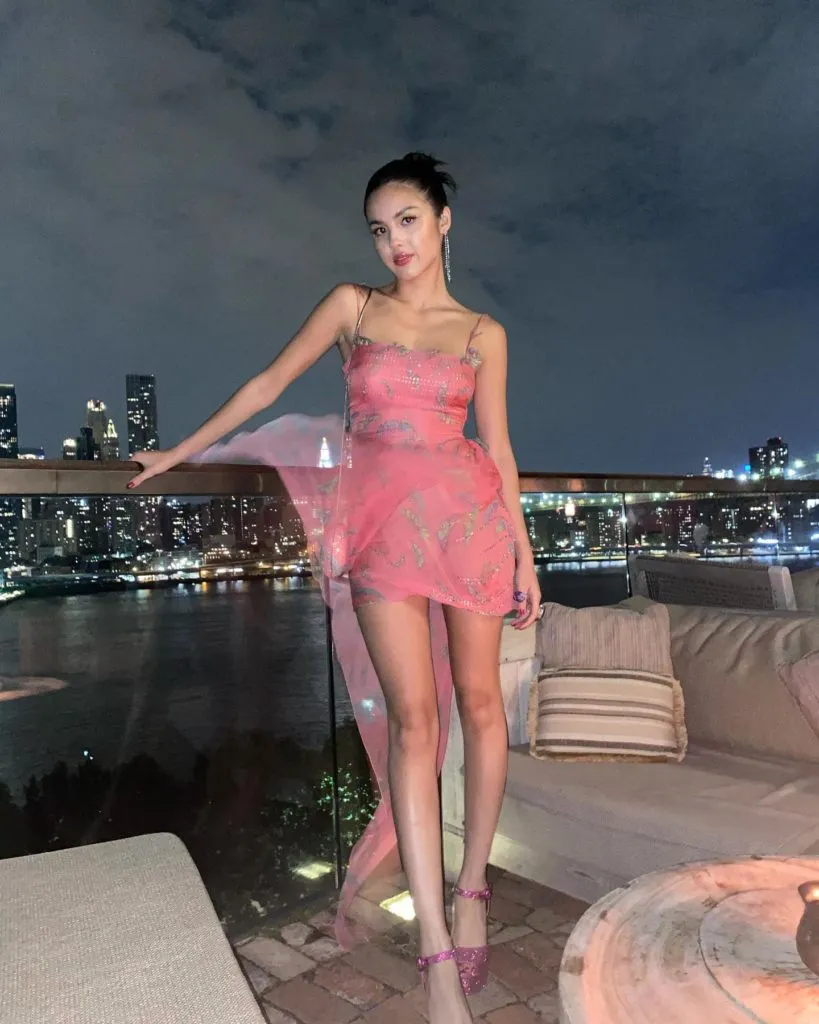 12. The Vintage Versace Look
This is the '90s prom look of my dreams. Here, Olivia is wearing the vintage 1999 Pink Silk Chiffon Butterfly Mini Dress from Versace and cute matching pink sparkly heels. If I had a dance to go to, I'd wear something like this.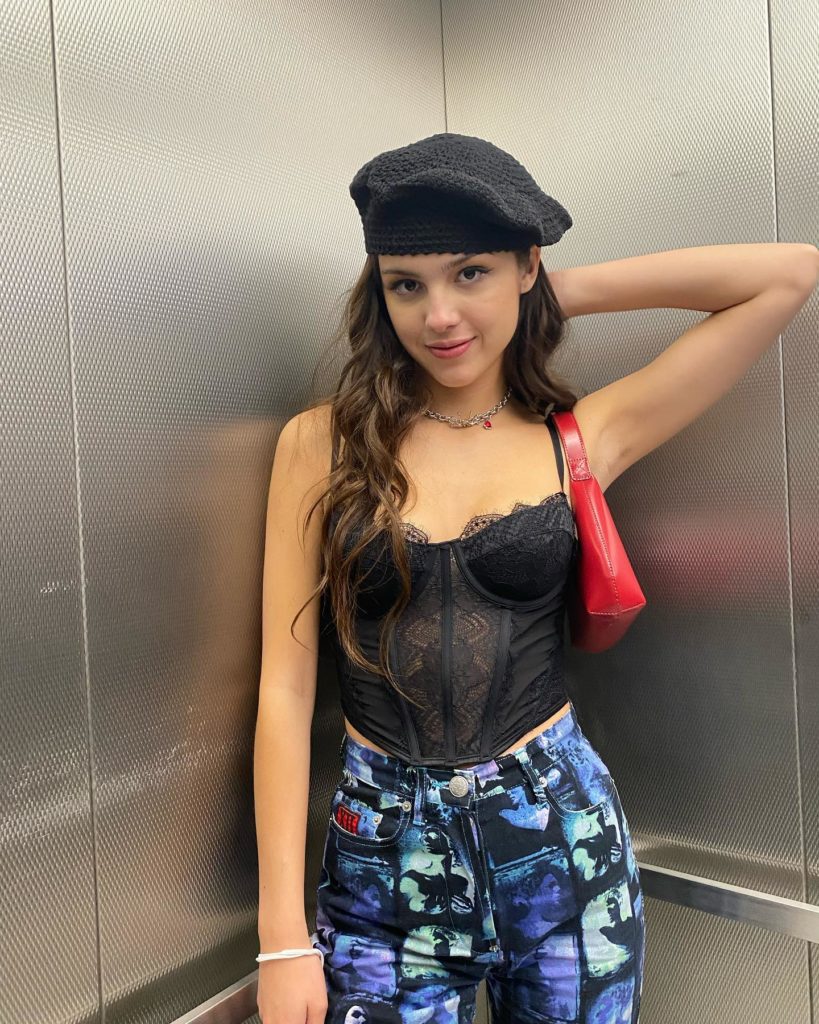 13. Olivia in Paris
I'm not kidding when I say I immediately bought a beret after seeing this post. The Cro-Che beret tops off the look, but the vintage Jean Paul Gaultier pants are what make the outfit a standout for me. She's also wearing the Glassons Lace Bustier Corset Top in Black, which is currently sold out, but they have similar options on their website. Liv's corset also reminds me of the extremely popular Urban Outfitters Out From Under Modern Love Corset ($59).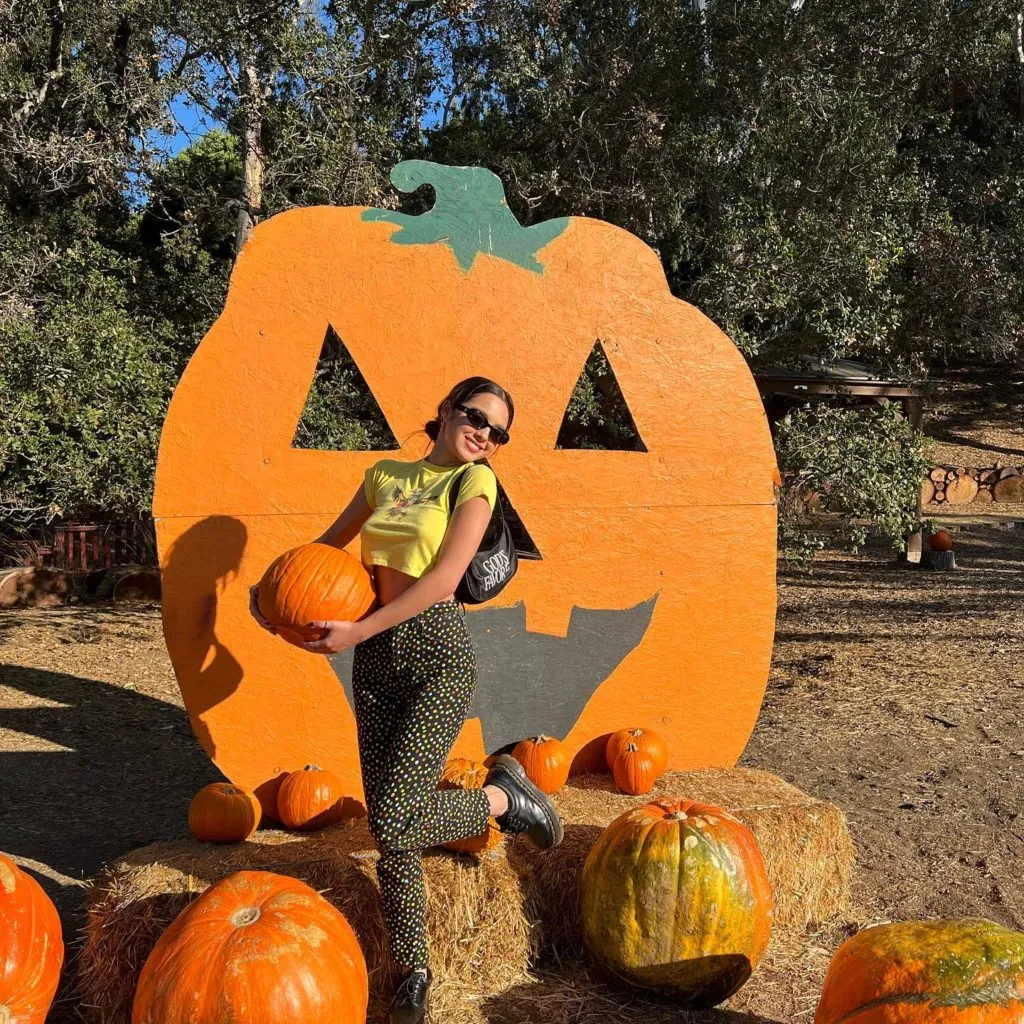 14. Pumpkin Patch Polka-Dot Fit
Getting into the October spirit, Rodrigo wore a cropped graphic tee, the popular God's Favorite Praying bag ($90), vintage Versace polka dot jeans, and her beloved 8053 Leather Platform Casual Shoes ($155) from Dr. Martens. Her festive, fun look would make anyone the cutest person at the pumpkin patch.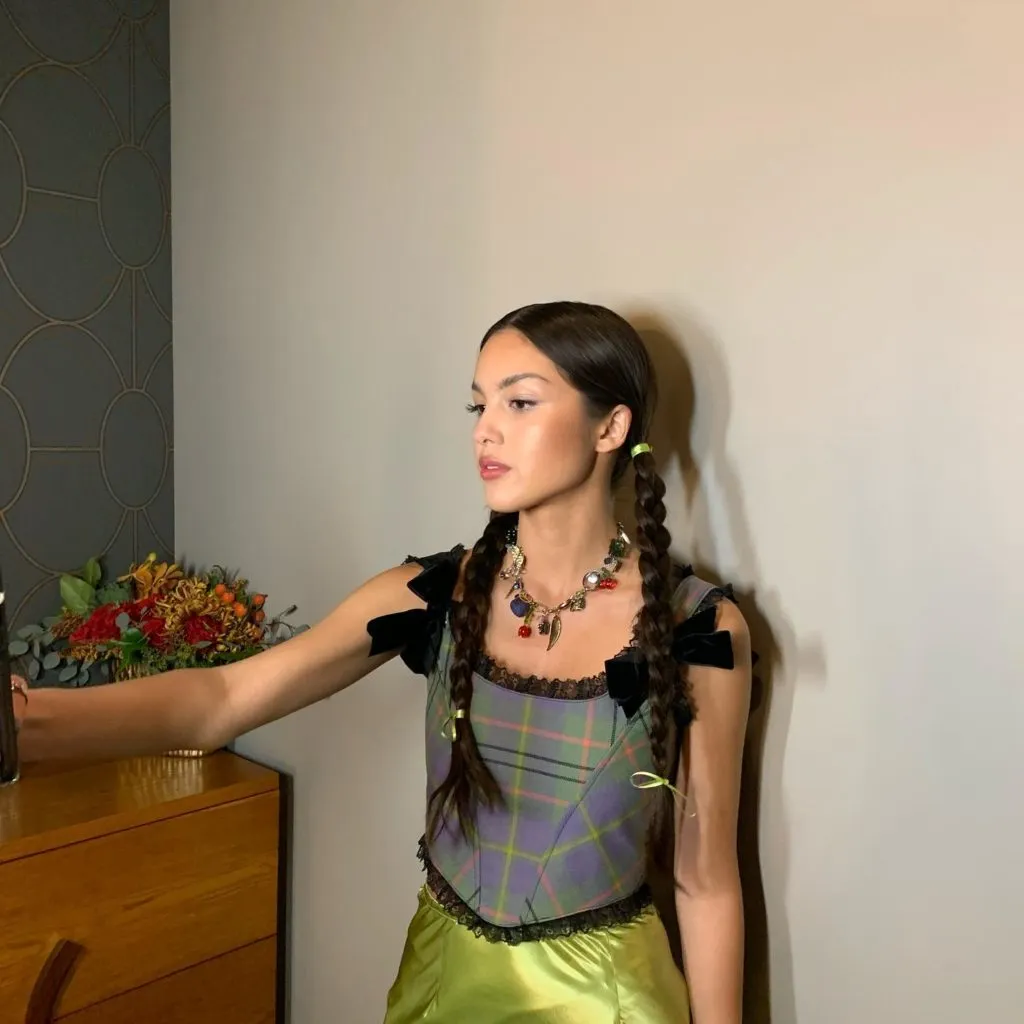 15. Corseted Up
This is hands down one of my favorite looks Rodrigo has ever worn. I feel like it perfectly encapsulates her style and could easily be recreated. She's wearing the Pristine Candy Tartan Corset Top ($242), a Nodress Olive Green Satin Slim Long Skirt, and a really cute Heaven by Marc Jacobs Lux Knitter Charm Bag.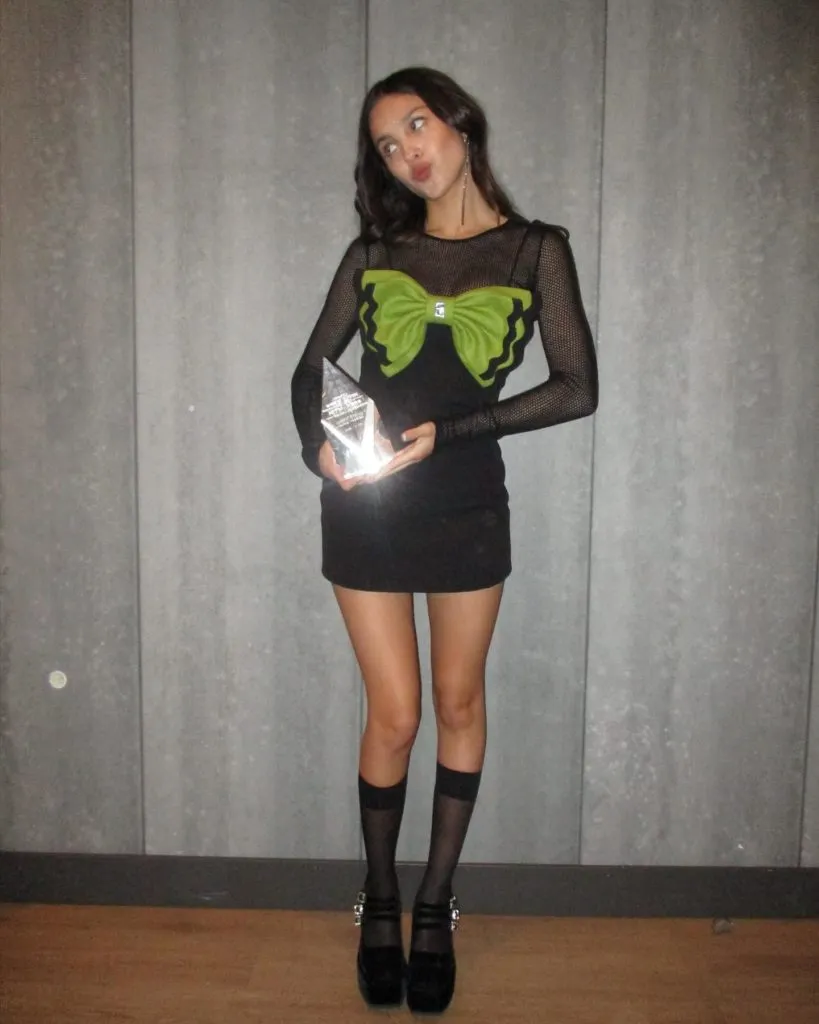 16. Liv's Variety Dress
Rodrigo finished off 2021 strong at the Variety Hitmaker's Brunch in this Black Slip Dress with Green Bowknot ($588) by Calvinluo. We see her again in black sheer socks, which she paired this time with the Bulla Maria Velvet Platform Sandals from Nodaleto. She finished off the look with the green Kendrick Trunk bag ($145) by Brandon Blackwood New York.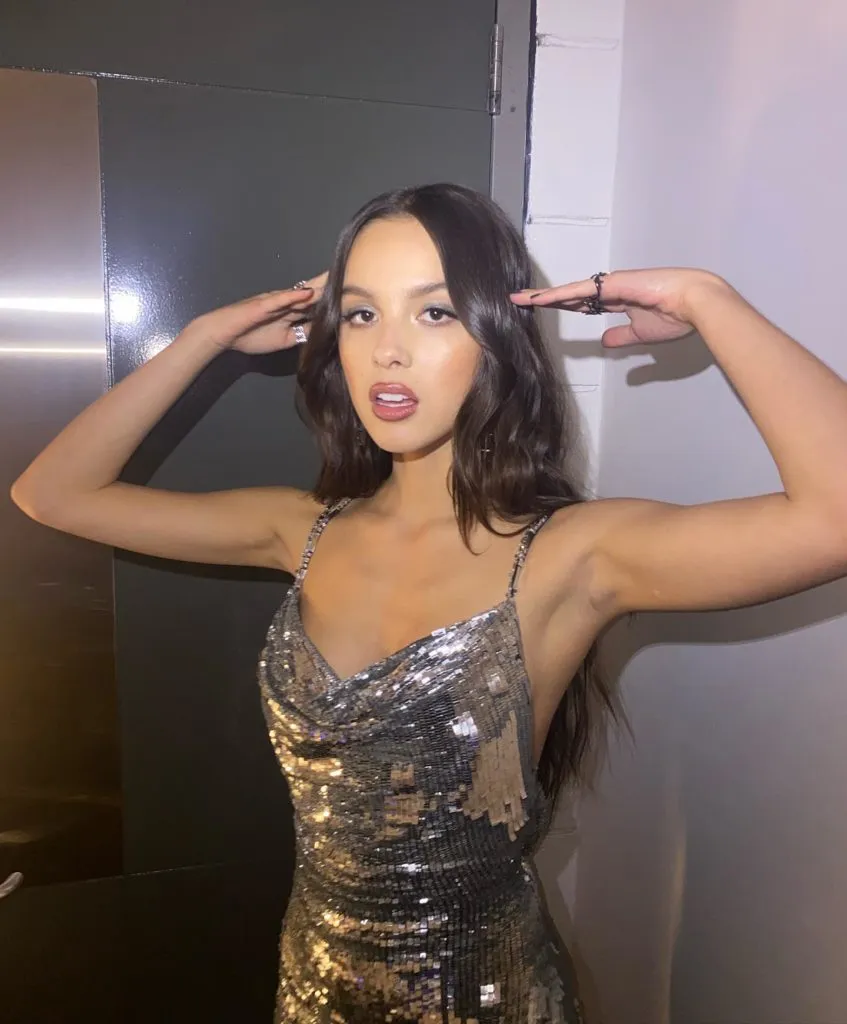 17. Back at the Brits
Rodrigo upped her game for 2022's Brit Awards. She accepted the International Artist and International Song awards wearing this gorgeous gown by Alexandre Vauthier. The dress was paired with black Giuseppe Zanotti Pris 105mm Wedge Sandals ($498), and a stunning Jimmy Choo Bon Bon Silver Satin Crystal Mesh Bag.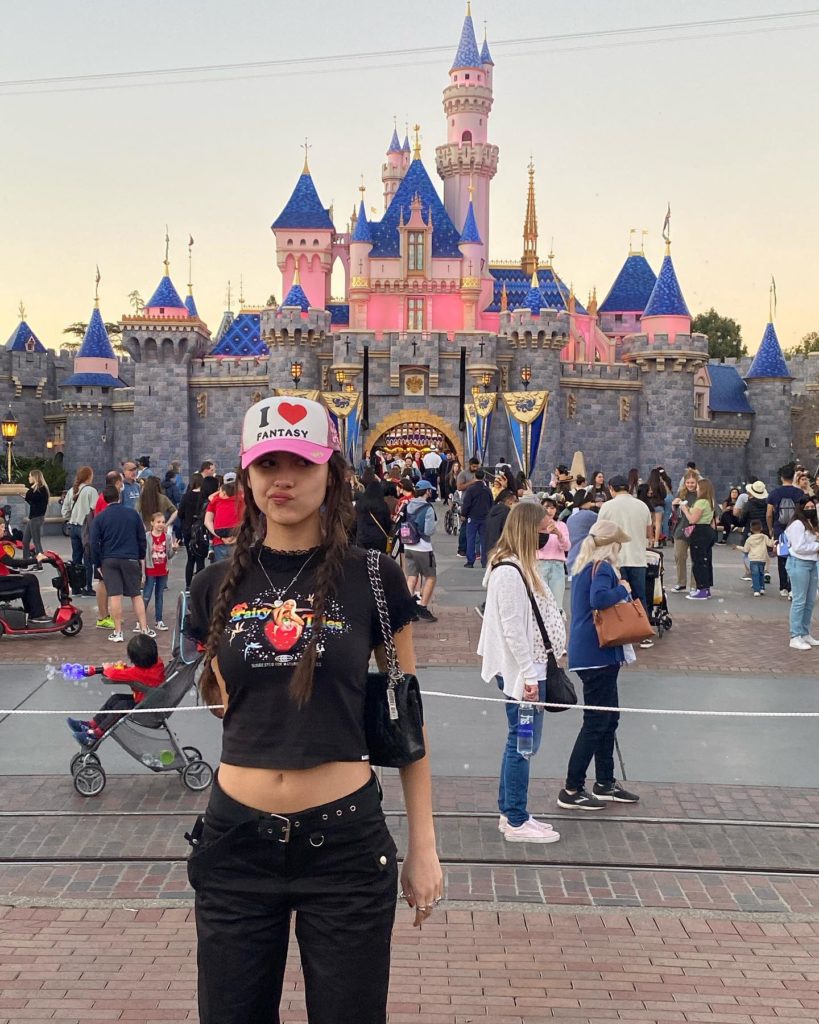 18. Disneyland Dream
Once again, Rodrigo heavily influenced my style with this outfit. After seeing her wear this hat, I started pulling out some of my hats again, even though I usually rarely wear them. I like this look because it's cute for Disneyland but also would be cute to wear literally any day you need a casual, quick outfit. She's wearing the Mimi Wade Adult Fairytales 2 T-Shirt ($165) that has super cute lace detailing. Olivia paired the top with these super cool Edikted Sia Low-Rise Cargo Pants ($92), the I Love Fantasy Trucker Hat from Beepy Bella, and a classic black Chanel handbag. Anyone could recreate this look which makes it so cool.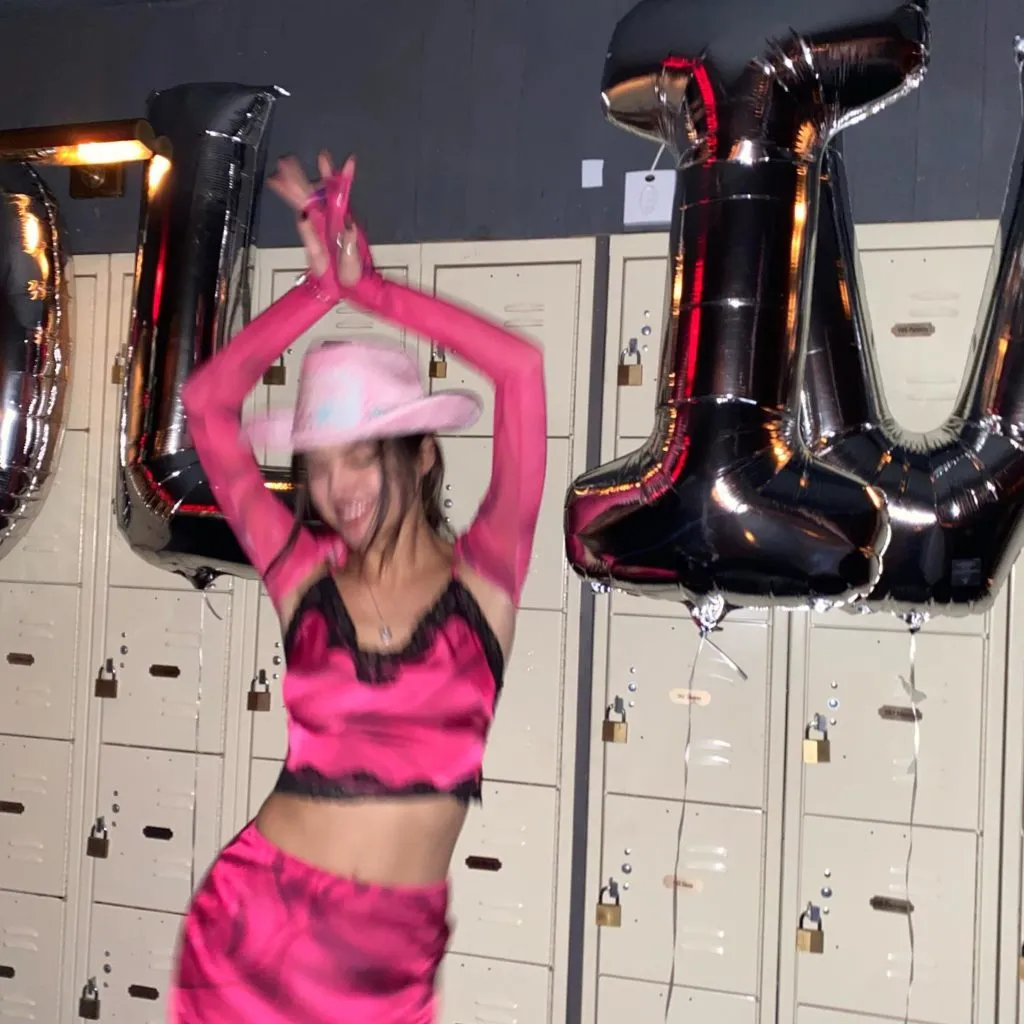 19. Party City Cowgirl
Celebrating her 19th birthday at the end of February, the spicy pisces herself wore an all pink look. If I needed any more confirmation pink was in, this was it. To celebrate she wore a No Dress Rosy Print Black Cake Long Skirt ($141) and the Rosy Print Oversleeve & Camisole Set ($141). She paired her outfit with Naked Wolfe Jackie black heels. The best of the look was the festive cowboy hat ($8) from Party City. I have a feeling a lot of people will recreate this look for their birthdays, myself included.
Since Olivia is already working on her next project and preparing for the Sour tour, there should be many new looks and big moments from the singer soon. It's safe to say that I'm excited for the fashion to come.
Feature image courtesy of Olivia Rodrigo.