As I began to develop my love of fashion in the pre-Pinterest world, I would spend weekend afternoons literally cutting and pasting my favorite outfits from magazines into a notebook full of collages. While collecting Vogue, NYLON, and copies of various other publications nurtured a fondness for fashion journalism, it also helped me form my own personal style. Pinterest facilitates the same experience in an all-digital world—meaning I get to still work on my little passion project collages and not cut my fingers and (most) of my subscriptions up.
Frequently re-pinned OOTDs funnel through from our favorite publications, bloggers, and Instagram feeds. It's a perfect platform to get endless inspiration, but the amount of content can be overwhelming when getting ready in the morning. Fashion editorials often cause an expectations versus reality dilemma, and the looks on platforms like Pinterest are an extension of that. Sometimes you don't necessarily own all of the designer brands your choice image contains, or you feel like you can't pull off that trend—it can be discouraging to pull your style directly from pre-existing images.
I realized that even with all of my time spent studiously scrolling through boards and blogs, I have yet to directly replicate any looks from Pinterest. The way I dress has been influenced by the images I've seen in magazines, blogs, and on Pinterest, but I've never tried to steal their style directly. I tried four pins I've been eyeing for a while below, and while I found myself a little creatively constrained, I also felt freed of any nervousness caused by comparison.
Number of pins: 14.86k
The bandana trend has been around for a while now, playing on the choker and scarf trends remerging with '90s style. I retired most of my silk scarves for the winter and it felt great to get this one out once more—adding some jewelry and layers made it feel much different than last season, as well. The layered jewelry trend definitely made replicating this look a bit more my own than the others below.
Number of pins: 8.5k
In continuing to play it safe with my sartorial choices, I decided to not play it safe with my bank account. I've been wanting to recreate this look for a while; its a simple linen shirt look that is definitely evergreen. I picked up this striped shirt from J.Crew the moment I saw it—it's exactly like the ones I've seen frequently when scrolling. By far the most comfortable I felt, this look definitely was more within my sensibilities than the others I tried.
Slip Shirt + Flair Jeans + Silk Scarf
Number of pins: 6.1k
This street style image caught my eye a while ago—and it's similar to many other pins I've saved. From the silk slip and scarf to the wide leg jeans, it's many current trends rolled into one outfit. Replicating a look this stacked can be intimidating for many; it's nice to pull certain aspects, but to replicate it for myself and Toronto weather, I added a bomber to keep warm.
Number of pins: 19.01k
The skirt I've donned for this look is one reserved usually for special occasions—it's hard to reasonably put on a fit and flair midi skirt and head out to campus. I mainly admire the color blocking and layered jewelry in this pin; it's elegant and she still makes it super casual. A relaxed cotton shirt or light sweater takes any formal skirt down a notch for the daytime.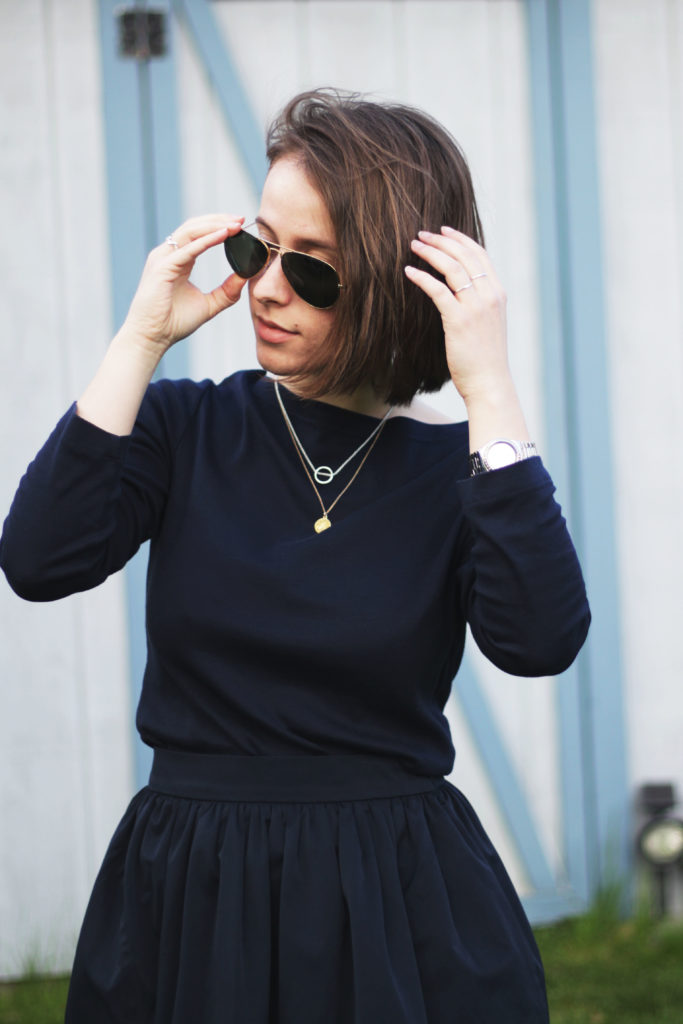 Finding influence online is great—it's accessible and far more eco-friendly than stacking up magazines to flip through on your transit rides or at your next appointment. Replicating these outfits allowed me to look beyond comparing myself directly, but it was hard to have to piece together outfits that were already laid out for me. Take the time to sift through and find what works best for your personal style—borrow bits and pieces of OOTDs and always make it your own.
Want some more pin-spiration? Follow us on Pinterest!