Chances are, you've seen this notably coined throwback fashion staple (which some attempt to erase from their minds) as you scroll mindlessly through TikTok. What am I talking about? The unforgettable low-rise jeans, of course. From Britney Spears to Destiny's Child to Paris Hilton, this influential denim moment took the red carpet by storm in the early 2000s (hello, Y2K – the period where gaudiness, pinkfied hues, and velour tracksuits dominated, remember?) and, ever since, likes to emerge ever so often.
You may be asking, "why now?" We're in a new decade; isn't it time to create new movements instead of desiring to rehash outdated ones that don't fit within what's hot (and not)? The thing about fashion is that it continuously evolves with current times, which can lead to bringing about or influencing what's considered "in the now." What's "old" can become new again (even if it's already written off as "NEVER AGAIN.")
The love-hate (or absolutely-and-COMPLETELY-despise-never-want-to hear-about-again) relationship with this questionable denim piece has made its rounds on TikTok. Some users who can vividly recall this era (aka Millennials) have expressed their strong distaste for the jean due to how it's worn, which can also cause body-image challenges.
Los Angeles-based content creator Tinx shared a video on the platform for her 1.4 million followers, ranking different jean styles compared to the (what some may call it) 'infamous' low-rise. She categorized the jean "the absolute worst of all time," citing a red carpet look from actress Keira Knightley as the reason why she "basically has body dysmorphia." Tinx emphasized high-waisted straight-leg jeans as the most "flattering" alternative to low-rises and denim pants in general.
Others have showcased their incorporation of this denim within their contemporary wardrobe. Micro influencer Annika Kim showcased her appreciation for the jean with a post about how she styles them assumingly integrated into her day-to-day attire. Kim paired the denim style to a cropped tank and graphic tee, accompanied by a velour or sportier tracksuit jacket and an appropriate shoe to match. She also donned some of Y2K's most singular accessories to complement these looks: two-toned tinted sunglasses, trucker hats, and mini handbags.
My take? DO YOU. I may sound cliché, but isn't that what fashion embodies? It's about individualized expression, empowerment, what makes you feel the most confident, comfortable, and ready to conquer the world.
Shop Low-Rise Jeans
Want to test out the low-rise jeans trend for yourself? Here are CF's picks for low-rise styles from our favorite denim brands.
Abercrombie + Fitch 90s Low-Rise Straight Jeans
Available in sizes 24W-33W and in Short, Regular, and Long lengths.
Buy now for $99
AE Ripped Low-Rise Tomgirl Jean
Available in sizes 000-20 and in Short, Regular, and Long lengths.
Buy now for $42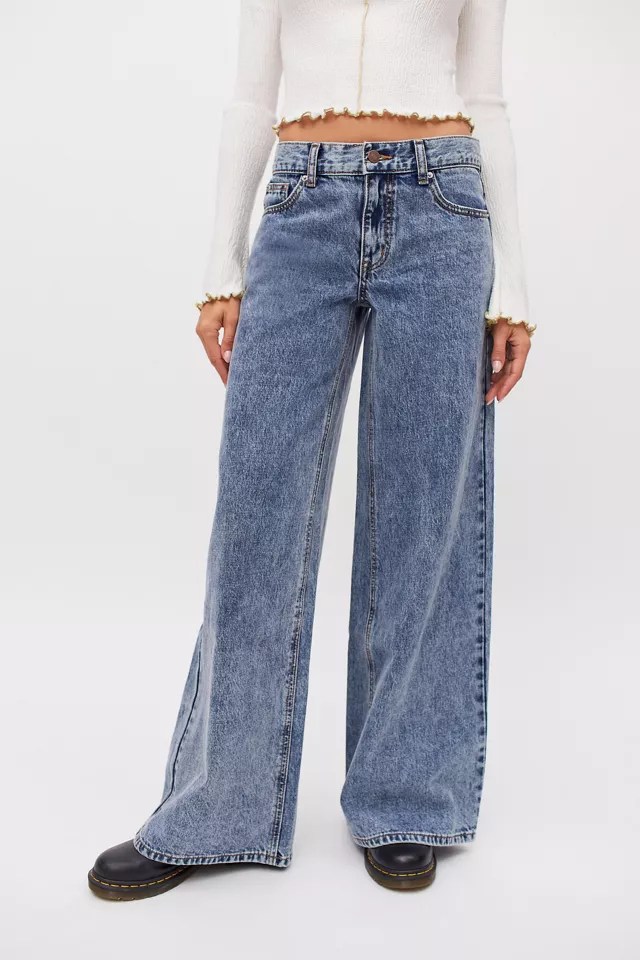 BDG Low & Wide Jean
Available in sizes 24W-34W.
Buy now for $69
Featured photo via @dualipa