Presented by Pinterest 
This is a sponsored feature. Opinions are 100% our own.
Whether you are a designer trying to match the perfect color palette or a blogger brainstorming for your next post, you've probably hit a creative block before. And, trust me, I know it's really not a great feeling when the creative juices are running low.
Luckily for all of us, Pinterest is here to save the day! Pinterest believes that the best inspiration comes from people, and that anyone can inspire. So while scrolling through the beautiful Pins on the platform, inspiration is always near. And with their newest feature, called Idea Pins, getting out of your creator's block has never been easier, and inspiration has never been closer to grab.
Idea Pins are multi-page Pins that can combine videos, photos and text, which reach your followers and other people interested in your ideas. This feature also helps surface a creator's work more often through the discovery engine, so the chances of an Idea Pin being received and re-shared are greater.
So are you ready to master Idea Pins?! Here's everything you need to know:
Capture and plan your idea in advance

Have a brainstorm session with your friends and check out what other creators are publishing on Pinterest to get inspired! Write down your ideas and then map them out into a content calendar in a notebook or digital document.

Use video whenever possible – especially on your cover page

It's no secret that everyone loves to watch short clips while they're scrolling, so use video to attract more viewers – especially on your cover page! But an important note? Your cover page in Idea Pins cannot be edited; pages can only be added, deleted, or re-ordered.

3+ pages are recommended for an Idea Pin post

Creating the pages itself is arguably the best part of Idea Pins. While creating your content, however, you'll want to consider the recommendation of including at least 3+ pages, so you can really bring your content to life. You can provide as much detail as you want! Each page can be up to 60 seconds of content.

Add text overlay to your Idea Pins

Add text overlay to your Idea Pins, then your content will be more easily discoverable, and fellow creators will know exactly what they're getting! From there, your content will be extended to a wider audience, so you'll gain new viewers, make more friends and continue to inspire others!

Save your Idea Pins to your boards

By saving your Idea Pins to your boards, and publishing them publicly, instead of in a secret board, will maximize viewership and visibility.

Agreeing to the Creator Code

Pinterest wants to make sure that it continues to be a safe, inspiring and inclusive place. So, when you create an Idea Pin for the first time, you will be prompted to agree to the Creator Code. We love to see a platform making guidelines to create a safe space!
And as if greater reach potential for your posts wasn't enough (!!!), Pinterest and Bustle are hosting an incredible sweepstakes where you could win one of the five $1000 Visa gift cards!
First, visit the sweepstakes landing page here to learn more.
Then visit the Storm The Dorm Pinterest board and create and post an Idea Pin.
Next, head back to the sweepstakes page to enter your contact info and confirm you have created an Idea Pin on the Storm The Dorm Pinterest board.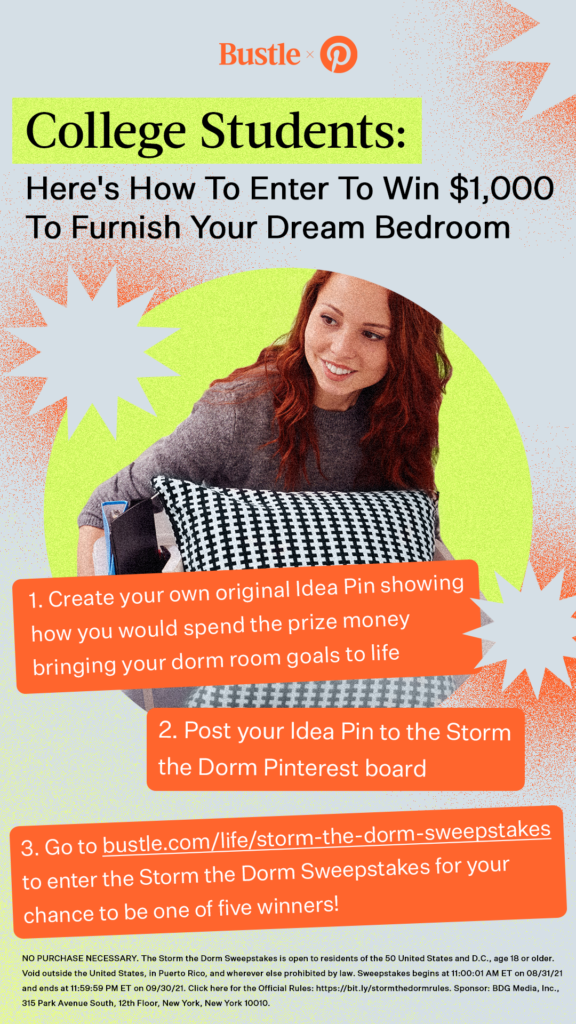 Happy creating!