Whether you've realized it or not, digital creators have been influencing social media users since the start. Have you ever bought a new pair of jeans just because you saw your favorite TikTok creator and influencer wearing them? Can you recall the grip Bethany Mota's style had on most teenage girls in 2015?
Digital content creators have been influencing our choices for over a decade now. In the past, we often turned to the same few people for inspiration. Now, however, anyone can become an influencer. It is no longer about luck or chance, it's about strategy and opening doors for yourself. It took me years to begin my content creation journey, all because I didn't know where to start. If you're feeling stuck, I recommend following these ten steps.
01. Update your Accounts
Purge your profiles
When creating an online presence, you want your social media to represent your authentic, most current self. If your Instagram is full of pictures from 2014 that no longer represent who you are or who you are trying to become, it's going to be hard to market yourself to potential brand partners and followers. Archive anything that might not be desirable to future followers or partners.
Add a form of contact to your profile
If you are hoping to land brand partnerships, it is extremely important that potential partners are able to connect with you. I recommend taking advantage of Instagram's business model where you can add an email tap button to your bio. If you're looking to go above and beyond, include your email in your bio text as well.
Create a business email
I recommend creating a new email dedicated solely to content creation. This way, important opportunities won't get lost among thousands of promotions and spam emails. This will also increase your chances of receiving a response, as brands will assume that your professional email means you are an established, serious content creator.
Make all of your profiles easily accessible
When brands are looking for future partners, they often like to check out an influencer's presence across all platforms. I recommend linking all of your social media accounts to your Instagram, so brands and potential followers can see all of your content. I personally like using Linktree.
02. Create a media kit
When connecting with potential partners, it's important to provide them with information about you and your accounts. This can include but is not limited to, your analytics, your rates, your niche, previous brands you have collaborated with as well as your contact information. Creating a media kit is a great way to display this information in a visually appealing, professional way. This will also allow you to keep all of your information in one place and share it easily.
03. Set all of your social media to public, become a professional account
Setting your social media to "public" is probably the simplest thing you can do to start gaining engagement from new people. However, if you want to take it a step further, I recommend switching your profile to a professional account. As a professional account on Instagram, you are able to access insights, add a contact button (referred to in tip one), create sponsored content, and link URLs on your Instagram stories. In addition, you are able to label your profile as a creator account. Other social media sites share this feature as well. One example is TikTok's Creator marketplace where creators can access analytics and specialized content-creating tools.
Photo by Lisa Fotios via Pexels
04. Find others who feel passionate about the same thing as you
One of the main reasons I was afraid to follow my dreams of creating digital content was that I felt like I had no one to relate to. However, quickly into my content-creating journey, I met a like-minded creator through a campus ambassador program. We quickly discovered that we share the same dream of becoming full-time content creators and now we do almost everything together. Not only has she been a huge support system for me in terms of our careers, but she has become my best friend as well. Finding like-minded individuals to connect with is (in my opinion) the best way to stay motivated.
05. Join campus ambassador programs
Joining a campus ambassador program is a great way to get into content creation if you're unsure where to start. Campus ambassador programs will often provide you with guided content briefs. This will help you discover what feels authentic to you and will give you that extra push you may need. Check out these campus rep programs to apply to if this interests you.
06. Become besties with your tripod
I dread asking people to take photos of me. Not only do I feel annoying, but most of the time I'm not satisfied with the pictures anyways. If you struggle with this, I recommend investing in a tripod. There are a ton of affordable options on Amazon. I also love using the self-timer app, Lens Buddy so I have plenty of photos to choose from.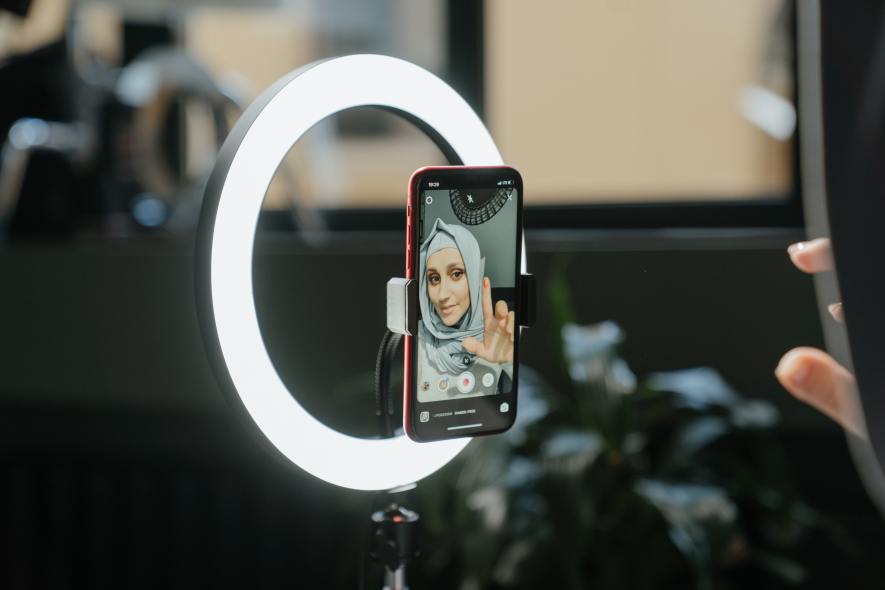 Photo by cottonbro studio via Pexels
07. Find inspiration from your favorite creators
I recommend starting a Pinterest board or a saved photo collection on Instagram. Pinterest is a great tool to find photos catered specifically to your aesthetic. Instagram Explore is also a great place to find new inspiration based on what you like. Not only will saving other creators' photos keep you inspired, but it's also one of the best ways to boost their engagement and support them. It's a win-win!
08. Find what kind of content feels most natural to you
Finding your niche, or aesthetic, is important when building your image on social media. Followers are looking for consistency from their favorite creators, so it's best to create authentic, steady content that your followers can look forward to. Some examples of niches you can stick to include lifestyle, beauty, fitness, and fashion.
09. Quality over quantity
Don't get me wrong, posting regularly is super important if you're looking to build your following. However, when you're first starting out, I recommend posting less frequent, high-quality photos rather than a ton of mediocre photos. Each post should be something that you are proud of, even if that means you are only posting a few times a month at the start.
10. Start now!
The final and most important piece of advice I can give to anyone looking to become an influencer is to just start posting. Starting is often the scariest part when exploring anything new, but that leap of faith is all you need to get the ball rolling. You're never going to be able to achieve your dreams until you get out of your head, so just go for it.
Featured image via @morganmaleonski. Design by Her Campus Media.