Fall is practically synonymous with chilly, picture-perfect weather. It's hard not to imagine crisp piles of leaves, cozy knit sweaters, and steaming mugs of coffee the moment October rolls around. However, for those living on the coast and other sun-soaked areas, the idyllic fall we imagine never quite makes it past Pinterest boards. We get it—when the PSL's are iced and the air conditioning is blasting, it's hard to even think about diving into your fall wardrobe. Before you recycle that summer tube top for the fifth time this week, read on for seven warm weather-friendly outfit ideas that guarantee all the fall vibes.
Warm up Your Bike Shorts with a Lightweight Blazer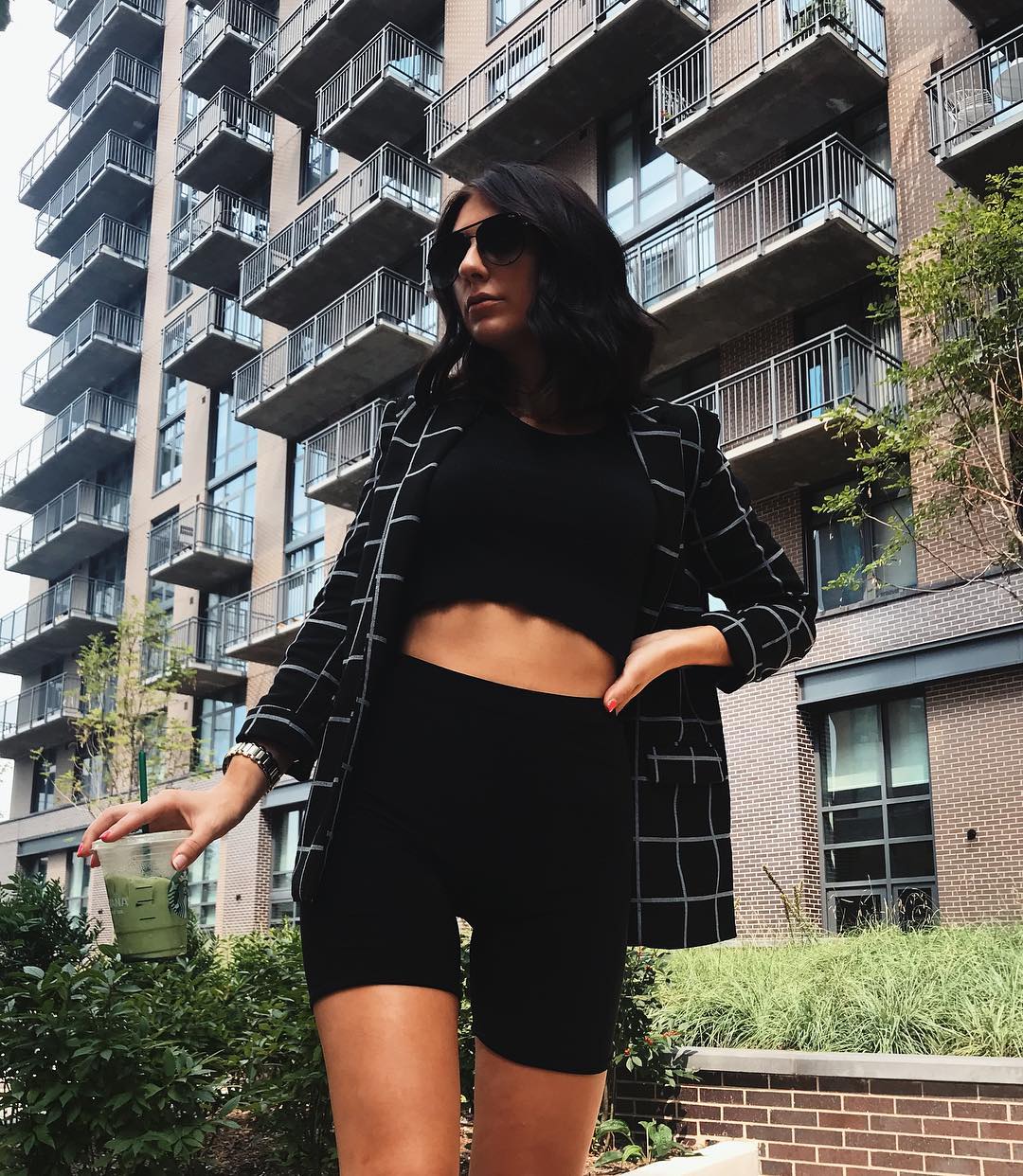 PHOTO: @sydneyhelphenstine
With the help of an iced drink and some serious creativity, an all-black color palette and blazer combo can work in warm weather. Summer's bike shorts craze is far from over. Instantly transition the comfy trend by pairing it with a breathable blazer and oversized sunnies.
Get this look: Amazon Starter Bike Shorts ($19), Shein Ribbed Crop Tank ($6), Asos River Island Sequin Check Blazer ($108)
Double up on Minimal Tops for Easy Breezy Layering

PHOTO: @thestellafiles
Layering opportunities are few and far between in high temps, but a solution may be waiting in your own closet. Slip a breezy cami over a graphic T-shirt to instantly amp up your look with minimal effort—and minimal sweating.
Get this look: Trunk Ltd. Led Zeppelin Tee ($68), H&M Satin and Lace Camisole Top ($30), Madewell Slim Straight Jeans in William Wash ($60), Vans Old Skool Sneakers ($60)  
Ease into Fall Denim with a Playful Romper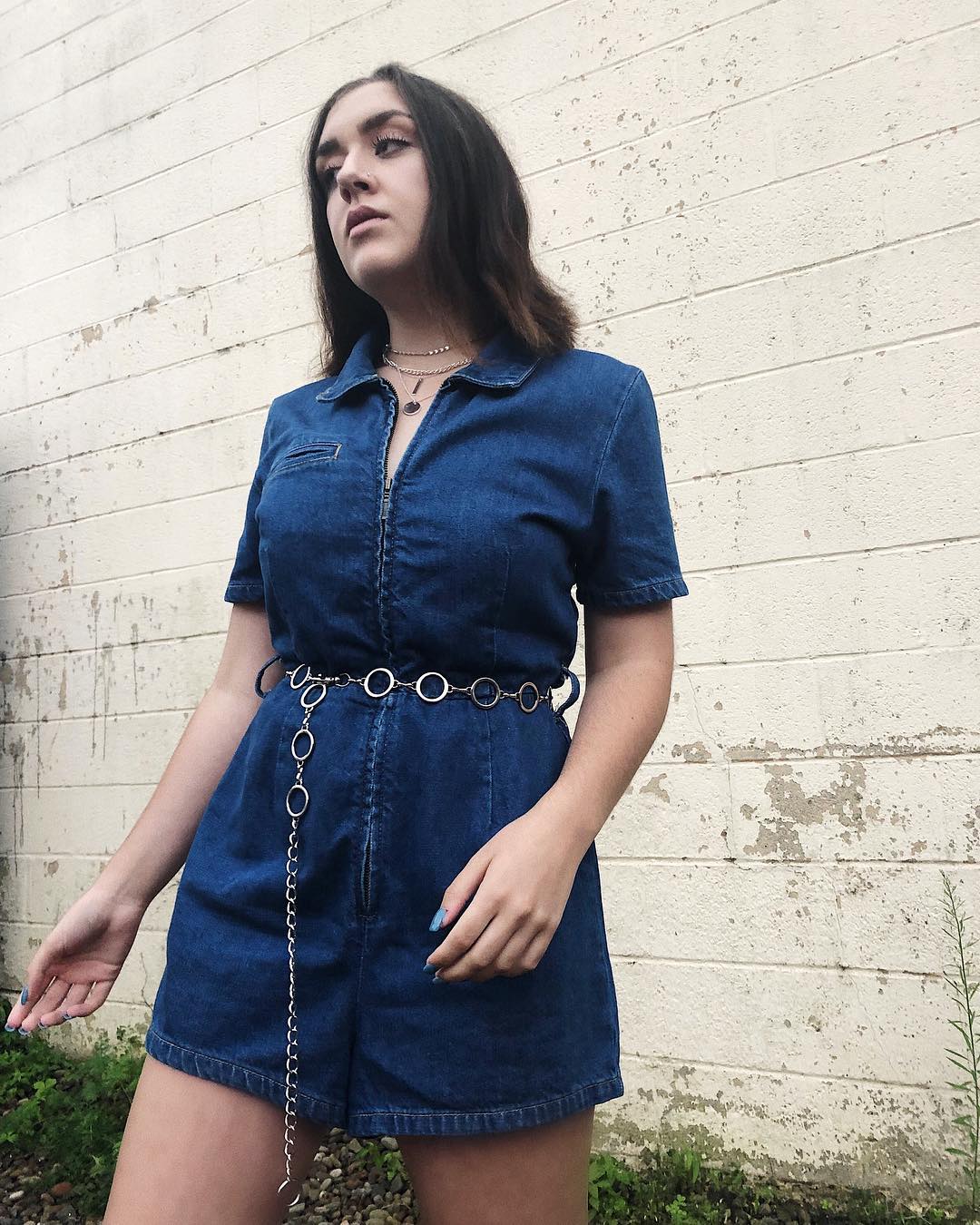 PHOTO: @kallycera
Too hot to even think about wrestling with your stuffy jeans? Embrace fall's favorite fabric while staying cool in a utility-style romper. Instantly add some edge with a silver chain belt and layered choker.
Get this look: Urban Outfitters Denim Romper ($69), Apt. 9 Two Tone Chain Link Belt ($21), Forever 21 Layered Choker ($5)
Elevate a Basic Look with Fall-Friendly Accessories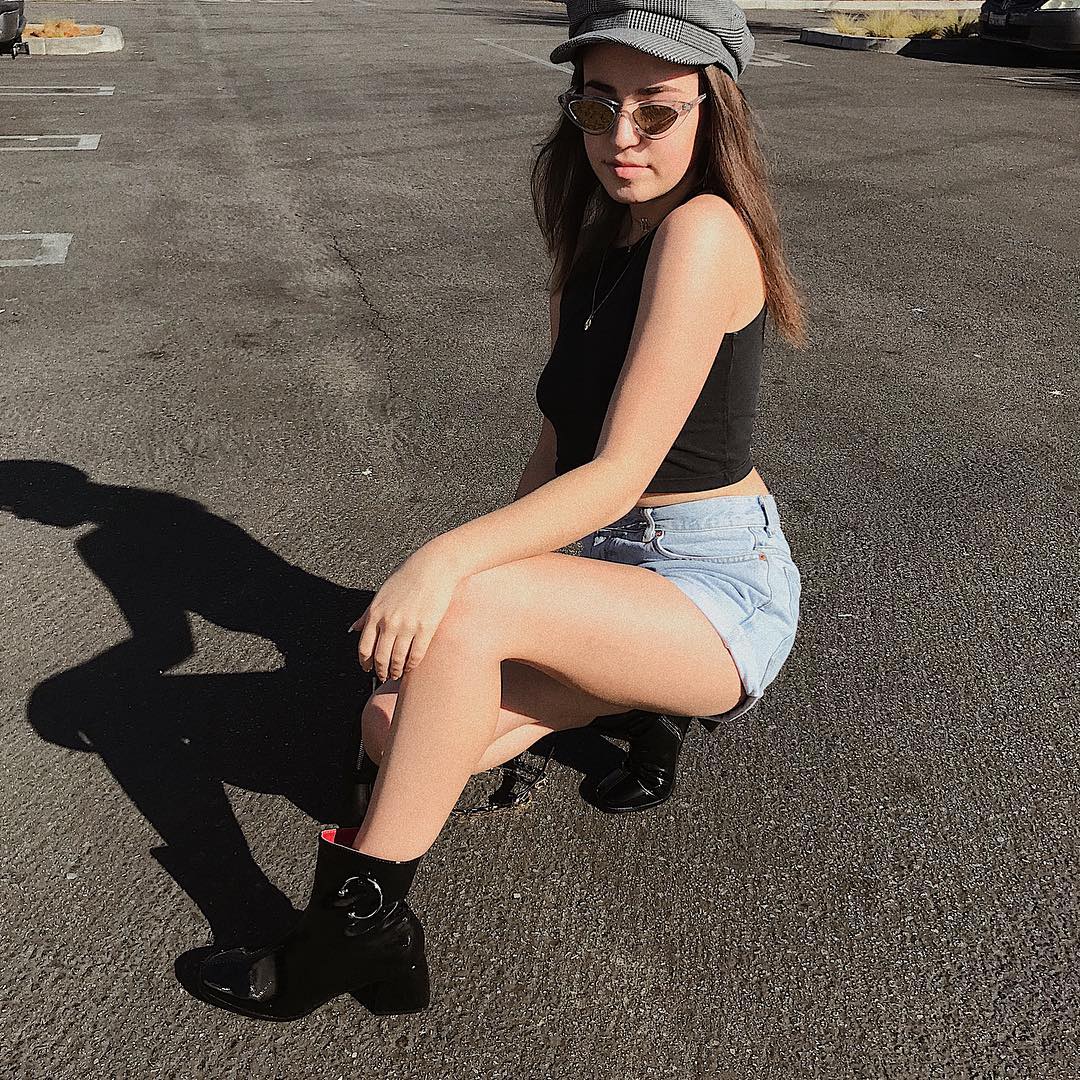 PHOTO: @m.aiarose
If warm weather puts most of your wardrobe off-limits, embrace the season by playing with your favorite accessories. Baker boy hats and leather booties are the ultimate fall add-ons and look effortlessly chic with basic cutoffs and a crop top.  
Get this look: Urban Outfitters Baker Boy Hat ($22), Express Cropped Tank ($10), Forever 21 Denim Shorts ($12)
Get Creative (and Stay Cool) with an Oversized Button-Down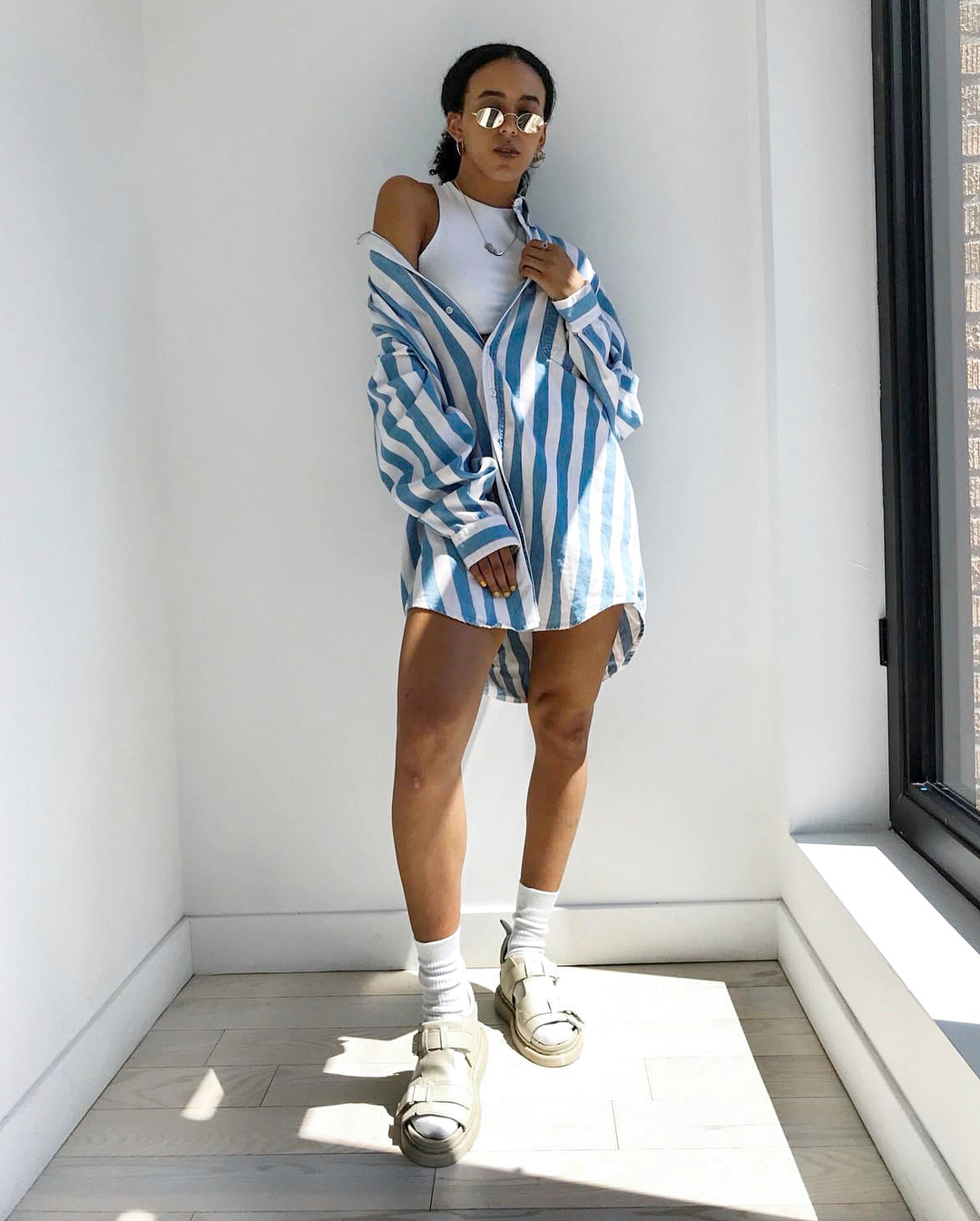 PHOTO: @ciaracherise
No pants, no problem! Play with proportions by turning your biggest button-down into a dress. For maximum #OOTD potential, complete with the tiniest sunglasses and chunkiest sandals you can get your hands on.
Get this look: H&M Oversized Shirt ($18), Boohoo Crop Top ($6), Asos Small Metal Sunglasses ($23)
Refresh Your T-Shirt and Jeans Routine with Suede Booties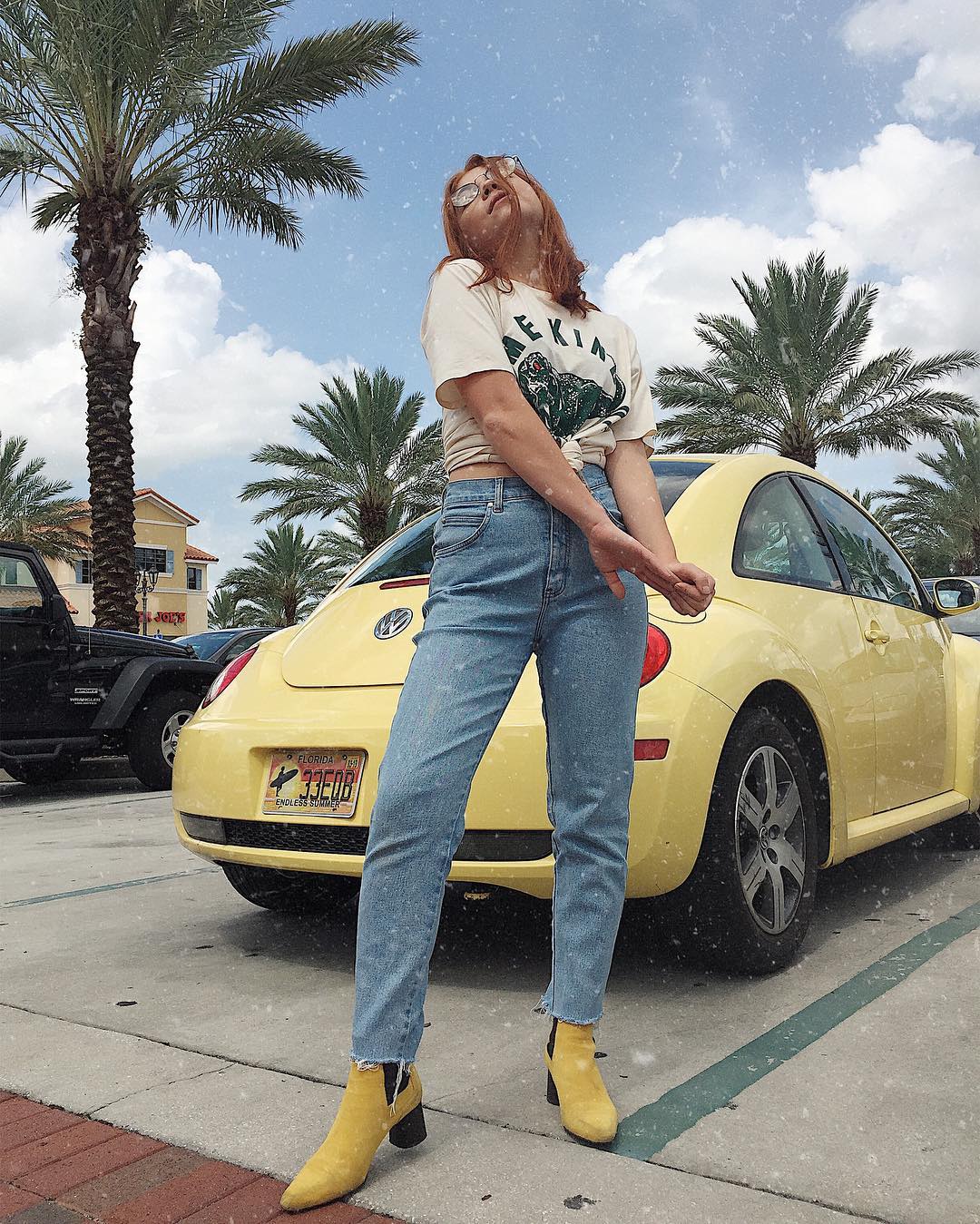 PHOTO: @amandasmitthh
Summer outfit formula stuck on repeat? Sneak in some fall vibes by swapping sneakers for suede booties. Bonus points for a fall-friendly hue. Canary yellow is guaranteed the perfect pop of color in any mom jeans and graphic tee combo.
Get this look: Day by Daydreamer Graphic Tee ($39), Topshop Mom Jeans ($70), Not Rated Suede Booties ($55)
Toughen up Your Summer Sundress with a Barely-There Leather Jacket
PHOTO: @indiepeacock
If you just can't hold out until leather weather, channel some serious '90s vibes with a tiny twist. Slouch your favorite moto ever-so-slightly over a sundress and minimal accessories, giving your shoulders some much needed breathing room while looking infinitely cool.
Get this look: Billabong Dress ($40), Levi's Faux Leather Moto Jacket ($88), L4l Ankle Tied Flats ($17)
Opening photo by @nayelizabethh
How do you dress for fall in warm weather? Show us by tagging @cfashionista in your OOTDs!
This post was originally published on April 15, 2018, and has since been updated.