A few months ago, I was lucky enough to travel to Venice with my boyfriend. We spent a full day on the island taking in the sights, sounds, and tastes of Venetian paradise. As descendants of Italians ourselves, we tried our best to immerse ourselves in the culture. Doing this meant avoiding the so-called "tourist traps" in favor of lesser-known attractions.
If you are planning a trip to Venice and wish to shy away from tourist areas, look no further. Here are my tips for visiting Venice like a local.
1—Eat (and drink) as the Venetians do. When in Italy, it can be tempting to opt for the classics: pizza and pasta. However, Venice has a few classics of its own. For a true taste of Venice, try a plate of Cicchetti. Cicchetti is similar to tapas in that they are small, snack-sized portions of food. Venetian Cicchetti often contains seafood, bread, and different types of cheese. These small bites are great options for any meal, especially because they are often less than 2 Euro each.
Additionally, if you want to drink like a local, you can't go wrong with wine. If fruity drinks are more your flavor, sip on another Venetian classic: the Bellini. A Bellini is a refreshing, summery drink made of peach juice and prosecco. Saluti!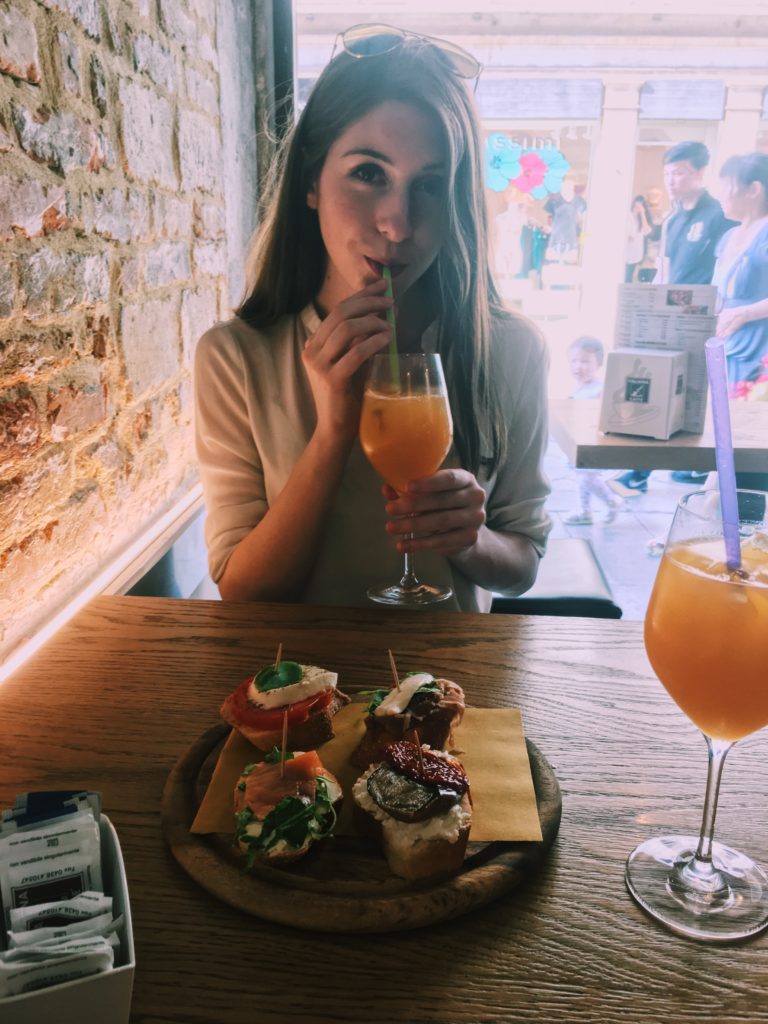 2—Skip the gondola ride. I get it—cruising down the canals in a gondola, listening to Italian songs sung by a gondolier, it sounds like something out of a dream. However, the price tag on a gondola ride will quickly bring you back to reality. A half hour ride can cost you upwards of 80 Euro! If you really want to see Venice from the water, take a ride on a vaporetto, or waterbus. Each ride only costs a few Euro, and they'll quickly connect you to other places on the island!
4—Speak Italian. When in a tourist area, it can be tempting to use English. The idea of speaking in a foreign language may seem daunting at first, but even just learning a few phrases can make your experience that much more authentic. Before my trip to Venice, my boyfriend and I made a notecard full of helpful phrases, such as how to order and say please and thank you. Don't worry about pronunciation. The locals are just happy to know that you're trying.
5—Dress like an Italian. In Venice, you might get weird looks for wearing a midriff baring crop top with booty shorts and flip flops. If you want to blend in with the locals, opt for a fashionable, yet conservative look. When I was in Venice, I wore a white chiffon blouse from Forever 21, a patterned skirt from J. Crew, and black sandals from Forever 21.
Final Tip
Finally, if you really want to experience Venice, don't be afraid to go off the beaten path. Zig-zag through empty alleyways, climb over quiet bridges, and see the magic of Venice the way it was meant to be seen.
Have you been to Venice? Share your pictures on social media! Don't forget to tag @Cfashionista.
SaveSave
SaveSave