Summer is here to stay and so are rompers. They have been a trend for the past couple of years, but this year, they are more than ever making a comeback.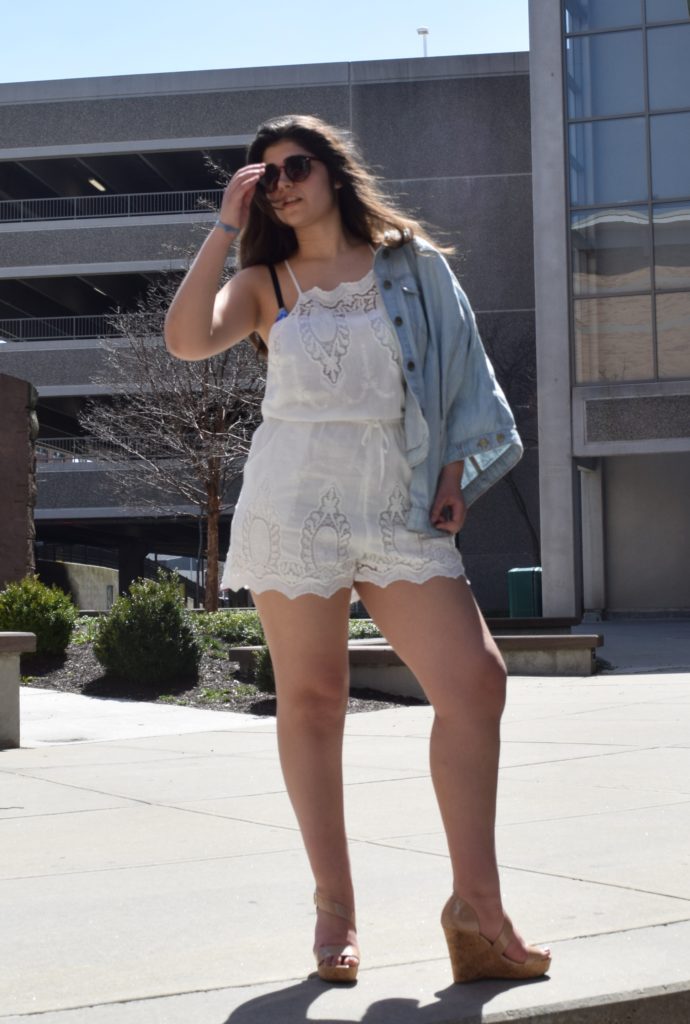 Our Fashionista is wearing a pale romper with crocheted-like patterns. Whenever I visit stores like H&M or Forever 21, the first thing that catches my eye is always a blouse that has an embroidered pattern. These patterns can add a great deal of detail to a simple white T-shirt, thus being a perfect way to make this romper pop.
This Fashionista also sports a waistband that you can easily adjust to the perfect fit. Instead of having to put on a waist belt, the attached strings to the waistband can be tied to however loose or tight you want your outfit to be. Rompers such as this one can be worn anywhere such as to the park or to the city and are a great alternative to wearing the default style of jean shorts. Also, button-down shirts are something that ultimately completes this look. Going on a fancy brunch date with your boo is what a romper suits, but just throw on a light blue cotton button-down and the casual sets in, making this a look for just about anywhere, which is why rompers are the bomb.
This Fashionista dares to rock some nude wedge heels that bring out her inner Beyoncé. Nude is a great color to choose from especially when one is thinking shoes for the summer. Wedges are also great to wear as a summer type shoe. There are so many different styles of wedge shoes that come with various heel heights which make it easier to pick out than a regular high heel.Put on some sunglasses and keep your summer cool and chic with this classy look.
What are your favorite summer outfit ideas? Let me know in the comments below!