Woohoo, summer is here! Let the beach days and summer tans begin! Where I live, the temperatures can get pretty miserable. But besides those sweltering days, there are so many reasons to love summer.
1. Sunny days and clear skies mean perfect lighting for Instagram pictures.
2. More time to catch up with old high school friends now that school's out.
3. Farmers' markets and fresh fruit. (Seriously, I could eat watermelon for breakfast, lunch, and dinner).
4. It's always an appropriate time to eat ice cream.
5. Summer fashion trends!
Out of all the seasons, it's the easiest to spot fashion trends during the summer. Once those temperatures get above 70 degrees, I get excited to see what cute styles are going to be trending this season. Last year, it was cut-off shorts and Adidas superstars, and this year it's all about the bell sleeves and cold shoulders.
The Look: 
I'll be honest, I've been in a bit of a fashion rut lately, but everything changed when I saw this shirt. The pastel pink color screamed summer, and the breathable cotton material keeps me cool. I love that I can still rock long sleeves in the summer. This shirt took those trending bell sleeves and turned them up a notch, making them fuller and sweeter. It's an eye-catching design that is sugar sweet. Although the top is definitely a statement piece, the soft color makes it easy to pair with any bottom.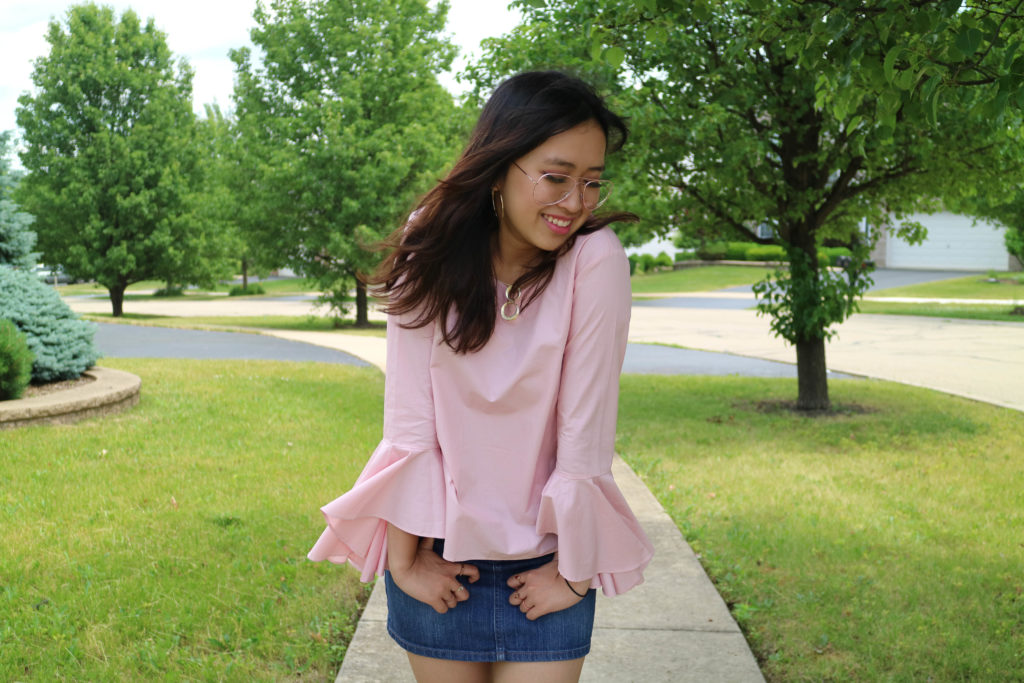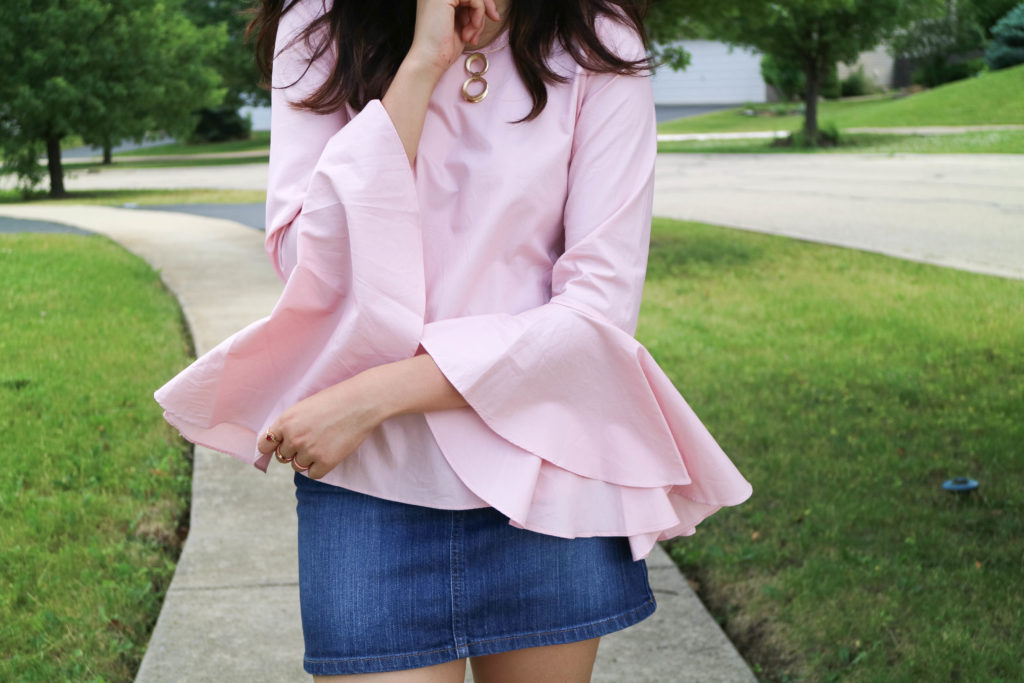 This time, I kept my bottoms simple with a denim mini skirt. Another trend that popped up in the fall and is continuing into the summer are funky patches on denim. I've seen all sorts of wacky designs pinned on jeans, jackets, and anything denim. This small detailing gives off an '80s vibe, and makes otherwise boring garments super fresh.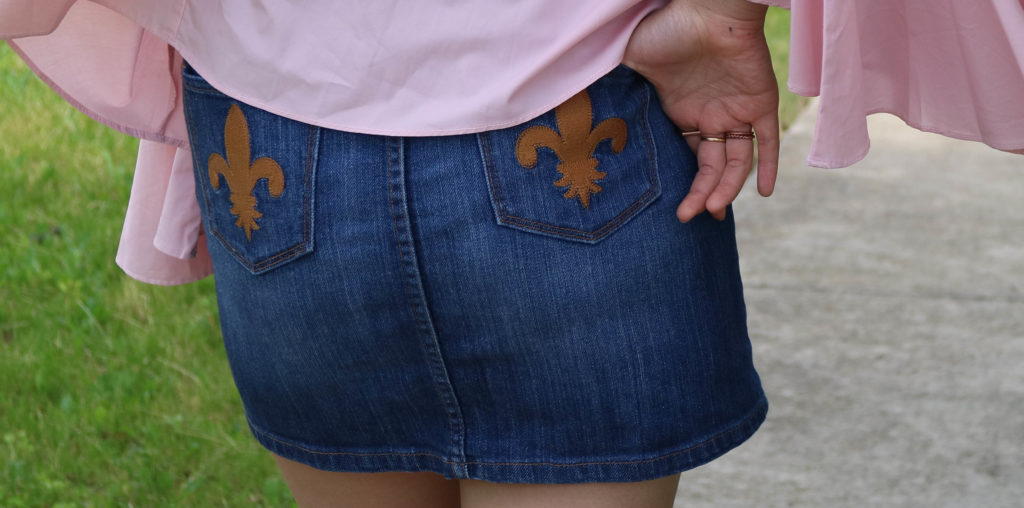 My favorite trend of the summer so far has got to be strappy, chunky sandals that come in every shade of suede. Although I haven't gotten my hands on the perfect pair yet, I'm glad that wearing booties in the summer is still acceptable. So until I find my dream summer shoe, these chunky booties will have to do.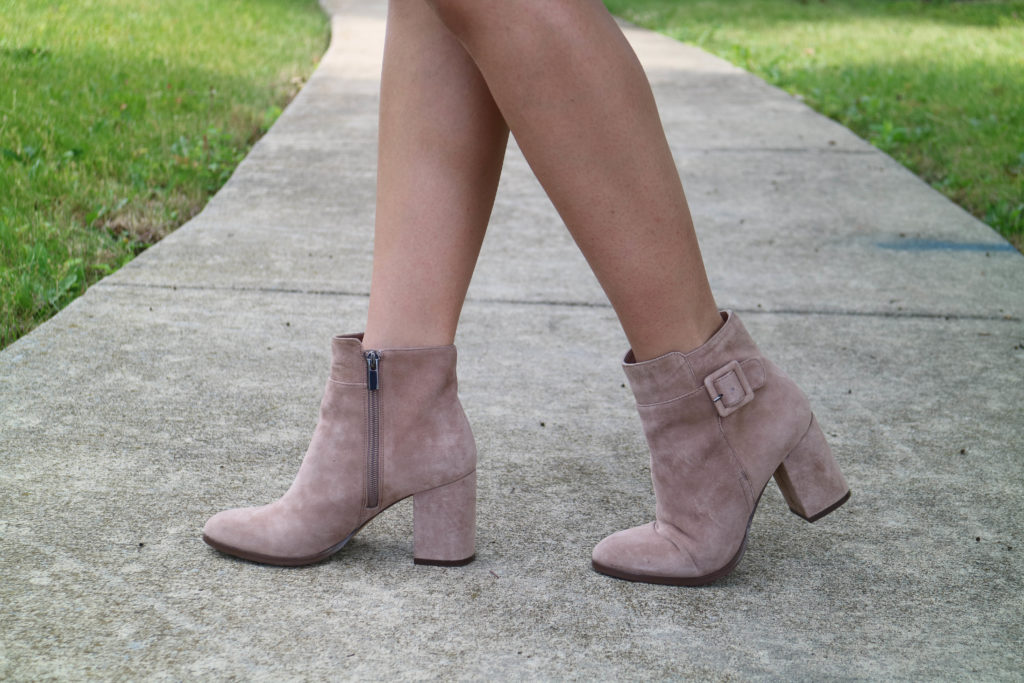 My accessories echo the '80s vibe of my skirt's detailing. These metal aviators and gold hoops were inspired by the "baddie" look on Instagram, but the pink rims makes them unique and adorable.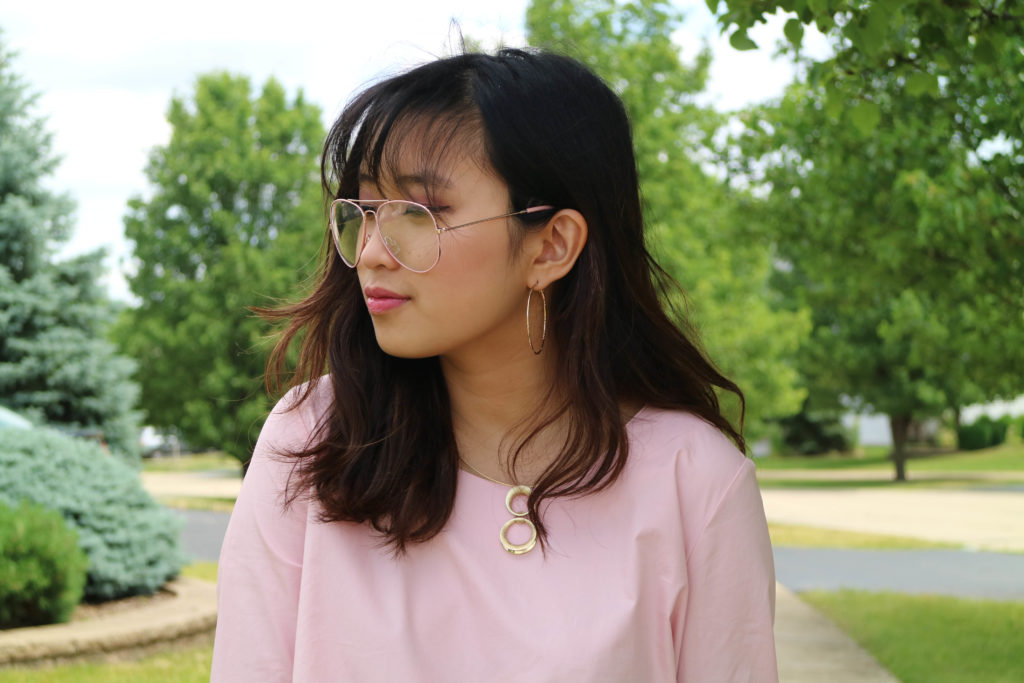 I'm ready to take on summer feelin' pretty in pink. What's your favorite summer trend so far, and what new trend are you going to try out? Let me know in the comments below!