Is your closet overflowing with clothes from last season? Are you holding onto misfit items that no longer fit your lifestyle? Do you have clothing items with tags still attached or pieces you have no clue how to style? If so, it's time to take some notes from the minimalistic aesthetic. In other words, it's time to build your own capsule wardrobe.
Attempting to start a capsule wardrobe can be intimidating, especially when choosing one trend over the other. But keep in mind, it is the statement, timeless wardrobe pieces that are essential to keep — those classic pieces make your life so much easier when you can mix and match to create endless outfits for day and night. A capsule wardrobe channels your inner style and when it comes to one there are no right or wrong pieces.
For all the fashion lovers out there struggling with what to keep and what to ditch, this is the capsule wardrobe that will help you survive through your college years.
White Button-Down
A white button-down blouse is a piece of clothing that will never go out of style — more the reason to add it to the list of your capsule wardrobe. A white button-down symbolizes sophistication with a sense of style. It is a transitional piece all year round, making it the perfect piece of clothing in your wardrobe to layer. Even more so, it is a versatile top for a summer internship or a fall day on campus.
Statement Coat
Mother nature can be a pain in the butt, especially if you attend a university that gives you a taste of all four seasons. Be prepared with a statement coat. That could be a faux leather jacket for the inner rebel, a trench coat for the wannabe Parisian or a quilted puffer coat for the practical one.
Comfortable Trainers
Let's be practical when choosing what pair of shoes to add to your capsule wardrobe. Your college experience will consist of being on your feet 24/7 walking to and from your classes. Strut in style with a comfortable pair of trainers. Choose an all-white platform sneaker to match any outfit or a colorful pair of sneakers to add a pop of color to your looks.
LBD
The little black dress a.k.a the LBD is a classic wardrobe piece every woman should own. It is a universal dress for every occasion you will attend through your college years. A simple little black dress can be paired with kitten heels for a night out on the town or platform sneakers for a hectic schedule during the day.
Timeless Jewelry
Accessorizing is your best friend throughout college. Adding timeless jewelry to your capsule wardrobe is quintessential because as fads change, your jewelry will always stick with you. Everyone should own these essential pieces: gold hoops, a chain necklace, a pearl strand, a pendant necklace, and a steel watch. Allow your fierceness to come alive with stacked earrings or stacked rings and defy the fashion rules by mixing your metals.
Work Tote
College comes with a hectic schedule and there is a likely chance you will be busy. That is exactly why a work tote should be in your wardrobe. Match the energy of a boss attitude and a get-er-done mindset with a leather tote that will hold all your essentials. The work tote can carry your laptop computer, your agenda, and any other essentials to seize the day.
Oversized Blazer
There are more ways than one to express your personal style. A blazer is a must in your capsule wardrobe for many reasons but one reason is versatility. Blazers can be paired with multiple items in your wardrobe. From casual to professional, the blazer is at the core of your outfits. Keep it classy with a neutral, textured blazer or trendy with a plaid, shoulder-padded style.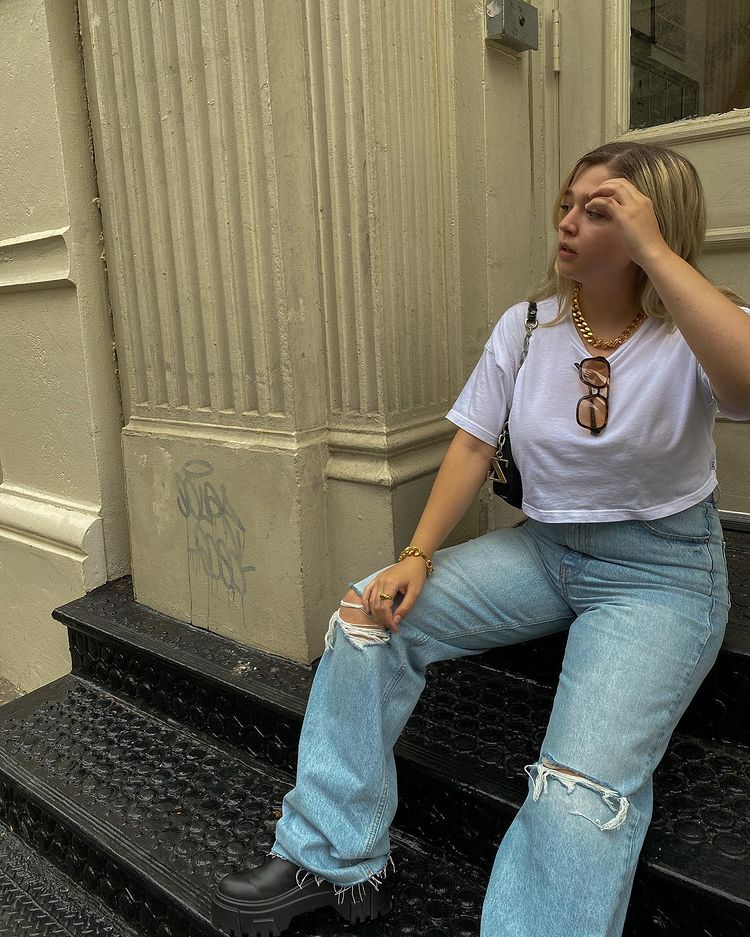 Crisp Tee
One item that will never do you dirty in your wardrobe is a crisp t-shirt. A t-shirt and jeans outfit is such a polished look. T-shirts are simple but, because they're so simple, anything in your wardrobe can be paired with them. Think an oversized blazer, a statement coat, denim jeans or a patterned skirt! Better yet, there are a variety of t-shirts to choose from like graphic tees, striped tees or colored tees.
The Perfect Pair of Denim
A capsule wardrobe is not complete without the perfect pair of denim. Since this is your capsule wardrobe, you should choose what pair of denim jeans compliments you the most while also feeling comfortable. You can never have too many jeans but if you're going to keep the list to a minimum, own at least a black pair, a white pair, a dark indigo pair and a light wash pair. Keep in mind, the current denim trends are loose and distressed jeans, slim bootcut jeans, slim-straight jeans, and skater jeans.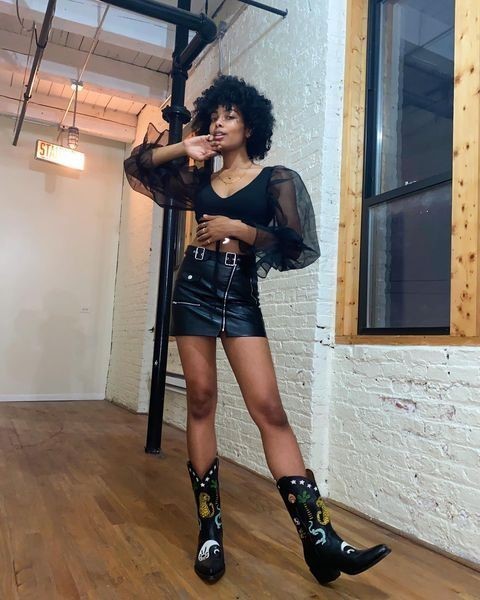 Versatile Boots
Boots are a staple for a capsule wardrobe. When the leaves start to fall, winter storms hit, or the days get longer, boots are a go-to. They're transitional for all the season's staples. Since college is about being on a whim and being adventurous, pair your boots with jeans, skirts or dresses. Some boots to consider adding to your wardrobe are cowboy boots, Chelsea boots, or stocking boots.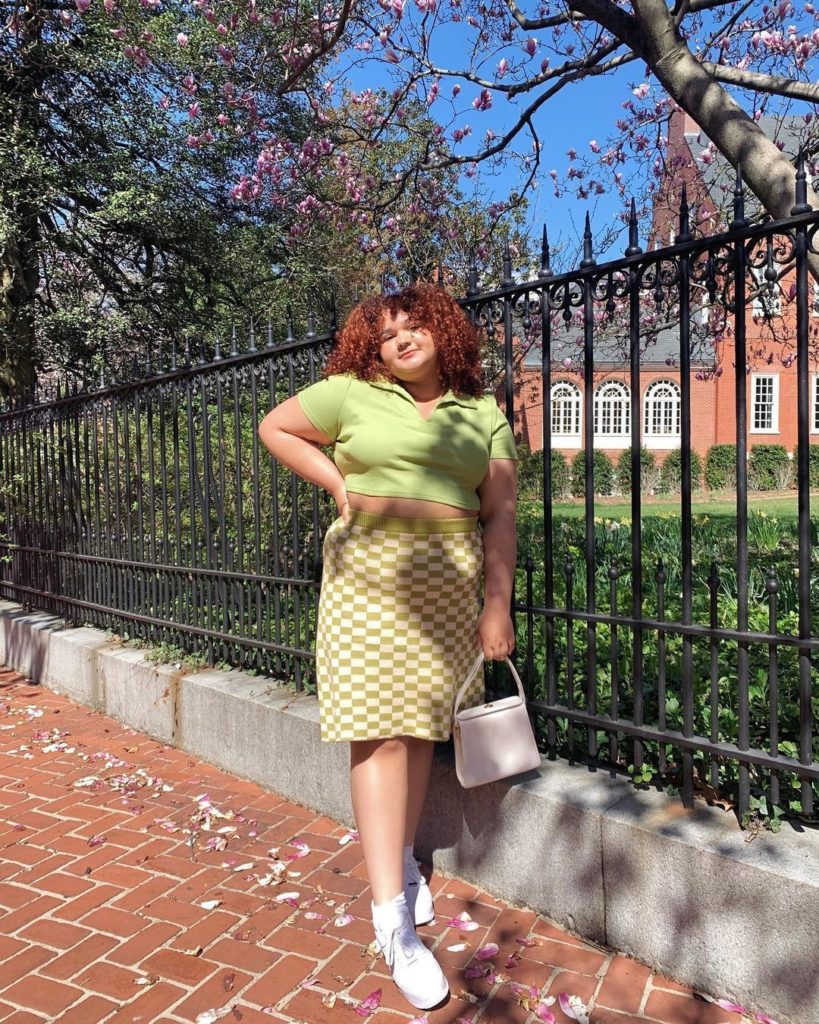 Flattering Skirt
One piece of clothing that you can wear to any occasion is a skirt, more the reason to add one to your capsule wardrobe. Consider what length — mini, midi, or maxi — best suits you. From there, decide what skirt trend you would like to emulate, such as animal print, casual denim, pencil, pleated or slip. With this capsule wardrobe, you can pair your versatile boots or comfortable trainers with your skirt of choice.
Cozy Knits
There will be days when you contemplate why you choose to go to college and why you are not TikTok famous like Addison Rae. One thing in your capsule wardrobe that will uplift your spirits and stop you from going down a rabbit hole is cozy knits. Not only are cozy knits the best to binge-watch Netflix in, but perfect to wear when it is below zero. Add a turtleneck, cashmere biker shorts or a knitted cardigan to your wardrobe when you're trying to look your best on cold, breezy days.
Carry-All Bag
College comes with baggage. Be prepared for the hustle with a carry-all bag. I highly recommend as a college student myself to own a backpack in your wardrobe. It is an ideal bag for those on-the-go days. They carry everything (hint, hint the name) from your wallet to sunglasses to a charger. Carry-all bags come in handy for college game days, spring breaks, or a quick trip home.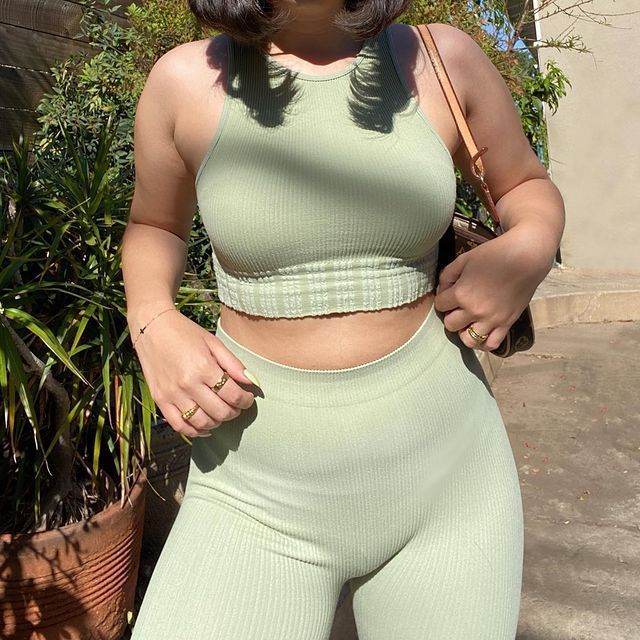 A Monochromatic Set
You ought to add a monochromatic set to your list of items on a capsule wardrobe. The joy of wearing monochromatic clothing is intertwining different shades and hues of color. As a college student, you can express your identity and style through monochromatic suit sets, workout sets and leisure sets. Monochromatic sets can present monotony, but an easy fix is a bold jacket.
Bodysuit
The bodysuit may be considered cheugy, but it is a much-needed piece in your wardrobe for college. Bodysuits are flattering on all bodies. They achieve a seamless and fitted look for going out and going to class. Bodysuits come in almost every color your heart desires. Likewise, there are different styles of bodysuits for whatever mood you are in like long sleeves, scoop neck, square neck, halter, wide neckline, sweetheart neckline, turtleneck, one shoulder, and strapless. You will truly conquer the day or night in any bodysuit.
College can be overwhelming but one thing that should never be overwhelming is your wardrobe. Eliminate the chaos from your style with a capsule wardrobe.
Feature photo by @wreckxng