While summer is supposed to be about sunshine and warmth, my hometown isn't the best when it comes to the whole summer thing. Luckily, I have found the perfect denim to wear on a cloudy, not-so-summery day. These Paige High Rise Flare Jeans have been my go-to since I bought them.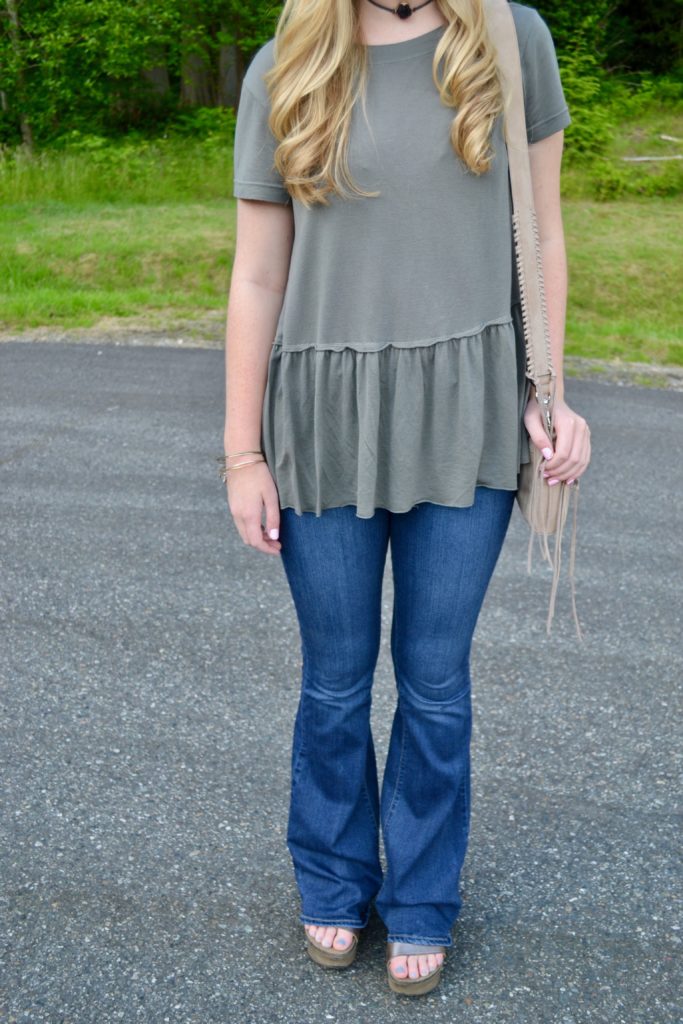 At first, I was skeptical of the recent revival of '70s trends and looked at the jeans for months before buying them. After all, a good pair of jeans is a staple piece in every girl's closet. Once I finally gave in, I was mad at myself for not getting them sooner! They are one of the comfiest pairs of jeans I've ever owned, and they are flattering on any body type.
These Paiges pair perfectly with some wedges and just about any top. Whether you want to dress them up or down is up to you. I decided to throw on a solid top and a statement choker. I am wearing OTBTs with this outfit; they are always my favorite shoes to pair with these jeans. As for the choker, I found it at a boutique in my hometown.
I love all the little boutiques because you are almost guaranteed that what you buy will be unique and you never know what you will find. Who knew both flare jeans and chokers would make a comeback? Not going to lie, I love them both. These jeans are perfect for a date night, a day with the girls, or a summer concert. Whatever the occasion may be, they will catch people's eye. Although this outfit has been my cloudy summer go-to, you can style these jeans for any type of weather. If you're still searching for your staple jeans, I highly recommend some flare jeans to spice up your wardrobe.
How do you bring back the '70s? Show us on social media by tagging @CFashionista!