With fall officially here, it's time to tackle the issues of transitional wardrobing. With an endless supply of tank tops, baby tees, and platform sandals sitting in our closets from summer, it's easy to get caught in a style crisis. With the weather skating at 80 degrees or higher, what is there to wear to complete a fall ensemble when it's needed? Enter: Jorts.
Luckily, Jorts have entered the chat and has made some noteworthy appearances on our fashion favorites. Although this particular piece holds its own controversy, Style-cons like Devon Carlson, Selena Gomez, and Iris Law have put any unfavorable opinions to rest. Not only do Jorts offer comfortability with the jean and skirt combo, they unveil a multi-versatile use to be matched with a plethora of looks and aesthetics. So, if you're looking to slip on an easy fall fit, keep scrolling to take notes on how you can marry jorts with your current closet staples.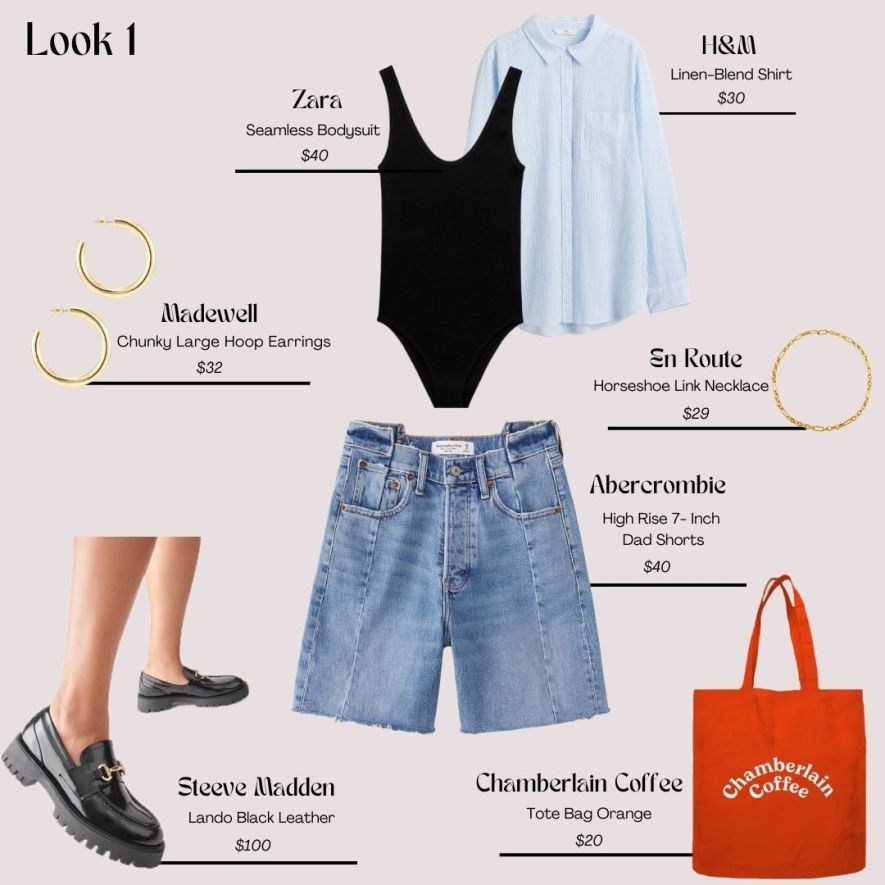 The Grab & Go
With a plethora of summer items clogging our closets, Jorts are the perfect item to style the old with the new. If you're in dire need of an elevated yet comfortable 'on campus' look, then add Jorts to the conversation! Whether you spend your time walking around university or attending zoom sessions in a local cafe, you can easily pair Jorts with any of your favorite summer staples.
To start, grab your favorite bodysuit and long sleeve linen-top, this combination will ensure you have a touch of warmth for cool weather while being comfy in a stretch-free body suit. Then, que in a sleek platform loafer that fits perfectly into academic style, along with your back-to-school tote bag that adds a pop of color to the look. To finish, quickly add on a chunky gold hoop and dainty necklace to bring the look together with some must-have pieces. 
Shop The Look
Chicest on The Street
If you're residing in weather that requires a little more coverage to hide away from chilly degrees, then this next look is for you! If your plans include a day out in the city, then to generate an effortlessly chic look, you'll want to start by grabbing a snug turtleneck out of your closet. For outfit elevation, add on a chunky chelsea boot to pair with your Jorts that is guaranteed to provide maximum comfort for a full scheduled day. To complete the ensemble, pick out a gold statement earring to match with a star-studded chunky ring – and 90's inspired over-the-shoulder bag to create the perfect seasonal look.
Shop The Look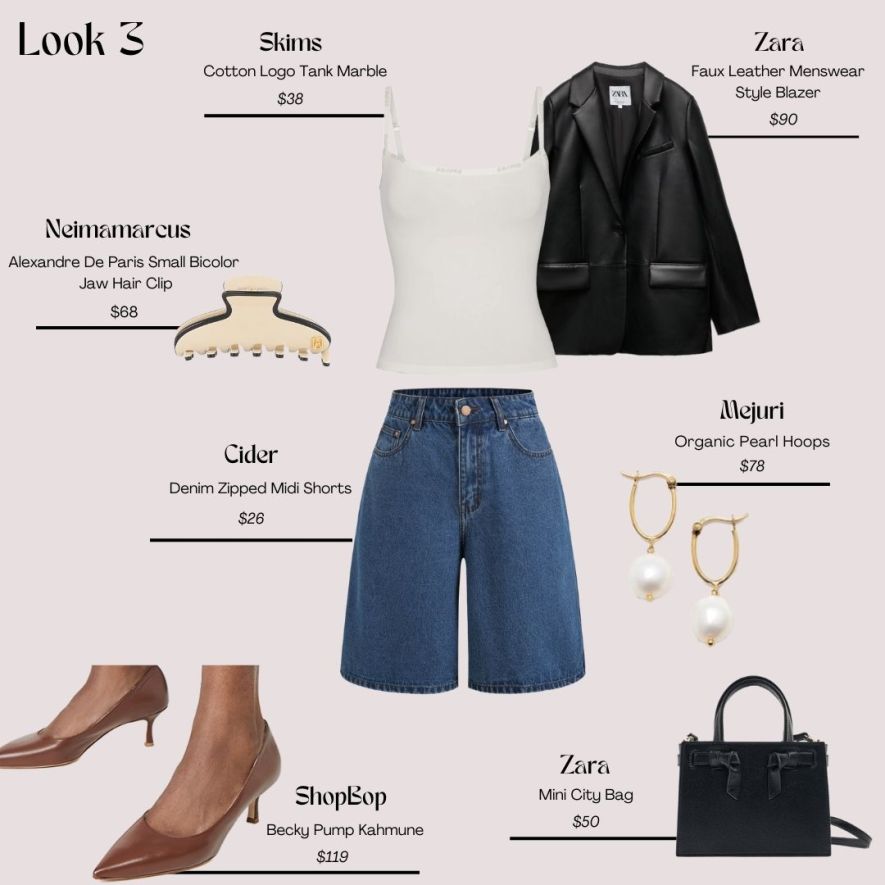 Model Off-Duty Status
Not only does the next look contain multiple timeless staples, it's also fall-approved! On its own, Jorts have a reputation when it comes to being accompanied with anything far from summer. But, from first hand experience, Jackets, Blazers and all things in between are a major key when achieving a night out look. Taking a 'Model Off Duty' turn, partnering a soft knit tank with an oversized leather blazer aids in delivering a sleek silhouette. For shoes, you can never go wrong with a solid blown pump – a quintessential item for elegance. To finalize with accessories, a dainty pearl earring and bicolored claw clip is too good to miss for some stylish basics. And of course, add a complimentary mini-bag as the ultimate wardrobe booster.
Shop The Look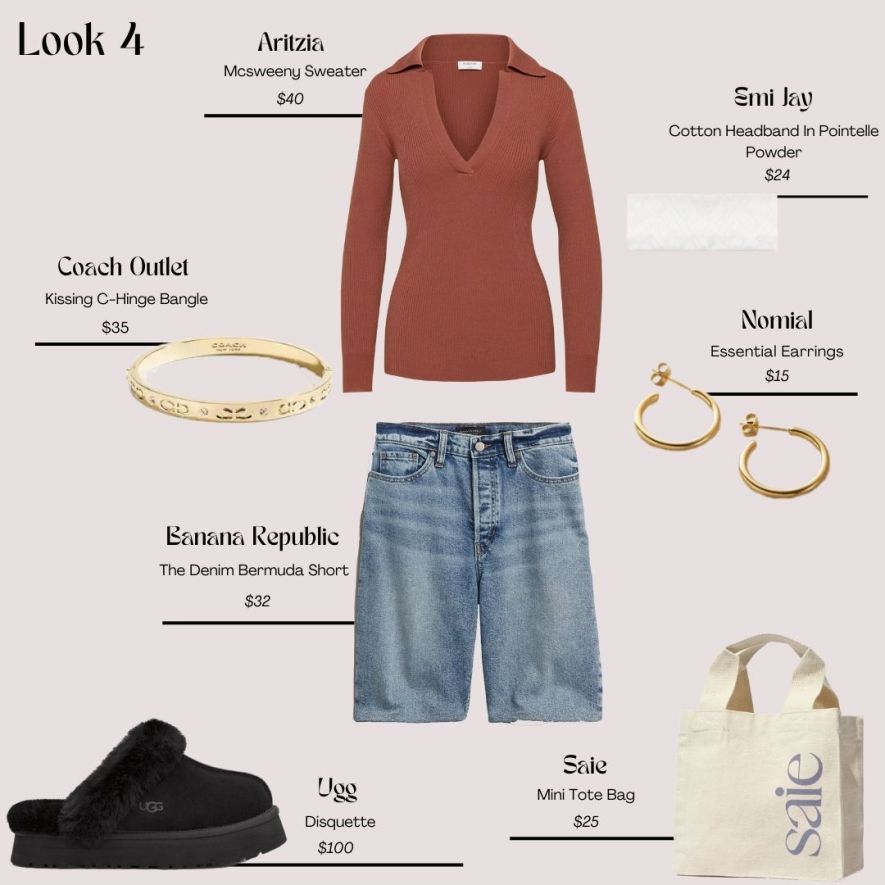 Weekend Cravings
Not only do Jorts have the ability to elevate your evening out, they are masterful when it comes to days off. Whether it's catching up on errands or simply lounging around the house, Jorts solves all the problems for those Sunday feeling cravings. To start, pair your Jorts with a soft rib-knit sweater along with your favored low-top ugg boots to support your cozy days in and out the door. To accessorize, add on a charming gold bracelet and mini gold hoops to accentuate the look with some sweet jewelry–along with a solid headband to push good hair days. For additional on-the-go essentials, grab a mini tote bag from your closet to carry extras you can't live without.
Shop The look
Featured image Via Cider, Skims, Zara, Merjuri and Neiman Marcus. Designed By Her Campus Media