Harry Styles — everyone's favorite British golden boy, has added yet another venture to his ever-growing list of impressive accomplishments. He's on top of the world right now; an internationally known singer, a Grammy winner, the star in two upcoming movies, a Marvel Cinematic Universe character, and he wrapped up his sold-out US tour, Love on Tour, and is now set to start its international leg. What more can he possibly do? Oh, how about creating his own lifestyle brand?
In the recent trend of a ton of our favorite celebrities starting their own brands in came Pleasing. Styles surprised us by launching Pleasing with beauty and skincare products. Pleasing describes itself as a "life brand that moves to wherever there's something Pleasing to be found." This very ambiguous description of the company leaves us to wonder what else is up Pleasing's sleeve.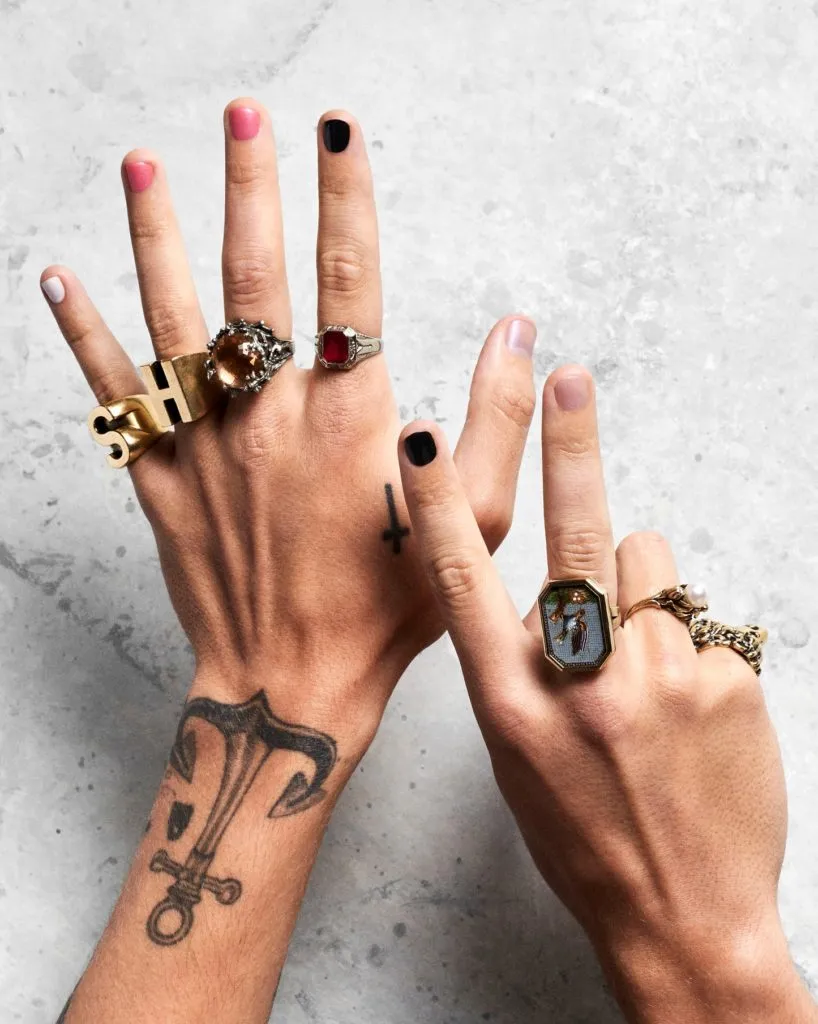 Despite little information from the man himself, fans long speculated what Pleasing was before its release. Harry had been spotted wearing the word on a black hoodie and carrying around his phone with a simple branded sticker on the case for months. Otherwise, he made no hint at what the mysterious single word could mean.
On November 13, 2021, after Styles' show in Arizona, fans walked out of the venue surrounded by digital billboards with the single word 'Pleasing.' That night, the website launched and frenzied fans crashed the site trying to see the products. Two days later, on November 15, 2021, Harry appeared on the cover of Dazed announcing his brand and humbly talking about his recent ventures. Pre-orders opened that same day.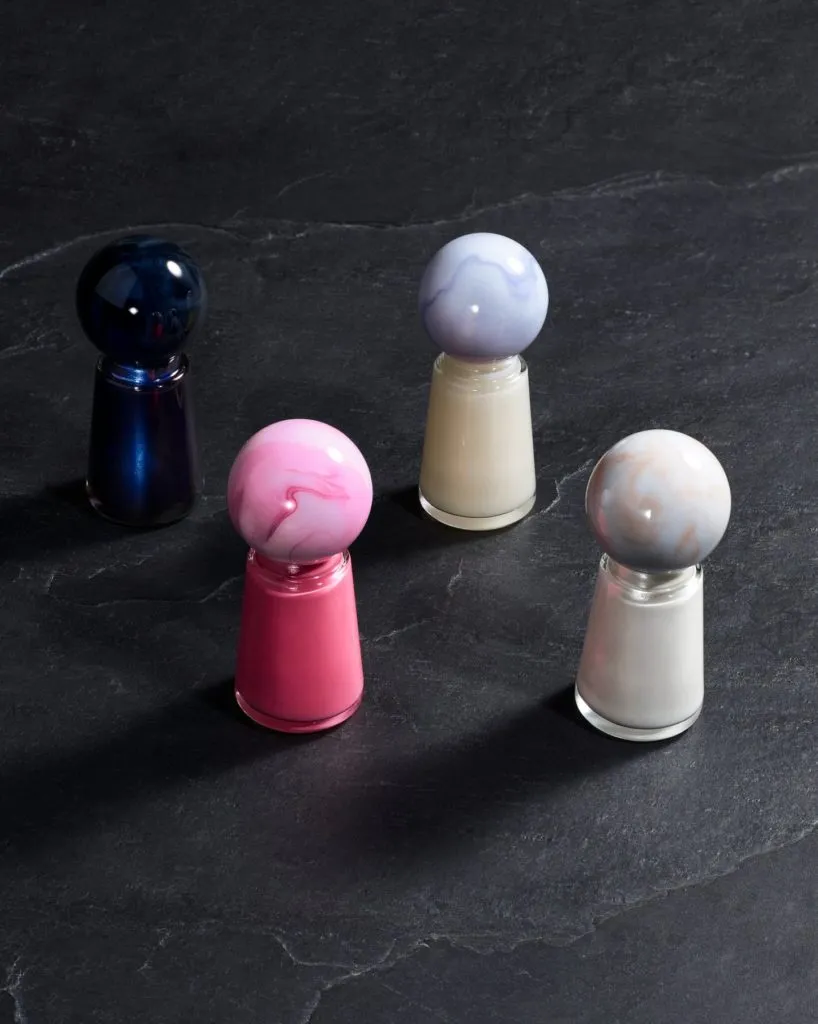 The first, limited-edition collection, Perfect Pearl (named after Harry's iconic pearl stringed necklace), featured nail polishes and skincare products. Perfect Pearl included four shades of buildable nail polishes; pearlized white with a glossy finish, clear matte with iridescence, pearlescent black with blue sheen with a glossy finish, and pearlescent pink with a gloss. On the skincare side, the drop included a dual-headed, roller ball serum for the under eyes and lips and an illuminating serum moisturizer. Pleasing's first collection also included two crewnecks similar to the now infamous one worn by the man himself.
The Perfect Pearl products and promotion were characterized by a minimalist, neutral color palette and a beachy, California dream aesthetic. In a complete 180, Pleasing's second drop, Shroom Bloom, is a hippie's dream. This new spring collection features work by the creative Marisol Muro of Los Angeles whose adorable psychedelic illustrations look straight out of the '70s.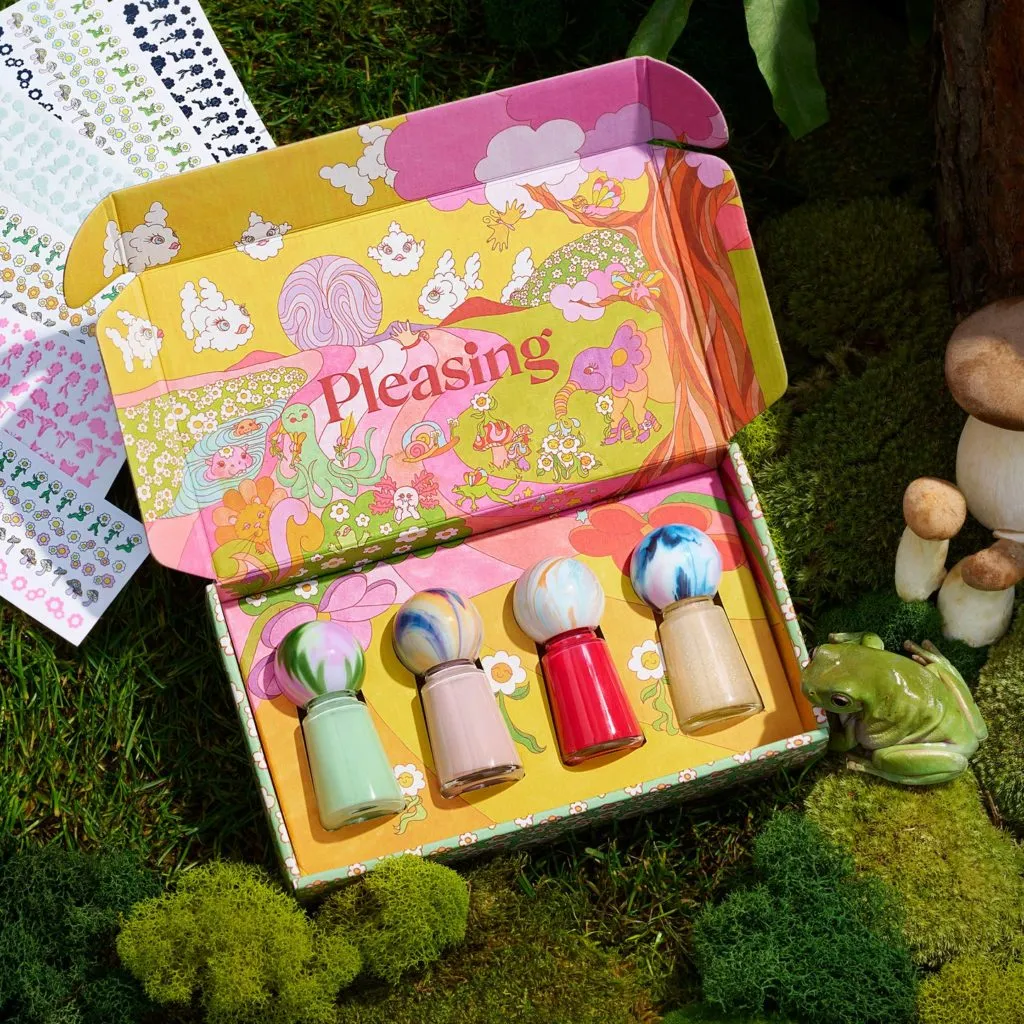 As it currently sits, Shroom Bloom is dropping March 15, 2021. In typical Harry Styles fashion, a surprise Vogue article announced the collection. Styles revealed the campaign star of Shroom Bloom, rock legend Mick Fleetwood, and then opened up the Pleasing website to reveal the new products. Personally, I couldn't possibly think of a better face for this seventies dream collection than a member of Fleetwood Mac!
Shroom Bloom includes a new set of groovy nail polish ($65) with shades of pale green, beige, red, and a sheer holographic polish with biodegradable glitter. New skincare products include an overnight serum ($35) and a two-in-one hand and nail balm ($25). The collection also includes more apparel with new colorful shirts ($60) and crewnecks ($105) with Marisol's illustrations them.
Pleasing's products are made to accentuate and celebrate inherent beauty instead of concealing, rebelling against the norm of the beauty industry. Planet-focused as well, Pleasing is sustainable and transparent about its ingredients and materials. The brand is also committed to constantly making improvements as they say "we're pleasing, never perfect".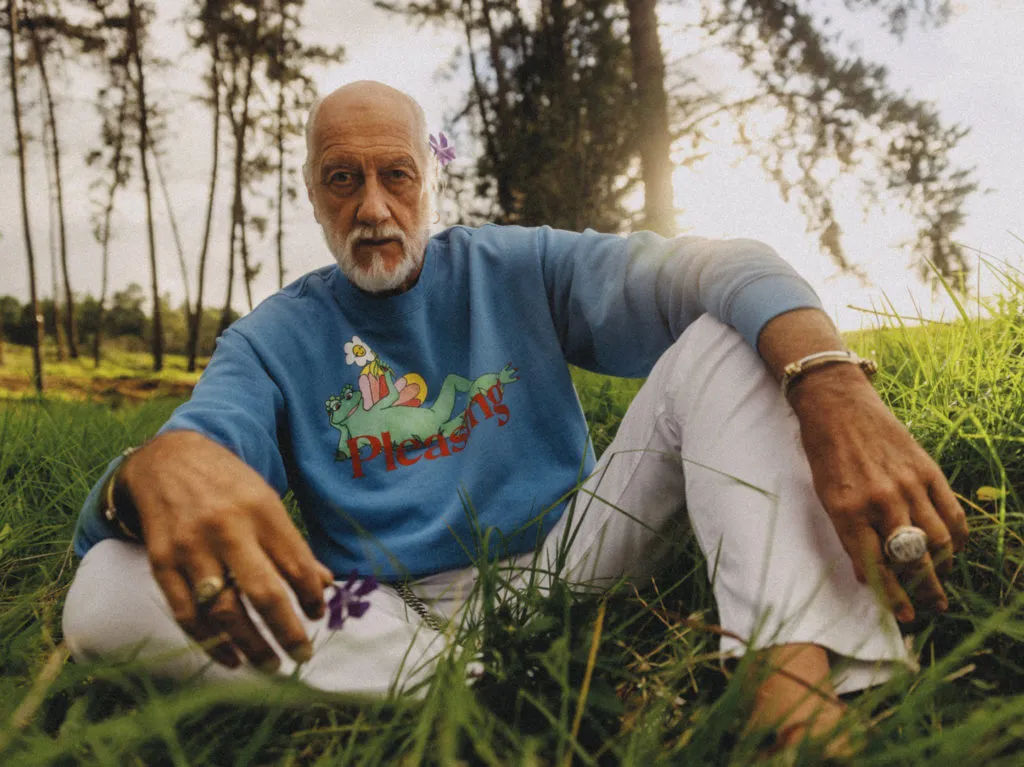 So, how has Pleasing stood out amongst the crowd so far? Authenticity.
The brand is centrally focused on individuality and the planet. Pleasing's campaign photos and brand message of inclusivity and representation — being authentically yourself — perfectly encapsulates the views of the brand's founder. The inclusive campaign photos are authentically representative of all types of people, ranging in gender identities, skin, and even age. Pleasing is inspired by "the way nature adorns itself and the multitudes of unique identities in our community."
Pleasing partners with different charities and non-profits, shedding light on these partners through each collection launch as part of their initiative to "do better." For Perfect Pearl, Pleasing partnered with Nest, a non-profit with the goal of supporting creatives in regards to gender equality and economic well-being. For the upcoming Shroom Bloom collection, they are joining forces with the charity Cool Earth, fighting the climate crisis and deforestation.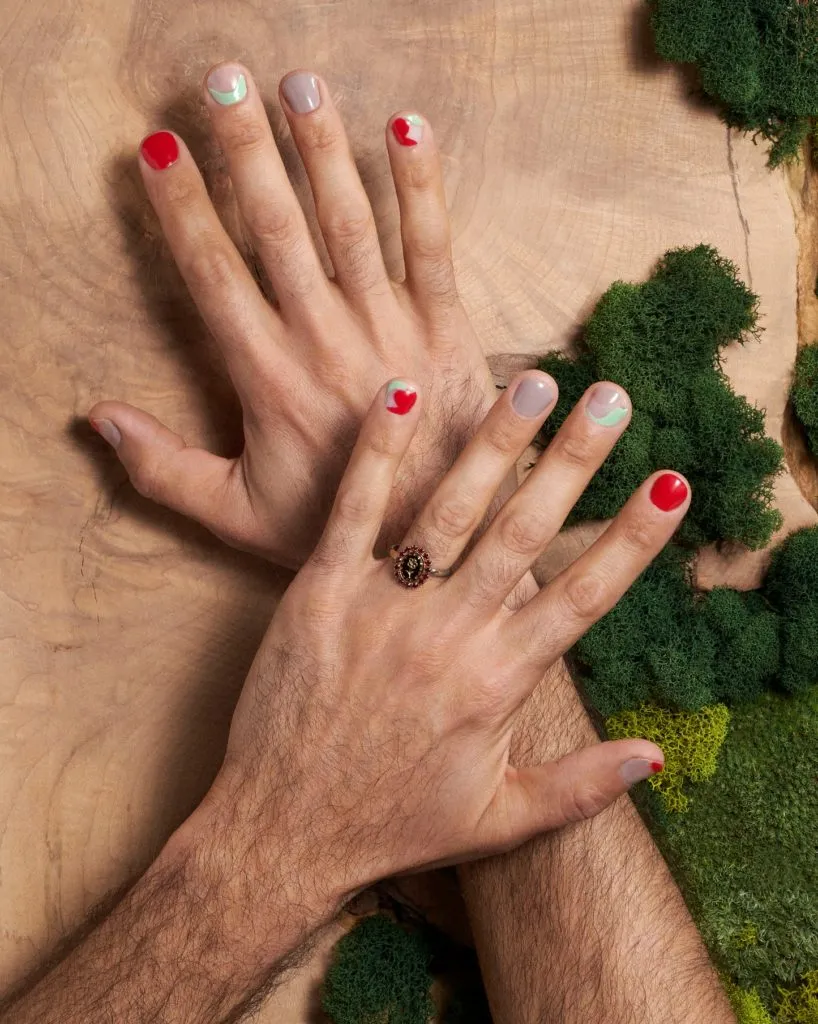 With someone authentic and passionate like Harry Styles behind it, I think Pleasing has amazing potential. Personally, I can't wait to see how the brand continues to evolve with their mission of inclusive and genderless beauty — and to get my hands on the Shroom Bloom drop!
Featured photo by Pleasing.