Shopping for jeans can be a serious struggle. With so many different brands, cuts, and washes, it's a daunting task to search for the pair that is perfect for your body. Jeans are not one size fits all, and denim can also be expensive. But trust me when I say the $200 pair of jeans that make you cringe when you look at the price tag is actually going to be worth every penny when you find your perfect fit.
Premium denim is made to not stretch out. What you see in the fitting room is what you get after the twentieth wear, unlike that cheaper brand. With the help of some of my friends at work, I was able to compare how the same pair of jeans can look completely different on each different body type.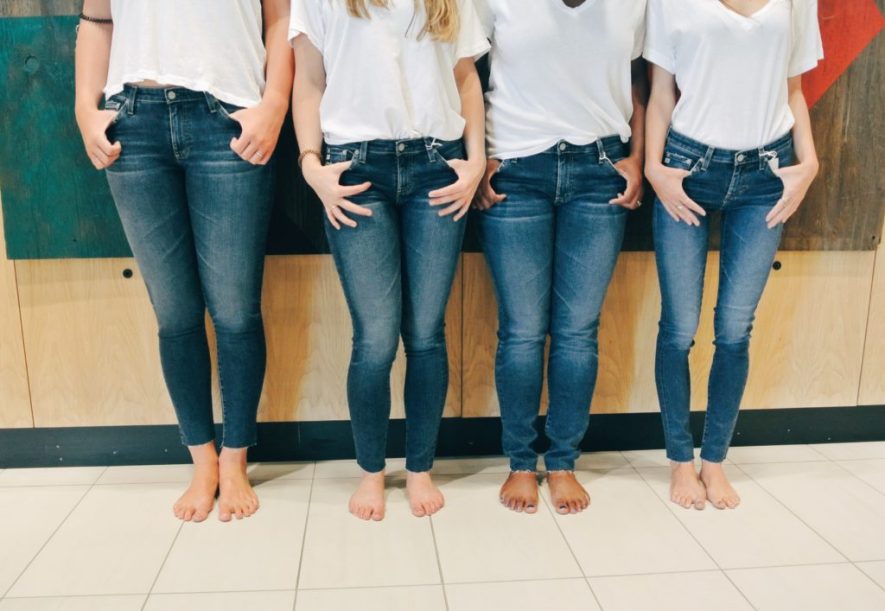 Meet Sadie. She is thin, petite, and wears a size 23 or 24. She struggles to find jeans that fit because many stores do not carry a size 23. She is still in the search for her perfect pair, but she recommends trying J-Brand. One tip she has for the shorter girl is to try a high-waisted jean because it will elongate your body and make you appear taller! Be patient when looking for your perfect pair. Allow enough time in the store to try on a lot of styles and brands, and get a feel for what you like or dislike.
Meet Lyn. She is curvy and short. Lyn is the perfect example of how all denim sizing is not the same as she ranges from a size 30 to 32. She likes to stay clear of jeans because they tend to bunch up around the ankles. To battle this issue, you can either roll your jeans at the bottom or get the pants hemmed. Don't be afraid of alterations. A simple hemming of the bottom or alteration of the waist can make a world of difference. Stores like Nordstrom offer complimentary hemming on full price jeans, so take advantage of it.
Meet Allie. She is a size 24 or 25. She loves her curves and smaller waist, but it definitely makes jean shopping a struggle. Having a bigger butt and athletic build makes it challenging to find a pair that fits in all the right places. Her go-to jeans are from AG because of how comfy they are. Focus on the fit, not the size. Every brand runs a little different and will fit differently depending on how much stretch they offer. You might need to size up or size down.
Meet Nicole. Being six feet tall and wide in the thigh, she struggles to find a full-length pair of jeans. Paige Denim is her go-to pair of jeans because they are high-waisted and offer a lot of stretch to work with her curves.
What are your favorite styles or brands of denim for your body type? Let us know in the comments below!