As soon as school lets out for the summer in the beginning of May, I start planning what I am going to wear for Memorial Day, the Fourth of July, and Labor Day. I look forward to these summer events all year because I get to celebrate on the beach with a cute outfit. Although this summer I am juggling a job, an internship, and summer courses, I appreciated getting the day off, dressing up, and relaxing on the Fourth of July!
I started the day off by grabbing lunch at Dockside Bar. After lunch, we ventured by boat to see some classic Fourth of July fireworks on the beach, which was an amazing experience. 
My red, white, and blue dress is actually from Target. I personally love Target because I find that the store carries a lot of trendy, high-quality merchandise at a good price. Being a college student on a budget, I am always looking for ways to save! 
I got both my sandals and bag from Tory Burch. I am a Tory Burch addict; I love how classy and timeless her pieces are. Although Tory Burch is a little pricey, her pieces last for years due to their quality. This handbag is the Pebbled Peace crossbody and has a removable strap so the user can make it into a crossbody bag, a clutch, or a makeup bag.
I love how it is versatile this piece is. It makes me feel like I'm getting more bang for my buck. This bag is the perfect size to fit all of my necessities. The hanging charm with the bird and hearts is an adorable touch to the bag. The bag I am using was actually a Christmas gift from my best friend Sarah! Since it is a few months old, it is no longer in stock, but Tory Burch carries a lot of similar ones if you are interested.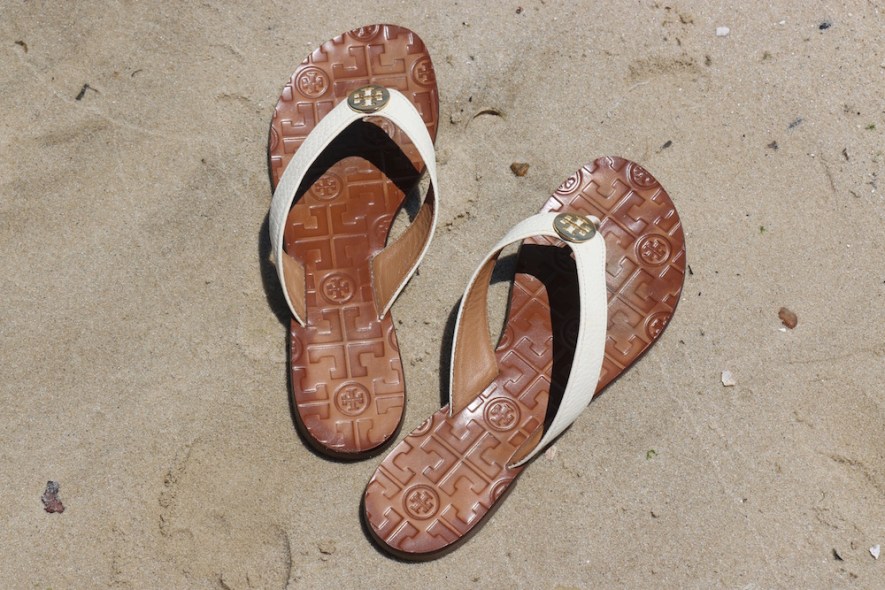 I didn't wear a lot of jewelry because I didn't want it to get damaged or lost on the boat, but turned to the pair of diamond stud earrings and bracelets that I wear almost every day. I love pairing my gold Cartier Love Bracelet with my silver bracelet with a heart-shaped tag on a daily basis because they both showcase love and were gifted to me by people who are dear to my heart. Although some may say the metals clash, I personally like the dual-tone look I get from the combo.
To protect my eyes from the sun, I added blue Ray-Ban Aviators to complete the outfit.
I had an excellent Fourth of July weekend, and although it signifies the end of summer, I can't wait for Labor Day weekend!
Let me know in the comments section what you did and wore this Fourth of July, as well as what you are planning for the next holiday!