Each new year brings fresh fashion trends to experiment with. This upcoming 2024 winter, College Fashionista spoke with four stylish community members about their fashion forecasts for the cool season ahead. Whether you're looking for an elevated take on your favorite leather jacket, hunting for funky shoes that are both functional and snow-friendly, or aiming to expand your wardrobe with cute staple pieces that will steal the show regardless of the occasion, you're in the right place. Welcome to CF's 2024 Winter Trend Report.
Read on for eight unique styles you're going to want to add to your cart ASAP this winter. Plus, you can even use this as your personal Christmas shopping list for yourself and also for your besties.
01. Layering With Turtlenecks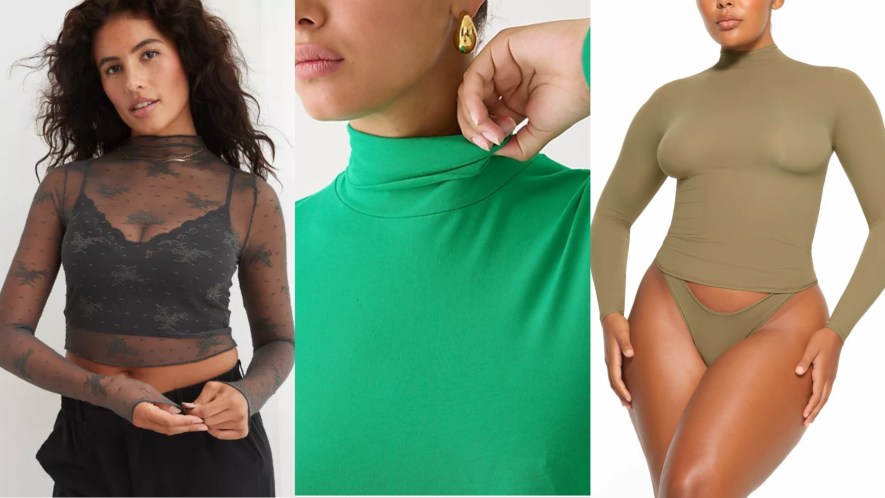 College Fashionista's Brooke Tang, @brooketang on Instagram, says it best — layering with turtlenecks "spices up a plain outfit with contrasting colors adding dimension." Whether you're wearing a sheer patterned turtleneck, such as this Aerie option, under a puffer vest or a midi slip dress, or donning a corset tank over a thicker top, such as this turtleneck from Skims, you'll be both cute and cozy.
02. Knit Cardigans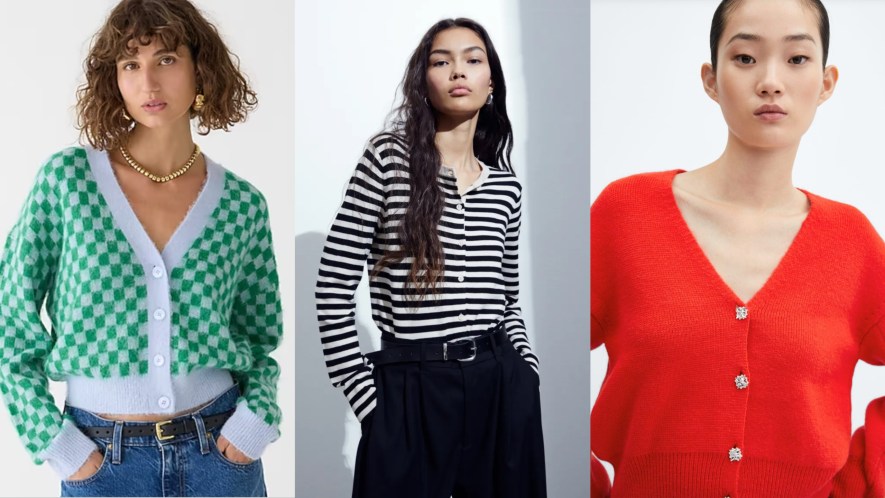 Once those leaves fall, snow is usually not far behind. That's why CF member Brooke also understands the value of having a solid array of knit cardigans on hand. It is "a classic staple needed to throw on over a simple outfit to stay cozy while joining the layer trend for fall," she says. Layer a thin knit cardigan, such as this H&M option, under thicker jackets or vests, or layer over your turtlenecks, crop tops, bodysuits, and the like.
03. Knee-High Black Boots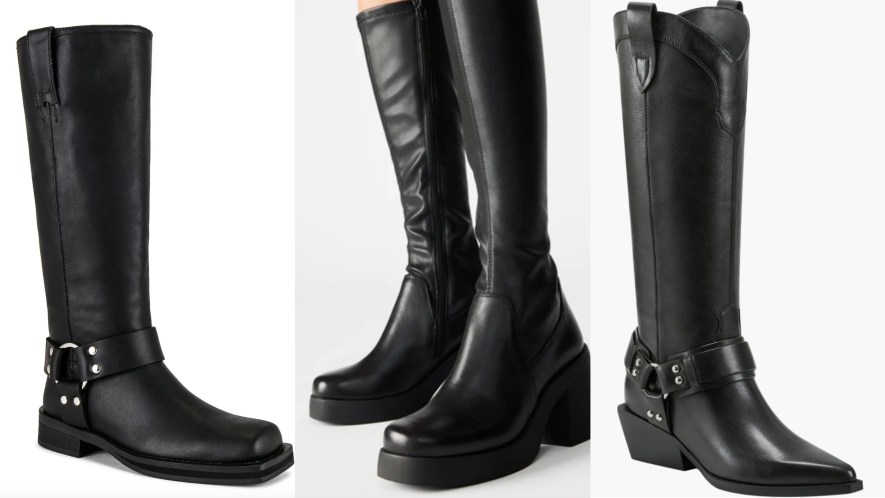 College Fashionista member Tumi Adeyoju, @tumi_adeyoju on Instagram, can't live without her knee-high black boots during fall and winter. They are "perfect for any winter outfit, day to night! A staple winter boot that won't ever get old," she says. Of course, you can never go wrong with adding a little bit of height to your outfit, such as with these Steve Madden black platform boots. Pair with a mini skirt, denim midi skirt, shorts layered with sheer black tights, or whatever else the weather calls for as we transition seasons.
04. Midi Jean Skirt
Need a piece that is perfect for every season of the year? Tumi recommends stocking your closet with a solid denim midi skirt. Whether you prefer a light-wash denim option with a slit, such as this piece from Zara, or a dark-wash look with cargo pockets, such as this one from Express, you can layer and style them with the right tops and shoes for summer, winter, spring, and fall. "A great piece for fall-to-winter transition outfits! Just add some sheer tights under and voila, a winter outfit," Tumi says.
05. Bows
Mark our words, 2024 will be the year of the bow. College Fashionista member Jacqueline Toscano, @jackiextoscano on Instagram, notes, "Whether tied onto your bag, a pair of boots, or in your hair, bows are the perfect dainty accessory." For a chic, effortless hairstyle, add a bow, such as this lace option from Urban Outfitters, to a half-up-half-down do. Or, add a bow to your claw clip for an even easier quick style.
06. Faux Leather Pants
Jacqueline is also a huge advocate for faux leather pants in a variety of colors. "These pants can be styled up or down for any occasion during these colder months," she says. "Bonus points if they're lined with a fuzzy material to keep you warm." Having a solid black pair will allow you to dress it up for date night with heels and an oversized blazer or dress down with a band tee and your favorite pair of sneakers. Additionally, opting for a bold blue pair, such as this ASOS option, or a metallic pant such as this Abercrombie & Fitch pair, will allow for versatile styling all winter long.
07. Platform Uggs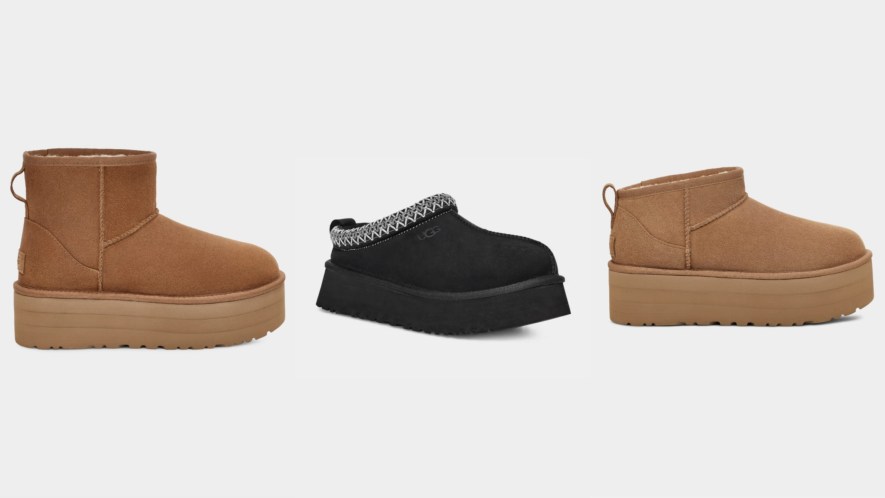 Uggs have stepped up their game, literally, by offering platform mini boots, slippers, and more. "[They] are going to be huge this winter! With platform shoes being a staple of fashion this year, the comfiness and aesthetic look to the platform Ugg boot will add so much to an outfit," says College Fashionista member Novalie Gomez, @novalie.gomez on Instagram.
08. Long Sleeve Jumpsuits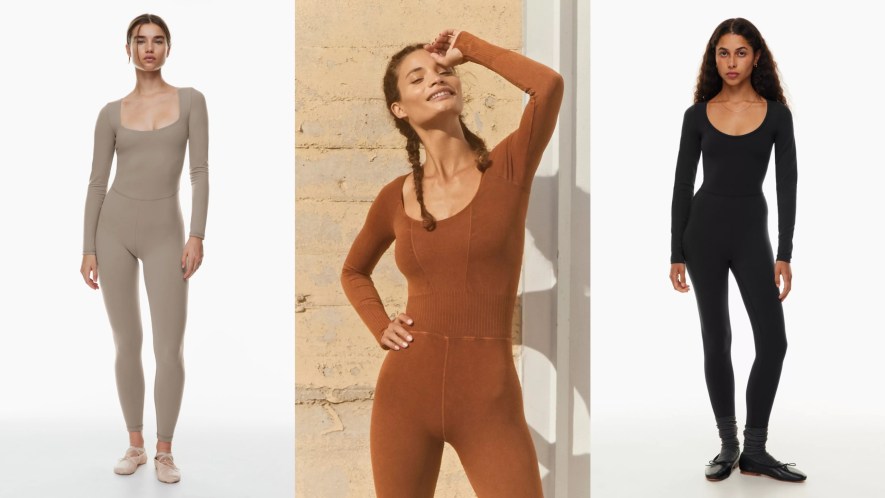 "Long sleeve jumpsuits are so comfy and the perfect basic for a cold day. Adding a puffer jacket with some fuzzy socks and boots complete the minimalist aesthetic look," Novalie shares. This is definitely a stylish lazy girl hack. You'll look totally put together in a jumpsuit without having to piece together multiple top and bottom layers. Sometimes, early mornings just call for a quick outfit.
Make sure to stay up-to-date on all things College Fashionista by following us on TikTok and Instagram.