It's that time of year again! Time for back to school, which usually means getting a new fall wardrobe. Fall is my favorite time of the year. It's time for sweaters, boots, and jackets. But what about that first month or two when it's too hot for sweaters? September is usually still very hot. I have some outfit ideas that can be worn in this heat, but still have the fall vibe everyone will be striving for.
1—Jumpsuit. The first outfit is comfy and cute for school, but it could also be worn out on the town after classes. I am wearing a burgundy jumpsuit from my favorite store, T.J.Maxx. It is so comfortable and easy to put on before rushing out the door for school. I paired it with a gold statement necklace from Francesca's, and a brown and gold Michael Kors purse from the Michael Kors store. I added some gold bracelets to jazz it up even more. This outfit is one of my favorites. Because of the open back it keeps me cool, but the transitional color says "fall."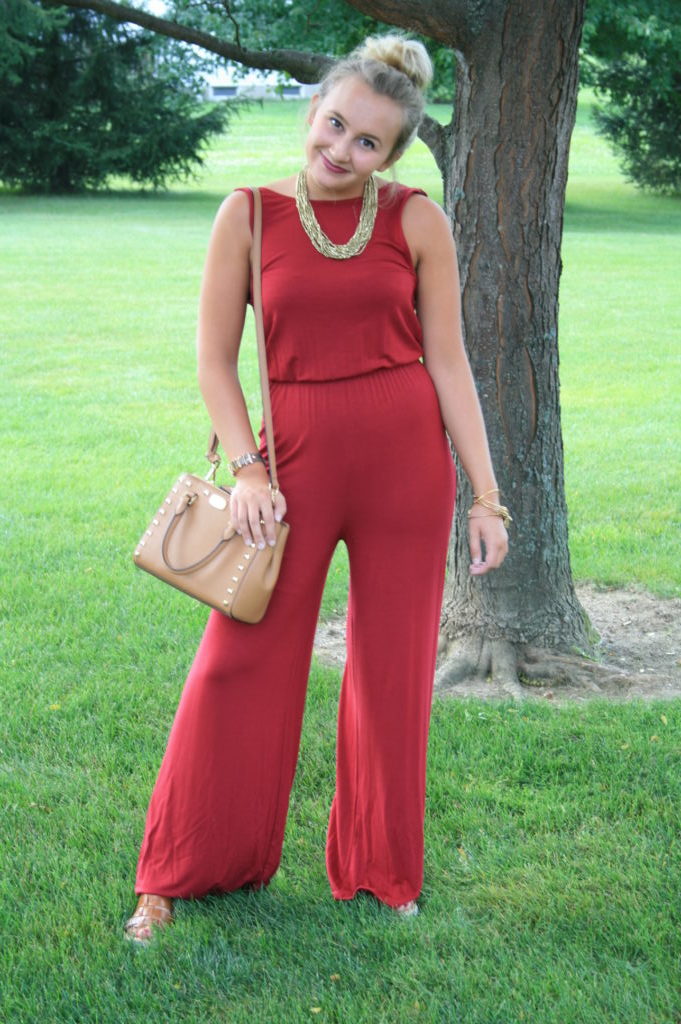 2—Denim skirt. My next look is super fun and perfect for a hot day. I am wearing a black skirt from Marshals by Nasty Gal. This skirt is so stretchy and comfortable, which is exactly what I look for on a warm afternoon. I paired it with a sheer black printed bodysuit from Free People, and underneath that is a burgundy bralette from Victoria's Secret. This outfit is great even if it gets a little chilly during night classes, because I added a burgundy corduroy jacket over my shoulder.
The shoes are perfect for walking around campus, because they only have a little kitten heel. They are from T.J.Maxx as well. I also decided to add some brown to my outfit with my brown and black mini Kate Spade bag from the Kate Spade store. This is such an easy outfit to throw together! It is still lightweight and cool, but the colors say "here comes fall."
3—Fringe skirt. My last outfit idea is my favorite. This look is so much fun and so trendy with the fringe skirt that I bought from Lord and Taylor in New York City. I am wearing it with a black crochet top from Marshals. For my accessories I chose to wear my favorite black booties from Gabes and my black Kate Spade Purse from the Kate Spade store. A jacket or sweater could also be added to this outfit if it did end up getting a little chilly out.
Any of these looks could be dressed up by adding high heels and putting my hair down. I don't know about you but I am very excited for the fall colors and patterns to come out and for the leaves to fall!
What do you love to wear back to school? Let me know in the comments below! Or tag us @CFashionista!