This summer I wanted to amp up my style for summer nights to achieve something fun, yet effortless. For this outfit, I was personally inspired by classic rock and thrift store finds (go Seattle college kids!). I was able to create an affordable, comfortable, and casual summer look. Everything in this outfit is second hand and very versatile.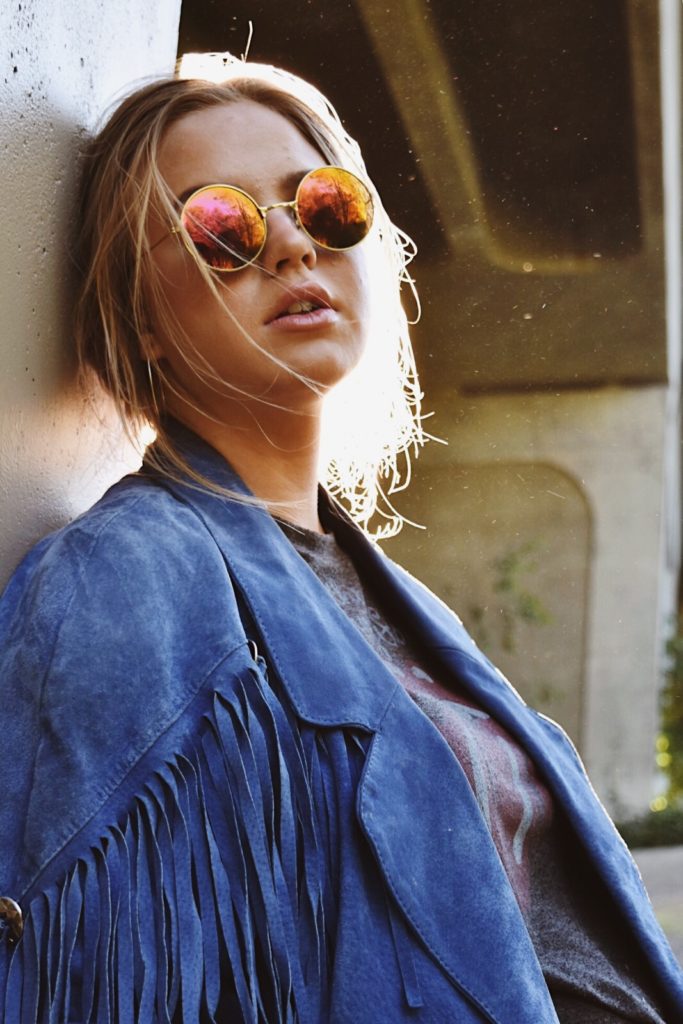 I started this outfit with a great pair of comfortable jeans: 505 vintage Levi's. Attention, ladies! If you have curves stray far away from the 501 Levi's you hear everyone raving about. I became so frustrated with never being able to find a good pair of vintage Levi's that were flattering and comfortable. One day, a vendor mentioned to me that 501's were originally made for men, and therefore they have no room for girls with curves. My world changed, and since then I've been able to find so many more jeans! After I bought this pair, I cut them to right above my ankle to give them a raw hemline.
I threw on a graphic T-shirt to finish up my base look. I then added this blue suede jacket, which is a statement piece and the key to making this look work. The key to spicing up a basic look is to add a great statement piece. Choose pieces that inspire and excite you! The pop of color is exactly what this look needed. My favorite parts of the piece are the fringe and the collar. To finish off the look, I found these cheetah booties that a friend had handed down to me. I often stay away from patterns, but a pair of cheetah shoes is like a great friend who will never let you down; they go anywhere and can rock with anything! Lastly, I threw on these round sunglasses from a local consignment shop. This look has character through each individual piece.
I have three tips for creating this effortlessly cool summer look. Firstly, use comfortable statement pieces that really show a side of your personal style. Wear statement pieces in your everyday outfits to change it up and make things more exciting. A fun jacket with embroidery, fringe, or a fun color is a good choice for a statement piece. Don't be afraid to wear statement pieces! Secondly, pick pieces that fit. I learned that I tend to compromise my comfort for clothes that are too small in certain areas just so I can achieve the look I want. I realized that finding clothes that fit me will instantly make my outfits look better (this means finding flattering jeans). Lastly, a great pair of cheetah shoes will never fail you. If you shy away from patterns, this is a great way to add some into your wardrobe.
What's your go-to summer outfit? Show us on social media, and don't forget to tag @Cfashionista!