I've been obsessed with Devon Lee Carlson for over five years now. From following her on Instagram, to pinning her on Pinterest and seeing her crazy adventures on Youtube, Carlson has come to feel like my super stylish bff. With a big heart and an amazing fashion sense, Carlson has been deemed by many as an "It Girl" and I couldn't agree more. From thrifting her favorite brands like Burberry and Versace to now working with them, Carlson is taking over the fashion scene, all while still helping to run the popular family-owned phone case brand Wildflower Cases.
Of course her style is fantastic, but it's her sweet personality and kindness that makes me love her and root for her every step of the way. Just in the past year she's dropped a collab with Marc Jacobs, attended Paris fashion week, and styled Olivia Rodrigo for the Good 4 U music video. I couldn't talk about my fashion icons without talking about the one and only queen of vintage style, Devon Lee Carlson. Here are just a few of Carlson's best looks for some fashion inspiration.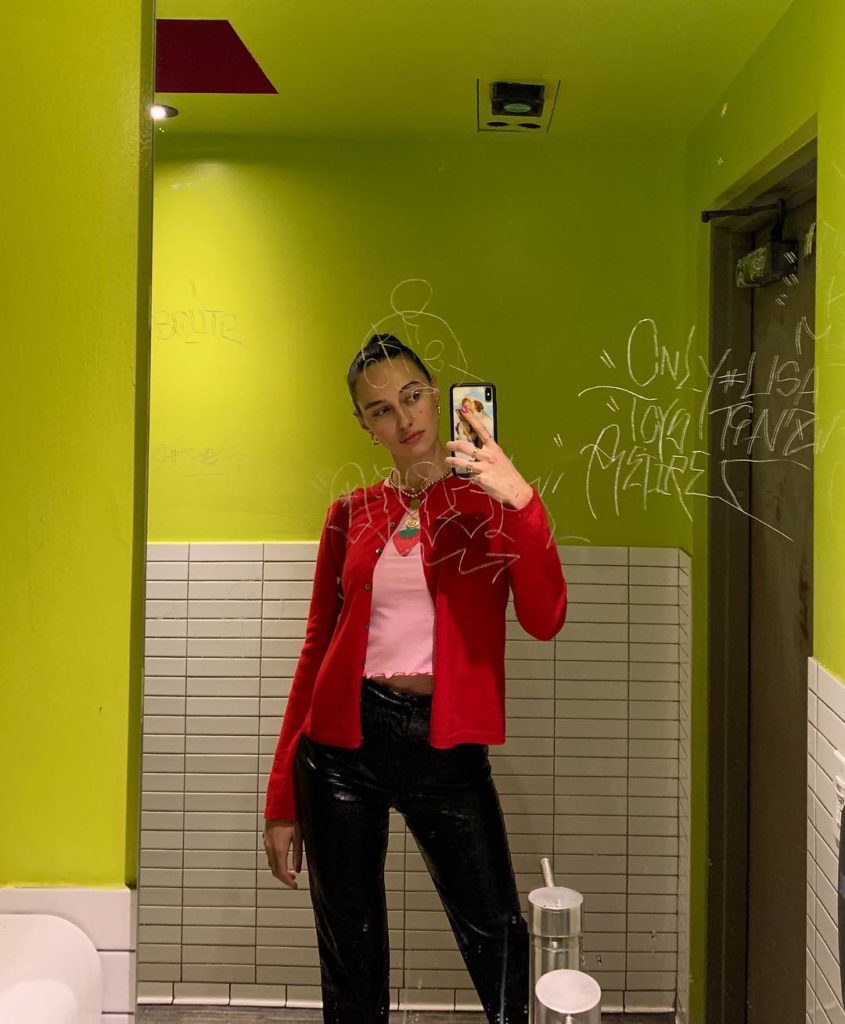 1/25/19 – The Strawberry Serve
Here Carlson wore a UNIF strawberry tee with a red cardigan. She paired it with black leather pants from Autobody Clothing and layered necklaces. Of course, she finished off the look with an OG Wildflower case ($37).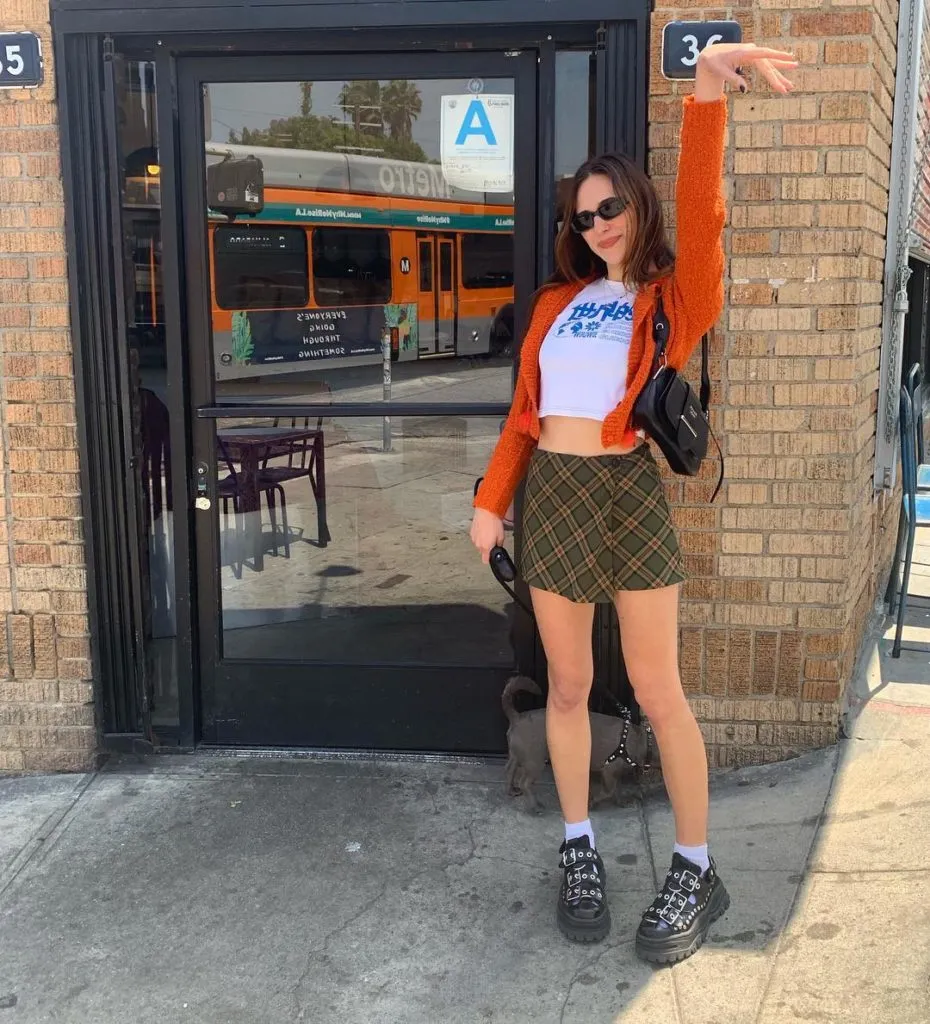 5/4/19 – The UNIF Skirt Outfit 
On a day out with friends Carlson wore a Danielle Guizio tee with a cute orange cardigan. She wore a UNIF skirt with a black leather bag and edgy shoes. This made for such a great on-the-go outfit.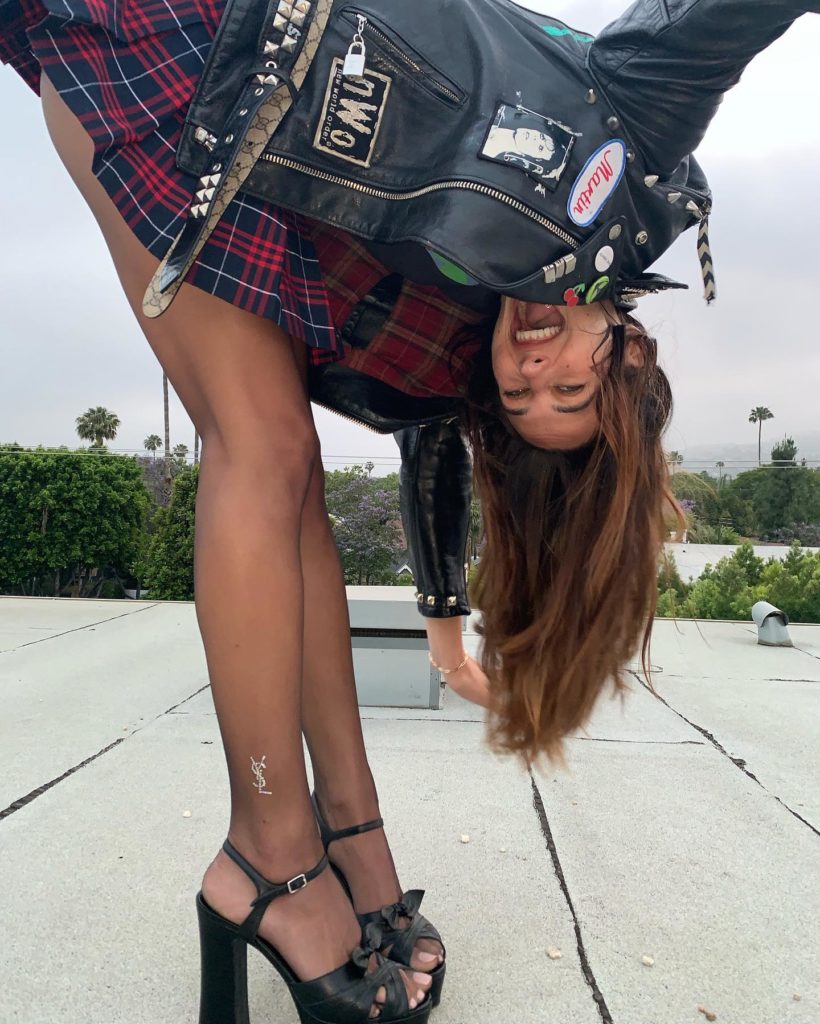 6/5/19 – The Rocker Chic Look
This has forever been one of my favorite outfits Carlson has worn. The chaos of all the prints and colors together make it crazy, but crazy is Devon, and that's why I love it. She showed off her YSL tights while wearing the iconic American Apparel pleated plaid skirt. She also wore another graphic tee from UNIF. But my favorite part of the outfit has to be the customized leather jacket!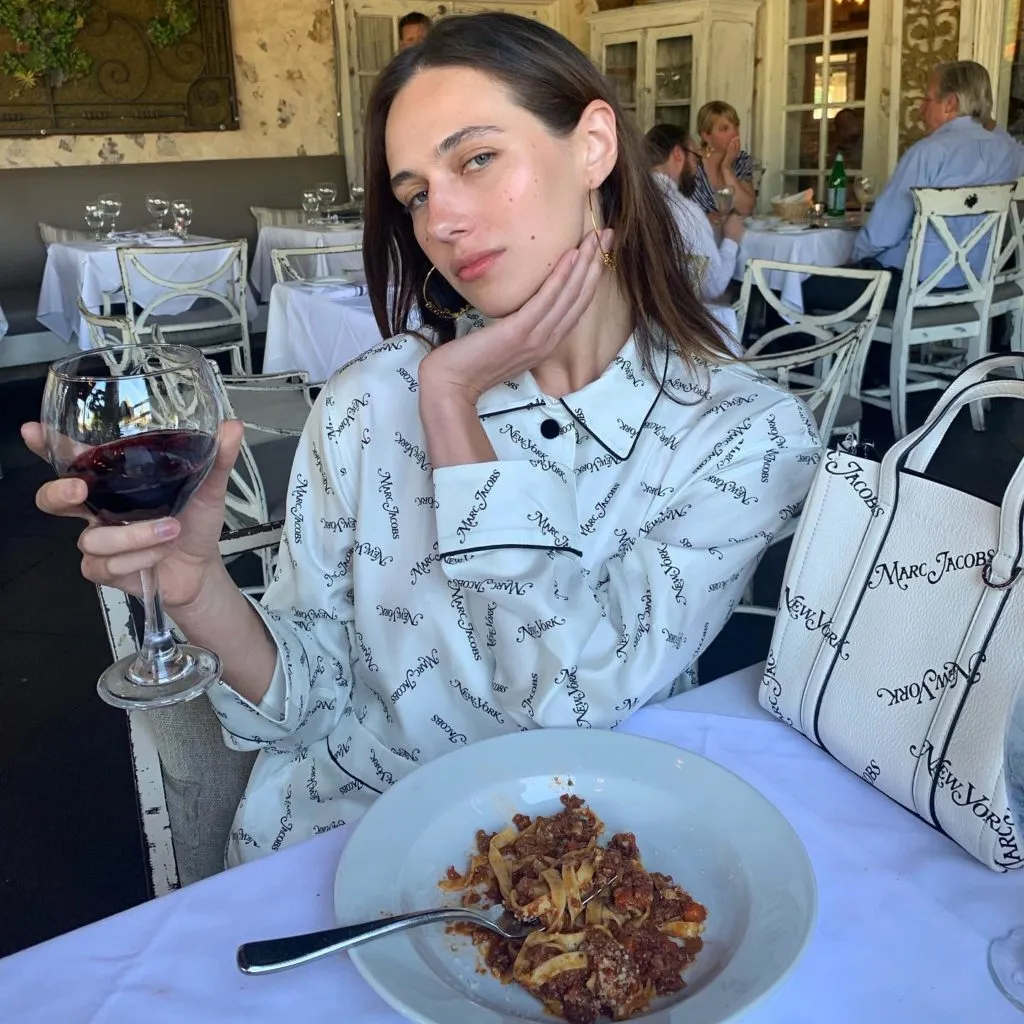 6/12/19 – Marc Jacobs x New York Magazine
Repping the New York Magazine and Marc Jacobs collection from 2019, Carlson wore a pajama top with a matching handbag. It's cute, comfy, and Carlson. This was a spin on the logomania trend that worked really well. Of course, we'll see her in a lot more Marc Jacobs in the future.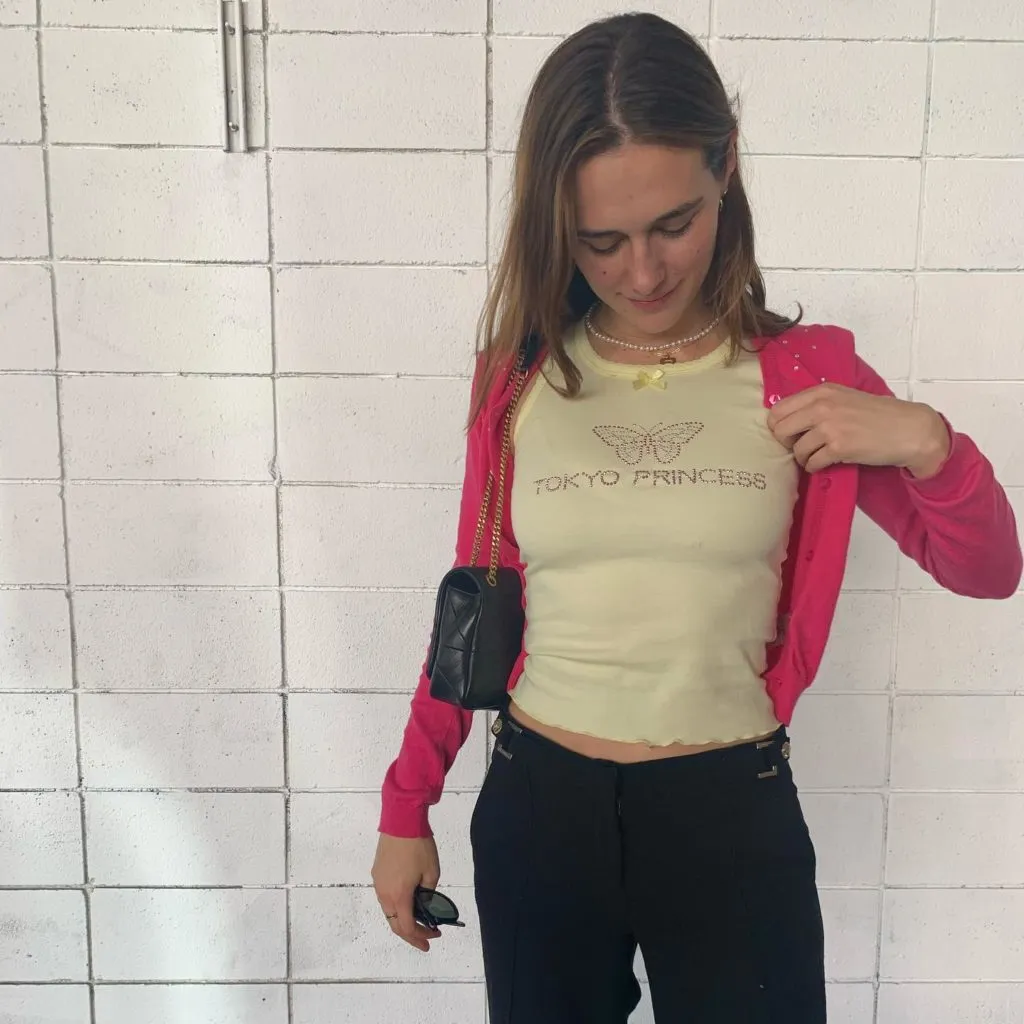 9/30/19 – Tokyo Princess
This is a very quintessential Devon Lee Carlson day look. She wore the Vanna Youngstein Tokyo Princess baby tank in yellow with black trousers and a pink cardigan. It's the perfect look to run errands or go shopping in. It's also easy to recreate with basics you probably already have in your closet!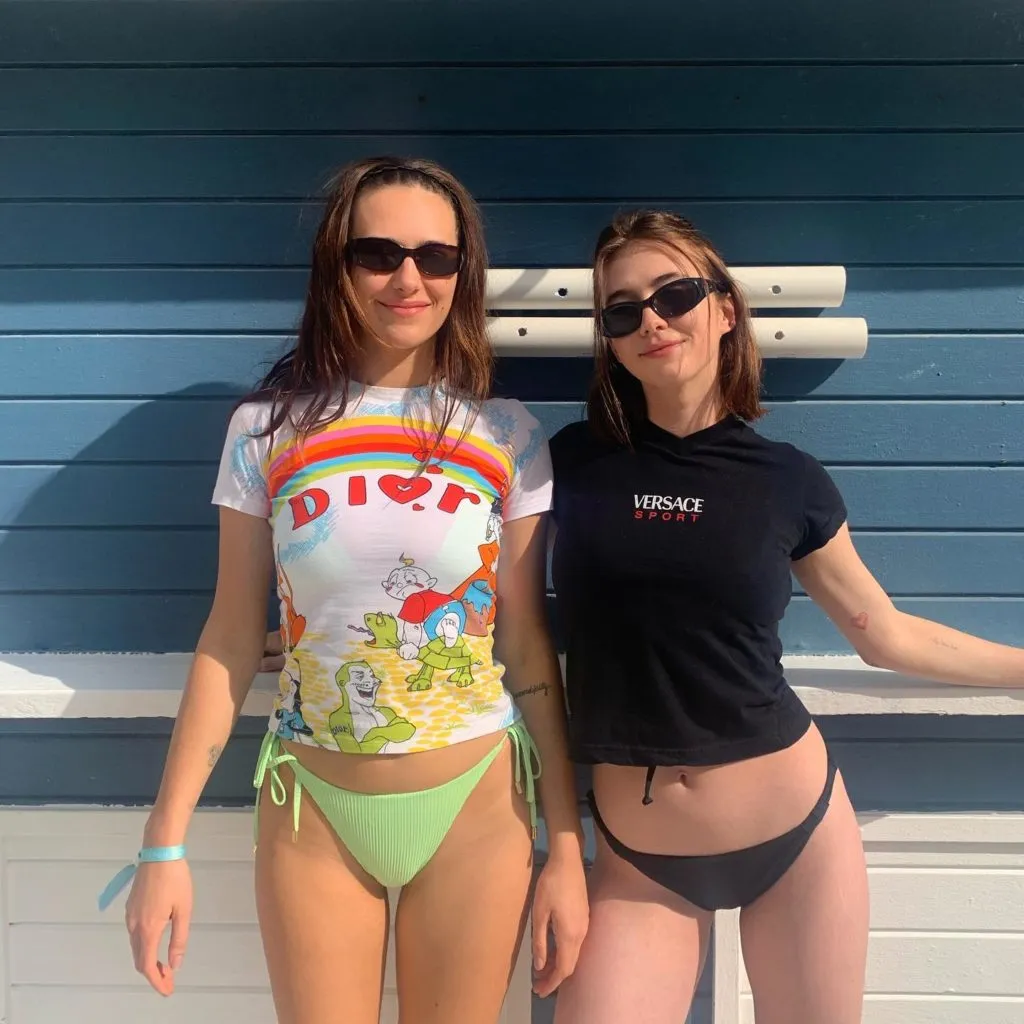 1/18/20 – The Dior Swim Look
Posing with her bestie Lauren Leekley, Carlson wore a green bikini bottom from Monday Swimwear. She paired the bottoms with a vintage Dior top from nourtheboar.co. It's giving me some major inspo for my swimwear looks this year.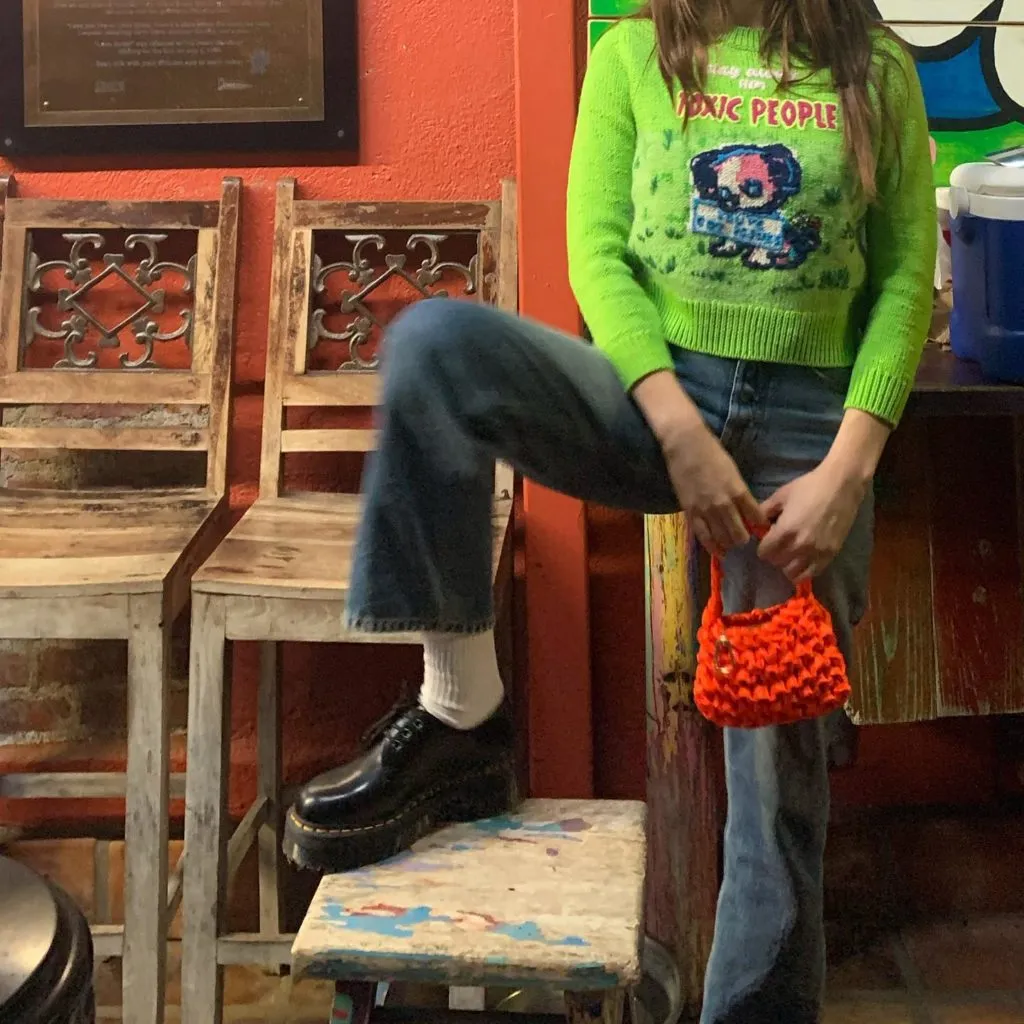 1/22/20 – The Essentials Look
Pairing staple pieces is always an easy way to create an outfit. Carlson did that here by pairing a Marc Jacobs sweater with a pair of denim jeans. She added a Noon Goons leather jacket and the Theodore Orange Miista Bag ($280) to the look. Finally, she finished off the look with a class pair of Doc Martens.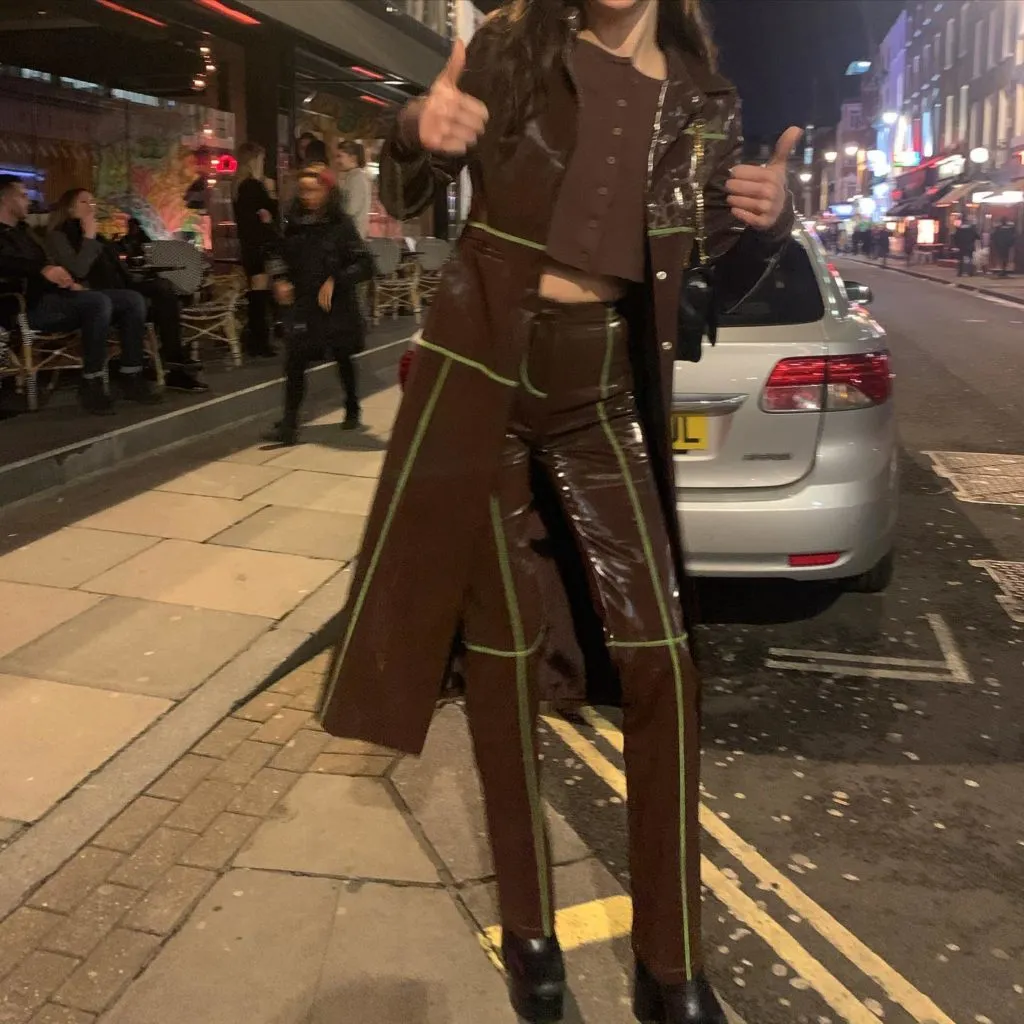 2/21/20 – The Brown and Green Look
This is one of Carlson's most memorable looks. She wore another Danielle Guizio top here, with a green and brown set from I.AM. GIA. Carlson finished off the look with black platform boots and a black YSL handbag.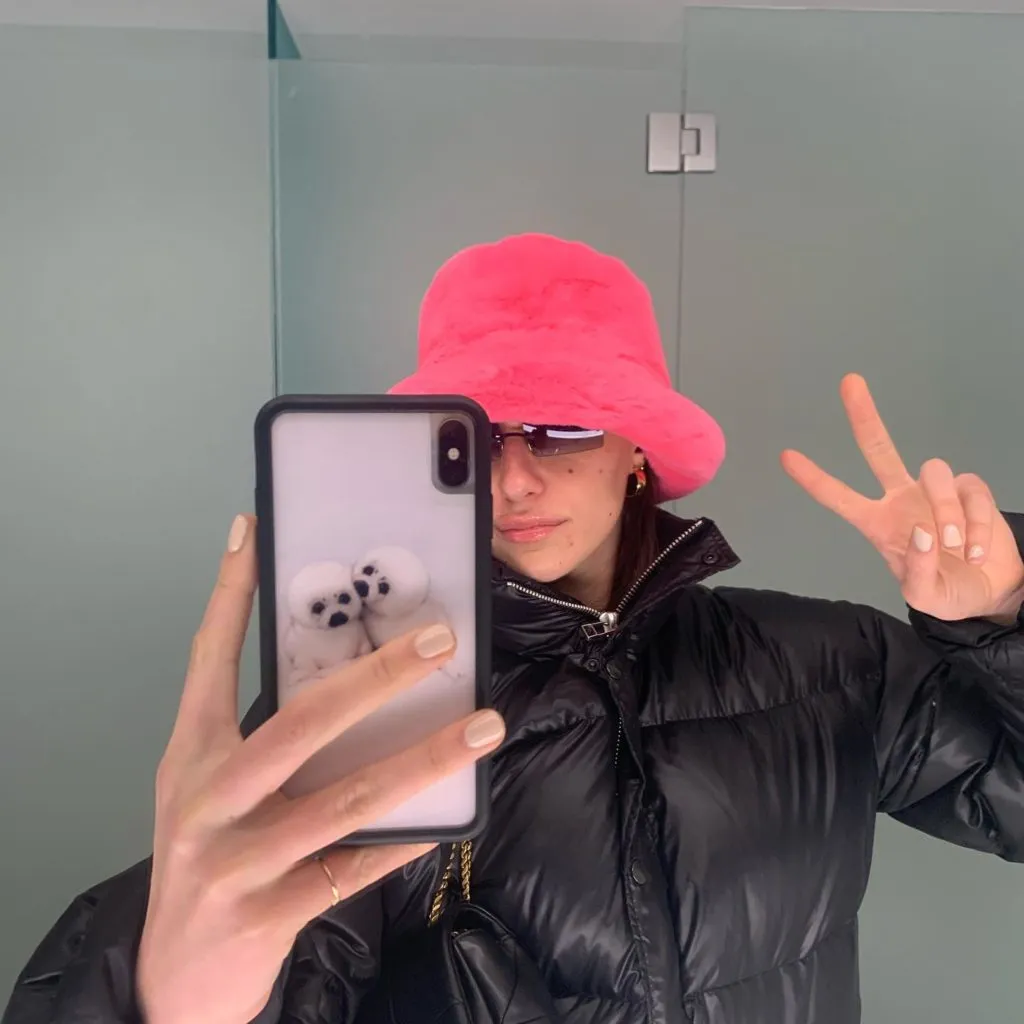 3/2/20 – The Y2K Look
This outfit screams Y2K. The look consisted of a pink fuzzy bucket hat, tinted sunglasses, and a black puffer jacket. Of course, she added the super cute Baby Seals Wildflower Case ($35) to the look. I can't wait to recreate this look next winter.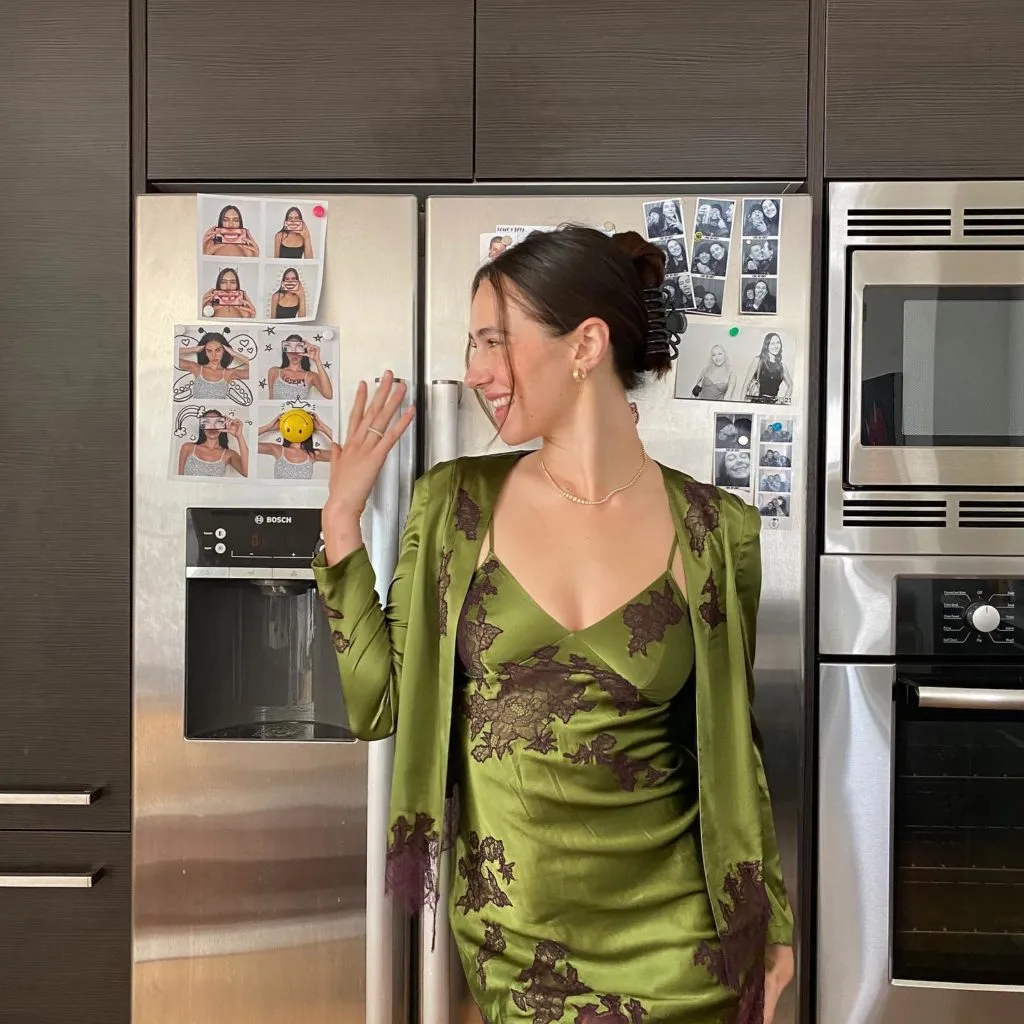 6/23/20 – The At Home Cool Girl Look
Now here's a lounge wear set I can get behind. Carlson wore green and brown once again, which at this point confirms it's an elite color combo. The slip dress and matching jacket are from Agent Provocateur. Her necklace is from The Last Line.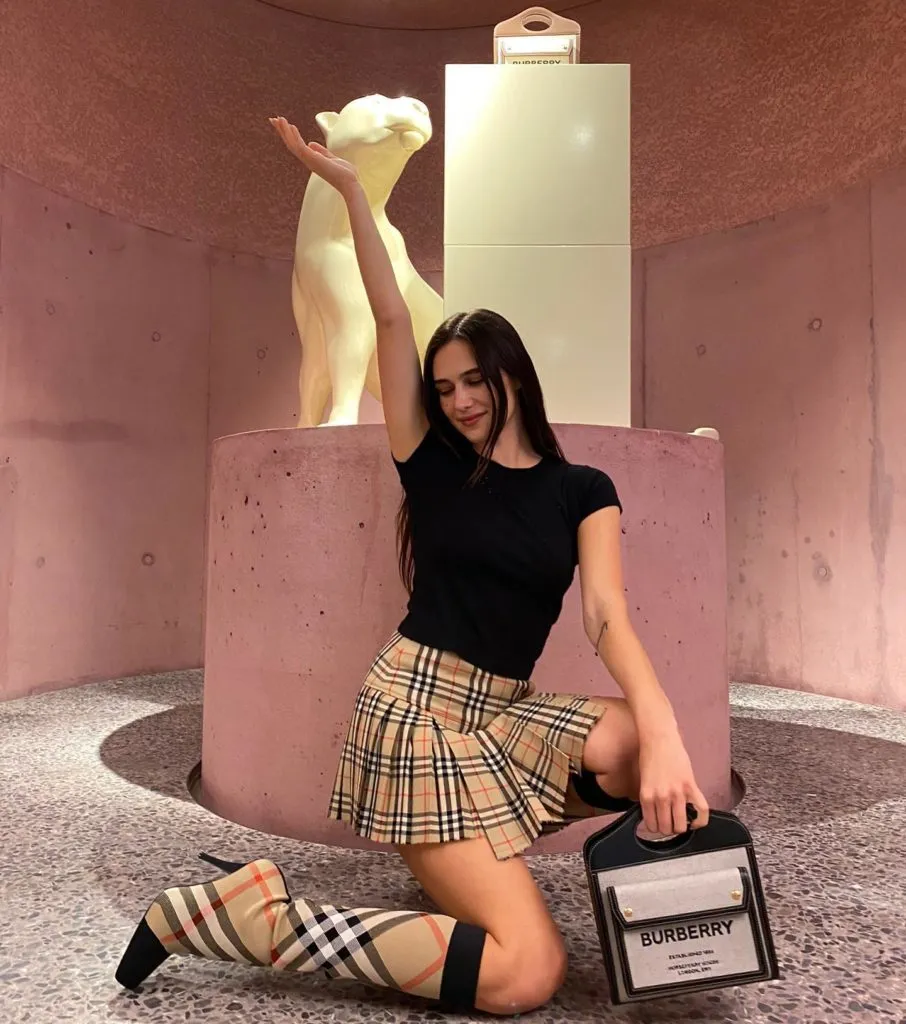 9/9/20 – The Burberry Look
Carlson showed off the Mini Two-tone Canvas and Leather Pocket Bag from Burberry in this stunning picture. She paired the bag with the iconic Burberry plaid printed skirt and knee high boots. It's a more classic look for her but it's still fun.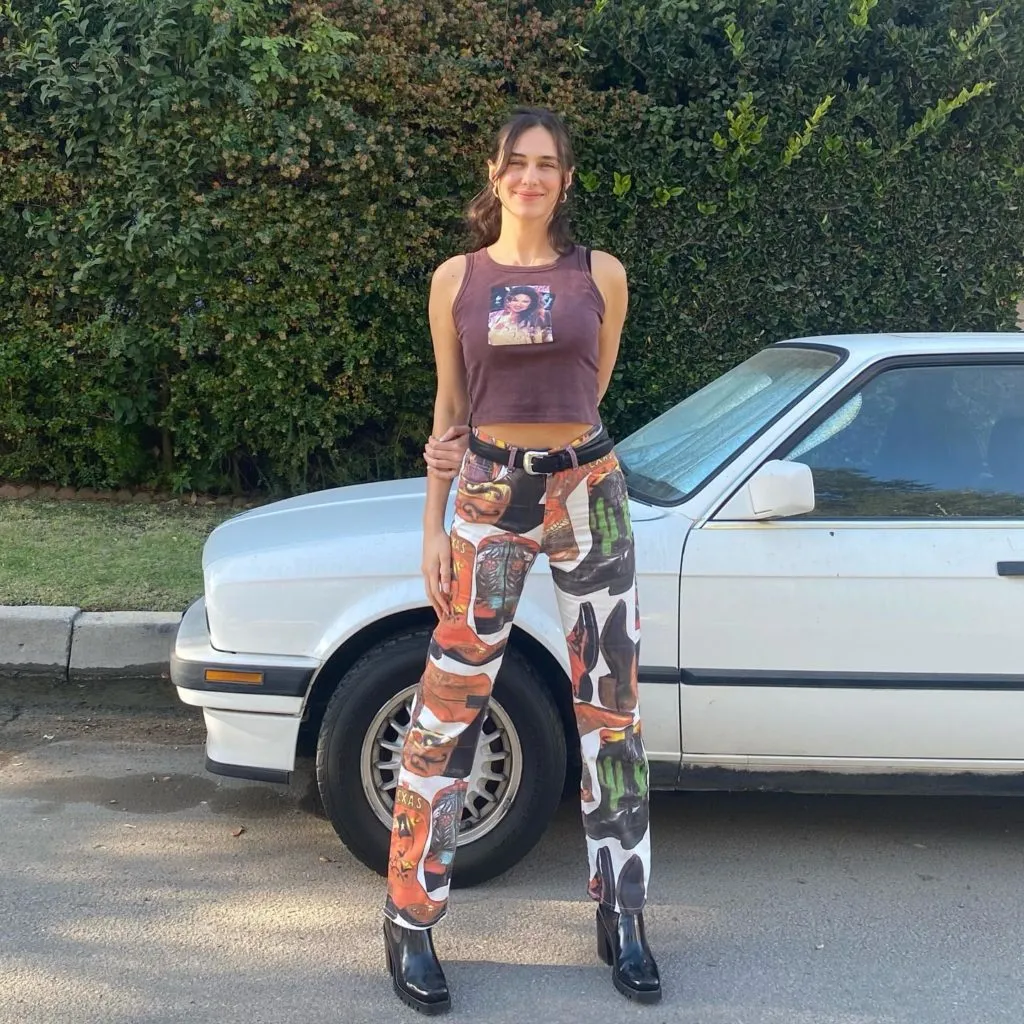 12/11/20 – The Cowboy Boots Pants Look
These might be the coolest pants anyone has ever worn. The pants are hard to track online, but may be a pair of vintage Moschino's. She also wore a brown cropped top with the legendary singer Selena on the front. The look also includes a western-style black belt and black boots.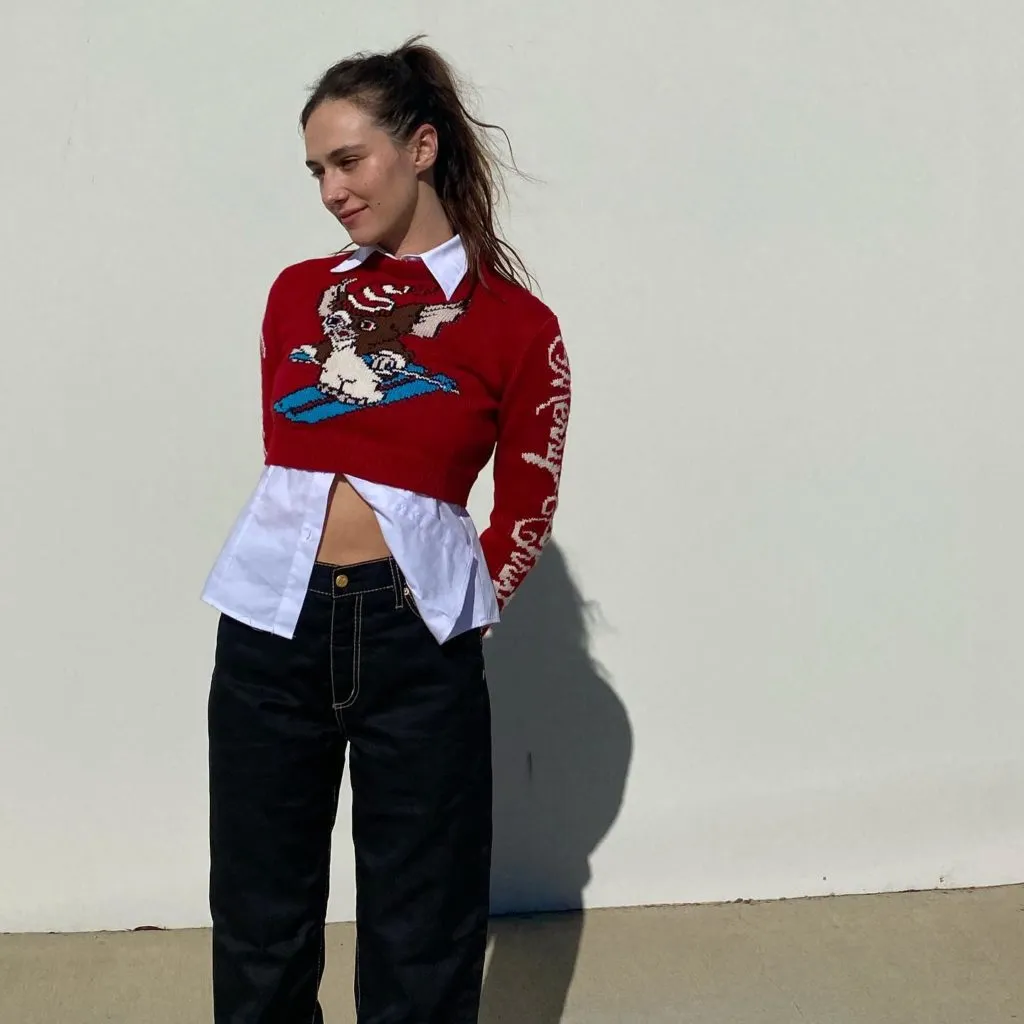 12/18/20 – The Preppy Devon Look
The preppy look is always a winner. Carlson's take on the style is effortless and chic. Here she wore a GCDS cropped sweater under a collared shirt, denim jeans, and black leather boots. Wear your version of this look to school or anywhere you want to look stylish.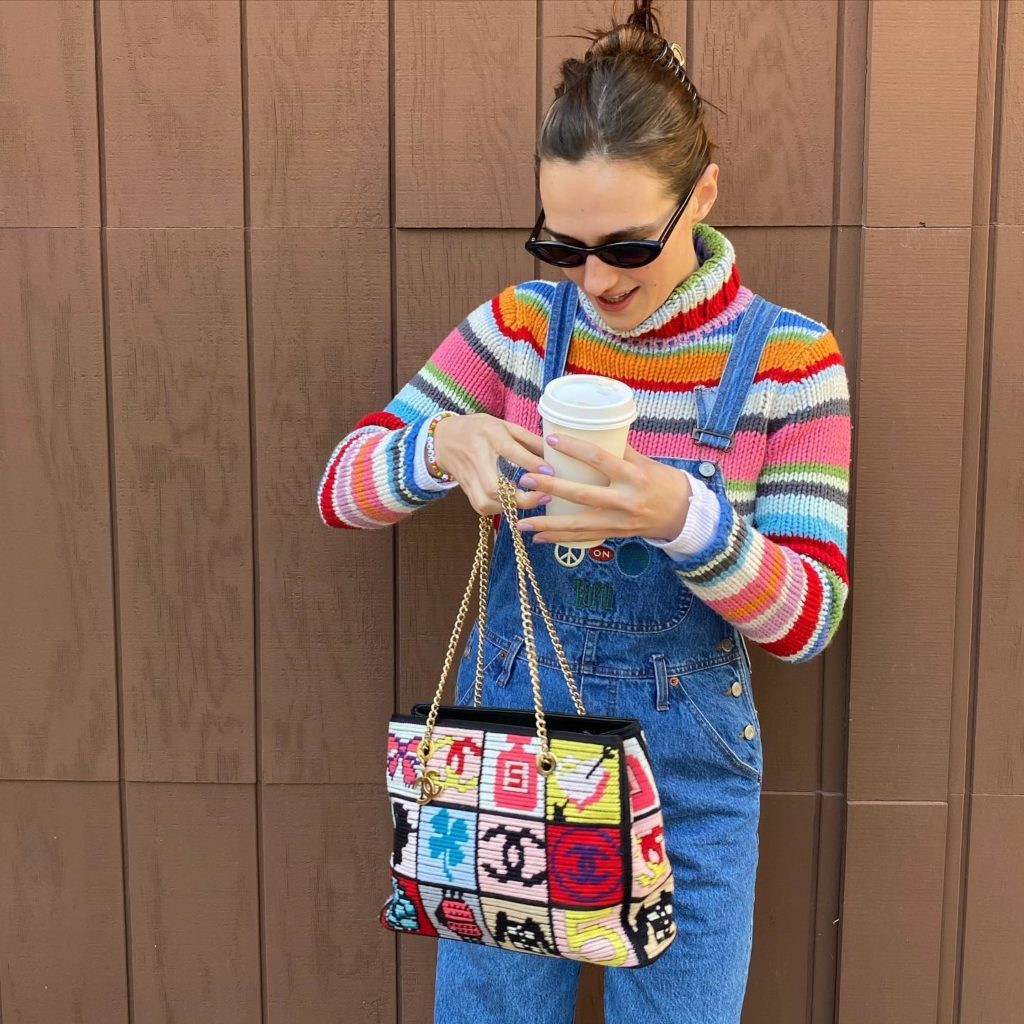 12/30/20 – The Colorful Coffee Run Look
Being the queen of vintage, it's exciting for fans and fashion lovers to see Carlson show off her new second hand gems on social media. Here Carlson is wearing a chunky striped sweater from The Society Vintage, with a thrifted denim Lei overalls, found with the help of ​​Devon Lee Closet on Instagram, and a colorful handbag. I can only hope to have success like this while thrifting.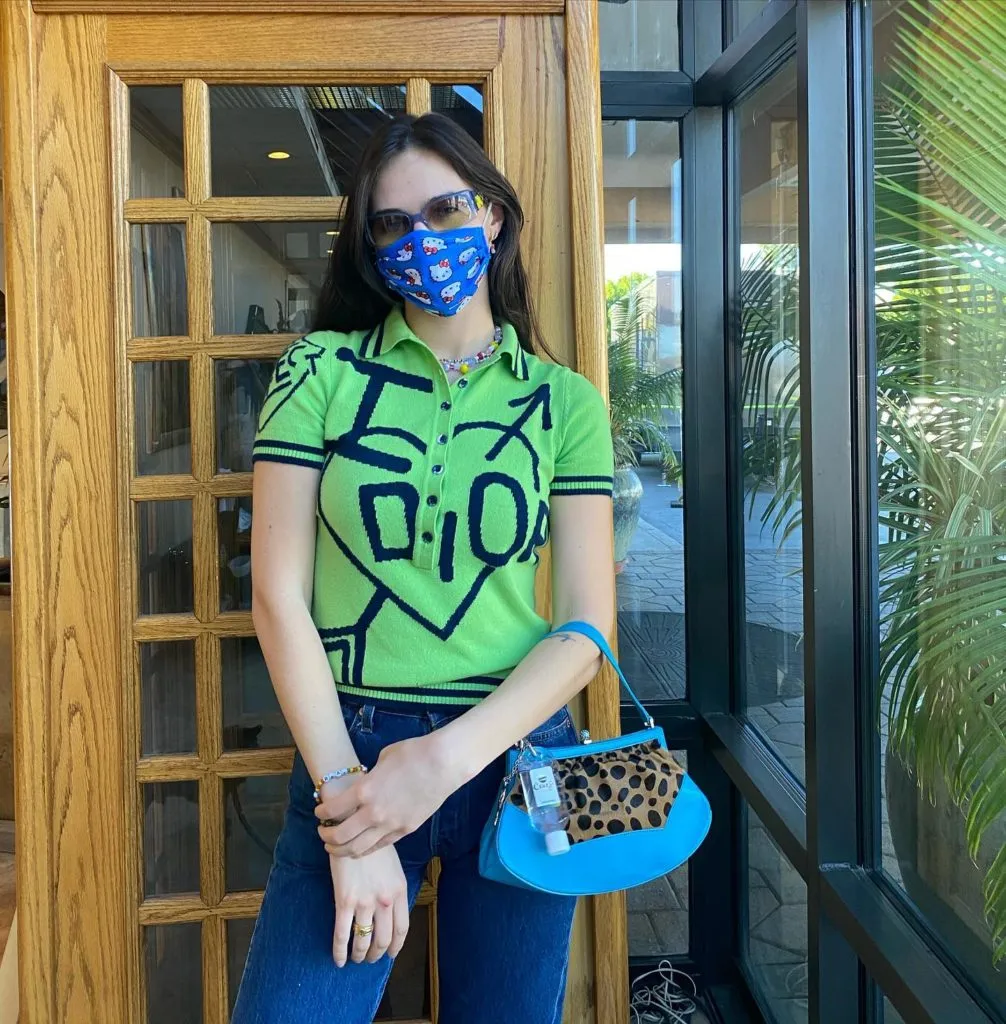 1/16/21 – The Dior Devon Look
This look is all about the accessories. Carlson paired denim jeans and a Dior collared shirt with a super cute leopard print and blue bag and a Hello Kitty face mask. The jewelry added the finishing touch to the look, with beaded necklaces from Made By Frankie, The Last Line, and Ian Charms.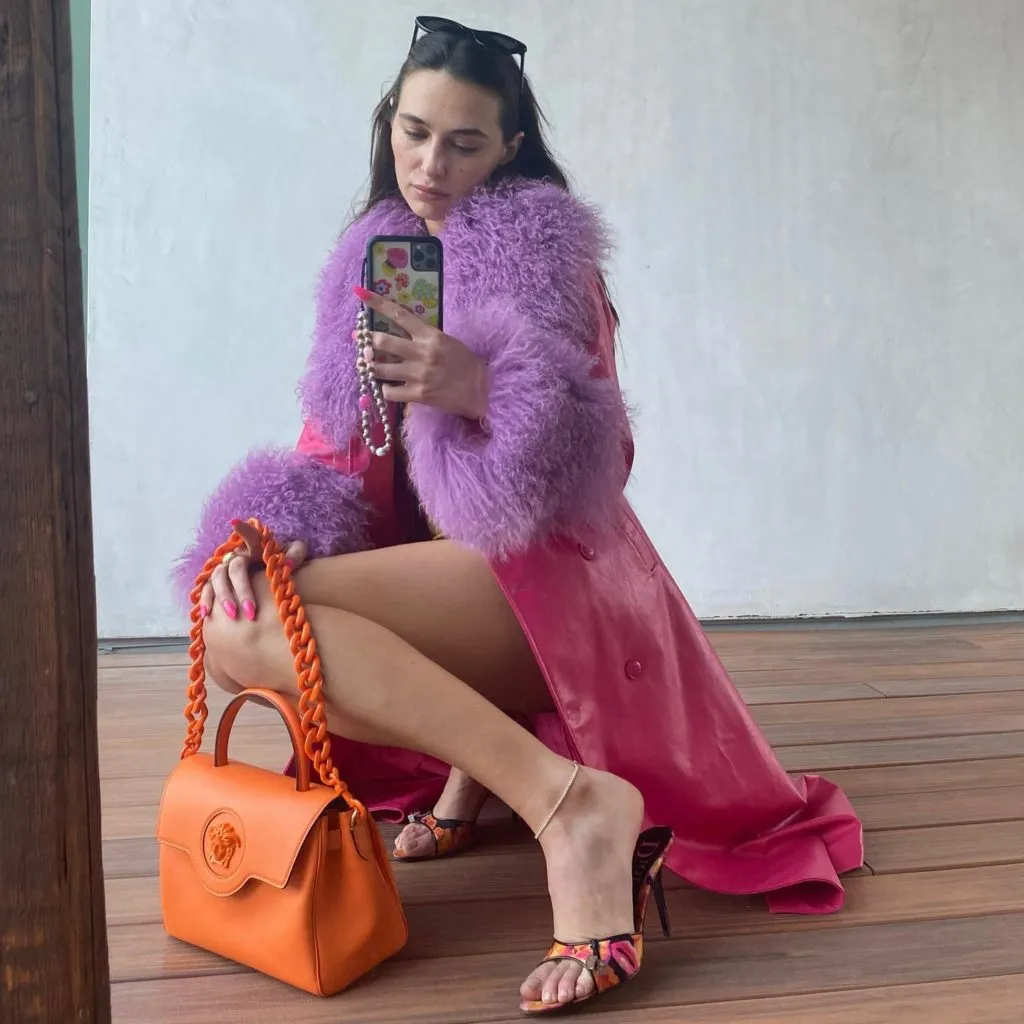 3/31/21 – The Colorful Coat Look
Can we have a moment for the coat? Carlson wore a custom coat by Rosie Maeve in an iconic mirror selfie. Also shown is the orange Versace Medusa Tote Bag and jewelry from The Last Line. Her phone case of choice was the Groovy Shroom Wildflower Case ($35).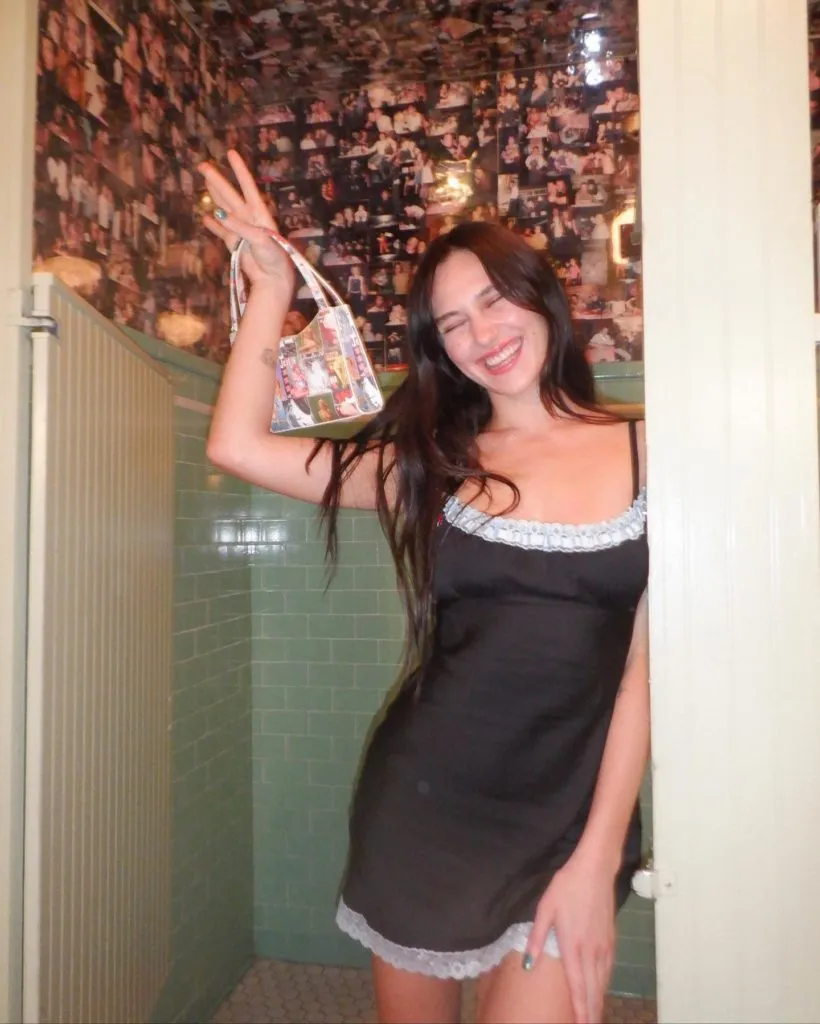 8/25/21 – The Marc Jacobs Dress
Last year, Carlson and Marc Jacobs announced their iconic collab including the Devon Slip Dress, which is now sold out on the brands website. The dress became even more popular when it was seen on Euphoria's style icon, Maddy Perez, in Season 2 of the show. Here Carlson paired the dress with clear heels and The Baby I Press Sooki La La bag ($269).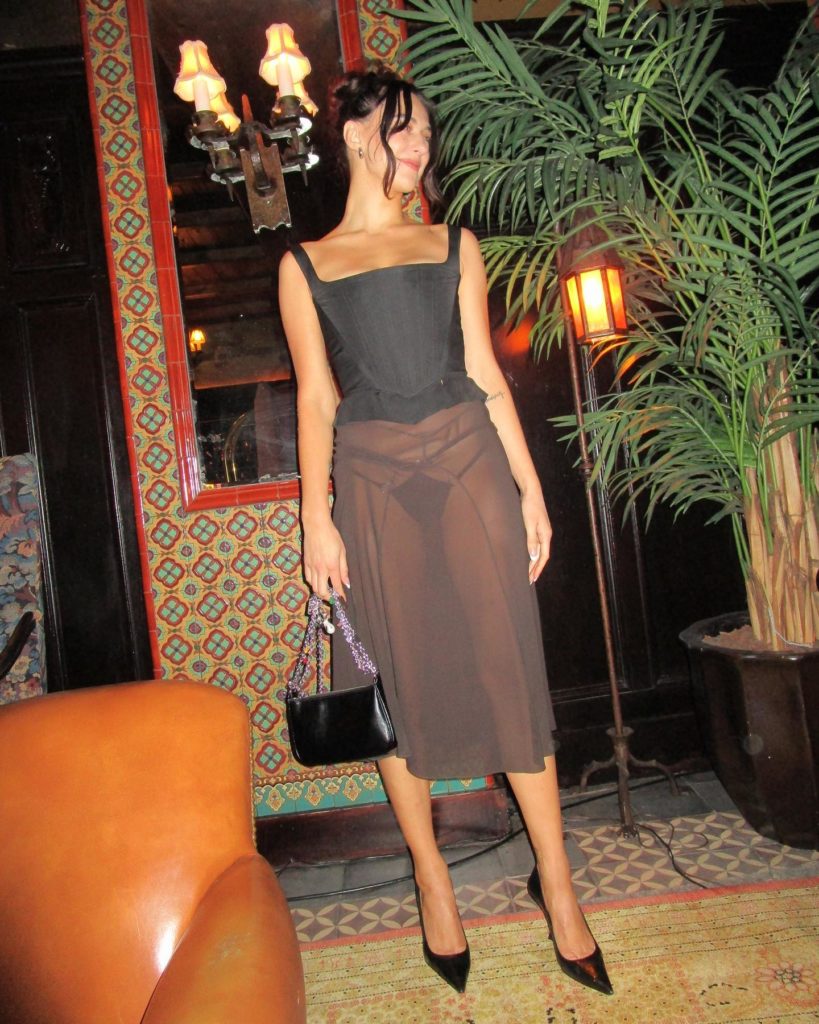 9/14/21 – The Sheer Look
Carlson pulled out this fabulous sheer look during Paris Fashion Week last year. She wore a vintage Vivienne Westwood corset and a sheer Gucci by Tom Ford skirt from The Real Real. Carlson added underwear with silver rings, silver jewelry, and By Far heels to the look. In one of her iconic vlogs documenting the event, she shared that she added some of the I'm Sorry by Petra Collins chains to her Marc Jacobs collab bag, which is also sold out on the Marc Jacobs website. She finished off the outfit with the Tiger Wildflower Case ($23).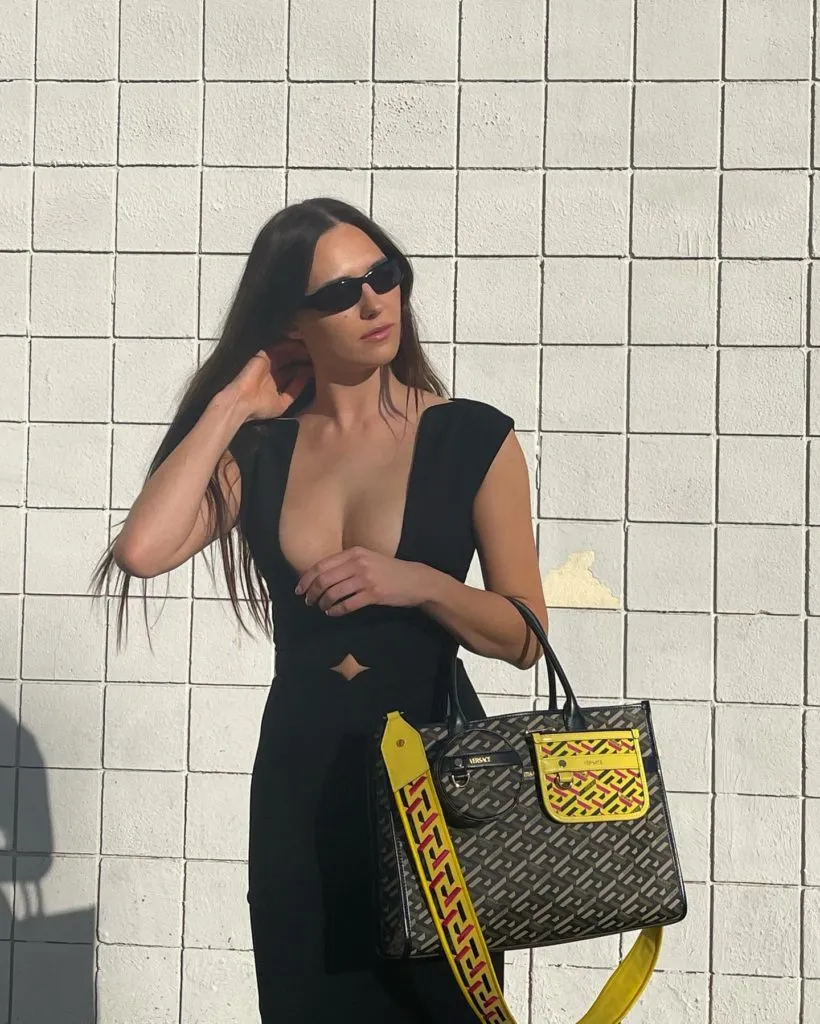 10/14/21 – The Versace Businesswoman
In a campaign for Versace, Carlson stuns while showing off the Versace La Greca Signature Tote Bag and its various accessories. She's also wearing a Versace wool mini dress. This look screams cool girl at work, the evolution of the girl boss if you will.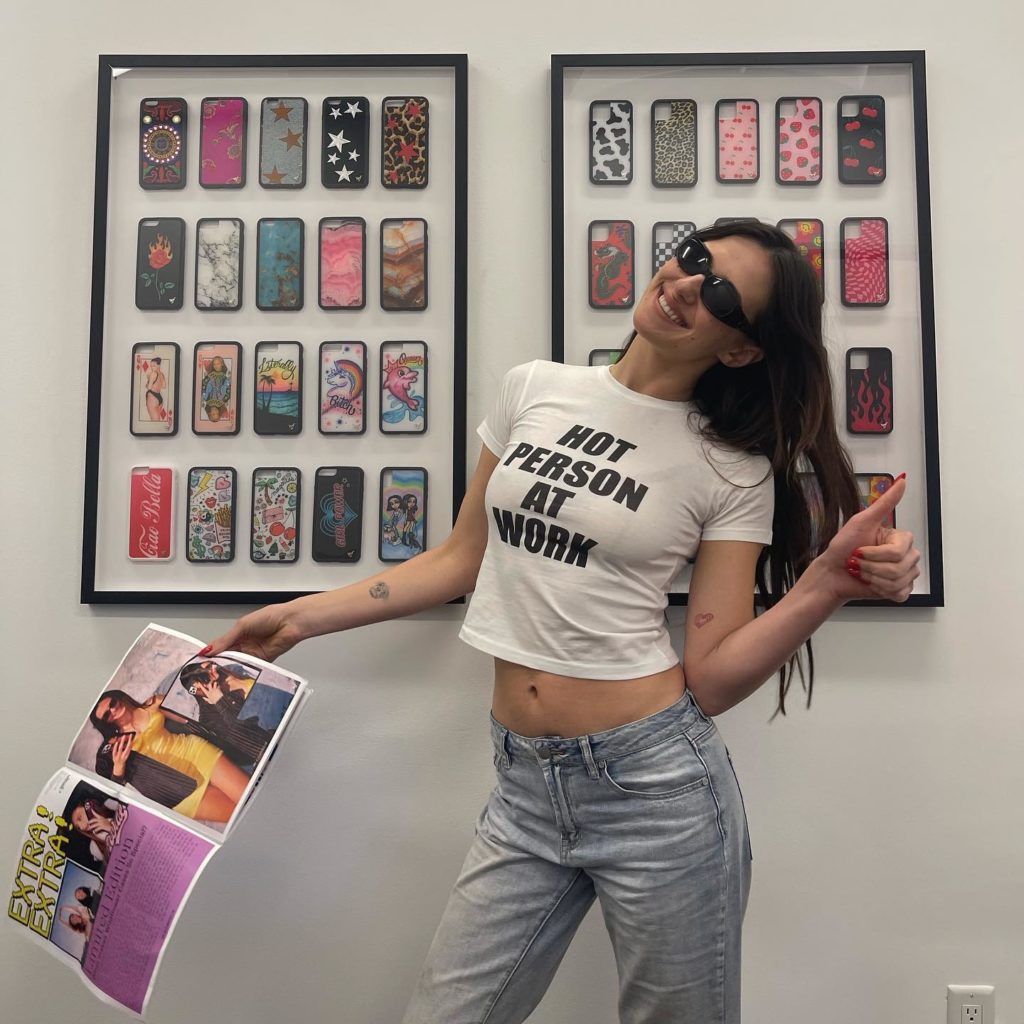 11/26/21 – Hot Person At Work Tee
Devon Lee Carlson has made me fall in love with many brands, but seeing this shirt was truly love at first sight. Wearing the OGBFF Hot Person At Work baby tee ($45) and denim jeans, Carlson promoted the annual Wildflower sale that happens at the end of each year. She was indeed a hot person at work. 
I know this is just the beginning for the fashionista, and I can't wait to see what look she pulls out next. After all, it's Devon Lee Carlson's world and we're all just living in it.
Feature Image Courtesy of Devon Lee Carlson