Got the blues? Tired of your boring jeans? Don't be distressed, that's denim's job!
With summer coming in full tilt, we all have an urge for change in our lives. It's time to spice up your look and upgrade your jeans from drab to daring! Try this new iconic trendy staple: patterned tights under distressed jeans.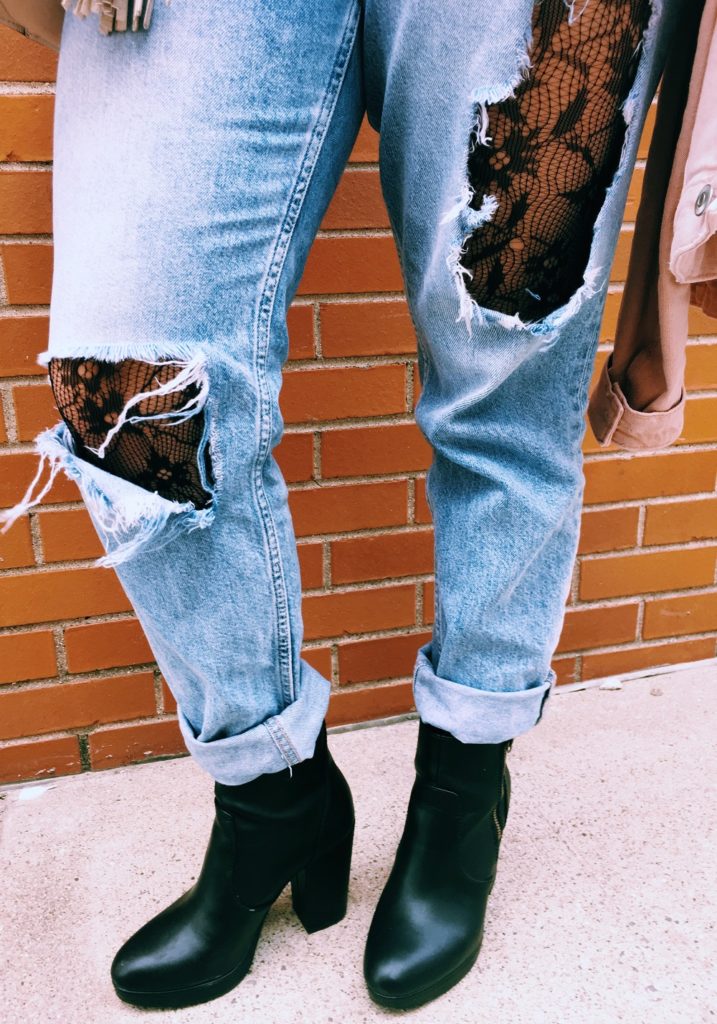 Denim has been a classic fashion statement since its originating date of the 19th century. It's comfortable, versatile, you can wear it head to toe, and you don't have to wash it often! I mean who couldn't love denim?
Whether they are a mom, skinny, or boyfriend style, pairing patterned tights with your favorite distressed jeans creates a chic, grunge look.
The best thing about this trend is that it looks great with everything; your look has so much potential. Wear an off-the-shoulder top or a blouse with the ensemble for a feminine flare. Perhaps show off the detailing of the tights contrasting your midriff with a crop top. Even pair a leather jacket with the distressed denim and patterned tights for the ultimate cool-girl-vibe. Or, opt for the casual-chic, denim-on-denim look of the model.
She is only wearing one piece of denim, you say? Check again! She's wearing a posh, pink denim jacket from H&M. The bright color and lightweight quality make it a perfect jacket for summer. Underneath, wear a cool, graphic T-shirt. Too hot? Sling the jacket over your shoulder for a true runway-model feel.
Now, onto the most important part of her look, the distressed denim and patterned tights. Find these super comfy, light-wash, distressed jeans sold at Express. Underneath, she's wearing floral, lace patterned tights. If you're wanting more of a grunge look, fishnet tights look amazing under distressed denim as well.
As for shoes, here is the tricky part. Since feet are covered by tights, the look is best coupled with closed-toe shoes. My favorite type of shoes to complete this look with are chunky boots. Other adorable options include sneakers like Converse or Vans.
Keep up with the new denim daze and try out this look. When you do, make sure to share your version of daring denim on social media and tag @Cfashionista when you wear patterned tights under distressed jeans! Name a more iconic duo… I'll wait.