As the weather rapidly changes, choosing an outfit becomes a process of finding the overlap of practical meets flattering. Gorgeous ensembles with useful qualities like these have been taking over the runways lately, and are beginning to pop up on the street as well. This Fashionista pictured fully achieved that combination with her feminine, summery outfit.
Her white lace top added a hint of romanticism and bohemian aesthete with its front panel and bell sleeves. It's all-around lace detail and flowing material gives it an edge over more solid tops, making it both breathable and beautiful. Her blue skinny jeans complement the top with their tighter fit, making it more noticeable than if they had a looser structure, and create a nice color palette for her accessories.
The jewelry this Fashionista chose is bold but simple and add to the outfit's bohemian effect. Her collar necklace adds a pop of color with it's turquoise and orange stones. It's gold base perfectly matches the beaded double-layered necklace she chose, as well as her earrings, which are reminiscent of wildflowers with their fanning spikes. These all correspond with the gold detailing on her cross body bag, which has a half-moon shape that adds a softer element to her outfit and a pale blue tone that complements her jeans and shoes.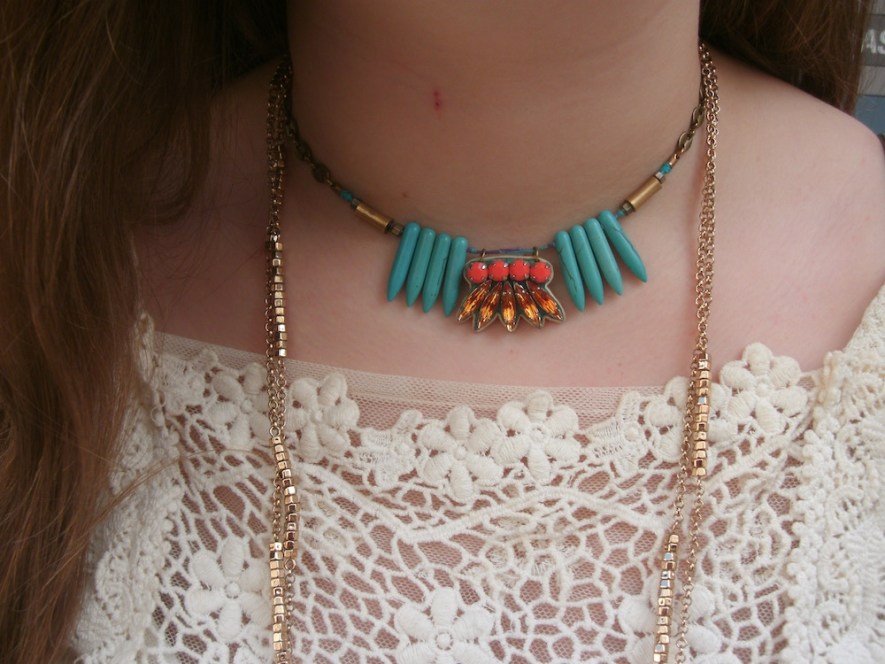 These black open-toed ankle boots are perfect for this outfit and the summer season. Their wooden heel and tassel-ended ties enhance this outfit's indie, boho quality and add unique details to this look. The open-toe aspect makes them breathable, so her feet aren't restricted, and the thicker heel makes them easier to walk and pose in than shoes with a thinner heel. The plain material provides a clean base to draw attention to these details and serves as a foundation for the look. Overall the black, blue, and white color combination serves as a natural gradient and, with the right accessories, can be the perfect inspiration for your next summer outfit.
Do you wear outfits with a similar boho vibe? Be sure to show us on social media and tag @Cfashionista!