A blazer is a staple every girl needs in her closet. Whether you're headed off to work or just going out with your girls, it is the perfect addition to any outfit. With the weather getting cooler, we now have the perfect excuse to work this piece back into our outfits this year. Blazers are typically associated with work and professionalism, so it can seem challenging to style them the right way on the daily. Because I've been having a little trouble getting creative with wearing them, I decided to turn to our community members for inspiration. As the most fashion-forward group I know, they didn't disappoint, no surprise. See how they all rock this trend below and try these ideas yourself.
Turn down the Saturation with a Gray Blazer
Feel intimidated by black blazers? Opt for a more subdued look by wearing a gray blazer over a satin camisole and jeans. Complete the look with white booties.
Get the look: Target Women's Plaid Boyfriend Blazer ($35), H&M Black Satin and Lace Camisole ($11)
Style a Printed Blazer with Matching Shorts
Forget the pantsuit. For those fall days that feel more like summer, pair your blazer with matching shorts. Complete the look with red accents.
Get the look: Shein Pearl Beading Blazer with Shorts ($23), Forever 21 Faux Suede Ankle Boots ($28)
Toss a Plaid Blazer over a Dress
Not sure how to complete your outfit this fall? It's pretty simple. Just add a plaid blazer! Throw it over top of a shift dress. If you're looking for more of street style vibe, style it with white sneakers. Otherwise, up your fall fashion game by pairing it with heeled booties.
Get the look: Charlotte Russe Plaid Double Breasted Blazer ($25), Charlotte Russe Caged Back Shift Dress ($13)
Keep it Classic with a Black Blazer
You don't have to limit your fave black blazer just to your job or internship. You can dress it down by pairing it with a white T-shirt and sneakers.
Get the look: DR2 by Daniel Rainn Boyfriend Ruched Sleeve Blazer ($40), H&M Black Wide-Leg Pants ($40)
Pair a Printed Blazer with Biker Shorts
I'm sure we've all stocked up on biker shorts this past summer. Let's reintroduce them into our wardrobe this fall by pairing them with a grid-printed blazer.
Get the look: Asos New Look Grid Check Coat ($56), Urban Outfitters Out from Under All Day Bike Short ($20)
Conquer the World with a Red Blazer
If you want to go for a bolder look or add a pop of color to your outfit, a red blazer is the way to go. Complete your outfit with matching red pants to create the ultimate power suit.
Get the look: Missguided($45.00) Lush Novak Crepe Blazer, Old Navy High-Rise Super Skinny Ankle Pants ($19)
Channel Your Inner Cher Horowitz with a Yellow Plaid Blazer
Leave the house without my yellow, plaid blazer? Ugh, as if! This bold statement piece should be added to your online shopping cart if you don't already have one in your closet.
Get the look: Asos Stradivarius Yellow Plaid Longline Blazer ($42), Asos Daisy Street Peg Pants in Check ($40)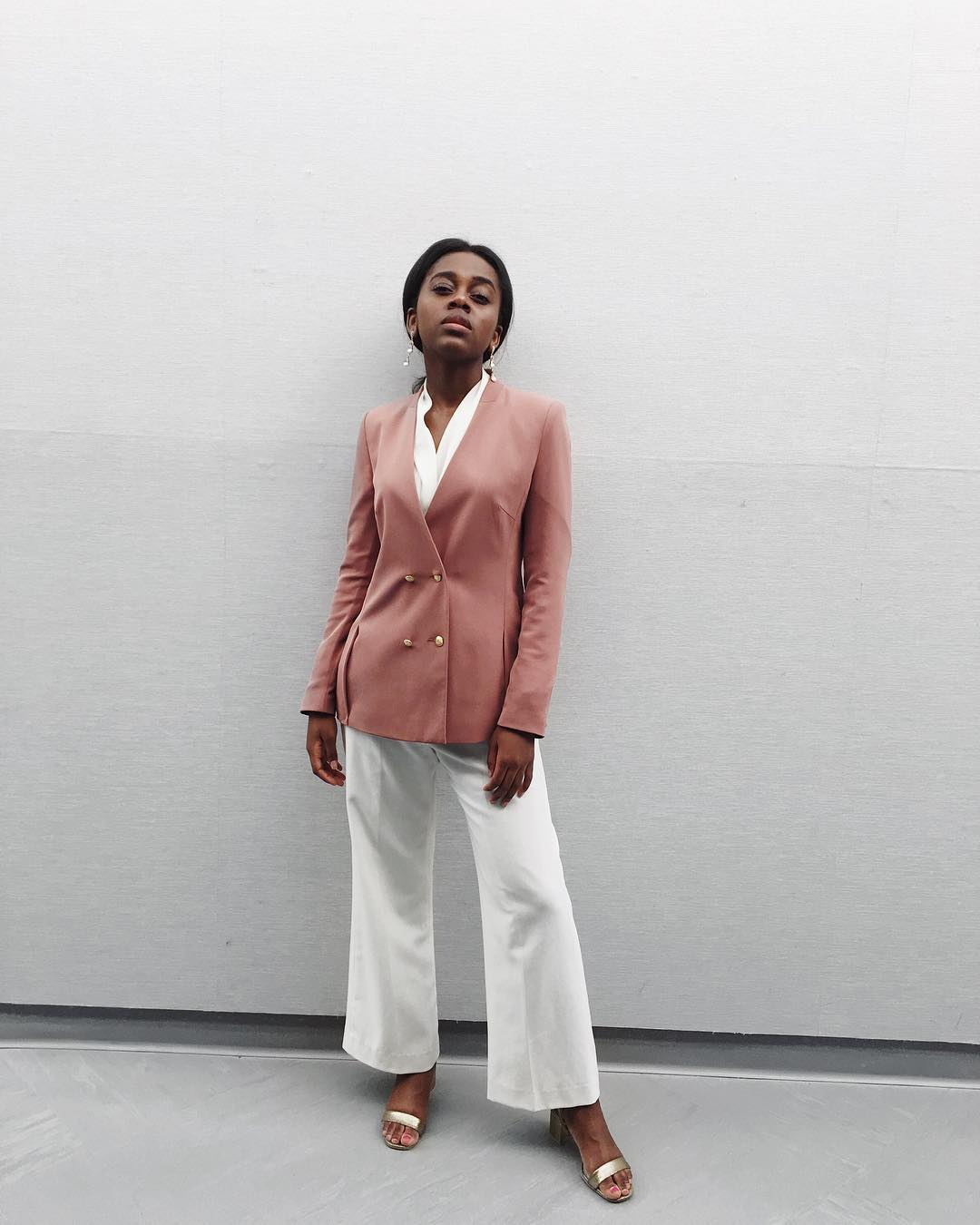 PHOTO: @lea.muhigi
Pair an Oversized Blazer with Dress Pants
An oversized blazer can make anything look sophisticated. Pair it with wide-leg pants, and you've got yourself a look.
Get the look: Everlane The Oversized Blazer ($160), Bloomingdale's Lucy Paris Diane Wide-Leg Pants ($59)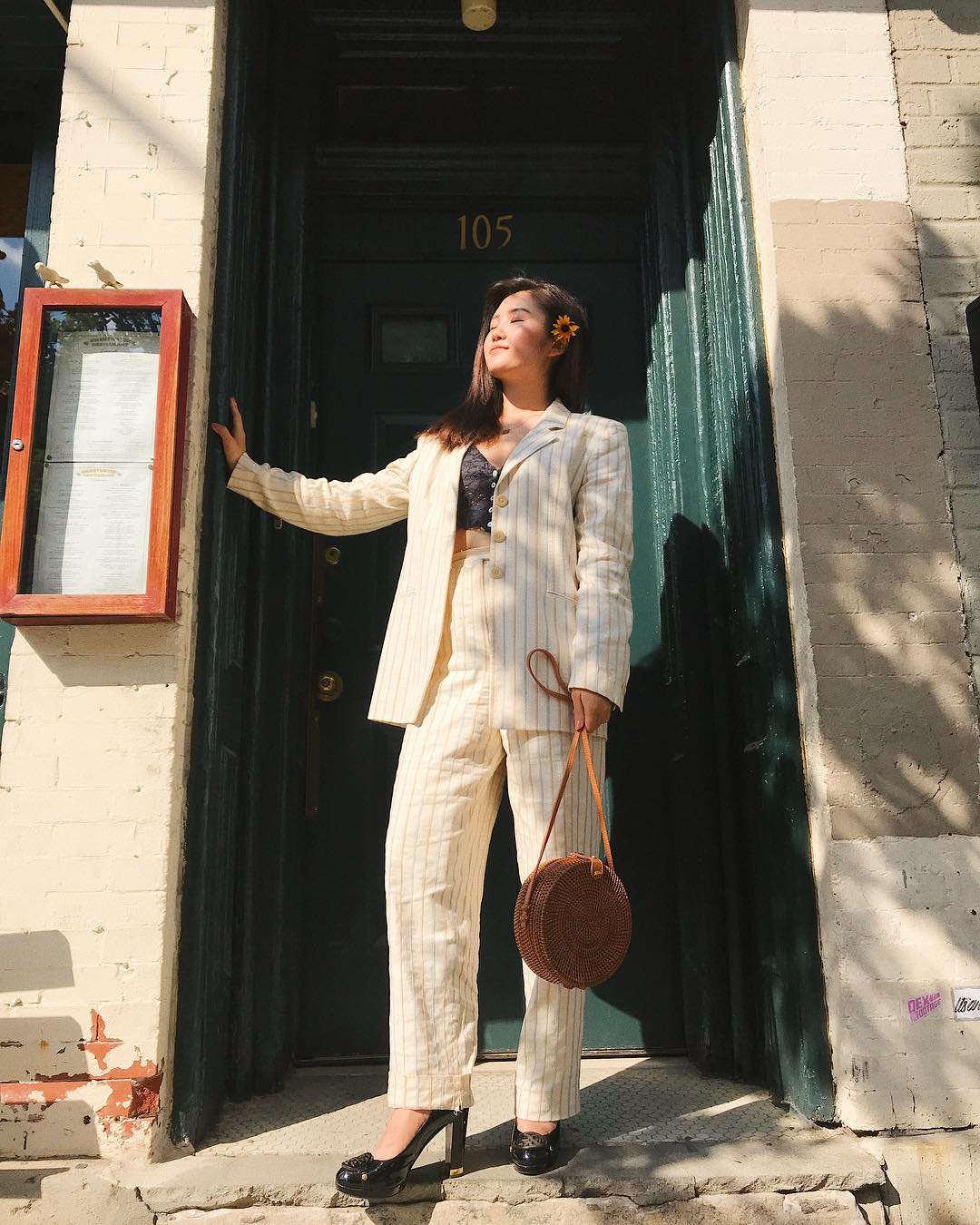 PHOTO: @reinaisinlove_
Be Business Casual with a Subtle Striped Blazer
You don't just have to stick to black to look professional. A subtle striped blazer is the perfect way to change up your look for an interview or internship.
Get the look: Asos Design Blazer in Casual Stripe Two-Piece ($56), Asos Monki High-Waisted Striped Pants ($28)

PHOTO: @kallycera
Be Bold with a Grid-Printed Power Suit
If you want to go for a more unconventional look, try a blazer with both a bold color and a bold pattern. Trust me, you'll look amazing!
Get the look: SHEIN Notch Collar Grid Blazer ($16), Topshop Mixed Wide-Leg Trousers ($100)
What's your favorite way to style a blazer for fall? Comment and let us know!
Opening Image by Lea Muhigi.