The new school year is right around the corner, and this is an exciting time to shop for everyone! Fall is my favorite season, and I am always eager to jump right into my cozy wardrobe. However, the weather tends to stay a little bit warmer throughout the first semester. Sometimes, transitioning your wardrobe from summer to fall is challenging, but this Fashionista makes styling pieces from both seasons look so easy!
First, she started off by throwing on a two-piece sweater set from Free People. This cute knit set features a retro striped print in addition to the high neckline and flared mini skirt. The texture of this outfit is soft, cozy, lightweight, and perfect for the transition in weather. The warm neutrals in this outfit are perfect for casual wear this back to school season.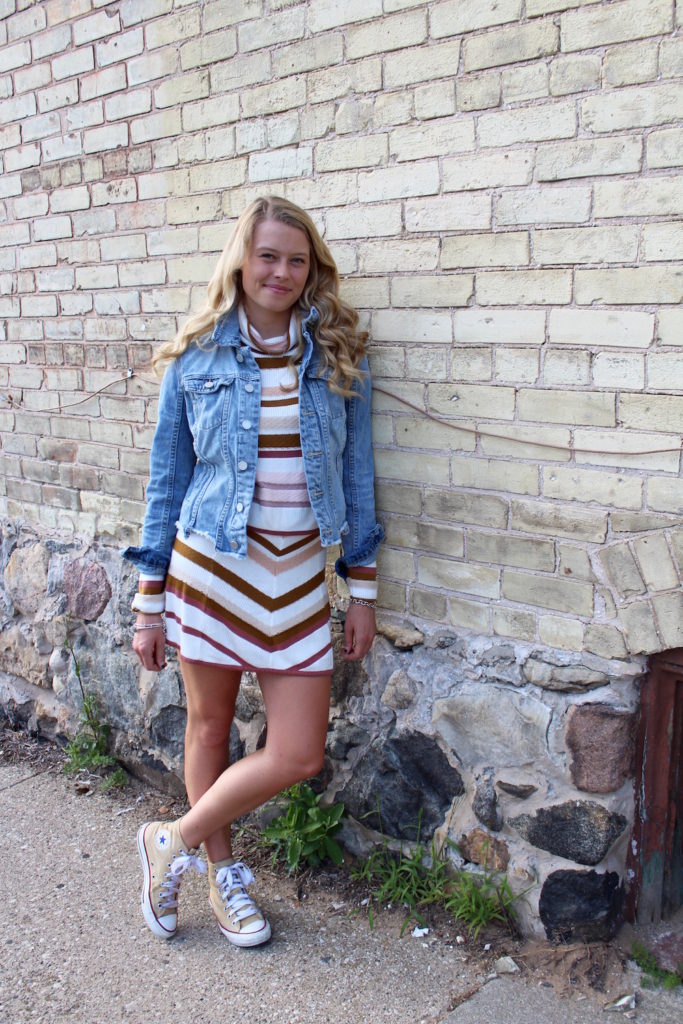 To pull the entire look together, she layered her sweater set with a classic denim jacket, accessorized with minimal jewelry, and lastly, added a pop of color with her yellow Converse high-top sneakers. The Converse Chuck Taylor All Star has been around for decades and is an iconic staple in wardrobes across college campuses today. The ribbon laces combined with the statement color makes these timeless shoes so stylish, unique, and fresh.
Now that it is August, it is time to sift through your closet as you begin to pack for school. Leave your chunky knits at home (for the time being), and pack lighter pieces that can start your wardrobe off this fall. As the semester continues, swap out your transition clothes for your favorite sweaters and boots. Good luck this school year!
Are you excited to go back to school? Tell me why in the comments down below.