Home to eight million people, Bangkok is one of Thailand's most bustling cities. Deciding what to do in the big city is not only difficult, but it can often be overwhelming. From the Grand Palace to the hundreds of themed cafés, street markets, and shopping, here is my guide to Bangkok.
Hotel: Mandarin Oriental Bangkok
If you are going to Bangkok, you must stay at the Mandarin Oriental. While it isn't cheap, the price is most definitely worth it. You walk in and are instantly greeted and taken up to your room to check in; no waiting necessary! Waiting for you is a beautiful snack such as sticky rice and mango, macaroons, or prosciutto and melon. From breakfast by the river to lounging at the pool to being served complimentary coconut ice cream from an adorable cart, you'll never want to leave the hotel.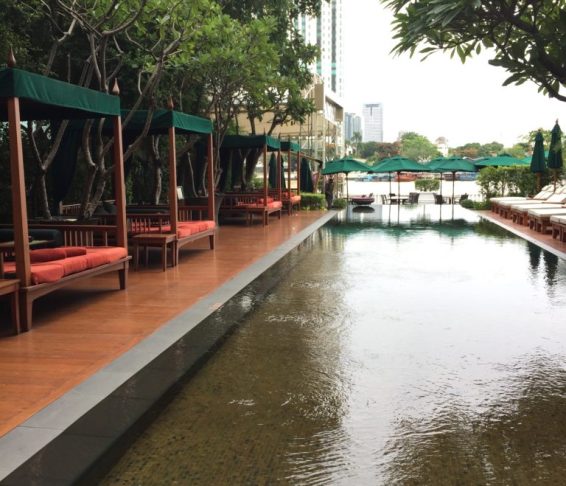 Do: Grand Palace
One of the most spectacular places in Bangkok is the Grand Palace. Gilded with gold and gorgeous tile, the Palace will make your jaw drop. As you walk, you are in constant amazement of the buildings surrounding you and the attention to detail.
Shop: MBK Mall
MBK is your go-to mall for fakes. We're talking fake iPhones, Rolex's, handbags, etc. Boasting four floors, you can find absolutely everything there without spending a lot of money. You can get great handbags, too, but if you want the really good fakes with the brand names on them (like Gucci, YSL, Chanel, etc.) you have to scope out the stores and quietly ask for them. They will usually take you to a back room (if they have one) and show you the good fakes. Be prepared to bargain and spend about $70 for a good fake Chanel bag.
Cafe: Hello Kitty House
While Bangkok has many themed cafés, the Hello Kitty House is absolutely adorable. While it was a bit dingier than I anticipated, and it wasn't the best food in the world, it was an experience that Hello Kitty lovers should experience. Everything is pink, all the food has Hello Kitty's face on it (even the pad thai), and all the chairs are adorned with her classic white bow. The Hello Kitty House is where dreams come true, plus it is only a short walk from MBK.
Where do you want to travel? Let us know in the comments below!