In April, I took my very first trip to Las Vegas with some friends. What finally brought me to sin city wasn't eloping or a gambling spree, but tickets to see the biggest group in the world — BTS. I'm a huge fan, and this was both my first time seeing them live and my first time in Las Vegas, so I knew the trip would be one I would never forget. So, the outfits of course had to be good! Fans began to call the city "Borahaegas," a mix of our term of endearment created by V, "Borahae" which means "I Purple You," and the city name. BTS-inspired events along the strip and other popular areas truly made it feel like Army was in BTS world, with the group's signature color appearing all over Las Vegas. 
Spring semester has been a long and stressful one, and this was the perfect little vacation while I work to make it to the finish line. I took a break from wearing my typical activewear and loungewear and finally got to wear some of my favorite pieces. I put several looks together that were all inspired by the Permission To Dance era. Here's what I wore while partying it up in Vegas.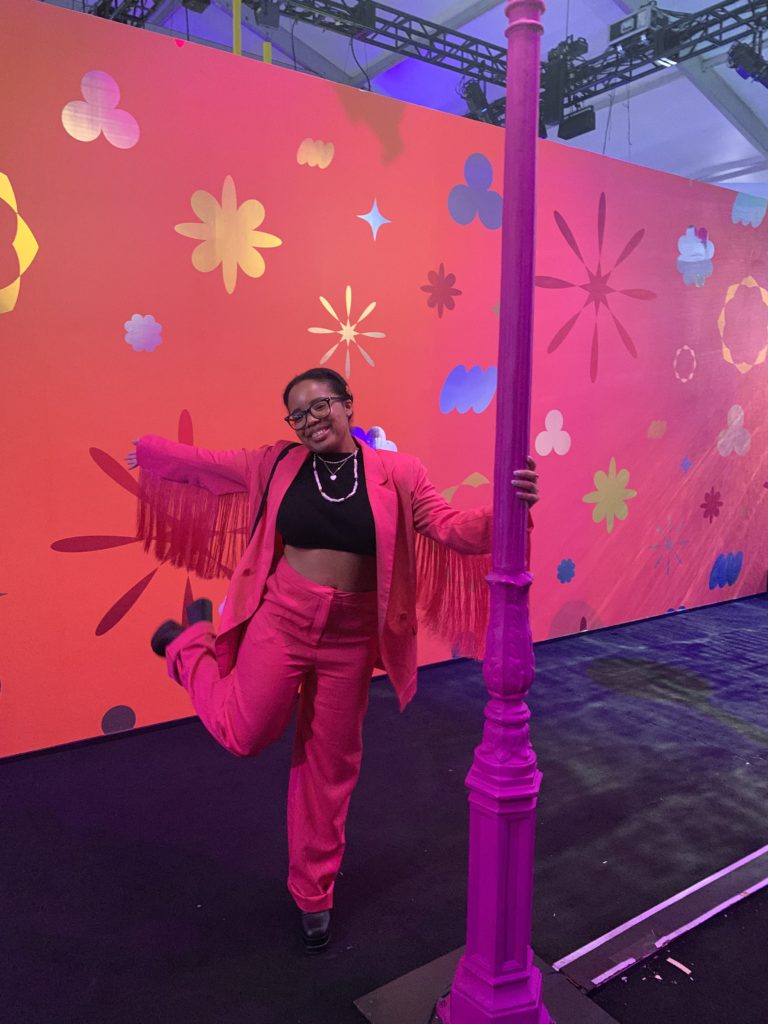 01. Pink at Area15
This is a look I picked out last year, knowing it perfectly matched the Permission To Dance vibe. Back then I didn't even know if BTS would do another PTD concert in America but manifesting is key, my friends. Going off of the western look from the music video, I wore a Fringe Detail Tailored Longline Blazer Co Ord ($79) in pink from Nasty Gal. I paired the matching set with black ankle boots from Nasty Gal as well. The exact boots are sold out, but here's a similar pair ($40) from the brand. I kept it simple with accessories, wearing a beaded necklace ($6) from Forever 21, a pink butterfly claw clip ($9) I also got from Forever 21, my PTD inspired hair clips ($5) from Etsy, and my signature E ring from Frasier Sterling ($28).
02. Permission To Dance Concert Outfit
When I saw this look pop up in an Instagram ad I knew it was the outfit I was going to wear to the concert. Again, this was before even getting tickets to the show, but I knew if I was going to go this would be the perfect thing to wear. The matching set is from Peppermayo, the top is the Wine Dates Shirt in Noir Bloom ($68) and the bottoms is the 90s Muse Pants in Noir Bloom ($60). The pink bralette I'm wearing is from Savage X Fenty ($25).
This look was breathable enough for the hot Vegas weather, and the floral design matches the PTD artwork. J-Hope and V are two of my biggest fashion influences, and I think between my Area15 outfit and my concert outfit you can definitely tell they influence my style. I saw one of my favorite influencers, Kiersay, wearing this a few weeks before leaving for Vegas, and seeing her slay in the look made me so excited to wear it for the first time. It was cute and so comfortable, I'm so glad this is the outfit I went with for the show!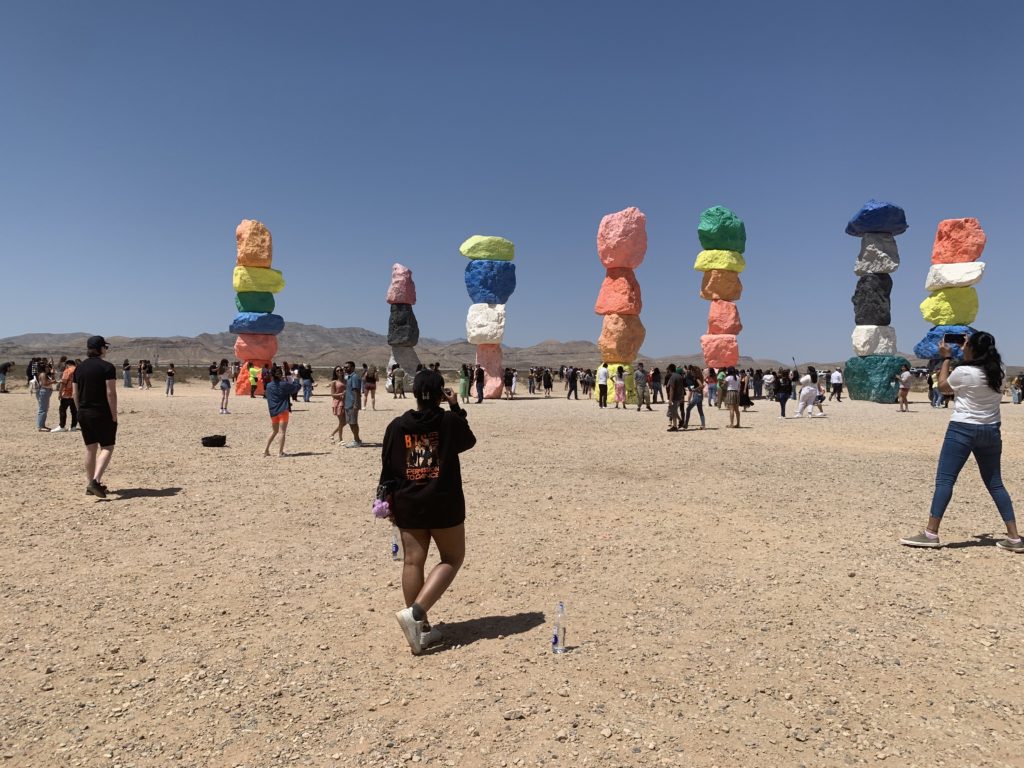 03. Seven Magic Mountains Attire
On April 5, the beloved leader of BTS, RM, went to the popular tourist attraction, Seven Magic Mountains. Many fans, including myself, predicted he would visit the location with his interest in art, so I already had this on my Vegas to-do list. When I saw he went the week before my trip, I knew for sure I had to go too. For this exploration day I wore a hoodie I got in the merch line at the concert the day before, a black skort from Halara ($30), and my Reebok Club C 85 Vintage Sneakers($80).
The towers were really cool to see in person. Army found their way to the artwork, with many fans there like myself to recreate RM's pictures. I like to think each colorful art piece represents each member of BTS, and that's how I'll remember the exhibit.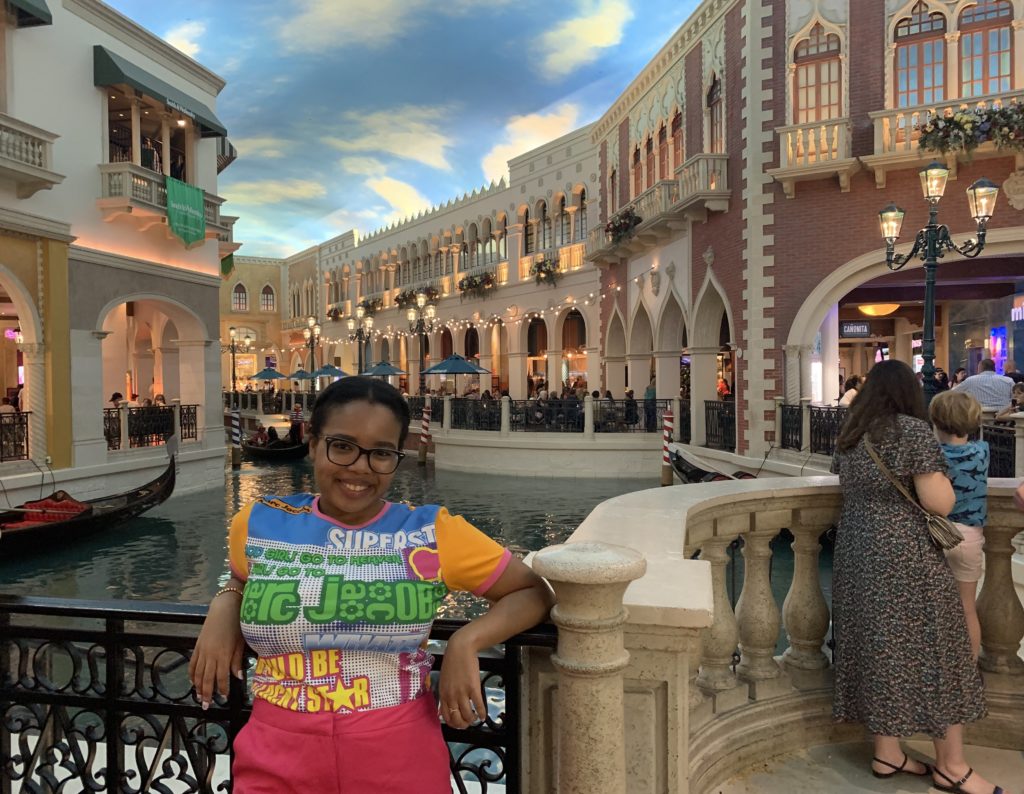 04. BTS Destinations on the Strip
Our last day was the craziest day of the whole trip. We wanted to fit as many things in as possible, and we definitely did. I wanted to keep the colorful theme going, so I paired my Devon Lee Carlson X Marc Jacobs collab Devon top with the Nasty Gal pink trousers. The top from the collab is sold out, but you can buy its other items on the Marc Jacobs website.
After shopping around at some K-POP stores, we headed to the Strip. Our first stop was at the Venetian to recreate the iconic V and J-Hope picture. We also had to stop at Carlo's Bakery for a sweet treat. Then, after some more exploring, we headed to the The Paris Las Vegas Resort & Casino to see the replica of the Eiffel Tower lit up. We ended the night heading to the Bellagio to see the BTS fountain show. 
I had a blast on my trip and such a good time at the concert. The most exciting part was when the band announced their comeback at the end of the show. I'm so excited to see what's next for the boys — I may or may not already have outfit ideas for the next tour!
Feature image courtesy of EnJanae' Taylor.