Let's be honest, whether you're shopping for your sister, roommate, or co-worker whose name you drew in Secret Santa, holiday shopping can be stressful. Sure, you could scour your gift-recipient's Pinterest page for a glimpse into their potential holiday wish list. Or, you could look to the stars and planets as your astrological gift guide.
Similar to the horoscopes we love reading at the beginning of each month, a zodiac sign can reveal personality traits that can help predict the perfect gift. Using astrologer Vanessa Montgomery's Star Power: A simple guide to astrology for the modern mystic, I've compiled the ultimate astrology gift guide. This will help you pick out the best gifts for every zodiac sign on your holiday shopping list. I've also split the list into three spending categories, so you can get a gift no matter your budget.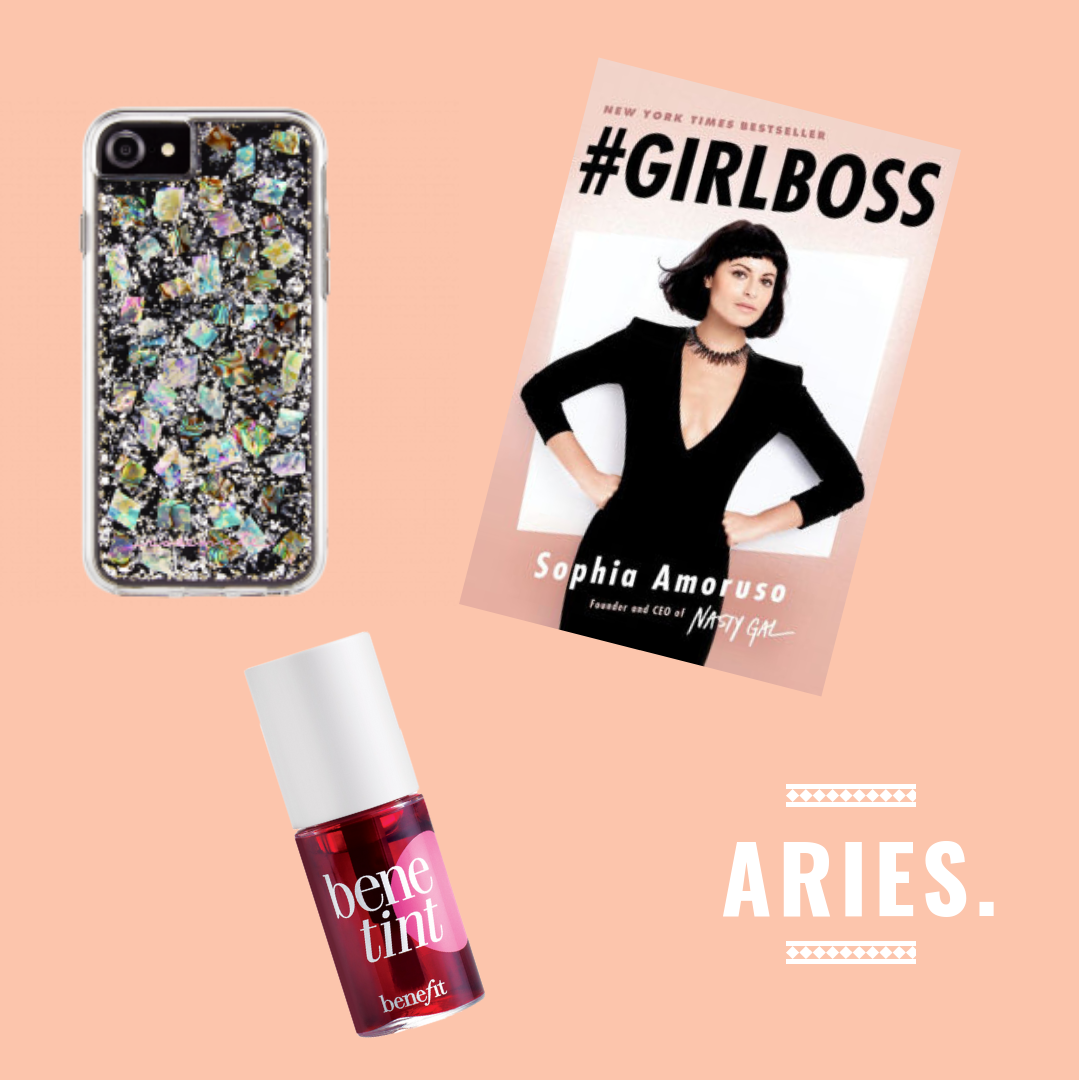 Gifts for an Aries
According to Star Power, the keywords when it comes to an Aries sign are independent, pioneering, and fearless. These are all characteristics of a modern-day girl boss. Montgomery describes this sign as "perfectly positioned to blaze trails," meaning she just needs the tools and accessories to make it happen. Gift the Aries in your life a book from our ultimate #GIRLBOSS, Sophia Amoruso. Or opt for a perfect travel-size cheek and lip stain (in the signature Aries shade of red). A bold, glittering phone case is also a great option and will make all her work and social tasks a little more glamorous.
$15 and under: Benefit Cosmetics Benetint Cheek & Lip Stain Mini ($12)
$25 and under: #GIRLBOSS by Sophia Amoruso ($24)
$50 and under: Casemate Karat Mother of Pearl Phone Case for Apple iPhone Xs/X ($50)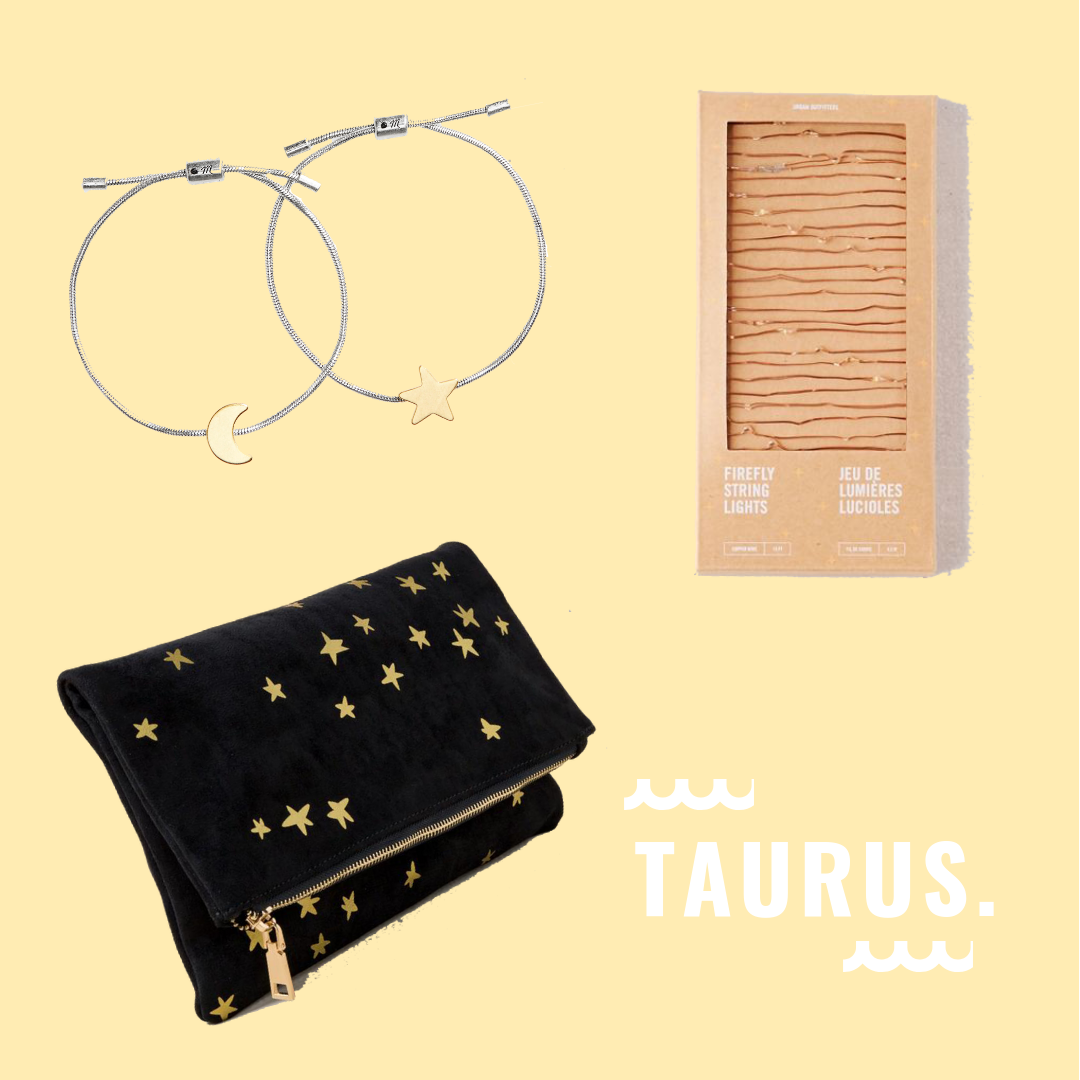 Gifts for a Taurus
Taurus' "make the most of what the world has to offer" and are instantly attracted to beautiful things. They'll fancy anything from accessories to dorm décor. This sign also makes a loyal BFF, meaning you likely have a Taurus in your girl gang. Delicate, twinkling string lights, a star-patterned, textured handbag, or a set of friendship bracelets all make the perfect gifts for this affectionate zodiac sign.
$15 and under: Urban Outfitters Fairy Lights ($24)
$25 and under: Madewell Friendship Chain Bracelet Set ($22)
$50 and under: Francesca's Athena Velvet Star Crossbody ($38)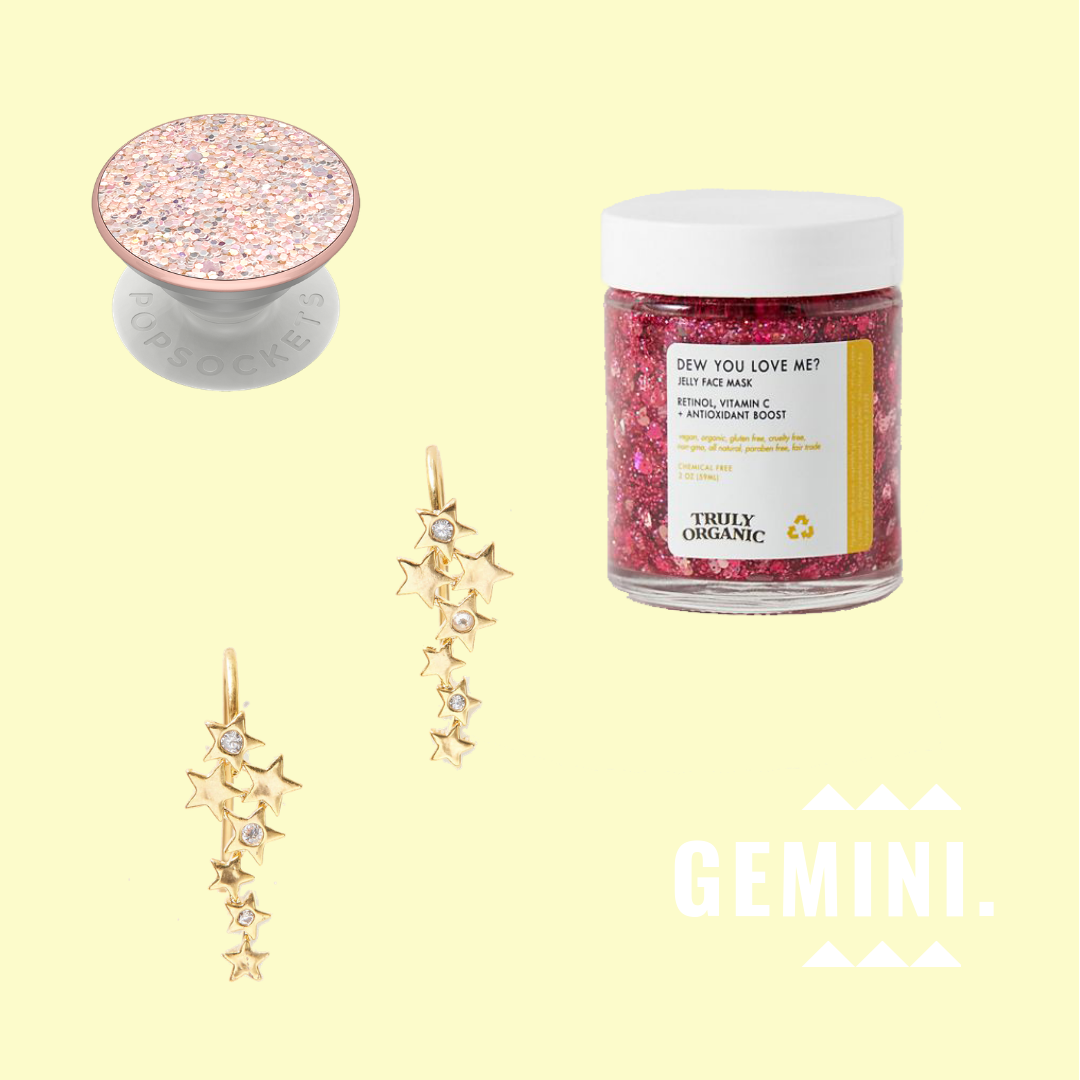 Gifts for a Gemini
Vanessa Montgomery aptly names the extroverted, uber-social Gemini the "sparkalicious sign." The Gemini loves to communicate, whether it's through Instagram, FaceTime, or IRL, and always has something to say. Think of the Gemini as the friend who's always up-to-date on the latest trends, who was creating YouTube beauty tutorials long before the beauty influencers we know today. Stocking stuffers like a glittering phone mount (to help her achieve the perfect selfie angle) and on-trend star-studded earrings are perfect for your resident Gemini. And to help a Gemini wind down from their restless nature, stock them with a self-care essential face mask.
$15 and Under: Popsockets in Sparkle Rose ($15)
$25 and Under: Truly Organic Dew You Love Me? Jelly Face Mask ($19)
$50 and Under: Jules Smith Star Light Ear Climbers ($50)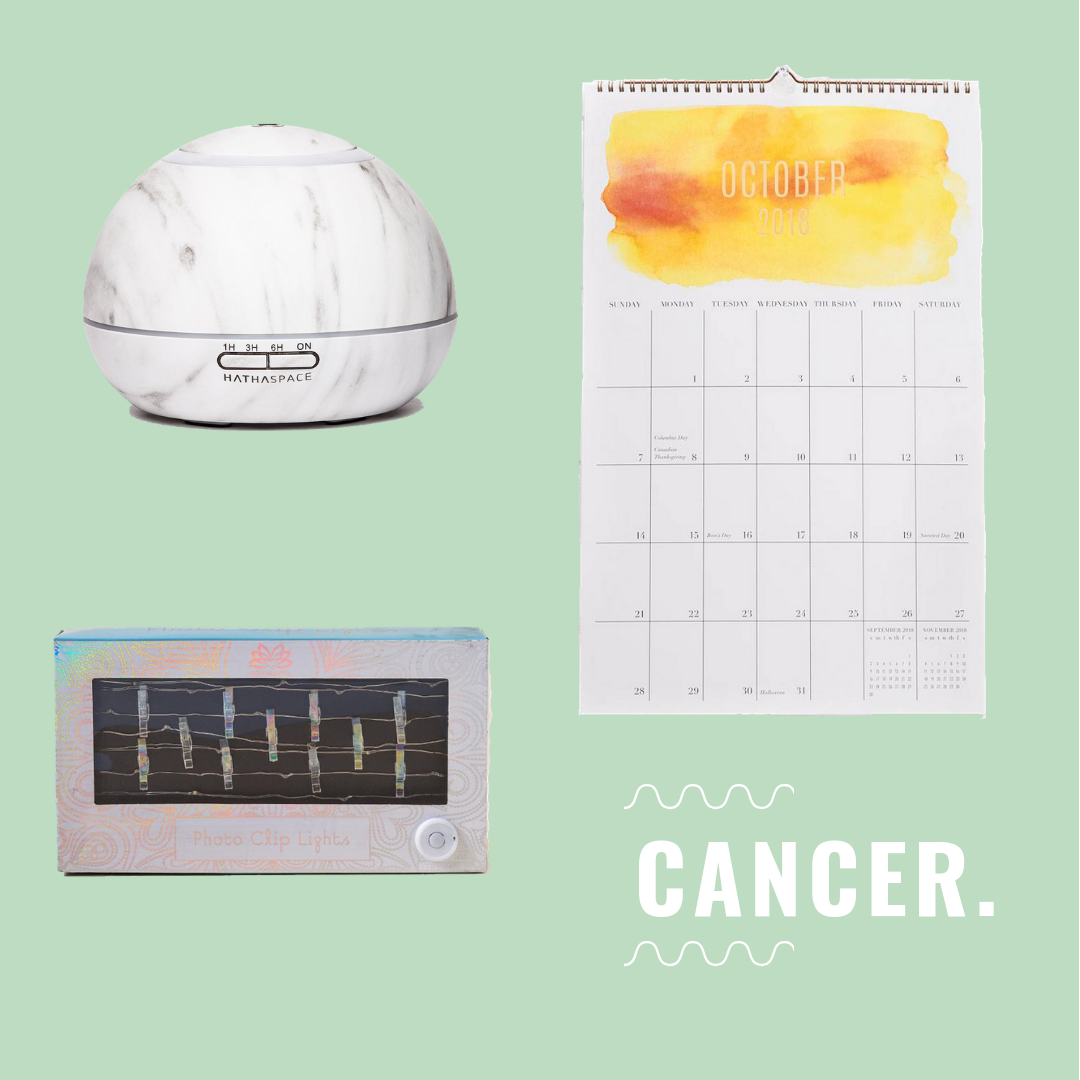 Gifts for a Cancer
The Cancer is the mom-friend of your squad, who's always there for you with the ultimate advice and a shoulder to cry on. This sentimental, caring, and nurturing sign is not only your source of comfort but also, like a mom, always ready to plan and organize. Whether it's this year's Secret Santa or a New Year's Eve party, she's on it. As Montgomery says, "If anyone still prints out and keeps a photo collection it will be her," so help the Cancer of your friend group display all her favorite memories with photo clip string lights. It'll provide a space for her photos and the perfect dorm lighting. A watercolor calendar is a great daily organizer for her instinct to plan, while an essential oil diffuser will give her the much-needed self-care she deserves.
$15 and under: Francesca's Iridescent Photo Clip String Lights ($15)
$25 and under: Paper Source 2018-2019 Watercolor Calendar ($22)
$50 and under: Hathaspace Marble Essential Oil Diffuser ($50)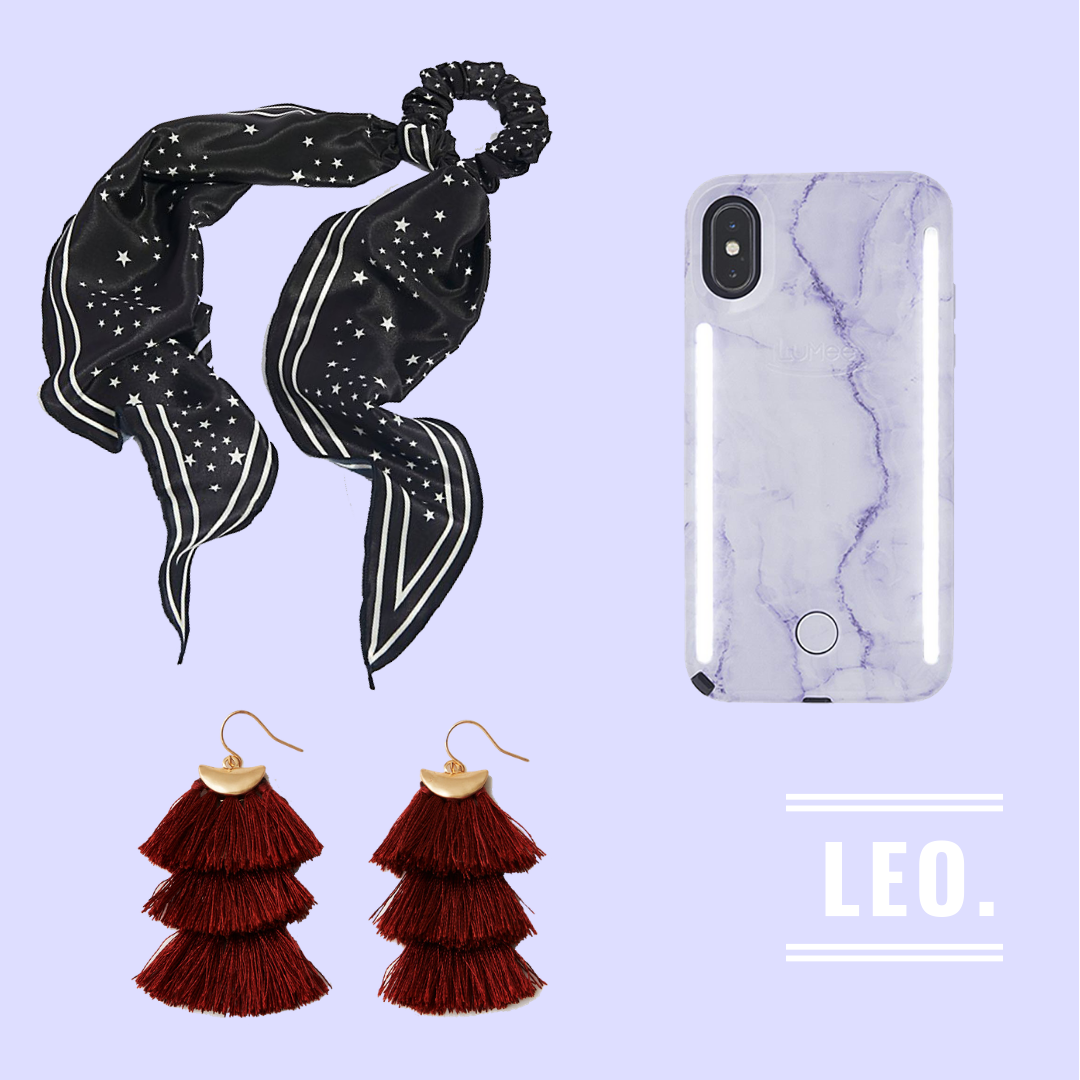 Gifts for a Leo
The Leo is confident, social, and always in the spotlight. This creatively expressive and charismatic sign loves to be the center of attention, with a natural VIP energy. Gift her with a cell phone case that comes with built-in selfie lighting. She'll be able to capture the perfect picture at every party like it's a red carpet event. Statement earrings make a great stocking stuffer to help her accessorize any outfit. And who could forget that Leos are known for their mane? Help her update her locks with a scarf that is sure to upgrade an everyday ponytail or topknot.
$15 and under: AEO Layered Tassel Earring ($8)
$25 and under: Free People On the Road Scarf Pony ($18)
$50 and under: Lumee Selfie Marble Phone Case for iPhone X,Xs ($61)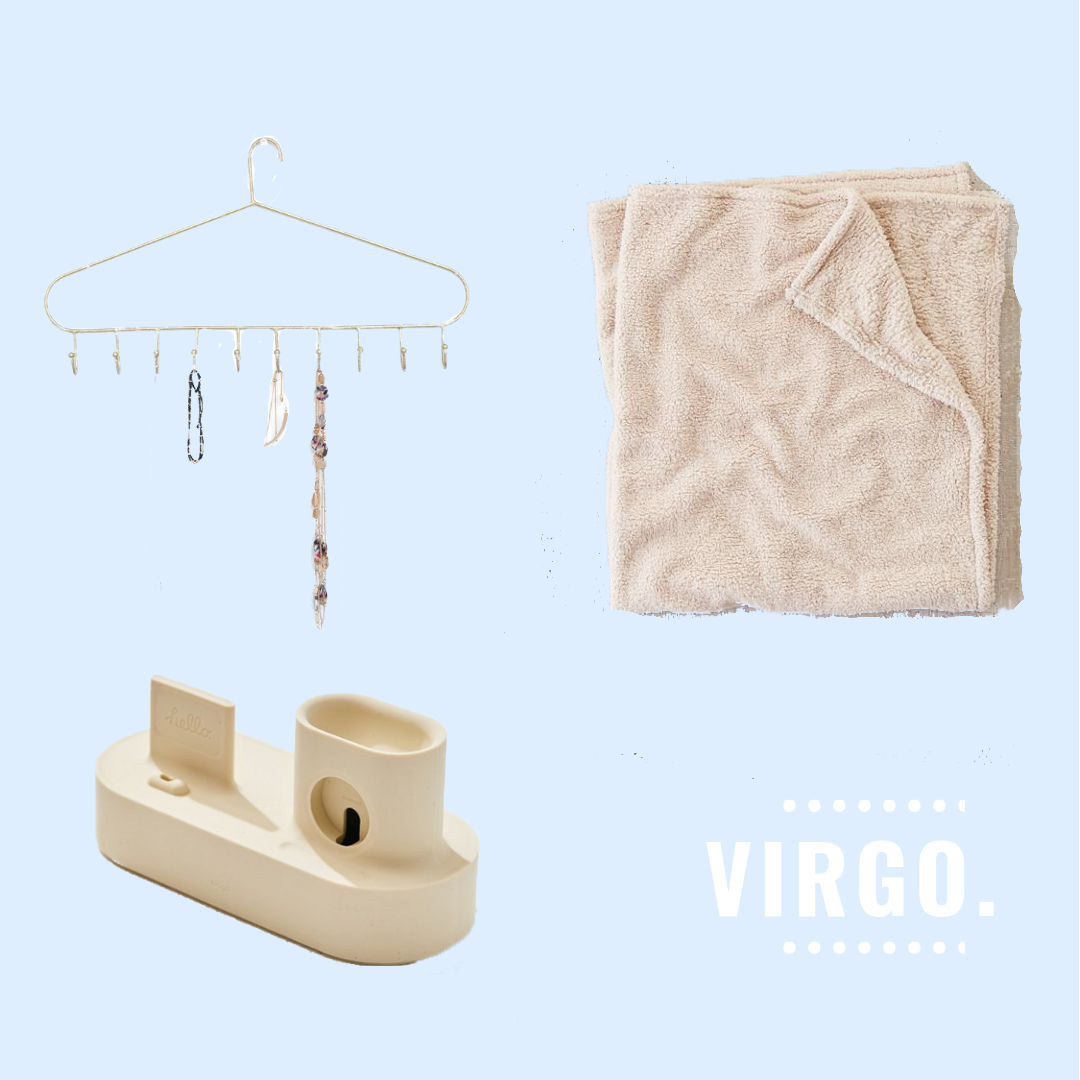 Gifts for a Virgo
In Star Power, Montgomery describes the Virgo as "the original minimalist," a perfectionist by nature with an appreciation for simplicity. Even though a minimalist might seem like the most challenging recipient to shop for on your holiday list, there are plenty of gifts perfect for the Virgo. A simple, gold jewelry organizer makes accessorizing a snap on your way out the door, while a desk charging hub, with a designated space for every electronic, helps declutter tangled cords. And a neutral, super-soft throw blanket will not only go with even the most minimalist dorm aesthetics, but it will keep your Virgo comfy all winter, too.
$15 and under: Francesca's Antique Gold Hanger ($15)
$25 and under: Elago Charging Hub ($25)
$50 and under: Urban Oufitters Amped Fleece Throw Blanket ($49)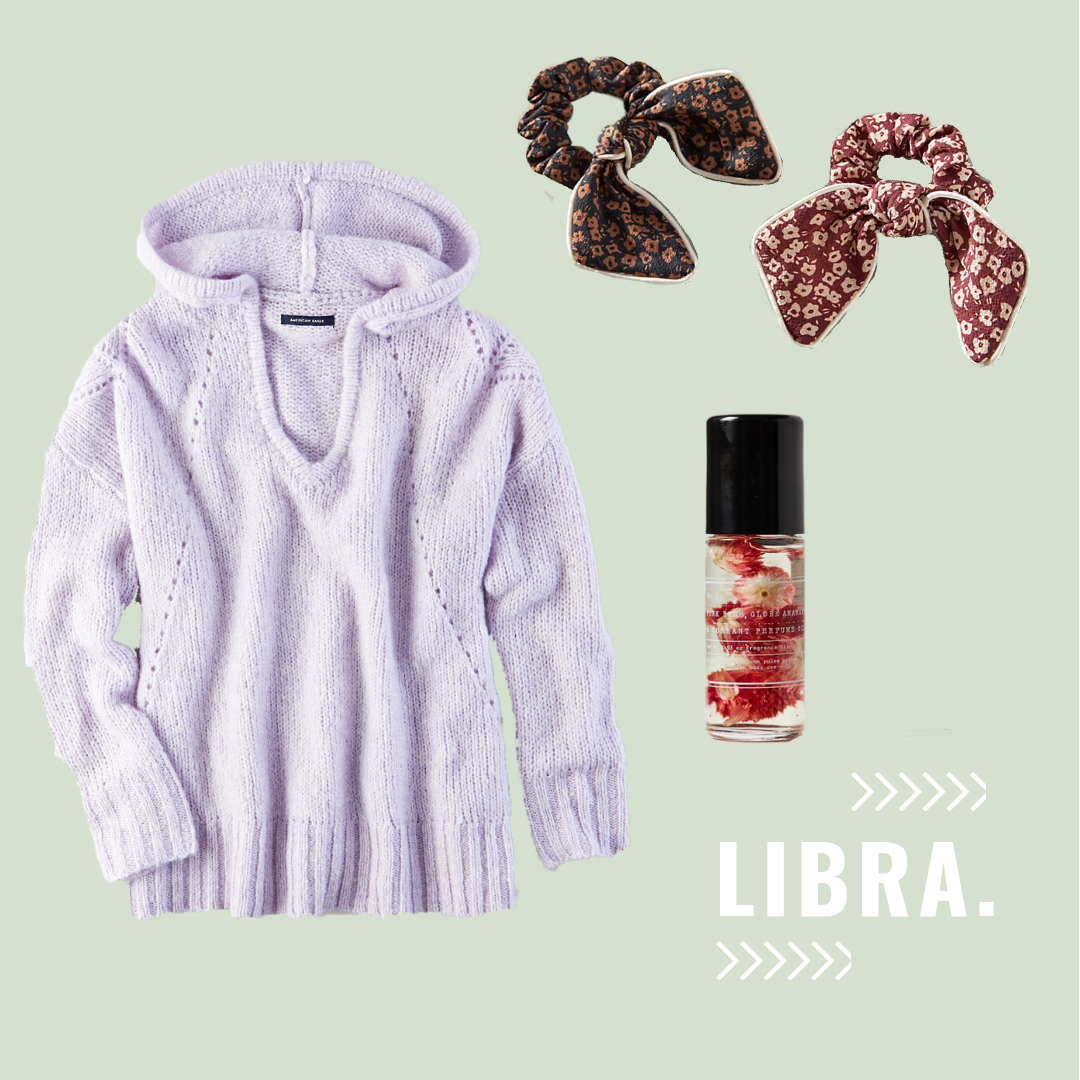 Gifts for a Libra
Montgomery paints a Libra as someone who'd be associated with "blossom-carpeted picnics and pretty shades of soft pastels." This flower child sign can be described as charming and balanced. So think of gifts that match the down-to-earth vibes of the "lovely Libra." A floral hair scarf makes for the perfect everyday hair accessory, while a petal perfume oil will likely become your Libra's signature scent. For cozy winter nights in, a slouchy sleep hoodie in a signature Libra pastel shade will complete the perfect lounging ensemble.
$15 and under: Anthropologie Blooming Ponytail Holder Set ($18)
$25 and under: Urban Outfitters Petal Perfume Oil ($18)
$50 and under: AE Slouchy Pullover Hoodie in Lively Lilac ($30)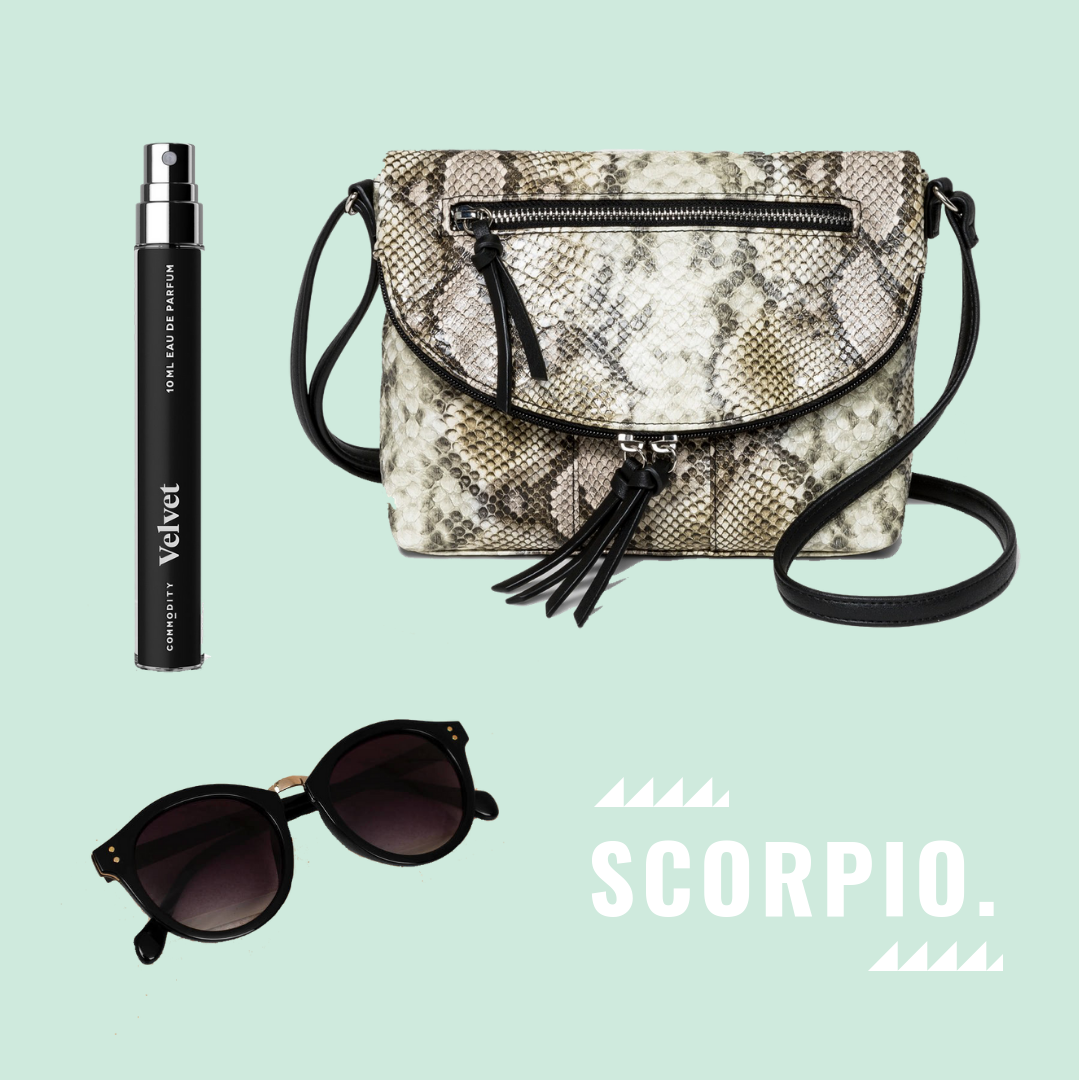 Gifts for a Scorpio
The Scorpio is often regarded as a "dark and mysterious" sign, possibly because of the intimidating symbol of the scorpion. Play up on this mysterious image with gifts that match the "zodiac's bad girl" vibe with black dark-tinted sunglasses or an edgy snakeskin crossbody bag. Or gift your Scorpio with a warm, intense fragrance, with hints of almond, rose petals, and black amber­. It will complement her deep and intense nature.
$15 and under: Tobi Cool It Down Black Sunglasses ($7)
$25 and under: Wild Fable Snake Print Mercy Crossbody Bag ($20)
$50 and under: Commodity Velvet Travel Spray ($26)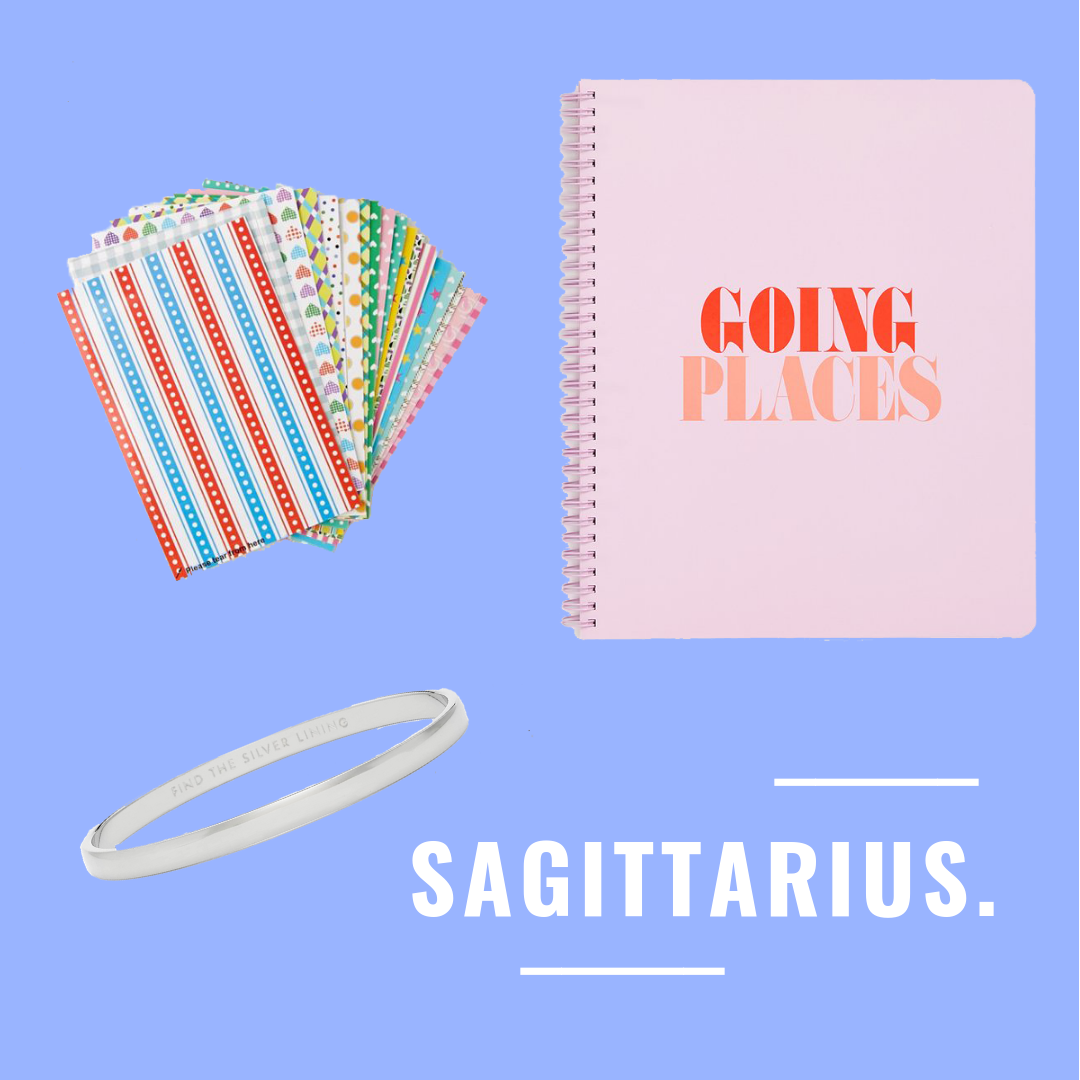 Gifts for a Sagittarius
A sign known for its adventurous side, the Sagittarius is always looking for new inspiration. A set of Polaroid sticker frames will allow the Sagittarius to display memories from any one of her adventures. And to write down all the memories that weren't captured on film, a notebook allows her to jot down brilliant ideas whenever they strikes. To accessorize, gift the Sag a bangle with a phrase that captures her positive outlook, "Find the Silver Lining."
$15 and under: Fujifilm Instax Mini Frame Sticker Set ($5)
$25 and under: Ban.do Rough Draft Large Notebook-Going Places ($16)
$50 and under: Kate Spade New York 'Idiom-Find the Silver Lining' Bangle ($32)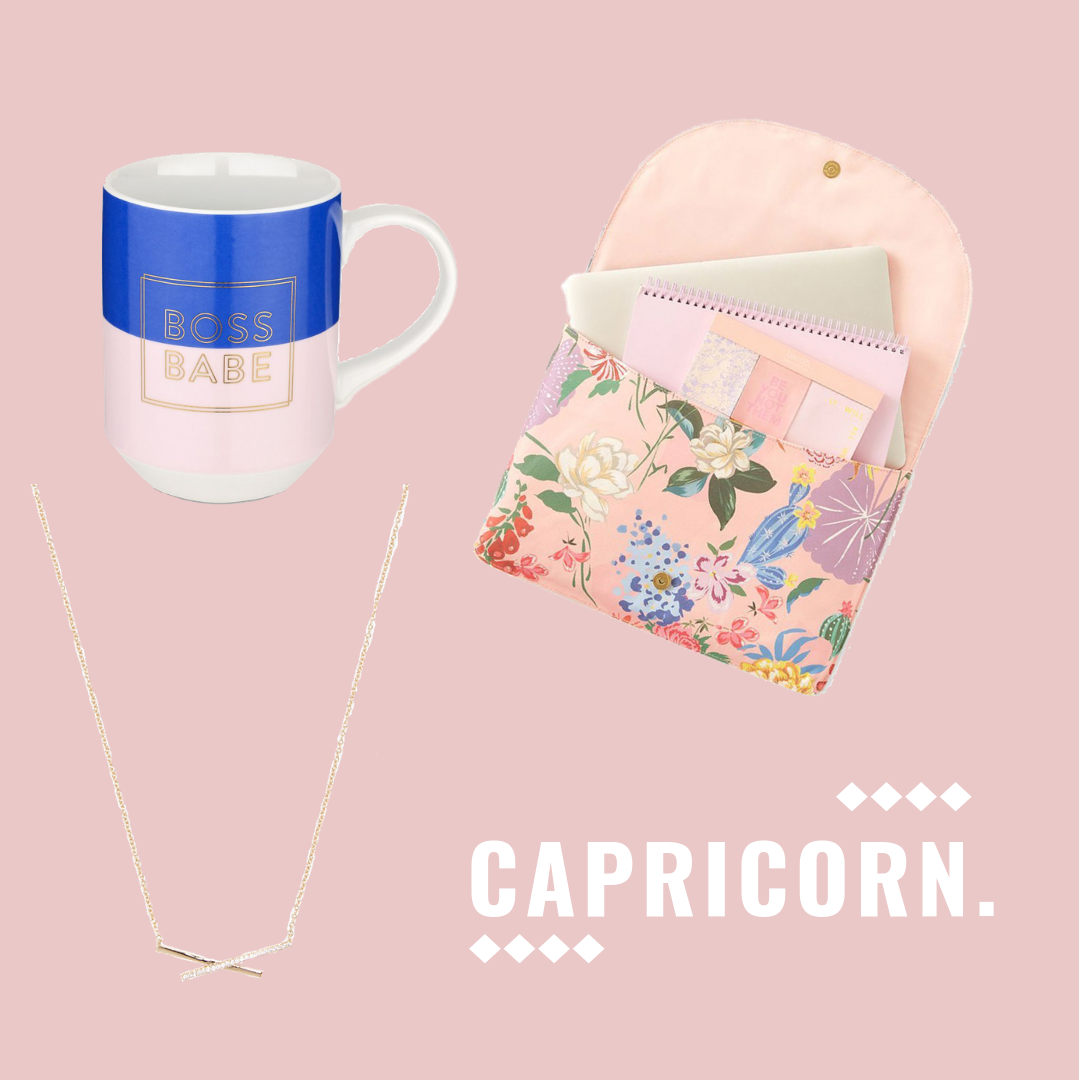 Gifts for a Capricorn
Much like an Aries, a Capricorn is the epitome of a girl boss. Ambitious and achieving, when the Capricorn has her sights on a goal, she's going to make it happen. A mug with a positive morning mantra is the perfect gift to kick-start a Capricorn's day with her daily coffee in hand. A floral laptop sleeve will make the perfect internship essential. But, even with Capricorns, it can't be all work and no fun. A delicate pendant necklace can be the perfect accessory for her weekend plans.
$15 and under: Fringe Good Vibes Mug ($9)
$25 and under: Express Pave X Pendant Necklace ($16)
$50 and under: Ban.do Logged On Laptop Sleeve-Garden Party ($30)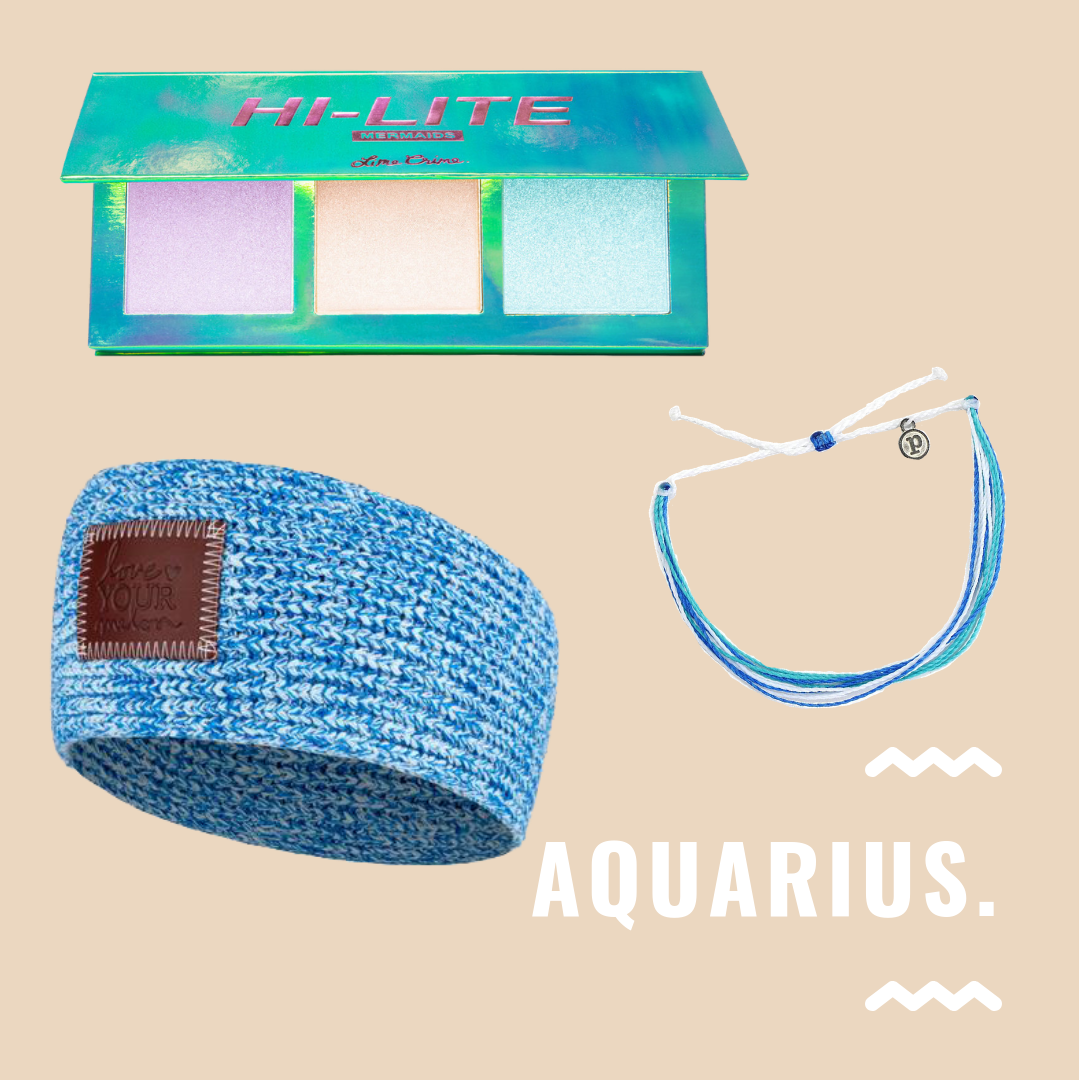 Gifts for an Aquarius
The Aquarius is a humanitarian by nature, who "is at her best when she has a cause to support." She'll be spending her winter break on a service trip or volunteering her time at a local charity. So what do you get for the sign that's so focused on giving to others? For the Aquarius in your life, look for products that give back. Try a bracelet that supports a cause of your choosing, or a winter hat that helps fight pediatric cancer. You can also search for gifts in the signature electric blue of an Aquarius, like a highlighter palette with a bright blue, metallic shade.
$15 and under: Pura Vida Bracelets Charity Collection (Various Styles) ($6 to $12)
$25 and under: Love Your Melon Island Knit Headband ($25)
$50 and under: Lime Crime Glitter-n-Glow Highlighter Palette Mermaids Highlighter ($38)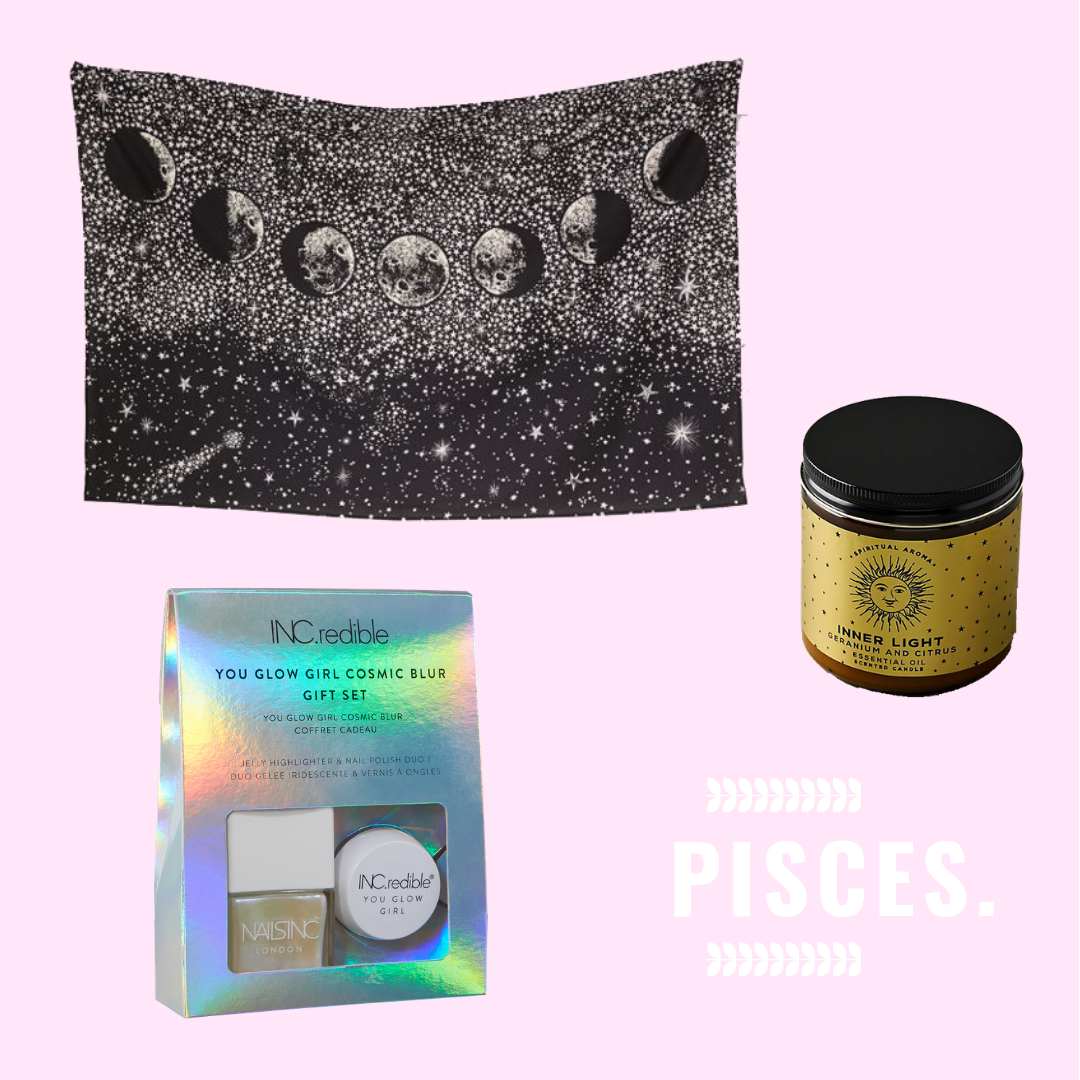 Gifts for a Pisces
A pisces is intuitive, spiritual, and almost mystic. She has the ability to "spot a potential tryst or Tinder match at twenty yards." Working with a Pisces' imaginative and transcendent nature, look for gifts with a spiritual or out-of-this-world vibe. Try an iridescent highlighter and nail polish set for example. The Pisces' signature metallic hue is sure to become a staple in your girl's beauty arsenal. An essential oil candle and a starry tapestry will are two other gifts that will help her connect to her spiritual side.
$15 and under: Inc.redible Cosmic Blue Set ($15)
$25 and under: Anthropologie Spiritual Aroma Essential Oil Jar Candle ($24) 
$50 and under: Urban Outfitters Stardust Tapestry ($49)
Have any suggestions for our astrological gift guide? Let us know in the comments below!
Opening image by Madison Amland