An ideal blazer is a unique thing to come by. Since blazers usually come with a negative connotation of being stuffy and uptight, it is important to know that blazers are anything but that. At the end of the day, a perfect blazer is almost as valuable as the perfect pair of jeans, and possibly even better, because this special piece of clothing is the most versatile thing you will have in your closet. These are the three most important reasons to own this archaic, yet lively, piece of clothing.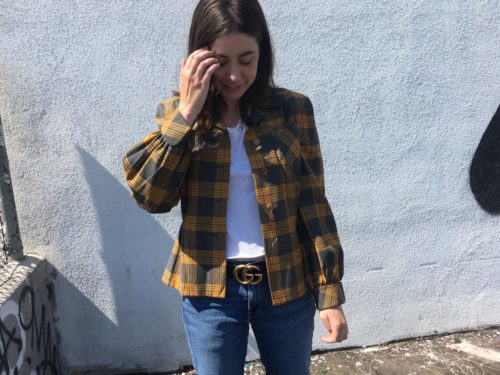 1—Blazers are versatile. Whether you pair your blazer with a crisp, white blouse, high-waisted jeans, and slingback flats, or a dress and heels, a blazer will always be the perfect piece of outerwear. Besides being able to wear a blazer with just about anything your heart desires, blazers can also go from day to night. A boxy blazer, blouse, skirt, and platforms can take you from your day at your internship to a night on the town with your best girlfriends. There really is a blazer for every occasion.
2—There are a ton of different styles. Just like jeans, blazers come in a plethora of different styles to fit your mood. For example, there are shorter, fitted blazers, like the ones pictured, and there are also longer, boxy blazers that provide more of a vintage, tomboy look, like this one. Although blazers are generally seen in darker colors such as navy or black, there are so many other colors and prints that blazers come in—very Cher-from-Clueless. You can really get one that fits your style.
3—Blazers are a timeless staple. Trends may fade, but blazers are forever. The proof is in the fact that they are, and have always been, an important staple. They are not just forever because they last a long time. Looks have come and gone, but blazers have always been in our closets and will continue to be there to support our every look. Although different types of blazers have reigned supreme during different times (can you say shoulder pads?), the blazer has always remained relevant.
No matter what your style, who you are inspired by, or where you shop, there is bound to be a blazer that fits your style and personality. You will always be rocking it, no matter where you are going or what you are doing, if you have your trusty blazer along for the ride.
Do you have a blazer that you absolutely love? Tell us in the comments below!