I treat painted nails like an accessory to any outfit. If my manicure isn't done, then the look is ruined, no questions asked. So, you can imagine how often I'm on Pinterest searching "nail ideas." Which results in me scrolling through images for forty minutes until I find three different ideas that I blend into one.
However, I am a complete sucker for celebrity influence. If I see Selena Gomez with a new manicure, you know I'm pinning it to my Pinterest board. You'll feel the same about these 15 nail ideas for your next nail appointment inspired by our favorite celebrities.
01. Madelyn Cline
@NailsbyZola is responsible for the nails of not only Madelyn Cline, but Hailey Bieber, Sabrina Carpenter, and Vanessa Hudgens. That's how you know you can trust her for the latest nail trends—like this outline french manicure on our favorite Outer Banks star.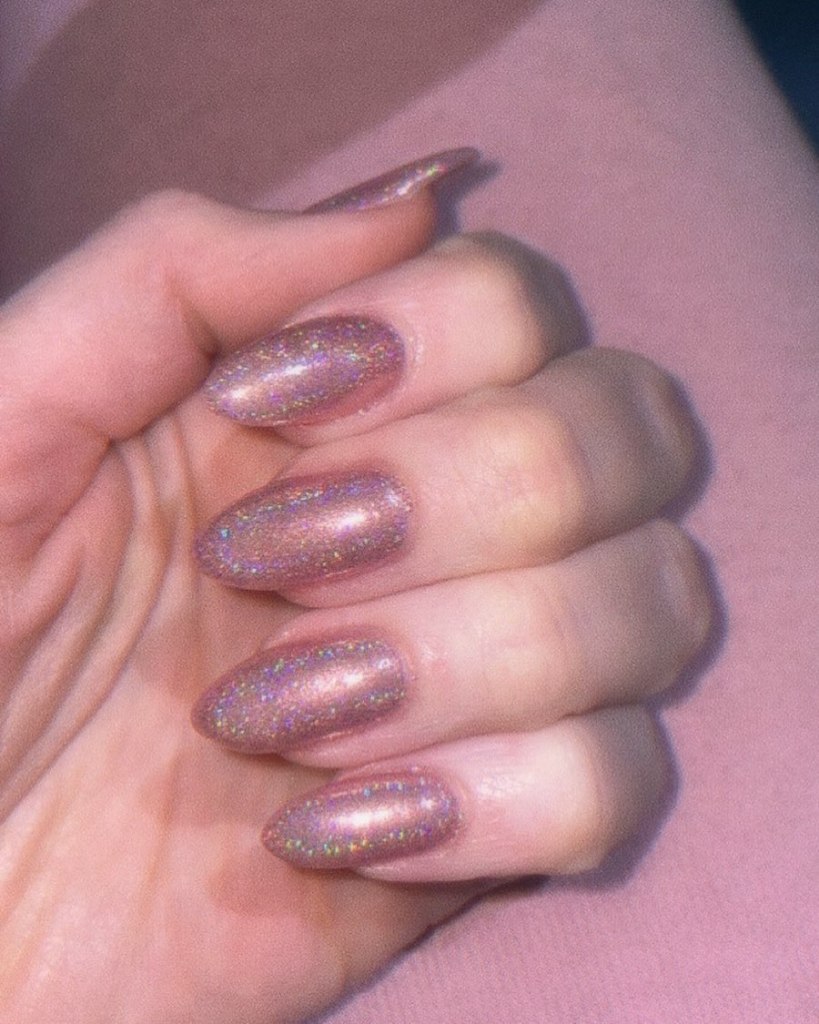 02. Kacey Musgraves
Bored of the plain polish? Try this shimmery, luminescent manicure that will have everyone asking you where you got your nails done.
03. Jasmine Tookes
Didn't you hear? Neutral is the new black; so if you're tired of keeping up with the nail trends and the colors of the season, try a neutral. Even if that's just a simple clear coat with an almond-shaped nail like Jasmine Tookes's—a look that's her go-to.
04. Kylie Jenner
Pearls have been making a major comeback, appearing in our jewelry and even in our hair. So why not add them to your nails? Make sure to ask your nail salon first though if they have pearls before bringing this idea with you!
05. Camila Mendes
With fall around the corner, the color burgundy will be everywhere, especially on nails. Add an edge to your fall nails with this matte burgundy, topped with a glossy french tip like Camila Mendes.
06. Ashley Graham
If you have a nail appointment coming up and need a fun, eye-catching design, try this! Ashley Graham's wavy red nails are to-die-for. They offer a 70s look to your nails while still looking professional enough for your internship.
07. Sabrina Carpenter
"Diamonds are a girl's best friend" but make it affordable and on my nails immediately. If you're not into Kylie Jenner's pearls, maybe Sabrina Carpenter's jewelry-like nails are the option for you.
08. Hailey Bieber
As the avid users of TikTok most likely already know—apologizing now—the Hailey Bieber glazed nails have been the most popular nail idea this summer. It offers a classy but charming look that you can't find in most Pinterest nail boards anymore. It also just goes with everything; you can't complain about that!
09. Lana Condor
To All the French Manicures I've Loved Before. The original french manicure is out, and the colorful french manicure is in. This colorful, deep french manicure on Lana Condor is the perfect way to add a stylish look to any outfit. Swap out these bright pastels for darker autumnal colors for the fall and winter.
10. Lisa of BLACKPINK
Between Greta Gerwig's Barbie movie and celebrity red carpets, Barbiecore is here to stay. Try this iconic hot pink that's taking over every fashion magazine's best-dressed list on your nails, like our favorite KPOP star above.
11. Dua Lipa
Dua Lipa's music never fails us, so why would her nails?! This unique snake print is perfect for the fall. It's also an easy way to switch up your normal nail routine.
12. Storm Reid
A simple nail idea that won't cause your nail appointment to last hours is this polka dot design above! Alter the colors on each nail like Storm Reid's for an expensive look. Beware though, you'll most likely end up staring at your nails while in class.
13. Camila Cabello
Camila Cabello is a great source for nail ideas because she loves a manicure that is durable. If you're always chipping your nails, these sharp french tips will be your best bet to give you long-lasting nails.
14. Elsa Hosk
This watercolor polka dot design on supermodel and entrepreneur Elsa Hosk may be the cutest nail idea on here. It's artistic and fun without looking immature.
15. Ella Mai
This colorful french manicure with a flower-filled accent ring nail by Ella Mai is perfect for any occasion. The accent nail is a timeless trend that never gets boring.
Will you be bringing one of these nail ideas to your next nail appointment? Show us by tagging @cfashionista on Instagram.
Featured Image via @dualipa. Design by Her Campus Media.