Before you finish packing that suitcase stop to check if you've included this summer's most popular trend in your vacation wardrobe. If you watched the recent fashion shows, then you know what trend I'm talking about: stripes. Stripes have always been a classic, however, this season, they dominated the runway in the form of colorful seaside stripes. While these stripes do look great by the beach side and pool lounge chairs, don't be deceived by the name. The name "seaside" stripes do not mean they're solely reserved for those occasions.
To prove it, I walked through the streets of Central Jersey in this playful blue and white seaside striped blouse. For a more flattering look, I left the top two buttons unbuttoned and then tied the bottom front into a bow to make the top slightly form-fitting. Next, rather than pairing the shirt with boring white jeans or shorts, I decided to go for a bolder look with a copper button-down denim skirt. Surprisingly, the two different colors of blue, instead of clashing, ended up complementing each other and drawing out both shades of blue. The combination of the lightweight blouse and the denim skirt allowed me to walk in ease through the 97 degree weather. Tip: If you want to make it even cooler. Unbutton the shirt and wear a spaghetti strap tank underneath.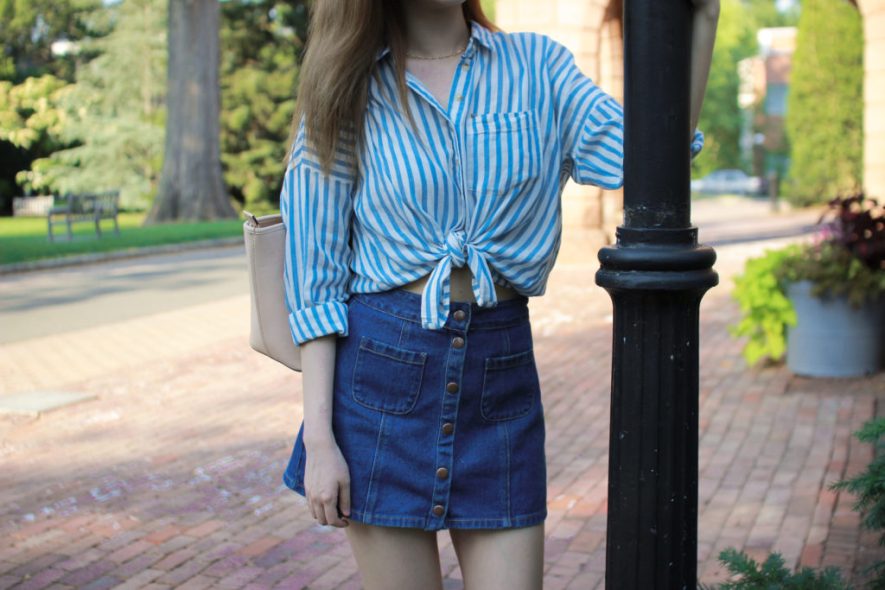 From my handbag collection, I chose a pastel pink bag for a pop of color to liven up the entire outfit (as shown in the slideshow above). My favorite part of this bag is the rose-gold sequins lining the straps of the bag.
Moving onto the accessories—the key to creating your own personal style. I never leave the house without at least one accessory. For this outfit, I chose two gold pieces: a gold criss-cross ring and a diamond-embellished gold choker with the outfit. For my final touch, I placed a couple of freshly picked lavenders in my breast pocket.
Stripes are such a versatile trend. Besides this outfit, I'm excited to see how many more ways I can play around with this summer's most popular trend.
Any trends that you've been obsessed with? Let me know in the comments below!