Orlando Florida's Walt Disney World is a magical destination. While you're exploring the parks, you'll be overwhelmed with the amount of scrumptious snacks to choose from. To help your Disney experience be the most magical, here are the top eight treats you can find at the Disney Parks. Let's count down to the very best treat you can munch and crunch on!
8—Disney Lollipops.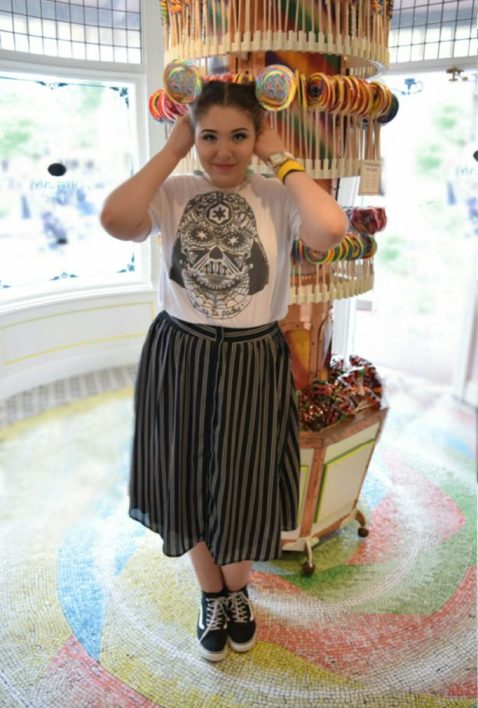 Lollipops with a variety of characters are available at all parks in flavors like cherry, orange, grape, raspberry, watermelon, and original. The multi-color candy inspired my outfit. A pinstriped skirt, a sugar skull Darth Vader shirt, Vans high-top shoes and fluffy pastel earrings are perfect for a trip to the confectionery.
7—Main Street Popcorn.
Popcorn is a classic staple at Walt Disney's Main Street. You can buy it fresh or prepackaged with a plethora of flavors, such as caramel, kettle corn, cheddar, confetti, sriracha kettle corn, parmesan garlic, red alaea salt kettle corn, truffle, churro, and a new Disney guest's favorite: maple bacon. If you are staying in a Disney Resort Hotel, you can enjoy Disney popcorn in the comfort of your room with the Pop Down Mainstreet Gift Basket for $40.
6—Mickey Rice Treat.
Rice treats are in the shape of Mickey's head and measure a whopping 8 inches. They are available plain or with chocolate and decorations depending on the season. The buttery crunch of this treat will satisfy a crowd.
5—The Frozen Night Blossom.
This new nonalcoholic drink only available at Animal Kingdom in the new Avatarland is a mix of limeade combined with apple and desert pear flavors finished off with passionfruit boba. This drink is super refreshing and sour. It tastes like the Unicorn Frappuchino which debuted April 2017 at Starbucks.
4—Frozen Banana.
This is my personal favorite treat for beating the heat. Diced nuts and a chocolate layer over a frozen banana is surprisingly delicious.
3—Anna's Birthday Cupcake.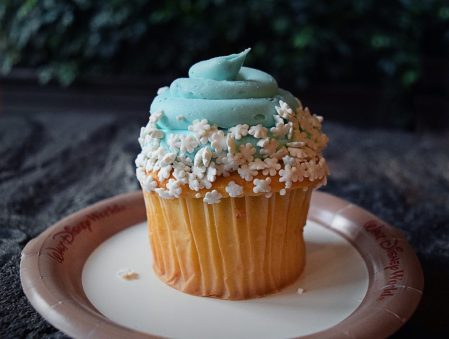 This cupcake is sweet, huge, and covered in edible glitter! What's more magical than that? This birthday cupcake can only be found at Epcot at Norway.
2—Specialty Candy Apples.
Caramel apples can be found at all Disney Parks in a variety of styles. Apples are covered in candy favorites, caramel, chocolate, nuts, rice cereal, marshmallows and cookies. This delicious Minnie Mouse apple is packed with chocolate and caramel goodness. At Goofy's Candy Company at Disney Springs, you can even create a customized apple. Apples are available at anytime of the year decorated as Disney characters and holiday themes. The flavors are amazing including sour, sweet, salty, and decadent. Biting into one of these will fulfill your sweet tooth cravings.
1—Gaston's Tavern Cinnamon Rolls.
Gaston's Tavern at Disney's Magic Kingdom has, dare I say it, the best cinnamon rolls in the world. With a hint of maple flavoring, these $4 rolls will blow you away. Pro tip: Try the Lefou's Brew and a chocolate croissant. They really hit the spot!
Tried one of these treats? Let us know what you think by tagging @CFashionista on social media!