If you live in a tiny apartment like I do, everything must be multi-functional. There is no space to waste. My desk is no exception. It serves not only as a makeup table with lots of storage but also my space for homework, blogging, and graphic design projects. Thus, it has to be efficient and inspiring. How do I manage to fit it all into one neat little package while saving space along the way? It's all about the furniture, the layout, and some space-saving tricks.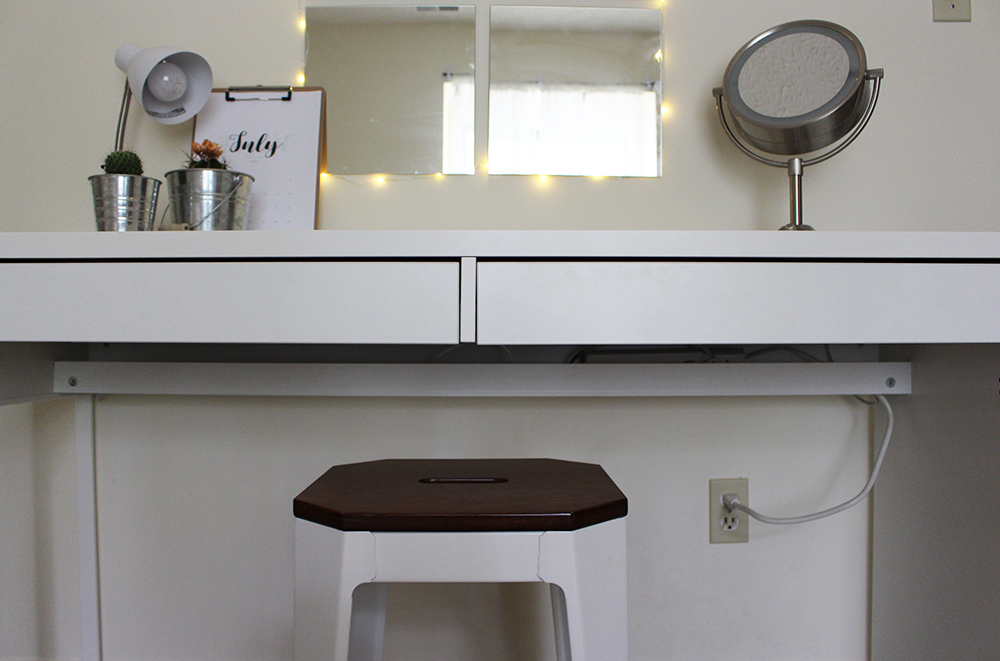 The desk I chose has two spacious drawers under its long tabletop. The dual storage was especially appealing to me. In one drawer, I can store my makeup. In the other, I can store important school papers, pens, and notebooks. The separate storage ensures organization, and I don't have to worry about getting makeup on my school supplies or a pen leaking onto my favorite lipstick. When choosing a desk, look for one with lots of storage.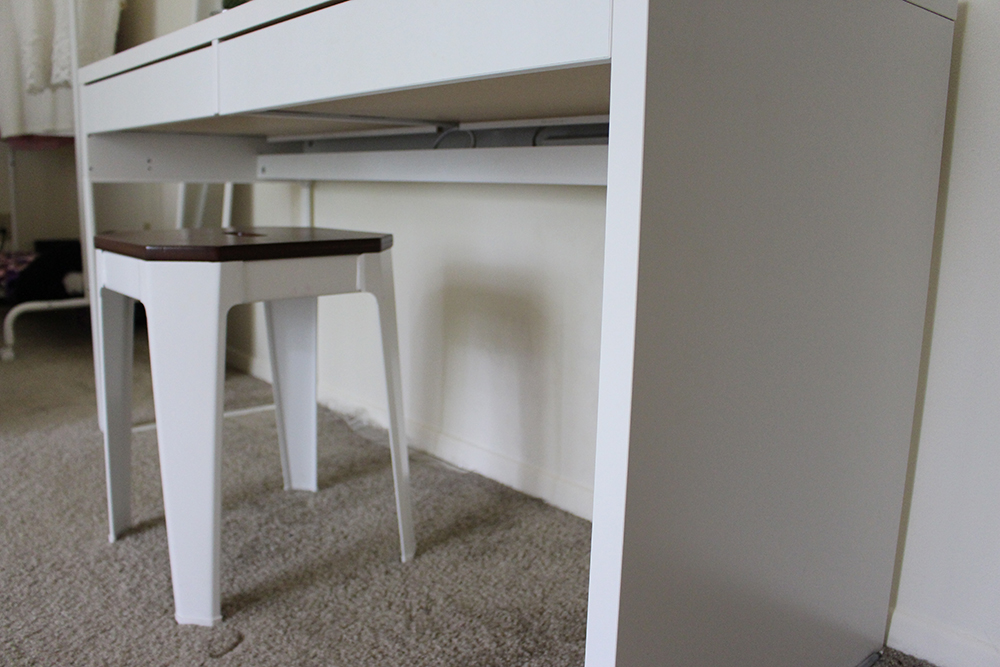 To save even more space, avoid a bulky desk chair and opt for a stool that you can tuck away underneath the tabletop. This is especially important for tiny spaces. If you need something with more support than a stool, opt for a minimalist desk chair that won't cramp your style—or your space.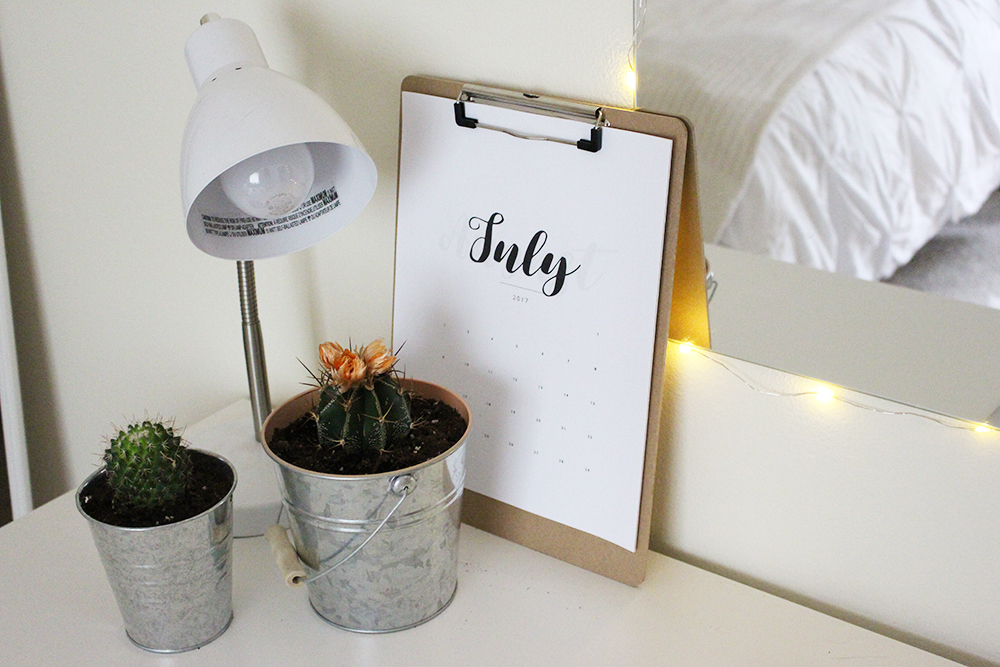 Next, don't forget to decorate! I'm notorious for killing plants, but I love a little greenery to liven up my desk. These cacti are super cute and don't need a ton of attention. Add any décor that inspires you without taking up too much workspace, like photos, string LED lights, or a pretty calendar. I made mine using a graphic design program, but there are tons of cute and inspiring options.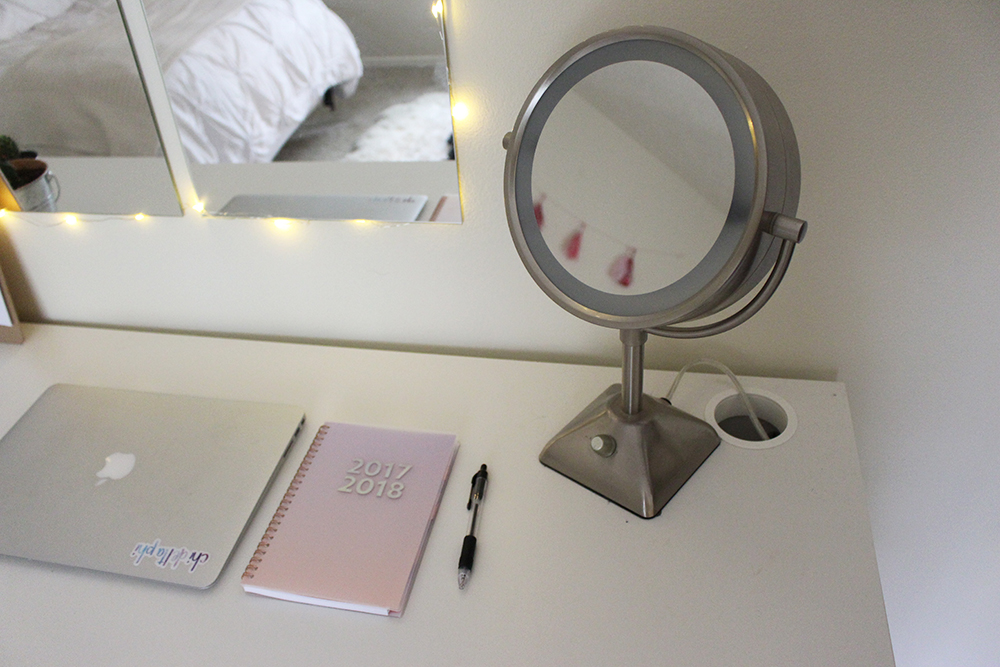 Finally, be mindful of your cord management solutions! No one wants to work in a space filled with big, bulky cords. This desk already provides a space to feed my cords through, but if yours doesn't, you can use small cord management clips to get them out of the way. A pretty space shouldn't be sacrificed by ugly cords tangling up in your work. Don't forget to add a chic planner to your tabletop to inspire you.
How do you save space while staying stylish? Let us know in the comments below, or share a picture of your desk with @CFashionista on social media.