Sweet summertime afternoons are unlike anything else. The feeling of sunshine on your face is one that can't be duplicated. While this scenery is beautiful, this gal's outfit is even better. This is a perfect daytime look for a get-together with old friends, having a picnic or just running errands around town.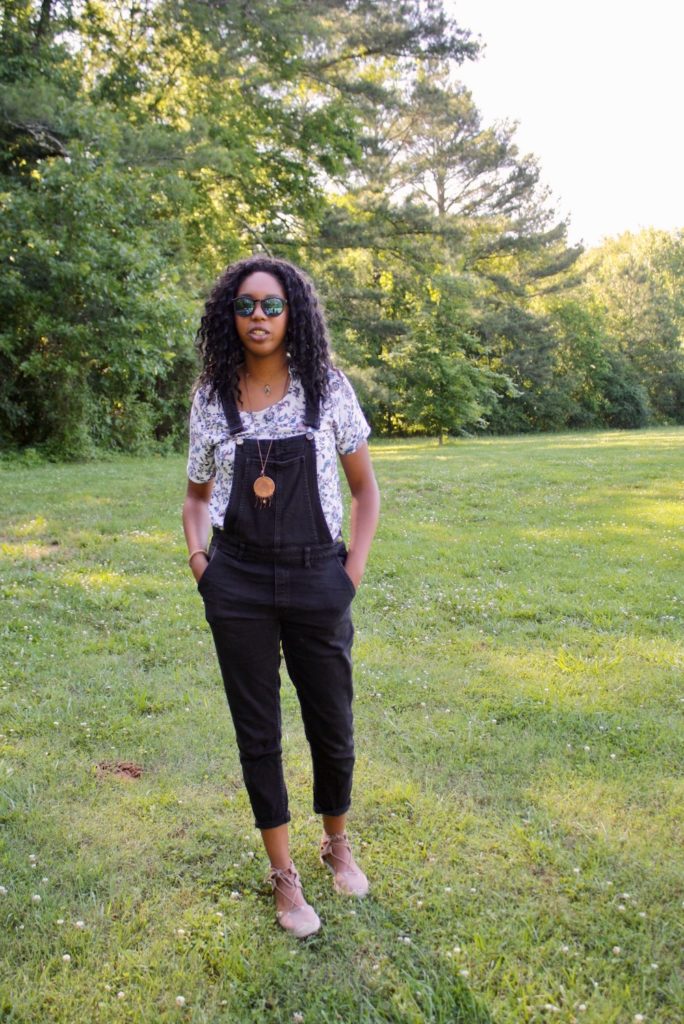 The white based floral print top gives the outfit a lighter feel. Not only is it a good contrast with the dark denim, but it also is a beautiful contrast to her skin tone. The material of the shirt is airy so that even though the top is layered with the denim, it won't create too much additional body heat while wearing it. The floral print is also beyond appropriate for this blooming season.
Overalls are a classic wardrobe piece. Short or long, dark or light wash—overalls are so versatile and comfortable. They are practical but also make a statement. A lot of times lighter colors are used in the warmer seasons, but I am loving the dark wash here. It's a nice breakup from the basic "light and white" theme that summer time fashion has to offer.
Nothing says "stepping into summer" like a good ole' pair of espadrilles. They have always been popular but have lately become all the rage. From flats to wedges, these shoes are definitely making an appearance this season. This pair is so fun because of the lace-up style in the front; it adds some character to the shoe. The color is versatile and can be worn with so much!
This outfit is a fabulous example of a summer daytime outfit. It is a fun take on some classic pieces. Try mixing up your summer style with a pair of cute espadrilles or overalls!