Clothing with holes used to be seen as a sign of poverty and someone who didn't know how to dress well. However, thanks to designers such as Kanye West, clothing with holes can actually become quite fashionable. This look was inspired by the Yeezy Season 3 fashion show. Many of his looks in this collection feature sweaters, shirts or dresses with holes in them to give them a more laid back, grunge look or as Anna Wintour called it "migrant-chic." Many stores have started selling shirts, sweater, pants and more with holes and it is becoming commonplace and fashionable.
For my look I started with a basic white ripped T-shirt from Brandy Melville. I love this top, because it has all different sizes of holes and is more exciting than a plain white T-shirt. It goes great with any outfit and is perfect for adding a bit of an edge to your look.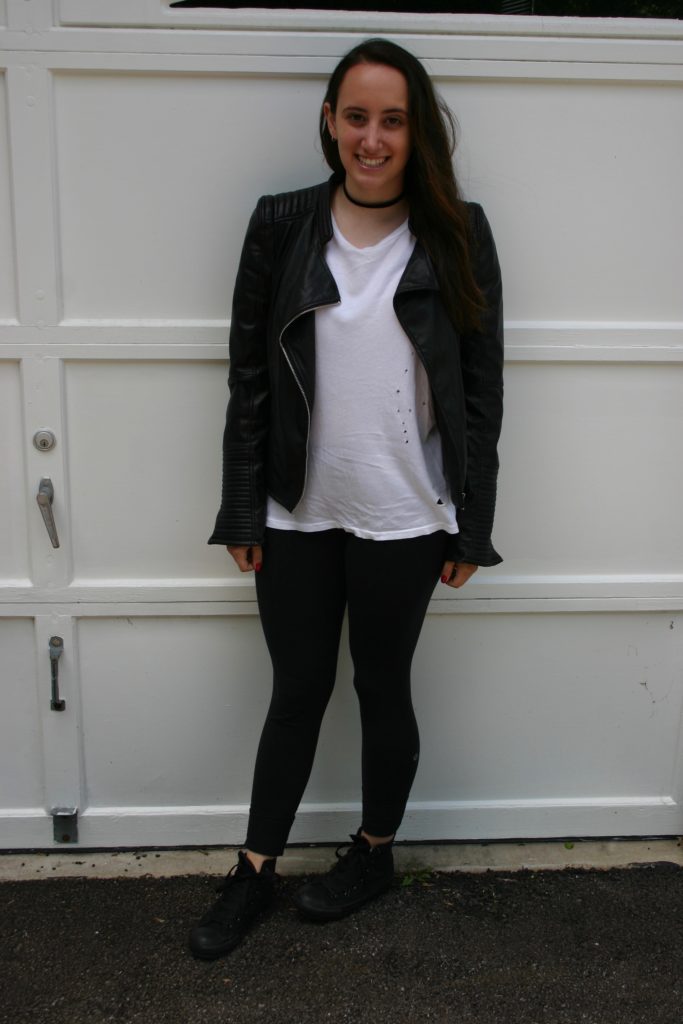 I paired my white T-shirt with a black leather jacket to stick with the grunge vibe. I think a leather jacket is a staple piece that everyone needs in their wardrobe. You can keep it casual while running errands or you can dress up your outfit for a night out on the town.
When it comes to black sneakers, I was very skeptical when buying them in all-black. Many people consider all-black to be gothic, but it doesn't have to be. If you pair all-black sneakers with some color like I did with my white T-shirt, then they can help create a more edgy look. I paired them with black leggings to create a symmetrical look. Personally I prefer to wear all-black sneakers with black pants or leggings as opposed to colorful pants.
Lastly, one of my favorite parts of my outfit is the black velvet chocker. Chokers used to be very popular in the '80s, but they have started to come back in style. Chokers help to diversify any outfit and can help you stand out from your friends. There are many different types of chokers: thin, thick, jeweled and velvet. My advice is to try many different styles and find the one that feels right for you!
Get My Look: 1. Any pair of black leggings. 2. Black sneakers. 3. Tiny hoop earrings.