Instagram and YouTube are great places to find makeup inspiration and keep up with trends, but what better place to get a jump start on the newest fall beauty trends than the catwalk? There were a few makeup trends on the fall 2017 runways that could actually be worn in real life, as opposed to exclusively worn at fashion shows and editorial photo shoots. The models generally had fresh and healthy looking skin with little other face makeup than foundation and concealer. It was clear that the makeup artists left it to the eyes and lips to make a statement. Though the makeup artists probably used high-end brands, you don't have to break the bank to look like a supermodel. Here's how to recreate three runway makeup looks for those of us on a budget this fall!
Monochromatic Makeup
This first trend is inspired by the Anrealage fall 2017 ready-to-wear runway, where many of the models were rocking a wash of rose-colored eyeshadow across their eyelids. This was paired with a lipstick in the same hue, and some of them also wore blush in the same shade.
Though the models had a rose color theme, this monochromatic look could also be amazing with some dark berry shades this season.
To achieve a peachy monochromatic look, try the e.l.f. Mad for Matte Eyeshadow Palette in Summer Breeze ($10) using shade #4. After this, use Wet N Wild's MegaGlo Cheek & Lip Tint ($5) in the shade Crush Upon a Time for both lip color and blush. This combo will give you a fresh-faced, peachy glow.
Also, if you wanted to try a berry version of the same look, use the dark purple shade in the palette and pair it with the Maybelline Color Sensational Lipstick in Midnight Merlot ($7). This combo is a couple dollars over budget, but the color is a perfect match!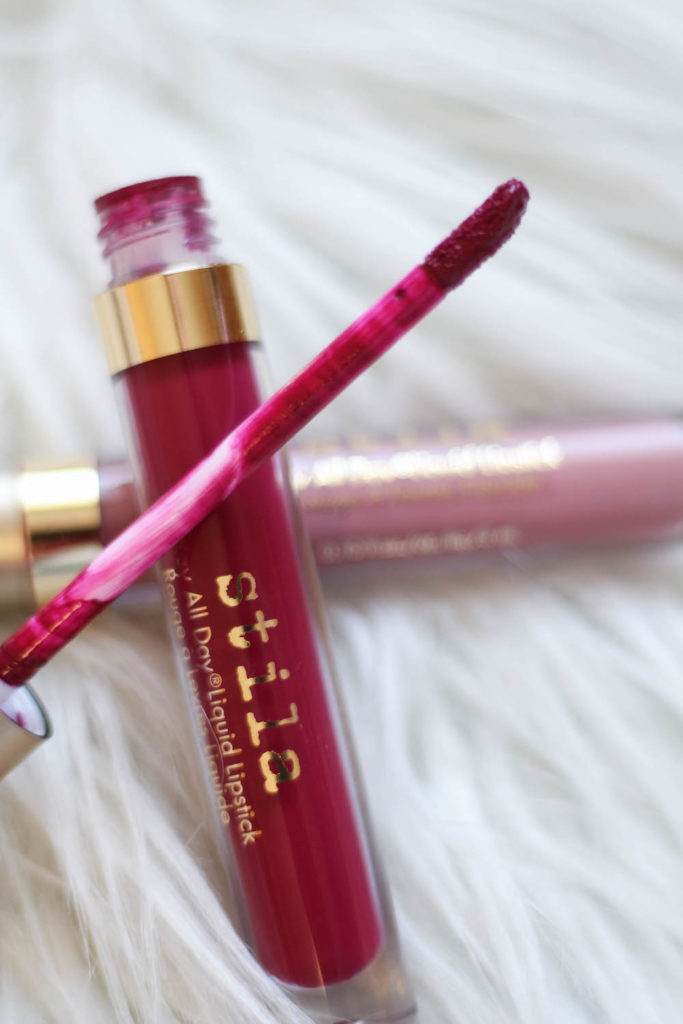 PHOTO: Ali Bell
Barely-There Lipstick
Inspired by the Erin Fetherston fall 2017 ready-to-wear runway show, this trend gives just a little bit of color to the lips by focusing the color on the inner portion of the mouth. The look reminds me of having eaten an ice pop, and the color has stained your lips by the time you're done.
Using the Revlon Just Bitten Kissable Balm Stain ($9) in the shade Adore will give you the same stained effect. Just apply the color to the middle of your lips, and rub them together to get that lived-in, effortless look.
The models wearing this look left the edges of their mouth undefined and the same color as their foundation. So, if you need to touch up the edges a little bit, some concealer can fix all mistakes!
PHOTO: Lex Kelly
Gloss All Over
Matte is out, and gloss is in. So many runways had makeup looks with glossy lips this season, but the Osman fall 2017 ready-to-wear runway took it a step further by also adding some gloss on top of some smudged black eyeshadow too.
To achieve this look, use any black or dark colored eyeshadow you own and use a touch of the Maybelline Lip Studio Shine Shot Lip Topcoat in Clear Vinyl ($6) on top. Use the same gloss on your lips for an equally blinding shine on your lips!
Which of these fall beauty trends are you going to try out this season? Show us on social—tag @Cfashionista!
Featured photo by Rachel Zuckerberg.