With no more impending deadlines, the feeling of freedom and lazy summer days comes to light. Why not celebrate a carefree summer with unique beauty looks? As a Fashionista, I am constantly reinventing my style, especially when it comes to makeup. I kicked off my summer with a beauty trend investigation. Quickly, I found many Fashionistas on campus who are already wearing bold summer looks that inspired a photo shoot.
Increasingly seen among popular influences is white eyeliner. A couple of Fashionistas I talked to explained their love of white eyeliner and how the color adds an edge to a simple look. Personally, I have been in love with white eyeliner ever since I wandered into Sephora. I double wing my makeup with a black eyeliner and a white eyeliner for an extra effect. It's a beauty look that never fails. The eyeliner can be used to create a bold statement with a single swipe, or a creative design by dotting along your eyes.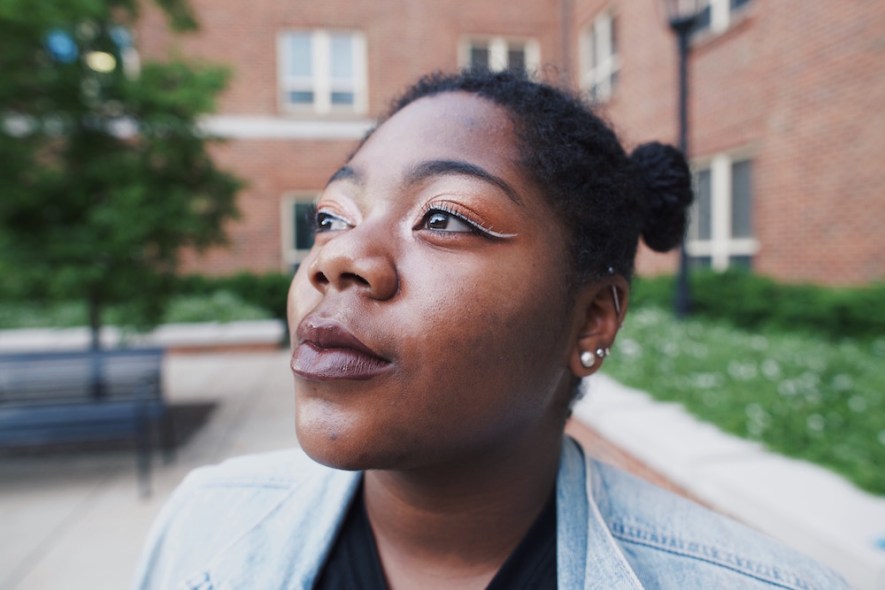 Coppers, reds, oranges, and anything fiery is trending right now! Many Fashionistas are popping these colors on their lids with popular palettes such as Anastasia Beverly Hills or the popular, dope Morphe 350 Palette. These colors look fantastic on every skin tone. Depending on which reds, oranges, and glitters you mix, you can make a fabulous, glam look or an edgy, natural look. Either way, you cannot go wrong with these go-to colors. 
Going back to eyeliners, this trend includes purple, blue, red, pink, and the list keeps going. I am talking about vivid color eyeliners! One Fashionista I talked to smeared her purple eyeliner under her eyes as a reverse winged look. She combined the colorful liner with some faux freckles for a very youthful, creative summer beauty look. I recommend playing around with some eyeliners by double winging or just using the eyeliner for a pop in your waterline.
Lastly, there is the statement lip. Can anyone ever go wrong with a bold lip? After talking to these Fashionistas, it is safe to say that a bold lip will be trending for the summer. This beauty trend is perfect for those hot summer days when you want minimal amounts of makeup on. Just swipe on a red, orange, or purple lip and you're ready to conquer the summer heat.
Without sounding too corny, the best beauty trend will always be confidence. Whether you wear full glam every day or nothing at all, everyone is beautiful. So rock that colorful eyeliner or rock just sunscreen, but remember—bring the confidence, and make this summer full of carefree memories.
What summer beauty trends do you follow? Let me know in the comments below!