Festival season is finally falling upon us as the summer temperatures rise, and our favorite outfit inspiration comes to life! As April passed, the talk of the town was clearly the infamous Coachella. Every year, social media blows up with the latest festival fashion, and there's absolutely nothing better. The music rising at this time is wonderful, but I'm certain that us Style Gurus live for throwing together our best outfits to show off to the world. What's better than listening to your favorite bands, all while dancing around in the cutest bohemian-inspired clothing?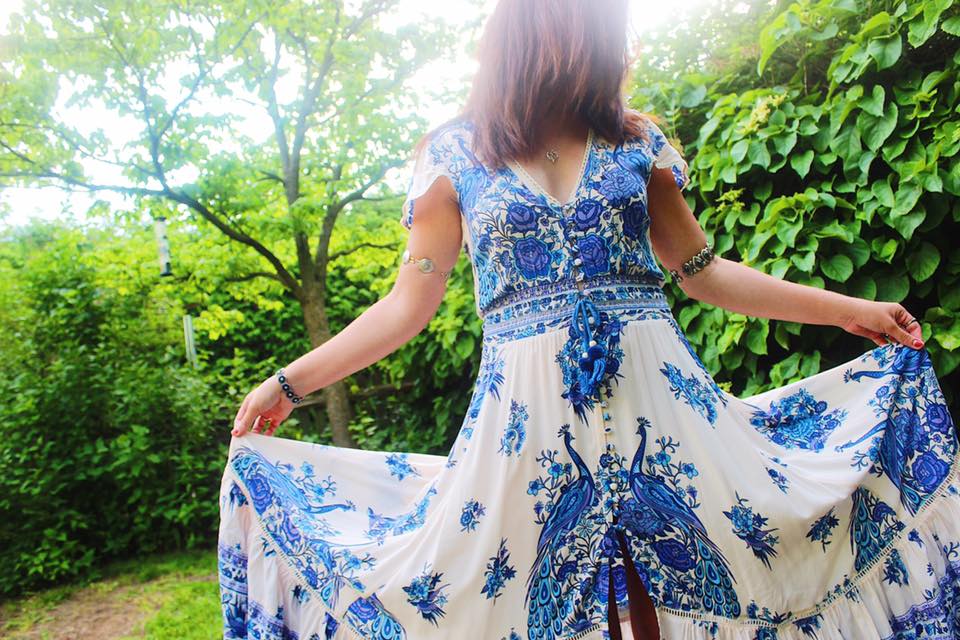 When I hear the word "festival," I immediately think of Vanessa Hudgens. For years I have gotten my fashion inspiration from her beautiful bohemian-chic style—after all, she's the queen of Coachella. I have yet to step foot into the gates of Coachella, but that doesn't stop my inner Fashionista from styling the most beautiful festival looks! There are plenty of different festival looks to choose from, but I've found that the most popular is the desert trend. The look I have put together is on the fresh floral side. This beautiful blue dress is filled with different flowers and a gorgeous peacock bird design. It works perfectly for your desired bohemian look.
This dress is from Free People, one of my favorite stores. I love Free People because they bring the prettiest boho styles to life. The best part of this dress is that it is a very thin material and feels very light on your body. It's perfect for the hot summer sun! The dress flows beautifully, and it looks so graceful as you walk. It's so easy to throw on and spice up with all your favorite jewelry. I styled it with bracelets that I decided to transform into arm cuffs, which was so simple. I absolutely live for gaudy rings, so I thought these beautiful turquoise beauties were perfect.
When I first purchased this dress, I pictured it with a chic pair of booties, but then I thought my feet would thank me at the end of the night if I chose a pair of sandals instead. Booties are great for the festival grounds, but you want to take comfort into consideration.
How do you rock the festival chic look? Show us on social media by tagging @Cfashionista!