A new season calls for a new trend. If you've been out for brunch on Sunday mornings or to the bars on Friday nights, you've probably seen a new trend that everyone is rocking: off-the-shoulder outfits. This style may be an oldie, but it has returned and it's more popular than ever before. Not only does this trend help put off the heat during summer, it also adds a classy and charming look to this season. This trend comes in all different kinds of styles: crop tops, dresses, jumpsuits, and even swimsuits. There are a variety of ways to rock the trend as well—from half sleeves and long sleeves to no sleeves to with straps or without straps, it's all about your personal style. Let's look at how this Fashionista rocks the off-the-shoulder trend!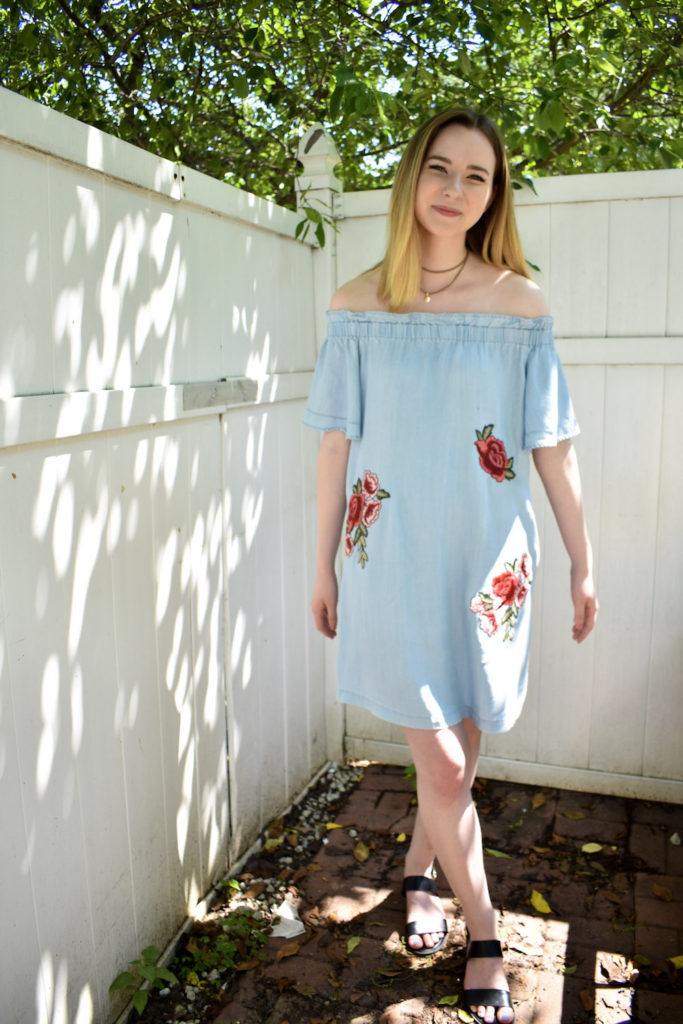 The Fashionista is pairing the rose-embroidered off-the-shoulder dress with some simple black sandals. Not only is off-the-shoulder a current trend, the dress also highlights another trendy essential—embroidered pieces. The beautiful rose-embroidered pieces add colors and contrast to the pale blue dress. The Fashionista chooses to style the dress with a light brown necklace to make sure the accessories do not steal away the spotlight from the dress.
As mentioned, there are many ways you can rock this trend. For the next outfit, the Fashionista is wearing a white off-the-shoulder jumpsuit with gray stripes from H&M. This piece complements her tall build, and she tops off the outfit with a pair of black sandals. Accessories are optional because we don't want the outfit to look too messy. This simple yet trendy jumpsuit is perfect for a spring and summer look!
Thinking of ways to dress for the summer? Luckily, off-the-shoulder is the current trend; so why not give it a try? Whether you are at a formal party or having a casual stroll in the park, there are different ways you can style it. You can find outfit ideas in almost every store in town, so shop and style away!
How are you rocking off-the-shoulder this summer? Show us on social media and don't forget to tag @CFashionista!