Of all the possible styles to choose from in today's fashion world, street style is the one that most strongly resonates with me. Not only is it versatile, but it resembles a certain day to day aesthetic. So while traveling to New York for the summer, I couldn't have thought of a better place to showcase my latest street style wardrobe.
1—Denim is a girl's best friend. Denim has always been a popular trend. Whether it be those vintage mom jeans from the thrift store or a designer denim jacket, pretty much everyone is picking up on it, and for good reason! This relaxed "Sunday brunch" look pairs a long denim skirt with a poplin shirt, and I accessorized with some ball drop earrings.
Top: Forever 21 Open Shoulder Poplin Shirt ($23). Bottom: Vintage High-Rise Denim Skirt ($6). Earrings: Bebe Ball Drop Earrings ($22). Shoes: Vintage Wedges ($5).
2—Concrete jungle. For those days you're feeling a bit lazy but still wish to show your fashionable side, this look is simple yet versatile. You can customize anything in this outfit to your liking, and hit it with a few accessories to ice the cake.
Top: H&M Jersey Top with Lace ($20). Bottom: Vintage Harem Pants ($8). Earrings: Sophia and Kate Drop Earrings ($28). Shoes: Forever 21 Faux Leather Loafer Mules ($23).
3—Boho in Soho. Colors, prints, styles—mix and match to break the rules! This outfit's focal point is definitely the tribal necklace, which has been paired with a simple outfit, laced heels, and a wild hair style to finish it off.
Top: Vintage Tank ($5). Bottom: Topshop High-Waisted Jeans ($70). Necklace: Sophia and Kate Beaded Fringe Choker ($25). Shoes: Catherine Malandrino Lace-Up Heels ($120).
4—Posh Athleisure. Being sporty and sophisticated isn't possible…or is it? This outfit combines two polar opposite fashion trends into one. It's perfect for a long day in the city or a relaxing night out.
Top: Forever 21 Ctrl+Alt+Delete Mesh Top ($13). Bottom: Forever 21 Contemporary Palazzo Pants ($23). Earrings: Forever 21 Drop Earrings ($4). Necklace: Express Wide Choker ($15). Shoes: Express Heeled Sandals ($70).
5—Blue state of mind. This outfit is perfect for a hot day downtown or a picnic in Central Park. This top was tucked in with some high-waisted shorts for a playful and stylish look. Accessorize with a dainty choker, and you're good to go!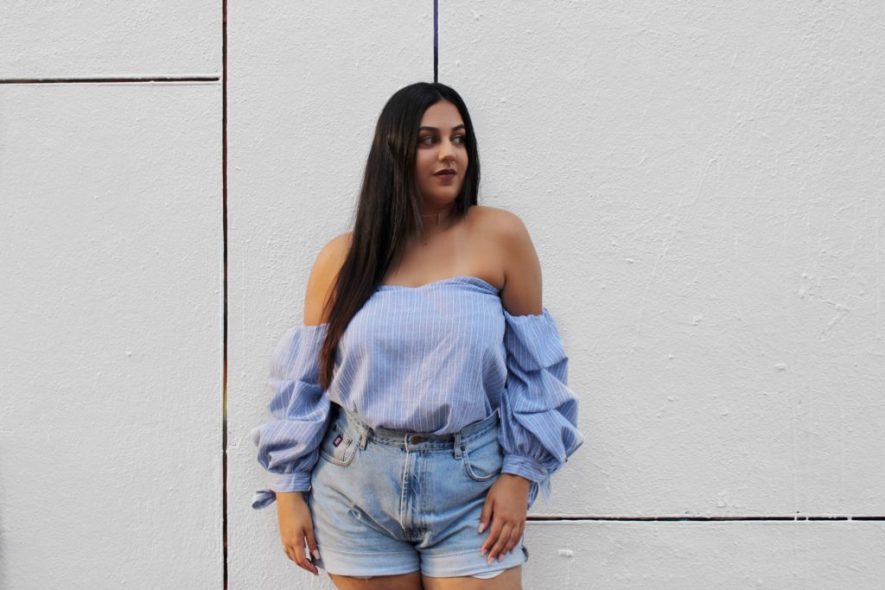 Top: Francesca's Off-the-Shoulder Striped Bustier Top ($38). Bottom: Vintage Levi's Denim Shorts ($6). Necklace: Francesca's Linked Bars Choker ($22). Shoes: H&M Sandals ($25).
6—Shades of gray. Monochromatic fashion is making its way into the world and hitting runways across the globe. Large flowy pants mix simplicity and class into almost any outfit. Mix your textures while matching your colors, and throw glasses on for an edgy touch.
Top: Topshop Ribbed Crop Top ($18). Bottom: Vintage Adidas Snap Track Pants ($4). Earrings: ASOS Oversized Hoops ($15). Shoes: ZigiSoho Strappy Sandals ($24).
It was so fun putting these street style outfits together. Let me know which outfit was your favorite, and if you recreate any of these looks, be sure to tag @Cfashionista on Instagram!