You've probably heard a variety of terms used to describe different fashion aesthetics which might include: cottagecore, Y2K, grunge, fairycore, streetwear, and soft girl. What's my fashion aesthetic? Some days I dress like a fairy who just came from her morning stroll in the strawberry garden, and other days you might catch me wearing clothes I most definitely owned in the second grade and now own again. I really could not tell you how I would categorize my style… is there an aesthetic for that? I decided to put some popular aesthetics to the test and experimented with a unique style each day of the week.
I set a couple of guidelines for myself for this OOTW challenge. I wanted to utilize pieces of my wardrobe that I don't style often, and I chose to pick the fashion aesthetic at random each morning, so I wouldn't know how I was dressing until the day of. I also set myself a timer for 5 minutes when picking outfits, so I didn't get caught up in the construction of the looks. I don't usually plan my outfits before I wear them, as I'm more of a "wear whatever fits the vibe I'm feeling," kind of girl. I wanted to stick as closely to this as possible.
Feeling stuck in your style inspiration? I recommend testing out these six aesthetics, you might just surprise yourself!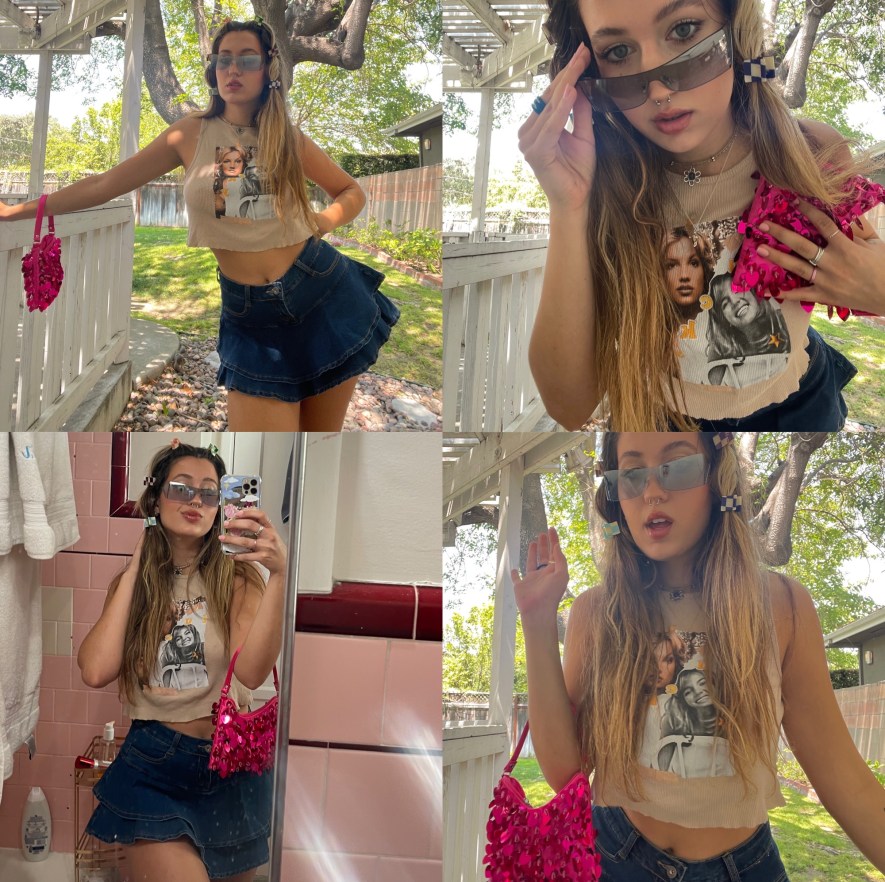 Y2K
Starting off the week strong with our first fashion aesthetic: you know it, you love it, and you've probably lived through it now not once but twice… Y2K!
Y2What? If this is the question you're asking, let me break this style down for you. Y2K translates to the year 2000 and consists of the trends we might remember from the late '90s and early 2000s. This aesthetic is all about making a statement with bright colors and fun fashion. If you're thinking graphics, sparkles, mini skirts, and tracksuits, you've got Y2K down to a tee. A baby tee. Get it?
Creating this Y2K look was fun for me, as I was dressing for the drama of it all. I love this layered denim skirt and had I not been dressing Y2K, I would have typically styled it with a tee shirt or a flowy top for contrast! My favorite part about this Y2K look has to be the hair: bubble braids to frame my face with the coolest cube clips ever. I loved that each clip was a different color as it contributed to the spunky/carefree energy of this fashion aesthetic.
This aesthetic was the vibe for playing dress-up and taking self-timer photos in my backyard, however, when I stepped out of the house, I felt a bit uncomfortable. I would for sure rock this outfit to a Y2K themed occasion but taking on my errands in this outfit, I felt a bit extreme. This was a silly feeling, as I typically have no problem being "extra" but usually I choose when I want the extra- you know what I mean? I changed out of the skirt and into mom jeans and ditched the pink sparkly bag before my coffee date. While I didn't commit to the full look, I still drew inspiration from the Y2K aesthetic for a super cute OOTD.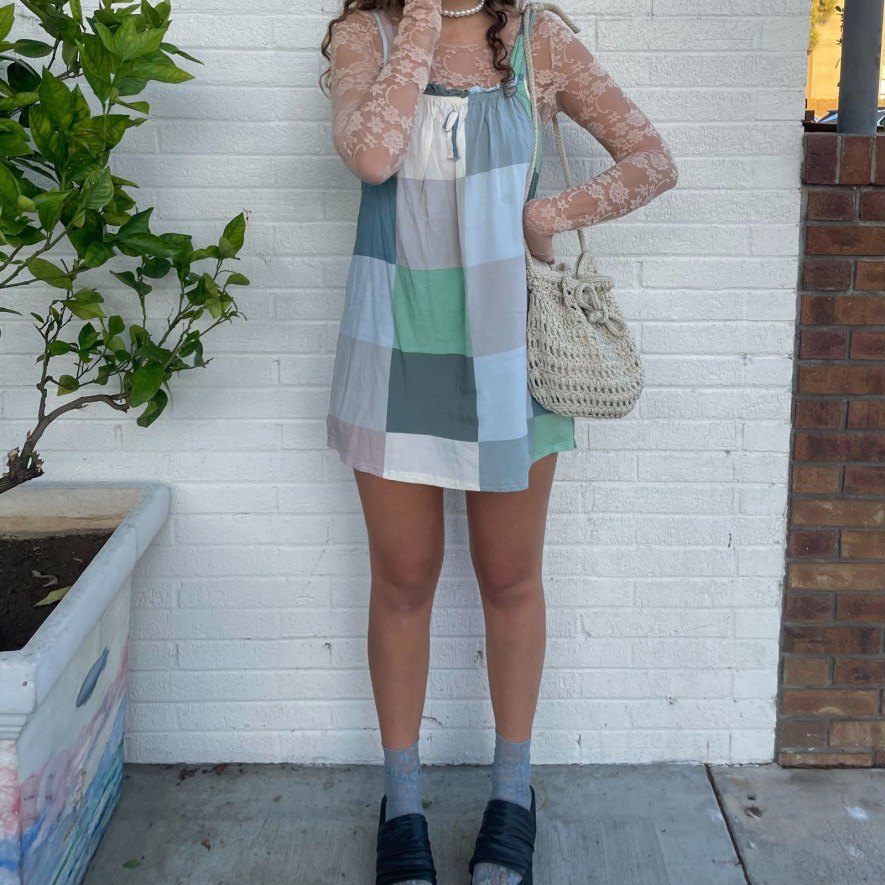 Soft Girl
I was excited to dress for my soft girl era as this fashion aesthetic manifests itself in pastel colors and playful accessories. I recently thrifted this pastel colorblock dress I've been wanting to style so this was a perfect excuse to get that going! Common articles of clothing prevalent in this fashion aesthetic are cropped cardigans and pleated skirts but I wanted to style soft girl with my own twist.
I layered the colorblock dress over a pastel pink lace bodysuit and accessorized with baby blue lace socks, a pearl necklace, and matching pearl barrettes. Soft girl but make it fancy. I really liked this outfit and dressing for this aesthetic. To be honest, I had a lot of pieces I would have been able to style to match this soft girl aesthetic, but when styling them I typically love to mix and match softer, pastel pieces with a bit of edge. Think pink lace camisole and denim mom shorts or a pleated skirt with a graphic tee. All in all, I think this outfit would be perfect for brunch with the girlies or an afternoon spent at an art museum, two of my favorite activities. I would definitely wear this again.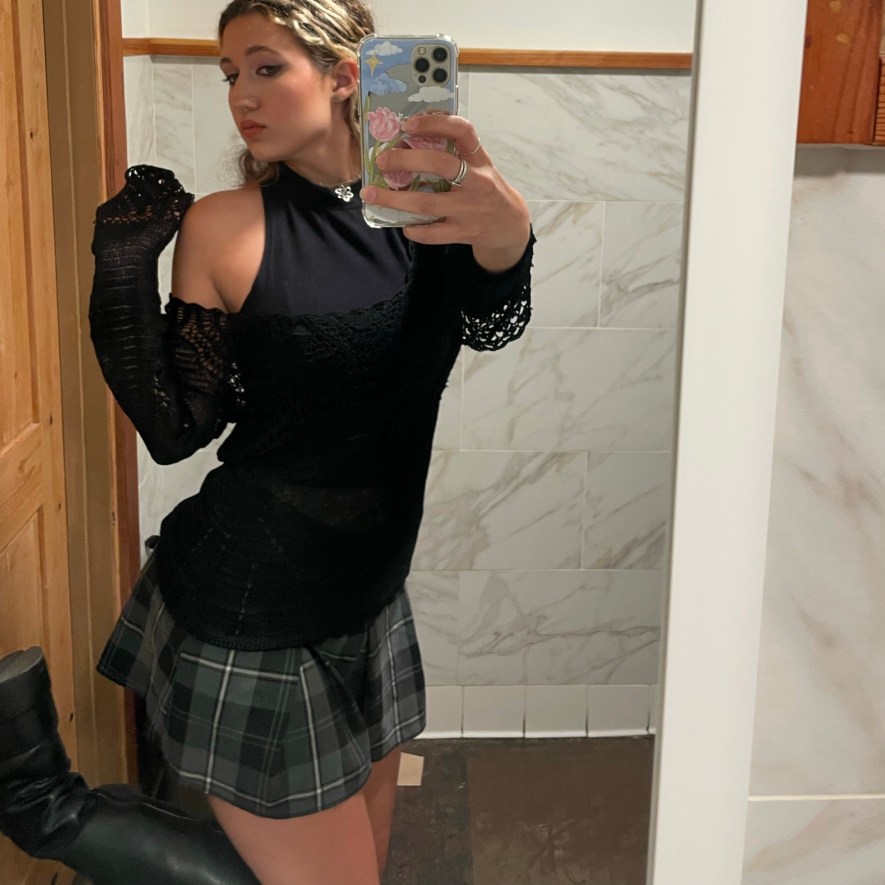 Grunge
Now introducing the fashion aesthetic probably least familiar to me and my personal style: grunge. Don't get me wrong, I love a good smokey eye and dark blotted lip, but when it comes to outfits I tend to be a lover of lace, color, and variety. After checking Pinterest for inspo and seeing a lot of almost monochromatic outfits, I knew I wanted to wear my platform black thigh-high boots and grabbed my newly thrifted black and gray plaid skirt from my closet.
I paired the boots and skirt with one of my favorite black crochet long sleeves I have only worn over white tops or colored bralettes. I utilized a black mock neck tank under the crochet top and added a choker-style pendant necklace and a black pearl bow in my half-up half-down hair to complete the look. This is far from my typical style and I doubt I would have ever picked this outfit if not testing different aesthetics, but this was a fun one. I'm a fan of how the playful mini skirt contributed to the overall look. Would I wear this outfit again? Probably not, but I can see myself playing around with a softer version of this aesthetic: striped sweater, pastel tights for a pop of color, and loafers.
Cottagecore
When styling a cottagecore-inspired outfit for this week, I knew what dress I wanted to style but decided to check out Pinterest for inspiration. The photos I saw under cottagecore fashion were more farm-inspired than I had expected, so I wanted to do some research on this aesthetic. Cottagecore fashion is, defined by the internet, inspired by romanticized rural and farm lifestyles interpretations: think countryside scenery featuring loose-fitting, flowy dresses, puffed sleeves, knitted cardigans, Peter Pan collars, and loose linen pants.
I stuck with the dress I had originally wanted to wear for this day, especially after seeing all of the loose dresses tagged under this aesthetic. I paired this lovely long, yellow collared dress with a brown knit cardigan, ruffle socks (naturally), and the most comfortable oxford style sketchers in existence. What's funny is I've been told I give off cottagecore vibes, but after fully dressing for this aesthetic, I don't agree that is my style. Love me a good ruffle sock forever and always, but I can't picture myself waking up and dressing in this whole getup to take on the town.
Fairycore
I have a couple of dresses that scream fairycore, but I wanted to utilize elements of my wardrobe that I don't style as often. That was one of the reasons I wanted to test out these different fashion aesthetics so I could challenge myself to bring out pieces that haven't been out in the sunshine in a while.
Faith, trust, and pixie dust. I read somewhere that fairycore is like cottagecore's cousin. Rather than incorporating more practical farm-style pieces, fairycore integrates earthy magic. Staple pieces to rock the magical fairycore aesthetic would include lacey tank tops and corsets to wear on their own or layered over sheer long sleeves with mini skirts, tights, knee-high socks, and fingerless gloves. This fashion aesthetic takes advantage of heavy layering and both bright earthy colors as well as pastels.
I decided to style my cottagecore look as earth-toned as possible, sticking with browns, greens, tans and picking silver accessories. I started with this brown and olive sheer long sleeve as it definitely fit the color scheme I wanted to work towards and pulled on my brown patterned tights. I originally had on an olive mini skirt but switched it out for this shiny maxi because I love the material and would definitely keep this in my wardrobe if I were a fairy. What I'm saying is this skirt is precious and I had to style it today, okay? I looked at, you guessed it, Pinterest for inspiration and saw a lot of corsets and had this brown corset I actually wore last Halloween when I dressed up as a fairy. Love. I added a crochet vest and crochet bag for some lighter beiges and clipped in these butterfly hair clips that literally flutter in the breeze. They are so dreamy and I definitely don't wear them enough; I mean c'mon, they flutter! I wore my brown loafers and felt like a pretty fairy. Fairycore, you're cute.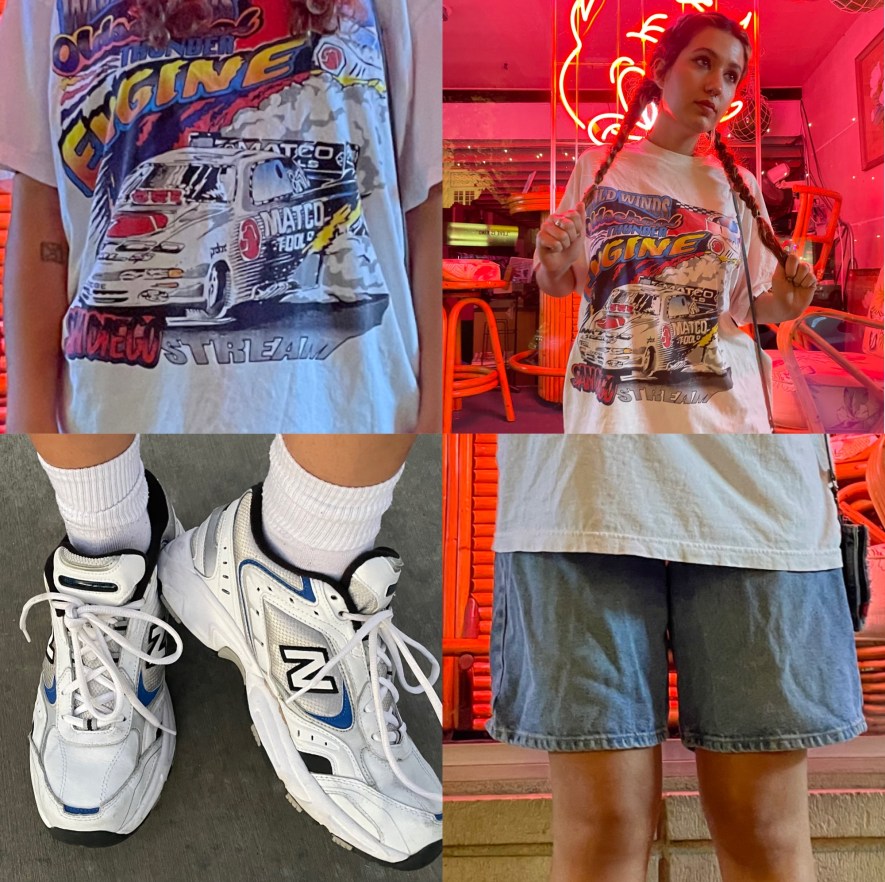 Streetwear
This is the last day of the OOTW challenge and I am ready to take it on. Streetwear is a casual fashion style that incorporates comfortable but trendy clothing such as graphic tees, baggy pants, hoodies, baseball caps, and sneakers. "Streetwear Saturday" felt more than appropriate and I reached for a pair of baggy pants I've had for a while yet haven't worn. What can I say, I'm a skirt girlie.
I paired these jeans with an oversized graphic tee and my thrifted blue and white New Balances. I accessorized with sunglasses that look like they belong in The Matrix, a baseball cap given to me by my mom, and my mini denim bag (hint, hint: Dreamy Denim DIY'S). I enjoyed the practicality of this outfit and the comfortability of it didn't hurt. However, after feeling the heat from the summer sun, I quickly decided that standard jeans were not ideal. I changed into the longest jorts I own and can confirm after this switch, that Streetwear Saturday was a win. I had this guy tell me that my said jorts were "epic" and I am certain I will remember this compliment every time I take the jorts out to play: epic. I'm quite familiar with tiny top/baggy bottoms and baggy top/tiny bottoms when it comes to dressing, but oversized tee on oversized shorts? This has to be the first of this combination for me, and I'm here for it. Have I found my new fashion aesthetic?
Well, there you have it, fashionistas: a week of outfits inspired by different fashion aesthetics! It's been a journey, and it's been a good time, but I am ready to get back to my routinely styled outfits. And by routinely styled outfits, I mean dressing however I want in whatever aesthetic I please for any day of the week.
I hope you enjoyed a week of outfits inspired by different fashion aesthetics. If you take inspiration from any of the aesthetics covered in this article or want to show us your style, make sure to tag @cfashionista in your next outfit pic!