It seems like just yesterday that I would rather be caught dead than to be seen in something from my mother's closet. After all, she took advantage of the gaucho trend for way too long. Who would have thought that just 10 years later, I'd be scavenging through her old boxes from 1993 to find the perfect pair of vintage Levi's? While I still don't necessarily want to look just like my mom, I can admit that her 30-something taste in denim was pretty much on par with mine in 2017.
So, how can I make that happen? How is it possible to wear mom jeans and not look exactly like your mom? We do have the same genes after all (no pun intended). The trick lies in the top. Just because you're wearing denim from the late '80s doesn't mean the rest of your outfit has to match that decade.
To make differentiating a little bit simpler, here are a few of this season's best and brightest tops to pair with the mom jeans you recently inherited.
the tube top
Boyce Top by Babaton in white, $50.00, Available at Aritzia
the bra top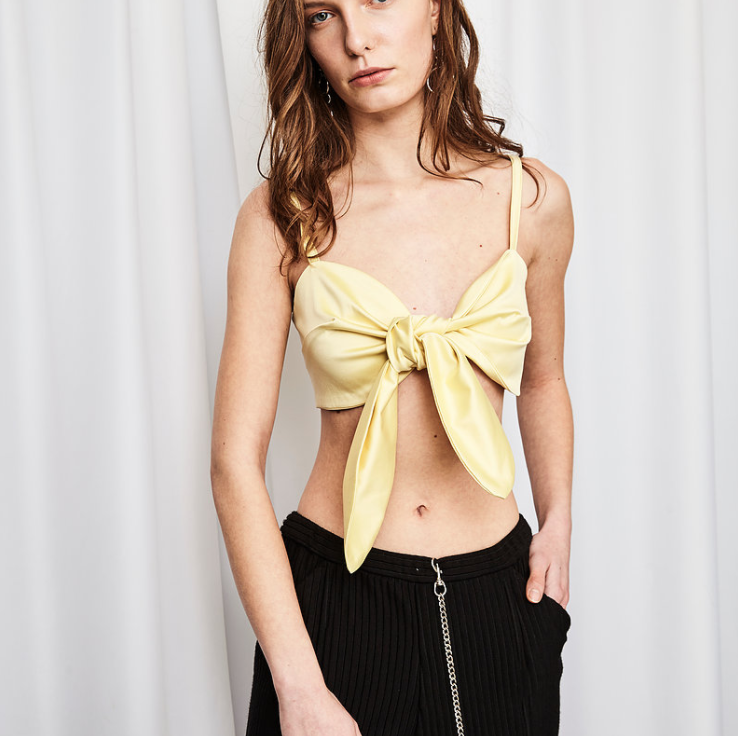 Cicile Crop in canary by House of Sunny, £30.00, Available at House of Sunny 
the button-up
Wide Open Neck Top with Puffy Sleeves in white/green by Zara, $49.90, Available at Zara
the white cotton top
Blanca Ruffle Blouse by Article&, $65.00, Available at Article&
the T-shirt top
L'Amour Sucks Tee by Rarely, $79.00, Available at Lisa Says Gah
When your mom's closet doesn't do the trick, head over to these quick-stop denim shops to pair with your new collection of mom jean-worthy tops. 
Dusters Jean in old blue by Rolla's, $105.00, Available at Article&
Mom Jean Poster Boy in white by BDG, $59.00, Available at Urban Outfitters
High Rise Relaxed Fit Jeans in blue by Zara, $69.90, Available at Zara
How are you wearing mom jeans like a "cool mom?" Show us on social by tagging @Cfashionista!