Cargo pants, the iconic late '90s staple are back, and they're better than ever! With our generation of busy bees, everyone is trying to find comfort within their style and that's where these pants shine. Cargo pants provide comfort and additional storage to carry all of your stuff while looking super cool. If you're still unsure about what cargos exactly are, here's a quick breakdown: any pant that is loose-fitted and has large pockets down each leg, around the thigh, knee, or both, qualifies as a pair of cargo pants. Originally these pants were worn by the military or those who did rough activities, so durable fabrics like cotton-synthetics were often used. Now that they are used for fashionable purposes as well, cargo pants are made in a variety of different fabrics, from denim to polyester and much more. And, they come in so many beautiful colors as well! These pants can be worn for any activity, from shopping, going out with the girls, school, skateboarding, or maybe a quick run down to grab your favorite coffee. Here are some outfit ideas from our community incorporating cargo pants that I fell in love with. I'm sure you'll adore them too.
01. Varsity Jacket Look
Varsity jackets ($68) are my current love, and they look even better with a pair of cargo pants! In case you didn't know, one of the most sophisticated color combos is purple with white, so this community member nailed it! The addition of the purple Marc Jacobs shoulder bag and YEEZY 500 Soft Vision sneakers were spot on. If you're looking to dupe this look for less, you can also check out this bag ($4) and pair of shoes ($100). You can find similar pants here ($26), too!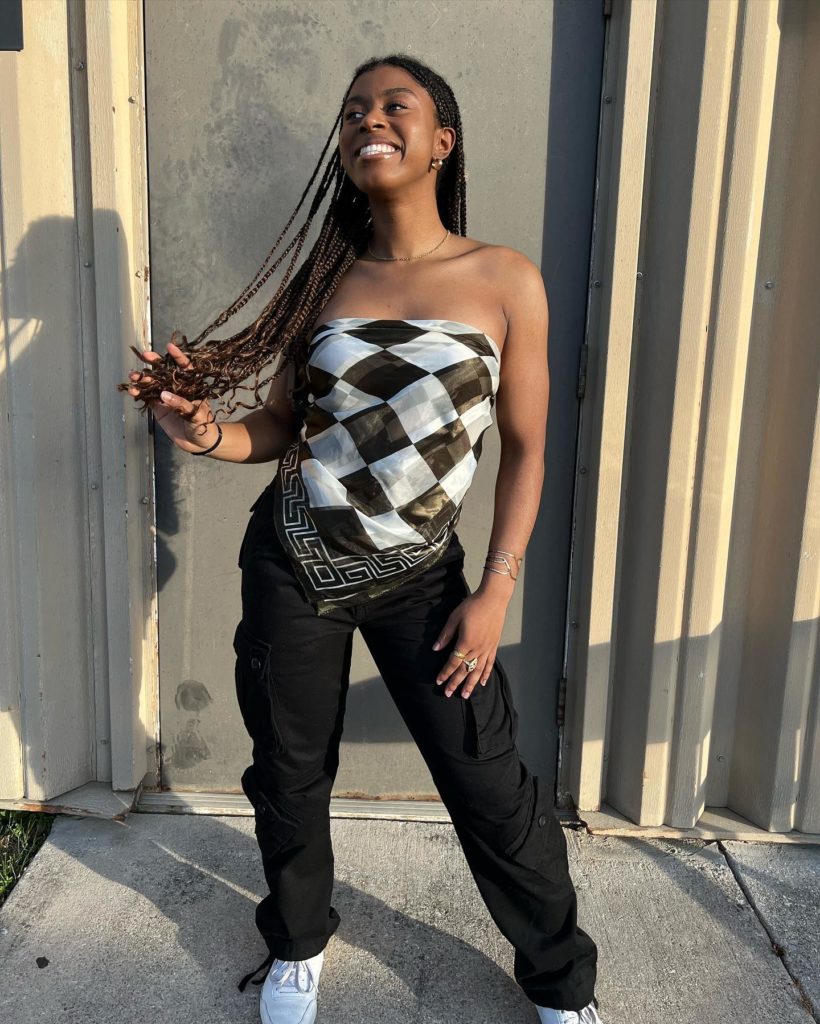 02. Scarf Top Combo
Scarf tops are pretty much everywhere, but did you expect them to look this good with cargo pants? The checkerboard pattern on this beautiful georgette scarf ($30) is alluring, and I love the fact that the white from the top matches the white from the sneakers ($80). And then comes in the star of the show, the black cargo pants ($63). If you ask me, I'd give this look a solid 10 out of 10. 
03. Brown Fit Check
2021 sure did bring brown to the spotlight — and the color isn't going anywhere! This outfit is composed of a sweater vest ($18), denim cargo pants ($69), and a Louis Vuitton mini Pochette bag, all in brown. I love the intricate details on this pair of pants, including the high waist and the white contrast stitching around the patch pockets. A cute card holder ($2) makes a great in-budget option for the bag!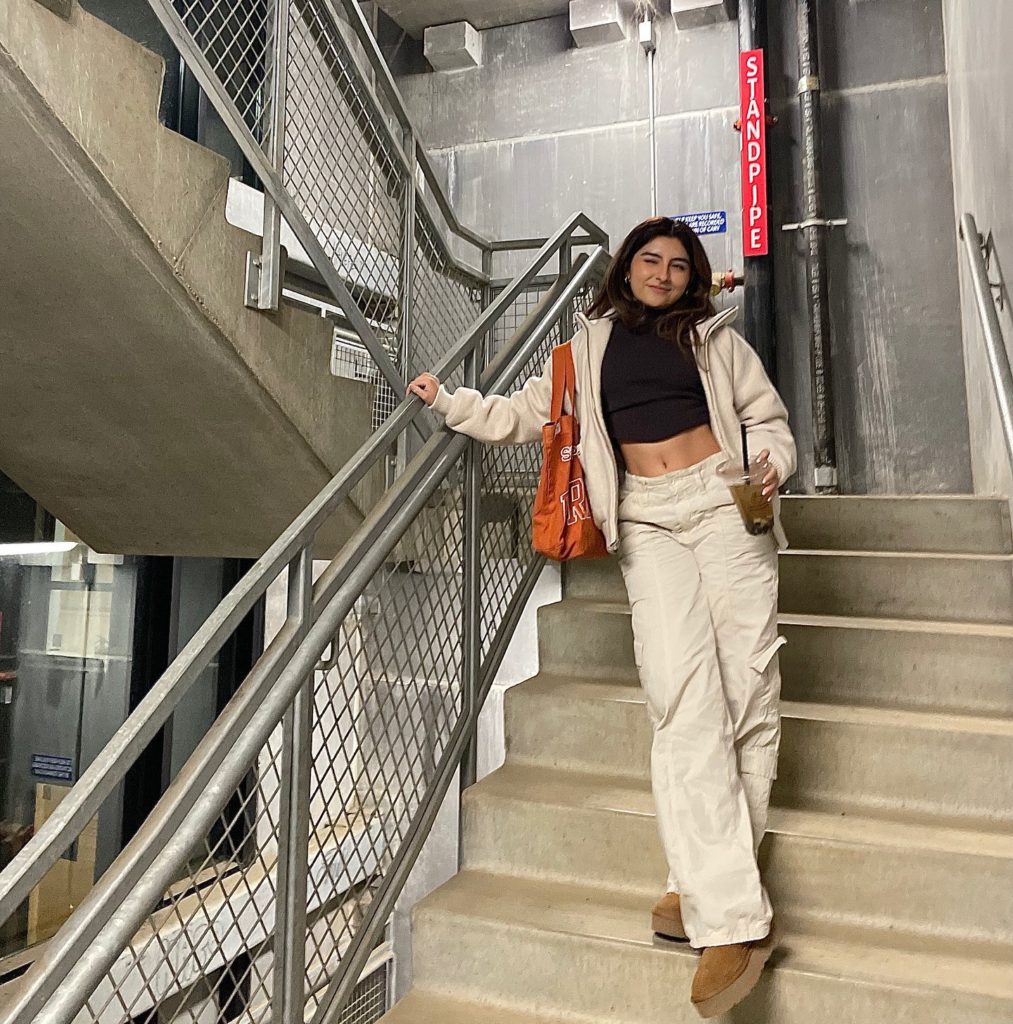 04. Coffee Run
It's mandatory to throw on your best fit for a coffee run. I think this look does just that. I love the color contrast created by the jacket ($98) and Urban Outfitters pants ($69) in cream and the black crop top. The orange tote adds a great pop of color to this look. Finally, did you notice that the coffee matched the color with the short boots ($170)! I'm all for rocking Uggs on coffee runs year round!
05. Slow Spring Day
This outfit is the perfect look for a breezy, chill day. I can't take my eyes off this community member's Britney Spears oversized T-shirt ($50) paired with our best friend — khaki cargo pants ($70). Nike Dunk sneakers, a shoulder bag ($30), and headband ($10) are the perfect accessories for the look.
06. Cargo Pants and Heels
Heels and cargo pants are an unexpected combination, but this community member proves it works! The white top ($40) tucked into the black pants ($128) look so chic. I applaud the choice of orange for the heels ($25), bag ($58), and sunglasses ($13). This look is definitely on my top 10 must-try this season.
07. All Neutral
Make your summer count, one outfit a day beauties. This neutral look is perfect to recreate for a WFH internship or a day out and about with friends. The skinny cargo pant ($82) goes really well with the cute brown top ($64). And for shoes, what's better than a pair of classic Nike Dunk sneakers ($196)?
08. Red and Black
There are a few color combos that look bomb together and are a must-have for your 2022 looks. In this photo, I love the contrast between red and black — solid colors are so chic! The turtleneck ($30) and the cargo pants ($59) are both black, and the red puffer jacket ($250) adds dimension to this fit. The Nike Air Max 98 Solar Red sneakers ($146) have red and black in them too, while the white and gray portions balance the color tone. Lastly, the pair of black round sunglasses ($6) gave this look a polished effect. 
Featured photo contains an image from @nicole_jordy. Design by Her Campus Media.