Hot take: bra tops are real tops. It's odd, right? Bra tops sound seductive and daring in theory but these tiny garments are quickly becoming a wardrobe staple.
Styling a shorter, smaller top can seem intimidating but it is much easier than you'd think. Simply layer your bra top with an oversized graphic tee, a white button-down, or a matching cardigan set. Better yet, for a more cohesive and balanced outfit, style the bra top trend with other popular trends like baggy trousers and oversized denim. From day to night, there are endless ways to wear bra tops. Don't let the fear of the bra top trend keep you from dressing for your best self. Rather, these ultra-cropped tops are the exact thing you need to spice up your style!
Ready to dive into this tiny trend but don't know where to start? Here's exactly how to style bra tops so you can look fashionable without feeling like you left the house undressed. I promise, it's easier than it sounds.
01. Pair with a Sweater Set
Transition into your post-pandemic life by swapping your cozy collegiate sweatshirt for a chic knitwear set. As we prepare for the arrival of spring, pairing your knit bra top with a matching cardigan makes for the perfect transition weather look.
Get the Look:
02. Opt for a Crisscross Neckline
Crisscross necklines are about to be everywhere this spring so why not knock out two trends in one top? A crisscross-style halter detail adds just enough flare to the bra top trend — especially when paired with matching shorts.
Get the Look: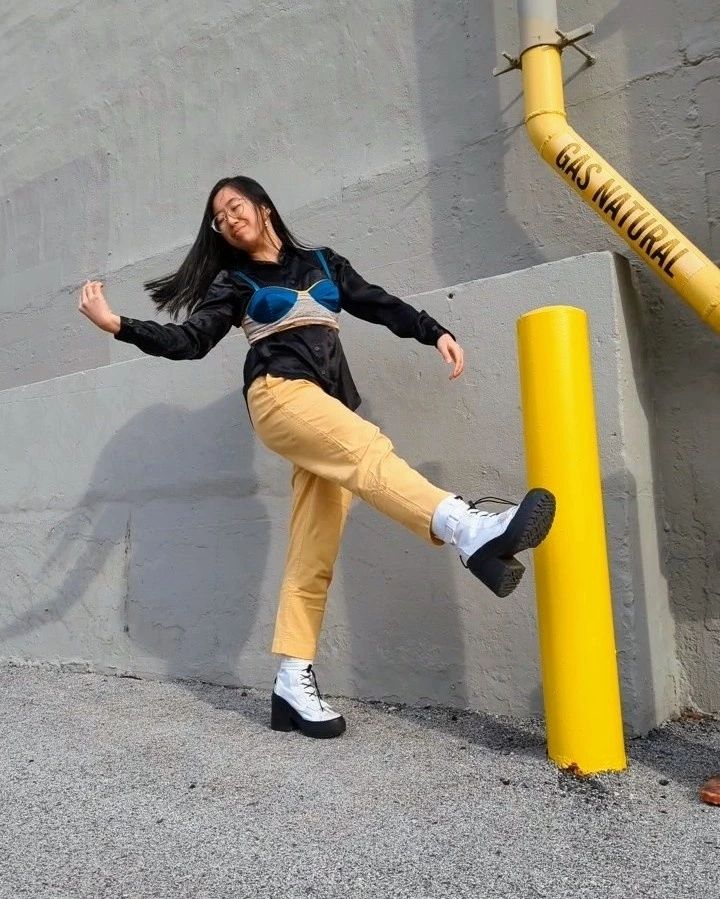 03. Layer it on Top
The bra top trend is daring and if a tiny top isn't your jam, that's totally okay! For a fresh approach, consider layering your bra top over a sweater, button-down, or even a blazer.   
Get the Look:
04. Style it with Your Favorite Blazer
I guarantee you already own everything you need to recreate this look. Layer your trusty, go-to blazer over a bra top for a look that's equal parts sophistication and sass.
Get the Look:
05. Channel Y2K With a Bandeau
Get ready for the return of the iconic 2000's top, the bandeau! But this time, it's much sassier with a satin finish! Complete the look with a midi skirt and for those chillier days layer it with a neutral button-down. 
Get the Look:
06. Color-Coordinate Your Look
It's all about consistency in 2022 — not only in your life but in your outfits. Create a monochromatic outfit with the bra top and coordinating slacks.
Get the Look:
07. Lean Into Athleisure
Neutrals are sticking around this spring and are running in the direction of bra tops. Embody the varsity look with a neutral-toned bra top and rep your favorite sports team with a baseball cap. This outfit will feel just as comfortable as your favorite sports bra.
Get the Look:
08. Try a Printed Version
Make yourself known by being loud with patterns. Bra tops make a statement in general but one with a bold pattern is the cherry on top. Style it alone or try layering with a graphic tee, button-down shirt, or a leather jacket.
Get the Look:
09. Tie it Up
Combine two trends in one with a tie-string bra top, perfect for the warmer months. Matching bottoms and edgy accessories make for an instantly cool outfit. This is one look you will want to get tied up in!
Get the Look:
10. Make a Bustier Day-Time Attire
This take on the bra top trend is sexier than ever before. Embody the spirit and couple it with an exciting pair of printed pants.
Get the Look:
Step outside of the box and test the waters of the bra top trend. You never know, these 10 outfits may just convince you to make bra tops a wardrobe staple.
Featured photo by @amiahkailee.