After two seasons, fans around the world were begging for more of Emily in Paris on Netflix, and now the third season has officially launched!. In Season 3, Emily's fashion combines high end clothing, with vintage and thrifted pieces to take her maximalist fashion to the next level.
"I would see Lily come to set … it takes your breath away for a second," star Lucien Laviscount, who plays Alfie, told Page Six. "Everything is bigger, better and bolder [this season]." And, since we are all lusting over Emily's wardrobe full of designer and more, here is how to recreate the cutest 'fits from Season 3.
Season 3 Episode 1 – Of course, the season kicks off with a bold fit, what else should we expect of maximalist Emily Cooper? This look features a rainbow sweater from Elizabeth Rose and a bold metallic skirt with zipper detailing. Recreate the look by styling this Amazon sweater and a teal metallic skirt.
Season 3 Episode 1 – This bold look is amaze. Recreate it by styling a polka dot two piece set, like this one, with a pink feather coat and a pair of blue platforms heels. Top if off with a headband, for some Blair Waldorf vibes a la Emily.
Season 3 Episode 3 – We love straight leg trousers and so does Emily. Recreate this look with a pair of Abercrombie black high waisted trousers and a red sweater with polka dots. Complete the look with a pair of maroon platform Mary Janes and a fun belt.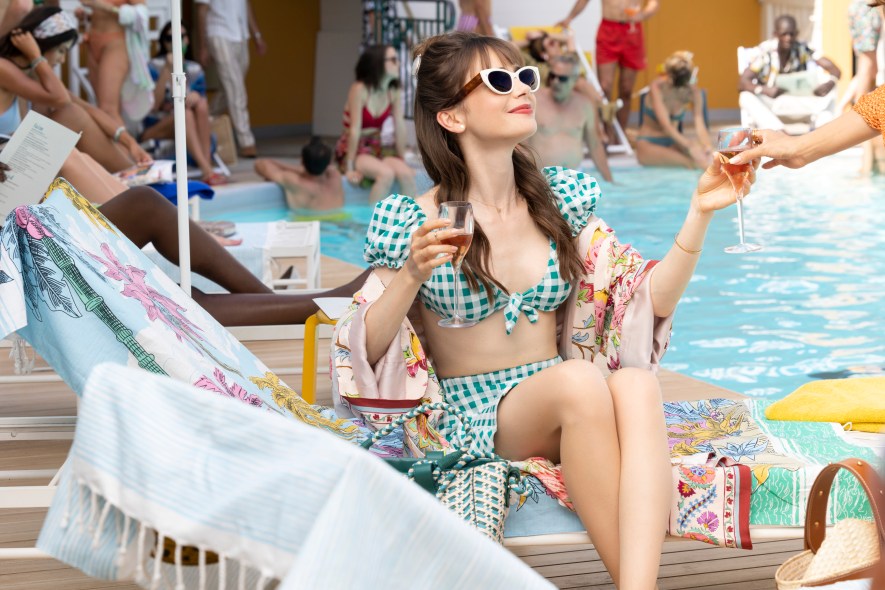 Season 3 Episode 5 – Ooh la la, a vintage look. Recreate Emily's mod 60's look with a gingham bikini with a cute puff sleeve and a pair of white cat eye sunglasses. Style this look with a satin kimono to add the same maximalist flair as Emily.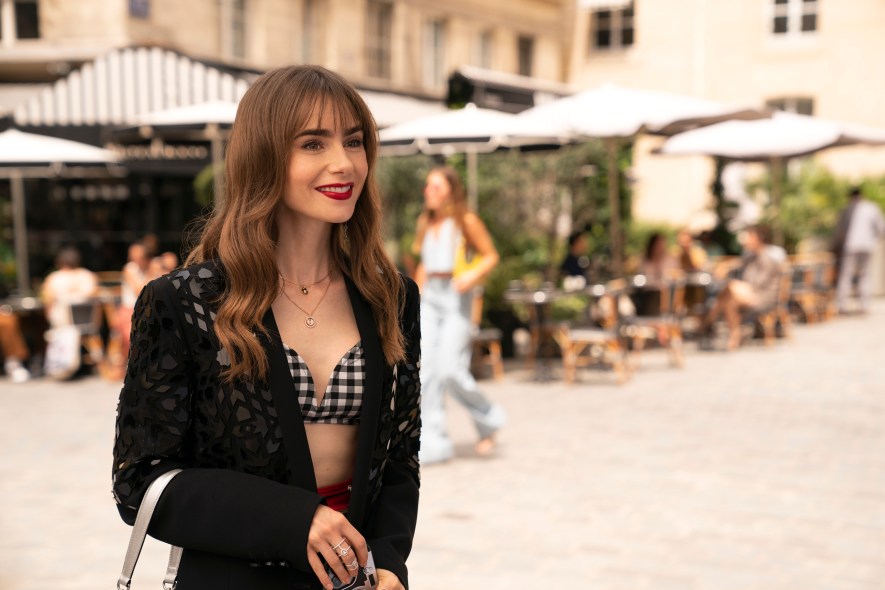 Season 3 Episode 5 – Emily wears a bold embellished blazer with an itty bitty gingham top and a red bottom. Recreate the look by styling this Zara sequin blazer with a Forever 21 gingham crop top and a red bottom. Add a white bag to complete the look. For a similar vibe, but slightly more subtle, opt for this pearl embellished Boohoo blazer.
Season 3 Episode 5 – Bring on the bomber jackets, this look adds a ton of sparkle to your winter wardrobe. This outfit is perfect for winter because of the cozy bomber jacket layer over a black top. Style this fun jacket with a pair of iridescent or sequin pants, we are loving these from Lulu's.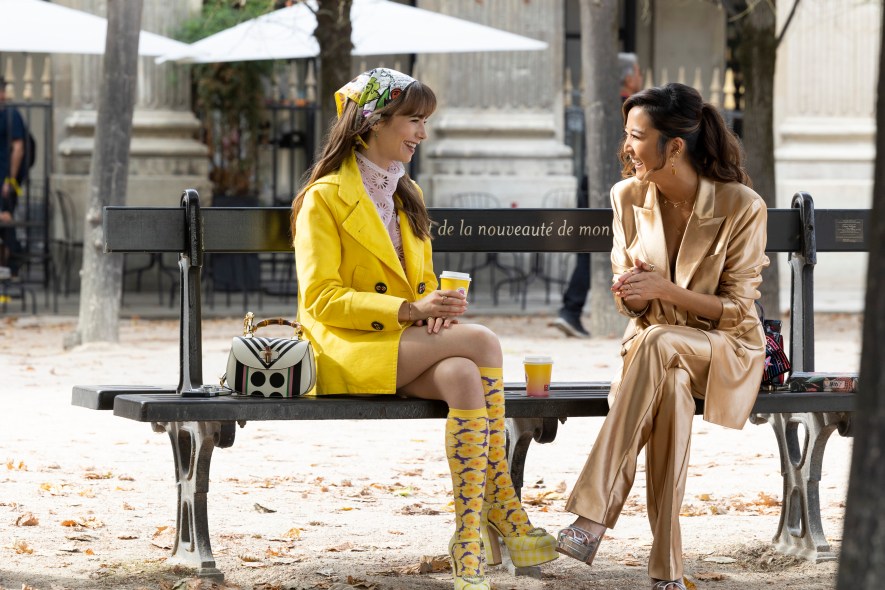 Season 3 Episode 9 – This bright yellow look is sure to bring joy to gray winter days, Emily stuns in these amazing yellow gingham platform Mary Janes with a rhinestone heart detailing from Malone Souliers. Style a yellow peacoat with an eyelet lace top. This look requires fun knee high socks and a pair of yellow Mary Janes, of course. Add a vintage silk scarf as a hair accessory to pull the whole look together.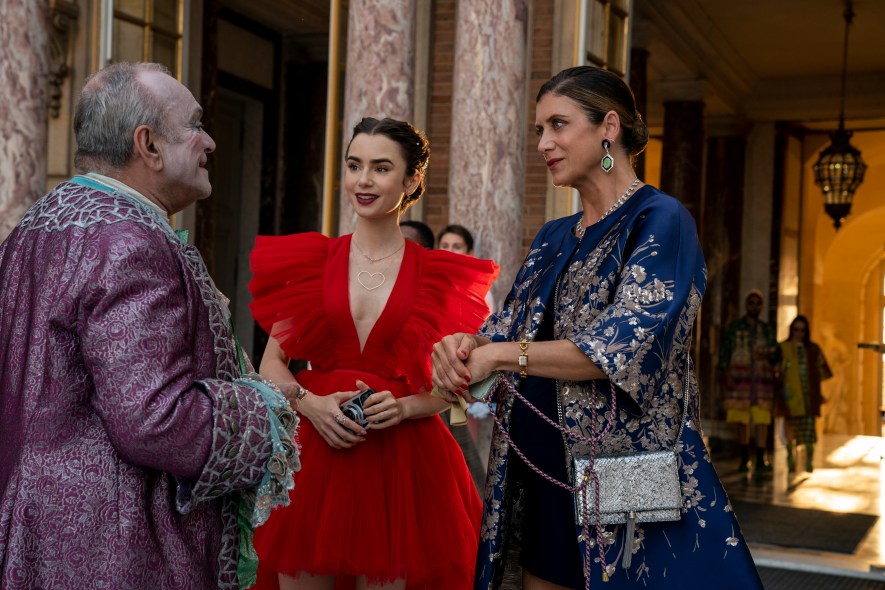 This look is from season 2 but it's too iconic not to recreate. Here Emily is wearing a red tulle dress from them H&M and Giambattista Valli's 2019 collection (yes Kendall Jenner wore this on the runway) and her rose gold heart necklace from French jewelry brand Vanrycke, find her necklace here. You can find a dupe of her necklace on Etsy. The dress is hard to find online, since it was so popular, try to thrift it on Depop or Poshmark or check out this more subtle dupe by VICI. Plus find her iconic camera phone case on Amazon.
Featured image via Netflix. Design by Her Campus Media/Nechama Lock of Unsplash.