Jordana Schrager is essentially a fashion super hero. By day, she is a University of Michigan undergrad, tackling classes and navigating her senior year. By night (and early morning), Schrager is the über-talented sneaker designer behind Sneakers by Jordana, creating custom kicks for everyone from clients oversees to Miley Cyrus.
Running an expanding business has its own demands. Add on the additional stresses of a full college class load and we can't help but be impressed by Schrager. (Plus, her sneakers are INSANE and totally custom.)
We caught up with this girl-preneur and discussed the challenges and excitement that comes with juggling her double life.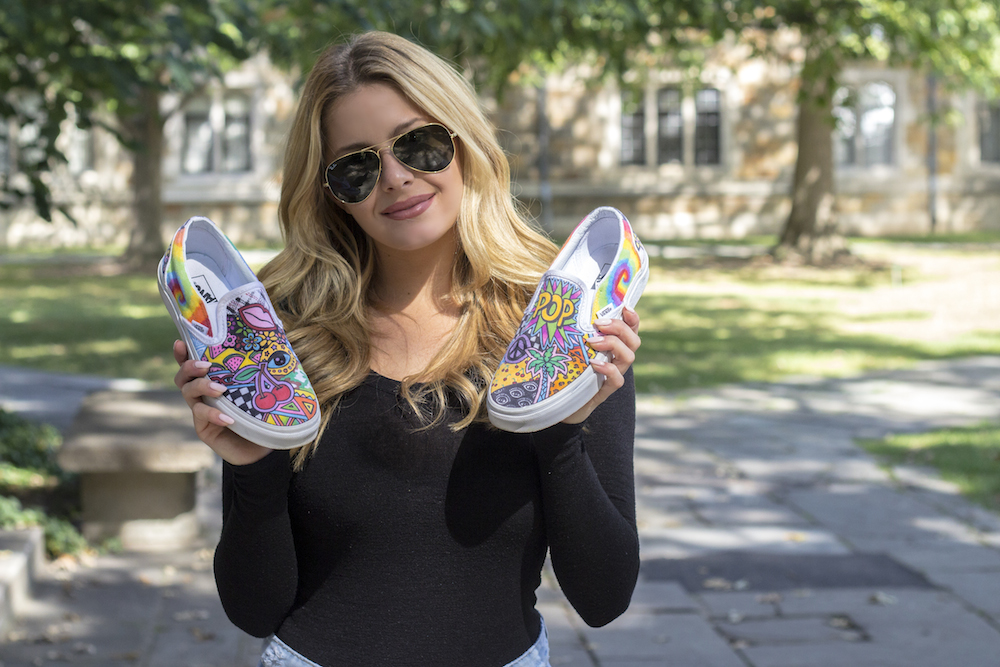 CollegeFashionista: Tell us a little bit about how Sneakers by Jordana came to be?
Jordana Schrager: I started customizing Vans in high school! One night, I was grounded for staying out past my curfew and was stuck in my room with nothing to do. I saw a pair of old white Vans sneakers on the floor next to me and decided to doodle on them. After a few hours of doodling and designing, the sneakers were no longer white, but were pieces of art! From then on, I continued to customize sneakers. What started out as a hobby customizing Vans for my friends and family grew into my very own business!
CF: When did you realize you could turn your hobby into a business?
JS: At first, I sold my custom sneakers to people locally. Once I started posting pictures on social media, I started receiving more orders from customers around the country. That's when I realized I had a business! Today, I ship out my Sneakers by Jordana to customers all over the world.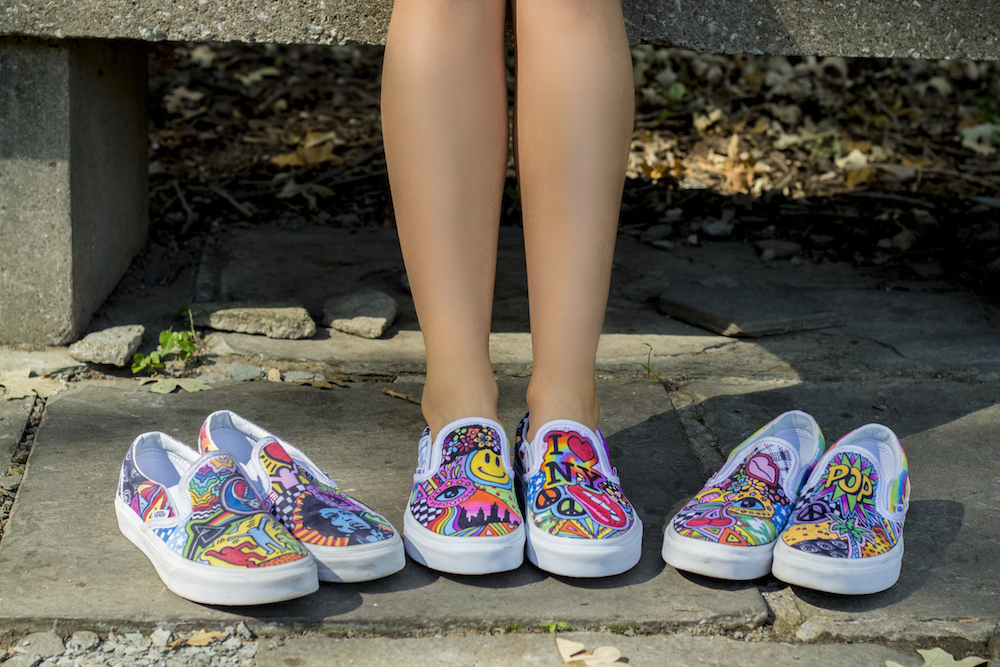 CF: Where do you get inspiration for your sneaker designs?
JS: I get inspired by my customers! It is so fun working with my customers to learn about their passions and interests. By connecting with each customer directly, I am able to create the perfect pair of sneakers!
CF: All of your sneakers are custom but also have a "Jordana" flair to them. What guides you in designing for a specific person? How do you incorporate your own style in those designs?
JS: Although all of my sneakers are custom, I always have the same Sneakers by Jordana style! I first learn about my customers to understand who they are and what they want to put on their Sneakers by Jordana. Once I start the sneakers, however, my style comes into play! I always use bright, vivid colors and funky, hip patterns to make the designs my own.
CF: What's your favorite sneaker design so far? What's the story behind it?
JS: One of my favorite projects was working with Taco Bell, who hired me to create two custom Taco Bell themed sneakers! It was very cool working with a corporate company and being able share my designs with their team and their customers. I also love creating custom sneakers for some of my celebrity clients! I've made sneakers for Selena Gomez, Ariana Grande, P!NK and Miley Cyrus! Miley actually just wore her custom Happy Hippie sneakers backstage at the VMAs!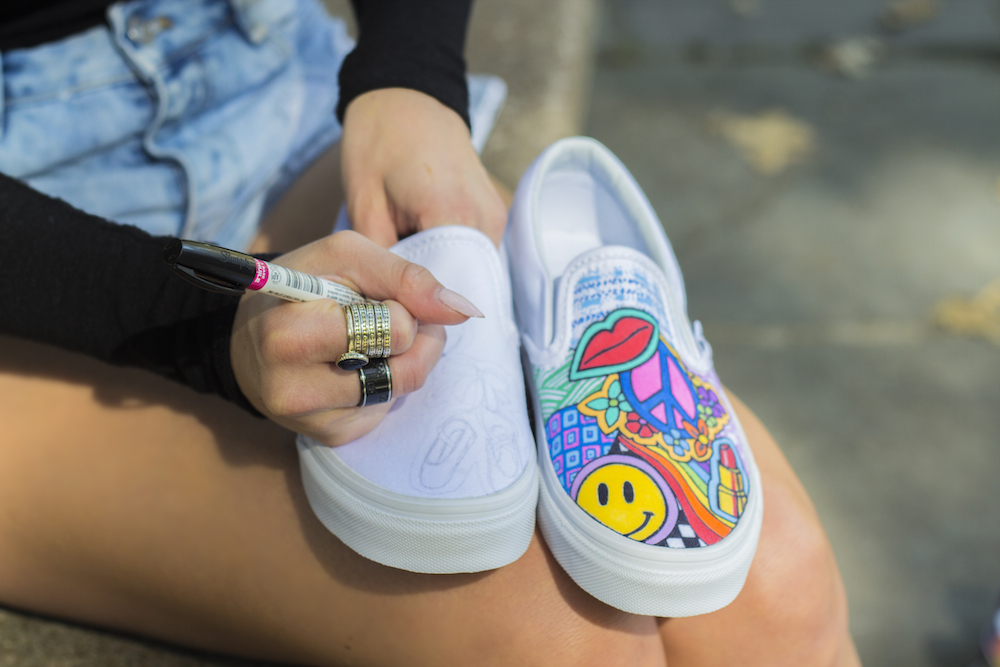 CF: You are a college student and an entrepreneur! What does your typical day look like?
JS: On a typical school today, I wake up early around 7:00 AM! This way I can answer all of my emails and go to the gym before class starts! In between my classes, I work on my custom sneakers, and when class is over, I continue to work on them all night! While working, I listen to music, hang out with my friends and watch TV! I really enjoying creating designs on sneakers. It's relaxing and enjoyable!
CF: What's your most favorite part about your job?
JS: Whether it's on a pair of sneakers or digitally on Illustrator, I love coming up with fun and unique designs! I also love posting my new designs on social media to get peoples' reactions and feedback!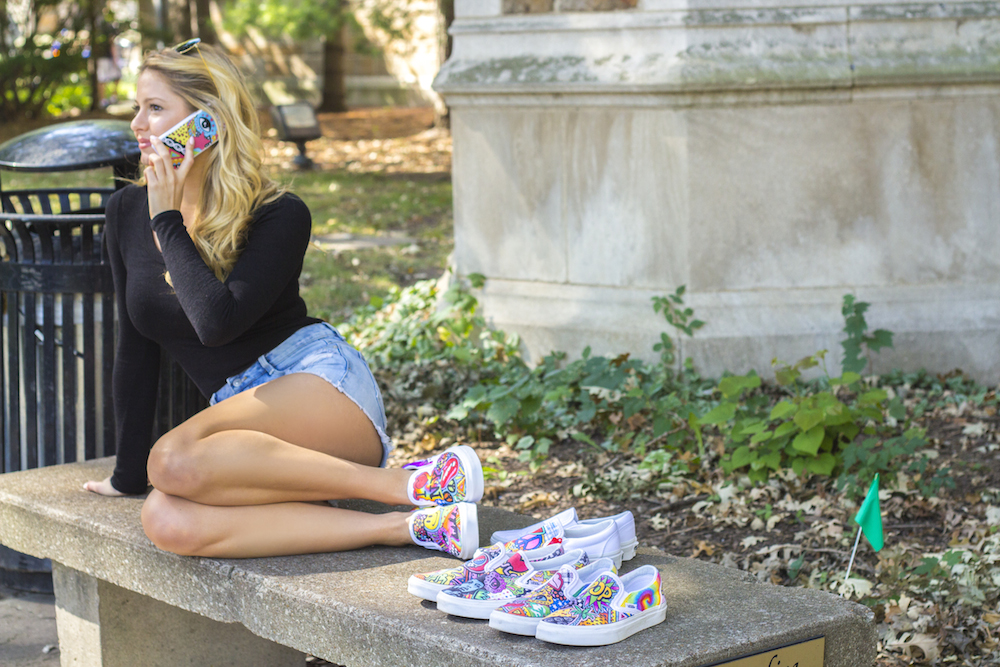 CF: How do you juggle school and running a business?
JS: It is definitely hard at times, but I learned to be very organized! I make way too many "to-do" lists, write everything down in my planner and wake up early so I can get everything done in a timely manner!
CF: What challenges/struggles have you encountered since starting Sneakers by Jordana? How did you deal with them?
JS: I have had some challenges balancing both school work and Sneakers by Jordana work. I dealt with these challenges by applying what I learn in school to growing Sneakers by Jordana, in both design and business. I am an art and design major and a business minor so I have definitely learned a lot throughout my semesters at the University of Michigan.
CF: Any tips for other students who want to start/are starting a business?
JS: Work hard and believe in yourself!!!
Photos by Nadia Karizat