Can you believe that summer is almost over? I know I can't; I feel like summer has just begun. Here we are in August and fall is approaching us again; the cool breeze and the falling of the leaves will be here before we know it. For now, though, I'm going to continue wearing my summer uniform: mini skirts and tons of accessories.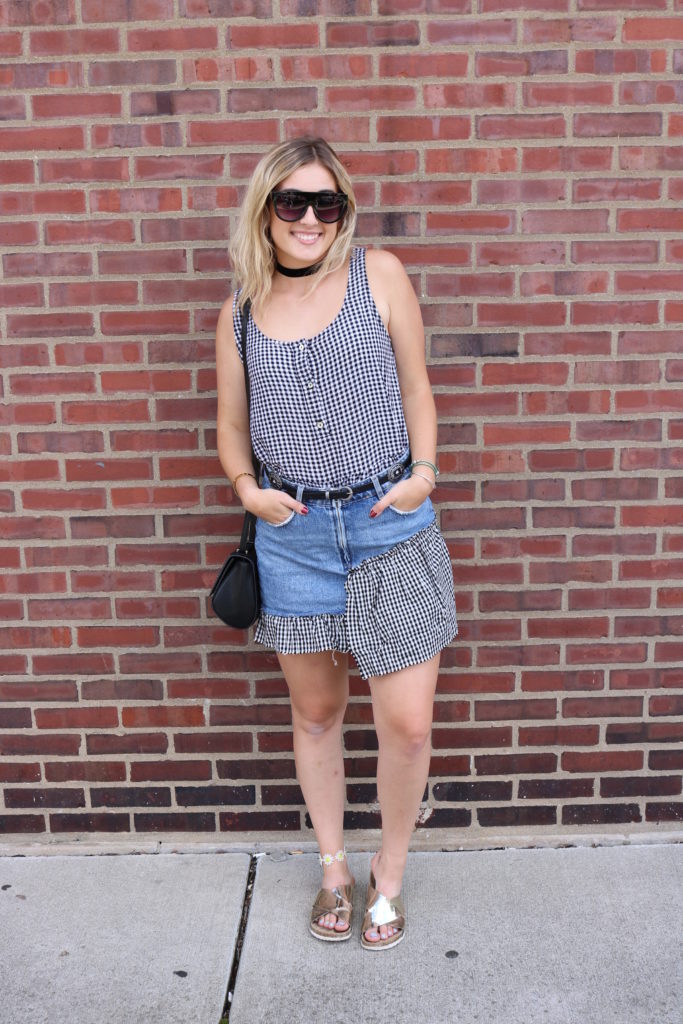 This summer I have literally lived in denim skirts every day. They're so easy and effortless, yet look absolutely adorable. Today I paired this funky gingham and denim skirt from Zara with a half button gingham blouse that I found at T.J.Maxx. Can you believe these items are separate and were found at completely different stores? They match perfectly and make the cutest outfit! I spiced up the look with a few simple accessories, including this Steve Madden western style belt, a sleek, velvet choker and of course, my staple, everyday bangles and rings.
A summer essential that I can never leave the house without are my Mirina Girl sunglasses; this pair specifically is my go-to glasses this season. Another essential this summer has been my crossbody black, studded purse. It's the perfect size to carry all my goodies with me, yet small enough to comfortably carry all day while exploring the city and, of course, shopping. For shoes, I have been going back and forth between slides and tennis shoes, both so cute and so comfy! Today I chose my shiny gold slides that add such a bold statement to any outfit.
The denim skirt has been my favorite summer trend, show me how you're styling yours by tagging @Cfashionista on social media!