'Tis the season for #BamaRush toks, Pants Store OOTDs, and anxious bid day anticipation. Sorority recruitment is in full swing at many colleges across the nation. Whether you're currently going through the exciting process, preparing for rush at your own school, or just following along for the fun of it, CF gathered the best sorority rush advice.
While, Greek Life recruitment is a time that many students dream about, it can also be a daunting feat, especially if you don't know what to expect. Leighton Newberry, sorority rush expert and founder of Recruitment Ready, an online resource for recruitment preparation, shared her secrets to a positive rush experience. From what to wear for sorority recruitment, to how to navigate the rush scene on social media, Newberry has you covered.
Kyra Surgent: Just to provide some background for those who don't know, what exactly is sorority recruitment? What can potential new members expect this process to look like?
Leighton Newberry: Sorority recruitment, also known as "rush", is a formal process that a multitude of college campuses offer to undergraduate women as an opportunity to join a sorority on campus. The length of recruitment varies for each university, but the recruitment process as a whole is composed of a series of rounds in which potential new members (often referred to as "PNMs") are introduced to each chapter.
PNMs can expect to meet "actives" (older girls currently in the sorority) and to learn about the values of the chapter. The end goal of sorority recruitment is for a PNM to accept a bid (which is essentially an invitation) on Bid Day from a sorority. While the process is long, PNMs often find the process so rewarding and valuable in a variety of ways.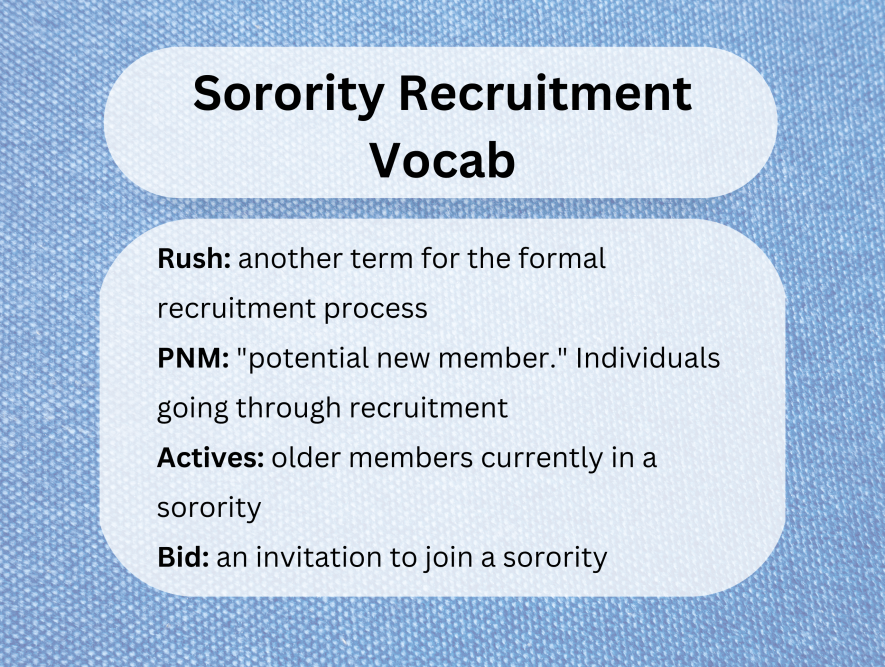 KS: What is your biggest confidence tip for nervous PNMs about to enter this process?
LN: Confidence is contagious! With that being said, my biggest tip is to practice walking and talking with confidence weeks and days leading up to your sorority recruitment. This way, you'll get in the habit of it ahead of time. Walk into rooms with your head held high, your posture tall, and speak so others can hear you clearly. People naturally want to be around other positive women, so by doing this practice you are automatically boosting your chances of being memorable in each round.
Another confidence tip I love to share is that it's key to remember that every single "active" has been right where you are and knows exactly how you feel. Keep this in mind when entering each round, it helps!
KS: Meeting new people, especially in this setting can be a nerve-wracking experience. Do you have any conversational tips to make this introduction a little easier?
LN: Absolutely! It's okay to acknowledge that it's completely normal to be nervous. I recommend having "go-to" questions to ask so that you keep the conversation flowing naturally. Thankfully, travel is back, and most everyone has traveled this past summer. This is a great "go-to" topic. Ask older actives about their recent travels and experiences. Maybe they jumped on the European travel bandwagon, or maybe they went to visit friends just an hour away in another city. After you hear about their experience, share with them all about your own. Before you know it, it's been 30 minutes and you forgot you were even nervous at all.
I also encourage PNMs to remember that conversations are a two way street. You are not just trying to prove yourself to actives, but you are also trying to learn more about the sorority to make sure it's a good long term fit for you!
KS: Recruitment is about finding a community you feel at home in. What advice do you have for individuals going into the recruitment process with friends? Should they try to stick together or focus on this journey independently?
LN: I recommend going into the process focusing on the journey independently. While it's great to be surrounded by your hometown friends, sorority recruitment gives you a valuable opportunity to get to know other women from a variety of cities and backgrounds. It's one of the first opportunities you have to branch out socially on campus. Remember, your hometown friends will still be your friends, you are just expanding your community and network by approaching the process independently.
KS: Many chapters can have preconceived reputations. Do you recommend that PNMs try to learn about different chapters in advance of recruitment? How can this affect the process?
LN: The advice to "go in with an open mind" could not be more true, no matter how many times PNMs have heard it. I recommend PNMs don't spend time studying various chapters reputations before they go through recruitment simply because everyone has their own opinion and it's just that, an opinion. I have worked with many girls who were shocked to learn that the reputations some sororities held were, in fact, not true at all. Be yourself and the right community will be made evident to you.
Be yourself and the right community will be made evident to you.

Leighton Newberry
KS: I'm sure you're familiar with #rushtok, which has become huge on social media. What advice do you have for PNMs now that this new element comes into play? Can documenting their experience on TikTok, for example, help or hurt the process?
LN: Rush Tok has blown up to say the least! While it can be fun and entertaining, I recommend girls to not compare their experience and expectations to all the TikTok videos they see. I encourage girls to go to each chapter and let the actives get to know the PNM for themselves in real life, not just what they may see on on the screen. I don't think it can hurt either way, but you certainly want to make sure the chapter is getting to know you in real life because nothing replaces the value of in-person interactions!
KS: The big question: what should potential new members wear? Should they try to match the aesthetic of the houses they are rushing, or stay true to their own style?
LN: I can't say it enough, pick outfits you feel confident in! As mentioned above, confidence is contagious and there is nothing more flattering than walking into a room of strangers and feeling on top of the world. Recruitment can cause so many nervous emotions, but rocking an outfit takes the nerves down a bit.
That being said, I recommend picking outfits that are true to your style so that actives get to know you for you. It's the simple things that make a difference, such as wearing a pop of your favorite color during sisterhood round or accessorizing your t-shirt day to stand out with jewelry that plays to your personality. You want to add a "pop" to each of your rounds so that you will stand out, feel confident and memorable.
KS: What advice or encouragement do you have for an individual who may not have been asked back to a house they felt was a good match for them?
LN: I advise that PNMs focus on their mindset the week of recruitment and try not to take the process personally. Not every chapter is the best fit for you, and that's okay! You want to join a chapter where you fit in with the girls in a place you can be most authentic in.
I also advise girls to realize that not getting asked back to a house is just one step closer to the "yes" in the house they are meant to find their community in. I compare this to applying to internship and job opportunities. We all remember what it feels like when we didn't get the summer internship we were dying for. In the moment it feels crushing, but in the long term, looking back, it led to the "YES" that ended up being a part of the perfect plan. PNMs always have the chance to control their mindset in a week that can often feel so "out of control" which is super helpful and comforting.
Not getting asked back to a house is just one step closer to the "yes" in the house you are meant to find your community in.

Leighton Newberry
KS: What would you say to someone who is on the fence about going through the recruitment process?
LN: I recommend trying the process, even if you are on the fence. If you go through sorority recruitment and realize it's not for you, no problem! The life long skills you build by going through recruitment such as curating a resume, building conversations skills, and taking yourself out of your comfort zone will serve you well in many aspects of life, especially when applying for a job in post grad.
Even if you go through the process and then change your mind, you will still have the great opportunity to meet new people and to make new friends. I remember going through the process myself at Auburn University and had many friends that at first were apprehensive to rush, but ended up being so glad they did!
KS: How do you think being involved in a sorority can improve the college experience?
LN: Being in a sorority gives you both social and philanthropic opportunities you may not have otherwise. Each sorority has a philanthropy they support with opportunities to volunteer and give back in a variety of ways. This experience allows women to give back in their community, make a lasting impact, and expand their cultural experiences.
From a social aspect, being in a sorority is fun (and the perfect opportunity to ask your campus crush to a spring formal.) Overall, being a part of a sorority allows you to meet many new people and build leadership skills that you may not have had the opportunity to pursue otherwise.
KS: Any final tips for students about to embark on this journey?
LN: My finals tips would be to 1.) stay true to yourself and 2). have fun in the process. I never recommend molding yourself to be someone you aren't. Be true to yourself and the chapter you get to call home is so lucky to get you! Keep your mindset focused on that truth and like I mentioned, have fun.
Look at this as a great growth opportunity in a variety of ways and you will rock it from start to finish. You will even be surprised by how many hard things seem easy after surviving multiple days of sorority recruitment. It just makes you stronger and better for the next thing!
Happy rushing!
Featured Image via @lovely.trance. Design by Her Campus Media/Yaisirichai and Ben Clark of Vecteezy.